Who says you need to break the bank to own an awesome, fat tire, electric bike? The KBO Tornado eBike may not be a "budget" model at $1,400 (get the best deal here), but it certainly gives more expensive rivals a run for their money. Keep reading our honest KBO Tornado Review to find out if it's right for you!
A great value ebike
Boasting some of the most popular options in the electric bike market, the KBO Tornado is a real all-rounder that will amplify your cycling experience like never before. But what makes it stand out from the crowd.
Specifications of KBO Tornado Electric Bike
750W motor that reaches up to 20 mph (32km/h).
The removable 48V 16Ah battery provides up to 60 miles (96km) of range.
The full suspension system offers a comfortable ride on rough terrain.
The 6-speed Shimano transmission system makes it easy to shift gears.
Mechanical (not hydraulic) disc brakes
4″ wide fat tires offer extra stability and traction on various terrains.
The LCD display shows speed, distance, battery level, and more.
It can handle a maximum load capacity of 350 lbs (158 kg).
It comes with lights, a horn, and a kickstand for commuting or adventure riding.
eBikes: Where and I use eBikes
Living in one of the most bike-friendly towns in the country, I've always been drawn to the convenience and eco-friendliness of eBikes. Plus, we have a famous beer named after bicycles here (Fat Tire!). With nearly 300 sunny days a year and endless trails to explore, it only makes sense to take advantage of the great outdoors. 
Whether I'm feeling adventurous or just looking to soak up some Vitamin D, my eBike is the perfect companion. And sometimes, my son joins in on the fun with his trusty UrRider.
What is the KBO Tornado eBike?
What is the KBO Tornado eBike? It's a Class 2 eBike which means it can be ridden on the same trails/areas as traditional bikes. Its retail price is $1,499 which is a good deal considering it offers more features than other eBikes that cost a lot more. You can read about the different classes of eBikes if you want to learn more.
The KBO Tornado is an electric bike with fat tires and a maximum payload capacity of 350 pounds. It has an aluminum alloy frame, front suspension fork, and mechanical disc brakes. You can use it in pedal assist mode (level 0 – 5) or throttle-only mode, with a top assisted speed of around 20 MPH. Check out our guide to the best fat tire ebikes to learn more.
However, there are some limitations to the Tornado which we will discuss in our KBO Tornado Review shortly. You can also read our review of another great eBike, the Velotric Discover 1, and our guide to the best eBikes and best eBike accessories. Now, let's talk about the power of the Tornado.
KBO Tornado Review: Let's talk POWER
The Rear Hub Motor (which means that the motor is in the rear wheel's hub) peaks at 750W – the same as the RadRover 5.
Torque, torque, torque
Have you ever heard of torque? It's one of those terms that doesn't come up in everyday conversation, but it's actually pretty important. Especially if you're into eBikes. That's because torque is all about the power.
But what is torque, exactly? Simply put, it's the rotational force of an engine or motor. While horsepower is all about speed, torque tells you how much work it can actually do. You might even hear people talk about "pulling power" or "oomph" when referring to torque. 
If you're assembling an eBike, you'll definitely want to pay attention to how many newton-meters of torque you need in different areas. And if you're curious about the inner workings of your ride, understanding torque is a great place to start.
What about power?
If you're looking for an e-bike that packs a serious punch, pay attention to torque.
Take the RadRover 6+ (read our RadRover 6+ Review), for example – boasting a formidable 80 Nm, it's a force to be reckoned with.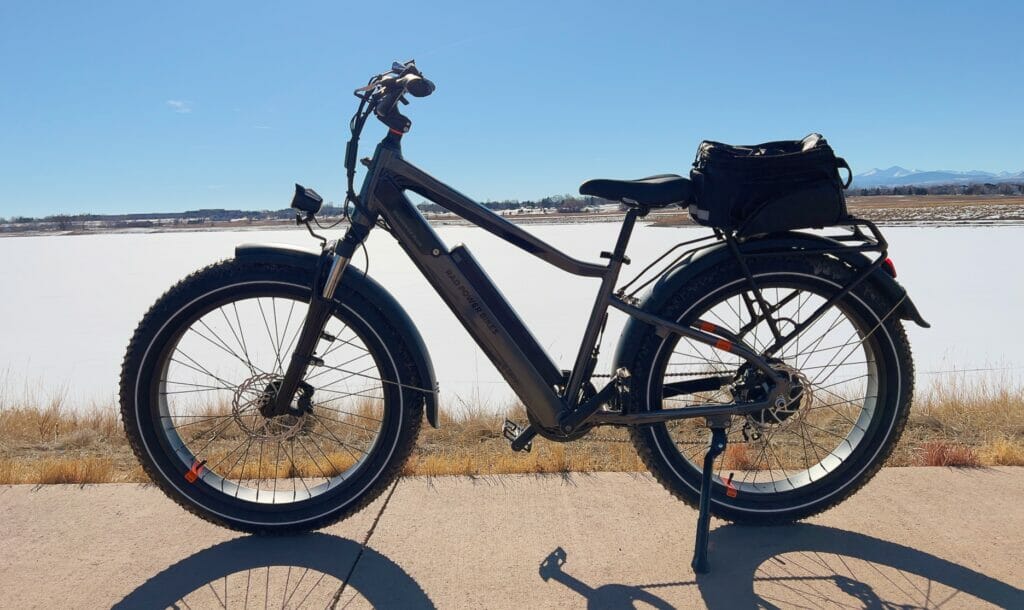 Meanwhile, the KBO Tornado comes in at 60 Nm, which may only seem like a small difference – but in reality, it's a whopping 25% less! This can significantly impact your ride, especially when it comes to acceleration and tackling hills.
The KBO Tornado's Pedal Assist is sensitive (not necessarily a bad thing), but you'll really notice the missing torque as you start off and hit those first few miles per hour. It's like when you're driving a car with a long, slow first gear. Don't underestimate the power of torque – it makes all the difference.
But WILL I notice a difference?
The short answer is: no. You won't notice a difference if you haven't ridden many electric bikes in your life. However, if you have ridden a lot of eBikes, you will probably notice the difference in torque power.
If you're an entry-level rider, the KBO Tornado will still be a great bike for you – it has plenty of power and features for its price range. But if you want something with a bit more oomph, or you're looking to tackle serious hills or trails, then a higher torque motor might be the way to go.
Pedal Assist Controls + Twist Throttle are included
Overall, I found the pedal assist to be a little unique, compared to other electric bikes that I've tried.
If you are new to the world of electric bikes and have no prior experience, you may not notice any difference. Although, the pedal assist is a bit sensitive for my taste. It takes a little longer to respond, but once it does, you will feel a sudden boost in the motor.
It's not a deal killer by any stretch of the imagination – I would have preferred it to be a little less sensitive (and in all fairness, their website says it is sensitive).
Top Speed
During our test ride, I was able to get this bike to go just over the 20 MPH limit when testing – the fastest I got with throttle-only was 20.4 MPH. I don't know if that's due to an error in the on-screen display or if I was actually going that fast. Gravity and physics will not limit you from going any faster – you can always pedal to make the electric bike go over the assisted limit of 20 MPH.
Range + Battery
The Tornado comes with a lithium-ion battery that has a capacity of 48 volts and 14Ah. I haven't fully drained the battery on any electric bikes I've tested, but this battery has plenty of capacity for your adventures.
According to KBO, this battery has the capability to provide a 45-mile range when fully charged. Still, the actual distance may vary depending on factors such as the level of pedal assistance, the terrain (flat or hilly), wind, and the weight on the bike (including the rider!).
Other Great Features of the KBO Tornado
The KBO Tornado also features a front suspension fork with some adjustment options, allowing this bike to be taken on some trails. Paired with the giant, 4-inch fat tires, there are not many places you can't take this e-bike.
Added extras with the KBO Tornado
The KBO Tornado comes with a built-in rear rack as an added bonus. The good news is, you won't have to install it yourself. Additionally, it includes both front and back fenders, which is really helpful when you encounter water or puddles. This is especially so if you're riding at higher speeds because it helps to keep your pants dry during rainy weather.
Where KBO "Skimped"
You can easily find the KBO Tornado hovering around the $1,000 mark – which means they had to "Skimp" in some areas.
Or, a more polite way to say the same thing, "They had to make some design choices." I'm actually 100% OK with the design choices they made to get the price down to about $1k.
Lights
Both the front and rear lights are not connected to the battery or the LCD screen to turn on.
Almost every single other eBike that I've tested has at least a front light that is hard-wired to the battery. I'm sure a hard-wired light is more expensive, but it also makes it slightly easier to install.
The rear light is also not connected to the battery (or the brakes, like some of the electric bikes we've tested). You have to turn on both lights manually. This isn't a deal-killer by any stretch of the imagination, but I would prefer it if it was connected.
Mechanical Disc Brakes
The KBO Tornado features Mechanical Disc brakes. These work fine, sure – but Hydraulic Disc brakes have become more the norm in e-bike world. So, once again, not a deal killer, but I would have preferred Hydraulic Disc brakes.
Overall, The KBO Tornado is a great electric bike for its price point. It has a good quality battery, plenty of torque and speed, plus some nice extras like the front suspension fork and rear rack. If you're looking for an e-bike under $1k, the KBO Tornado is worth checking out.
Other small savings:
The KBO Tornado also has a fairly weak manual bell. I also don't care for the exact shifter they used.
Once again, these little things are just small annoyances that allowed KBO to save money on this bike. You can always upgrade parts of your bike, but hardwiring a light may be more difficult.
KBO Tornado Review: How does it compare to other eBikes?
The Tornado looks nearly identical to the RadRover 6+, in so many different ways, especially at first glance.
KBO Tornado
Price: $1,249 (price + cargo rack)
Motor Power: 750 Watt
Torque: 73 Nm
Weight: 69 lbs
Throttle + Pedal Assist
Battery: 48V
✅ Fenders Removable Battery
✅ Includes Front + Rear Tail Light
Optional back cargo rack ($79)
Huge Tubeless Tires
Front Suspension Fork
KBO Breeze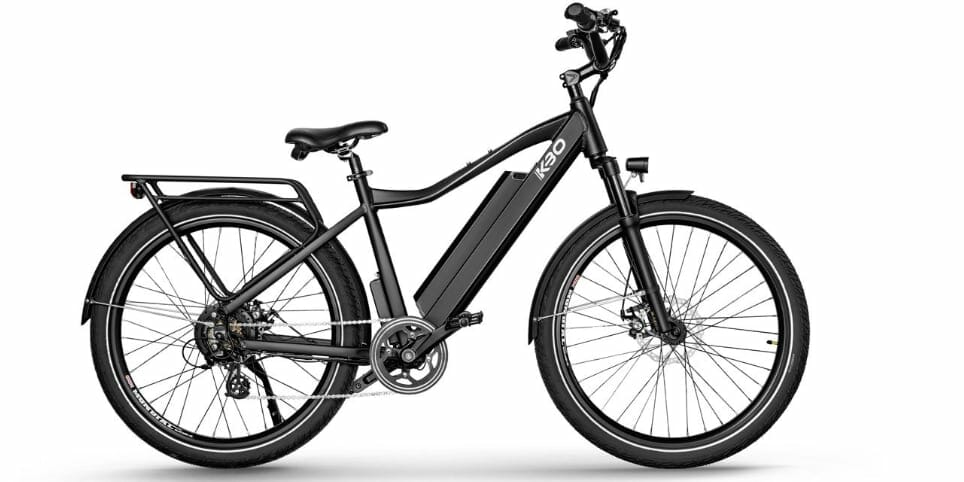 Price: $1,499 (available cheaper)
Motor Power: 750 Watt
Torque: 60 Nm
Weight: 62 lbs with rack
Throttle + Pedal Assist
Battery: 48V
✅ Fenders Removable Battery
✅ Includes Front + Rear Tailight
Includes Back Cargo Rack
Mid-size Tubeless Tires
Front Suspension Fork
When compared to the RadRover 6+ and the KBO Breeze, the KBO Tornado holds out well.
The KBO Tornado sits comfortably under the $1,300 mark, whereas the RadRover 6+ stands at $2,100, which is almost twice the price. While the Breeze falls in between these two models, it can typically be found for almost the same price as the Tornado.
All three models are equipped with a 750-watt motor and have adequate torque for most riders. The exception, is obviously, the RadRover 6+, which has 80 nm of torque.
Weight-wise, the KBO Tornado is in the middle, at 69lbs, followed by the Breeze, weighing in at 62lbs with a rack. In contrast, the RadRover 6+ tips the scales at 73lbs, making it the heaviest of the lot.
The KBO Tornado, Breeze, and the RadRover 6+ all have tubeless tires, front suspension forks, and a removable battery.
While the KBO Tornado has a few weak areas, it wins overall due to its affordability and exceptional battery life. As far as e-bikes under $1,300 are concerned, it is worth considering.
Why and who should you buy the KBO Tornado?
The KBO Tornado is a great value eBike for the casual biker. What I mean by that is simply someone who isn't a super-bike nerd. I'm not a bike nerd and slowly learning more about eBikes and what I like and don't like.
I don't consider myself a bike expert. I'm just someone who really enjoys eBikes and getting outside. This would be a great commuter bike for traveling a couple miles to work everyday, too. It's also perfect for a person that is 5'3″ – 6'4″ – that's the rider height the KBO website recommends. If you are shorter than 5'3″ or taller than 6'4″ – then look at a different eBike.
Why and who should NOT buy a KBO Tornado?
Besides being too short (or tall), this eBike isn't designed for a super bike nerd who obsesses over torque stats, this might not be the bike for you. Though it's filled with great features, this bike is not meant for those who require a lighter, more easily transportable option. Just keep the weight in mind before purchasing.
It has a lot of great features, sure, but it's not designed for the person that is super-obsessed with bikes. There will be times when you need to move this bike (parking, onto a hitch, etc.), and it is a beast. Just know that before you get it.
Can I put together a KBO eBike by myself?
Yes! It's super easy.
I recommend setting aside an hour to assemble the bike and watching KBO Bikes' instructional video. The video is helpful and explains how to put the bike together. To follow along, I suggest opening the video on your iPad, watching one step at a time, pausing the video, and then completing each step before moving on to the next one.
The KBO Tornado comes with everything you need to put it together, like this little cool multi-tool, which comes in handy.
I'd still recommend getting a separate, higher-quality Allen Wrench for putting it together, but KBO provides all the tools you need to put this bike together.
Pro Tips for every eBike
Pro Tip #1: Get a tune-up after 20 miles This was a game-changer for me.
I always have a mechanic look at the bike before I take it on any longer journeys. The mechanic tuned the bike up – about $50 (and he came to me!) – and the bike ran much smoother afterward. I highly recommend a tune-up after about 20 miles. They can also help you test the brakes too. Mechanical disc brakes on an eBike will probably always have some squeak to them, the mechanic said.
Pro Tip #2: Secure the Pedals Properly. The mechanic pointed out that the pedals on my bike were too loose, which I hadn't done very well. Tightening the pedals is something you should definitely do. According to the mechanic, there was a risk of damaging the pedals. However, even in such a situation, I could have used the throttle to get back home.
Pro Tip #3: Get a high-quality lock. Obviously, you don't want to leave an electric bike lying around. Invest in a high-quality lock.
KBO Tornado Review: the final verdict
Looking for a fat tire e-bike that is perfect for casual biking? Look no further than the KBO Tornado! This model comes loaded with features like front suspension forks, a removable battery, and big fat tires. It's an exceptional value that won't disappoint, but keep in mind that it might not be the best option for those who regularly need to transport their bike. If you're a beginner looking for a fantastic starting point, the KBO Tornado is it. Buckle up and get ready for an excellent biking experience!
A great value ebike
Here's our final ratings and review:
Comfortable in the city and the trails.
This bike is a big one – but that's by design.
The bike just looks great. I love the way it looks.
Only because I have experience with other bikes, I notice the lower power.
KBO Tornado Review: FAQs
How fast does the KBO Tornado go?

The KBO Tornado is capable of reaching a speed of 20 MPH with the assistance of its motor. However, if you try to go any faster than that, the motor will stop working. So, if you want to go faster, you'll need to use your own pedal power or find a steep slope. It's important to note that the KBO Tornado will not brake if you exceed 20 MPH, but the motor will simply stop providing assistance.
Are KBO Electric Bikes any good?
How much does a KBO Tornado weigh?

73 pounds is the official weight of the KBO Tornado without an added accessories.
Do KBO Bikes have a throttle?

Great news! KBO Bikes belong to Class 2 eBikes, which means they have both throttle and pedal assist and can reach speeds up to 20 MPH. You can learn more about the different eBike classes here.
Do KBO Bikes ever go on sale?