Urtopia Review: If you're looking for a lightweight electric bike that doesn't look like all the others, Urtopia has created a great option with their new eBike. It's perfect for urban riders who want something fun and different, with a monochromatic display, hydraulic disc brakes and full carbon frame. We had a lot of fun testing this bike out and think it's great for the right rider!
Keep reading our 100% honest Urtopia Review to find out if this bike is a good choice for you.
Lightweight and full of tech
Urtopia eBike
Perfect for the quintessential early adopter + urban rider.
Pros:
Packed with technology

Lightweight

Unique safety features

Looks great
Cons:
NO KICKSTAND!!!!

First generation technology

No Throttle
Buy Now
We might earn a commission if you make a purchase, at no additional cost to you.
What's the helmet I'm wearing? The XNITO Helmet (also check out our Thousand Helmets Review)
What's the big idea?
The Urtopia eBike is different because it is made almost entirely out of a carbon fiber frame. This makes the bike much lighter than other e-bikes on the market, and also makes it more durable. On top of that, just wait until you see the Smartbar – the brain of this bike.
It's much lighter than other e-bikes, coming in at just 14kg / 30 lbs (thanks again to the carbon fiber frame). Other comparable eBikes weigh almost twice as much.
Besides the light weight, the Urtopia eBike has smart features that we've never even seen before in testing 20+ eBikes.
The SmartBar
The Smartbar may be a game-changer. The Urtopia Smartbar is the world's first smart handlebar with a number of features to make your cycling experience more pleasurable. There's a retro display on the LED large dot-matrix display screen that displays realtime cycling data in an easy-to-read, clear, and bright manner.
The LED Screen doesn't just look cool, it's easier to see in bright, direct sunlight and just looks cool at night.
AI Voice Control
The AI voice control is based on two noise-canceling mics and one 3W speaker and onboard AI algorithm, which also offers customizable voice commands and horn beeps.
To be honest, I didn't try the voice commands or a ton of the smart features as much as I thought I would. However, I did use the Urtopia App for several features.
The fingerprint sensor unlocks your bike easy-breezy. No more fumbling for keys!
The GPS and eSIM offers constant connectivity (if you choose so) and tracking for advanced interactive and anti-theft features.
Lastly, the accelerometer & gyroscope provide tamper alerts and movement detection.
Additionally, the Urtopia Smartbar features haptic interaction thanks to its two vibrators located on each side of the handlebar. This innovative technology allows riders to communicate with their bikes in an intuitive and engaging way, adding another level of control and convenience to every ride. 
The biggest feature is just the fact that it's a carbon e-bike. It looks great and carbon fiber is much lighter than other materials.
Extreme Customization Options
Via the companion smartphone app, you can change the voice, sounds and many different features of the Urtopia bike.
Night-time illumination and turn signals
This is another area where the Urtopia bike really shines (pun intended) is in night time riding. No only does it have bright lights but it has a visible turn signal that illuminates the road to show exactly where you are going. It's located on the underside of the seat post – truly advanced tech.
Our new go-to helmet
XNITO Helmet
Filled with technology like a front AND back LED light, this eBike helmet is perfect for riding during the day AND night.
Buy Now
We might earn a commission if you make a purchase, at no additional cost to you.
The Uroptia eBike literally has projection lights that shine on the pavement. It kind of reminds me of how some cars will show the logo when you approach the door – it's a similar effect.
The turn signals also have the familiar sound of a turn signal you'd hear in a car. It's not really necessary, but a nice touch.
Vehicle Detection – advanced safety features
Have you ever been riding a bike and a car sneaks up behind you? Well, you no longer have to worry about that (well, technically, you should always worry about that – even with all the tech features in the world).
With the bike vehicle detection feature turned on (via the companion app – more on that in just a moment), the bike will use the haptic feedback in the SmartBar to alert you of an oncoming car. That's pretty darn cool.
They call this system ARES, which stands for Advanced Rear Early-indication System.
It's a pretty incredible feature that I think could really help save lives. You even hear a voice say, "Vehicle Approaching" and the smart bar vibrates to let you know incoming vehicles are coming up behind you.
The Urtopia eBike is also equipped with a bright red position light to indicate the rider's location, as well as two projection lights that indicate turning directions to nearby vehicles. These features work together to create a safer riding experience for everyone on the road. 
More Technology Features
The Urtopia eBike is also packed with technology. It features embedded LTE/eSIM and WiFi for constant connectivity (if you want it), Bluetooth, and GPS. This allows the Urtopia eBike to offer over-the-air updates that ensure your bike always has the latest features and improvements.
The companion app
The Urtopia companion app is available for iOS and Android devices. The app lets you track your rides, monitor your bike's status, and update the firmware wirelessly.
The Urtopia companion app is also where you'll go to enable some of the more advanced features on the Urtopia eBike, such as vehicle detection, GPS tracking, and haptic feedback alerts.
In fact, there are a couple of times I was unable to unlock my bike because I didn't have bluetooth on or didn't have an updated app. I'll talk more about the things that I like and dislike about this bike shortly.
Urtopia eBike: What do we love?
We like that this bike is actually a unique eBike.
It's truly unique.
So many electric bikes that we've tested are simply variations of other models – maybe switching out motors here and there or mechanical disc brakes for hydraulic disc brakes.
This Urtopia electric bike is definitely unique.
We love the idea of the smart bar and that it can be updated using a smartphone app.
It's lightweight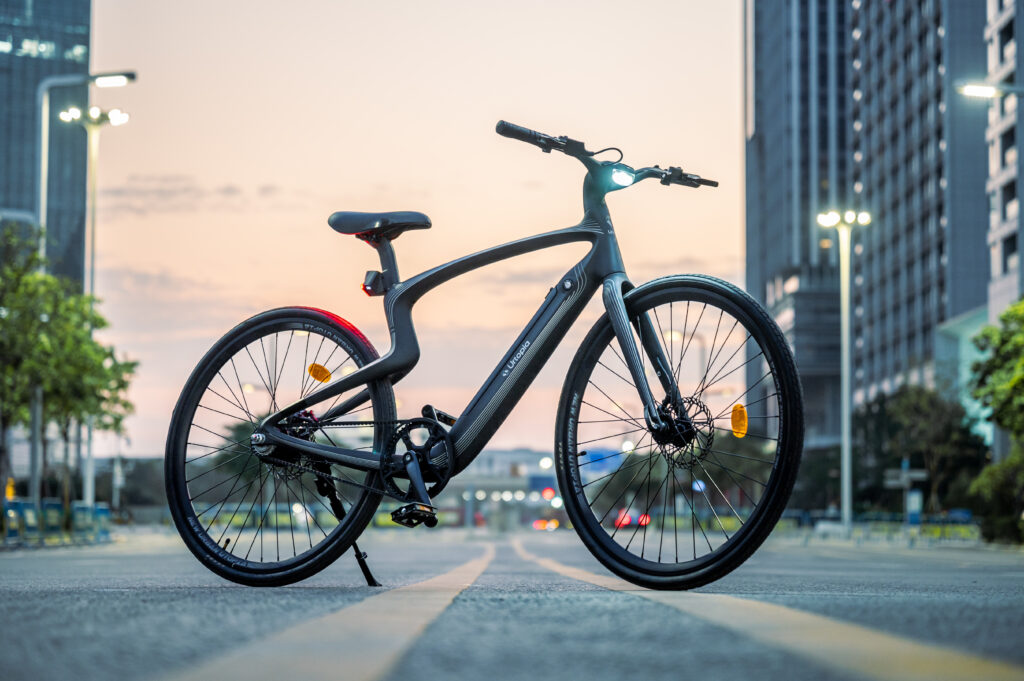 This bike is incredible lightweight. You almost think that something is missing that it is so lightweight. We love that about this electric bicycle.
How it rides
This bike rides like a street bike – and a great street bike at that. If you've ever experienced a great street bike, add an electric motor and you have the Urtopia eBike. As you can read in our eBike Guide, an electric motor, especially a mid-drive one, feels like your legs have super powers. You can suddenly ride up hills with ease and take on longer rides than you ever thought possible.
Read more about the differences between mid-drive and rear hub motors.
Gears not needed
They've also engineered the bike to depend on a torque sensor over a cheaper cadence sensor. The result is a more natural feel when riding. You don't have to worry about the motor kicking in at the wrong time or giving you too much power. It just feels natural and easy to ride – even if you're not used to electric bikes.
It also features 5 levels of pedal assist, which is just the right number (3 seems like not enough and any more than 5 just seems like overkill).
Pedal Assist Levels
You can use your voice controls to change pedal assist or the control pad on the left side of the LED Dot Matrix Display. This control pad by the handle bar display allows you to change gears and trigger the turn signals and adjust the pedal assist levels.
We easily got the bike to the top speed limit of this bike (20 MPH using Pedal Assist) fairly easily because the carbon fiber makes the bike so lightweight.
I also just love the sound it makes when you turn on Turbo Mode. A cool blast of sound signals you don't need to pedal as hard and the bike it just going to go off.
While the effect, even in Turbo Mode, isn't as pronounced as in other electric bikes we've tested, it's noticeable, even on your first test ride.
What we don't love about the Urtopia eBike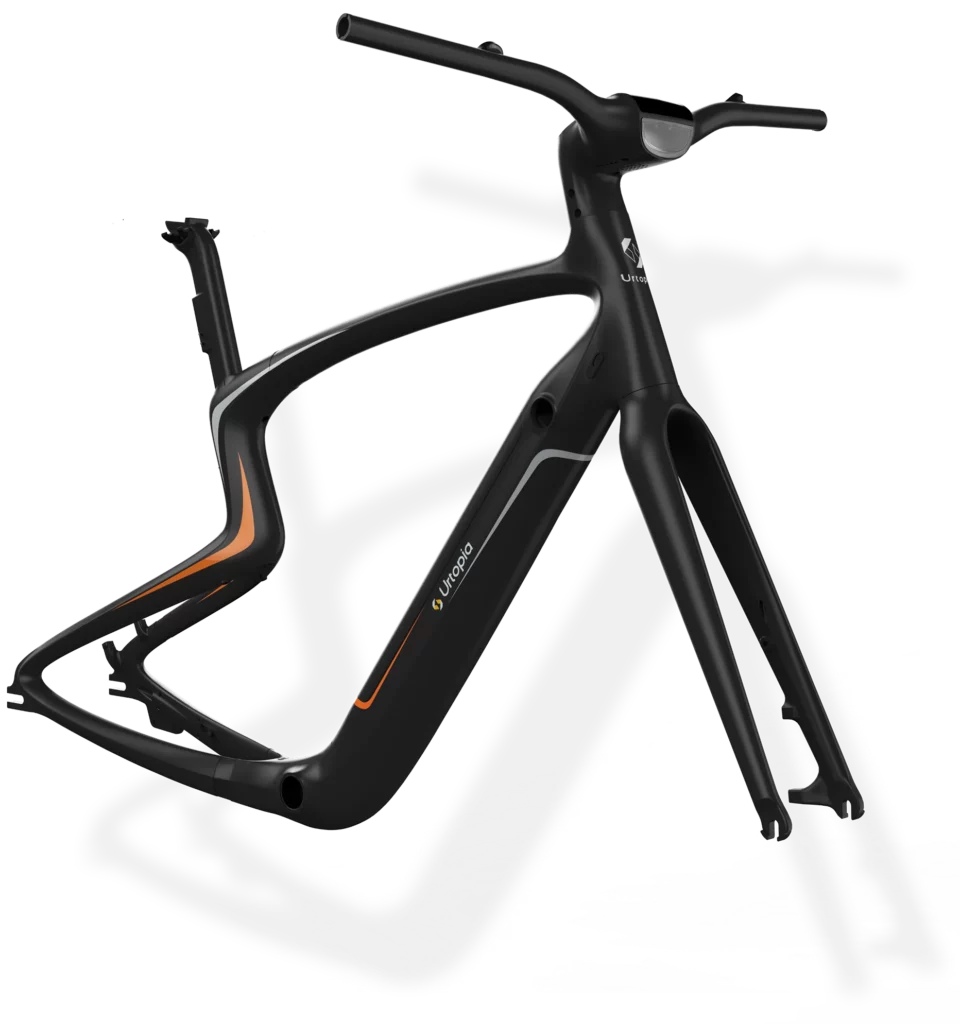 While we love that the bike is filled with technology it doesn't always work correctly. In many ways, it feels like an early-adopter, first generation product.
It's a first-generation product
That's not a diss on the product, but it is something that you should be aware of if you're thinking about purchasing this bike. For example, there were times I needed to update my iPhone app or the connection to the bike for it to unlock.
It can be annoying when you just want to take your bike for a ride, but it's part of being an early adopter and liking technology!
No kickstand!
Seriously. I've tested one other electric bike without a kickstand and I seriously wonder why people do this. Even if you don't need a kickstand for everyday life, there's a good chance you will.
Even when I was assembling the Urtopia bike, I was wishing I had a kickstand. I know they are trying to keep this bike super lightweight, but the frustration for me, at least is worth the few extra pounds.
A kickstand is just one of those things you don't appreciate until it's missing. Even when I was shooting the review, I had to find a place to lean the bike up against.
No throttle
I know that I'm spoiled here, but after testing out an electric bicycle with a throttle, it's really hard to use an eBike without a throttle. I know it's a little thing but it does make a difference!
More tech = less battery life
Because the carbon e-bike has all sorts of built-in cellular technology, it's always accessing the battery to provide updates (one of the smart features). However, that makes the e-bike battery drain when it's not being used.
Don't worry, it's not drastic, but
Urtopia eBike: Who the bike is for
The Urtopia eBike is perfect for the young, urban rider. The person that wants an eBike that is unique and will get looks.
If you are technically inclined and love to be on the forefront of new technology, this bike is perfect for you. The way I said it in my video review of the Urtopia eBike is that it's for the quincuncial early adopter (and an early adopter)
The super-lightweight design also makes it easy to carry up and down stairs, elevators and even on buses or other mass transit options. This bike was designed with the urban rider in mind!
The Urtopia eBike is a great choice for those looking for a fun, lightweight electric bike to use in the city.
Plus, it just looks great and super cool.
Who the Urtopia eBike is NOT FOR
The Urtopia eBike is basically not for the young, hip urban rider – that isn't an early adopter.
If you don't like to mess with technology and just want a more simple eBike, there are other electric bikes that would be a much better fit.
A funny way I'd put it is: if you need help creating a PDF, this bike probably isn't for you. That doesn't mean it's a terrible bike but it's not the ideal bike for everyone.
The Urtopia eBike is also not for those who want to ride on more trails and offroading. This bike is designed for concrete, so if you are looking to take your Urtopia on more adventurous terrain, you might be disappointed.
Urtopia Review: Final Thoughts
One thing we haven't mentioned is the price.
At $2,799 as of the time of publication. This is one of the more expensive electric bikes we've tested (not as expensive as the QuietKat – check out our QuietKat Review). But is it worth the price?
Lightweight and full of tech
Urtopia eBike
Perfect for the quintessential early adopter + urban rider.
Pros:
Packed with technology

Lightweight

Unique safety features

Looks great
Cons:
NO KICKSTAND!!!!

First generation technology

No Throttle
Buy Now
We might earn a commission if you make a purchase, at no additional cost to you.
There are two things that make us lean more toward yes, if you are the right demographic. The two things are:
Carbon Fiber bikes are more expensive to make we'd expect this to cost more.
The bike is designed with a Gates Carbon Belt drive that should last a long time.
Our only unknown here, as with any technology, is how long it will all last. The other thing that works in favor of the Urtopia Bike is that you can update the software over the air.
In short, the Urtopia eBike is a great choice for those looking for a fun, lightweight electric bike to use in the city. It's packed with technology, but that does come at the price of some first-generation product quirks.
But if you're an early adopter who loves tech, then this bike is definitely worth checking out!
Also, check out our Rad Power Bikes Review, our RadRover 6 Plus Review and our Radwagon 4 Review. Be sure to not miss our best Rad Power Bikes Promo Codes, too.
How much is the utopia ebike?
The Urtopia eBike is currently for sale for $2,799 US Dollars.
How much is a utopia carbon fiber ebike?
The Carbon Fiber Urtopia ebike is currently for sale for $2,799 US Dollars.