We hope you love the products we recommend! Just so you know, We Tried It may collect a share of sales or other compensation from the links on this page. Don't worry – we only recommend the products we actually like!
You already know that the parents here at We Tried It love Allbirds (read our Allbirds Review). But does Allbirds make a children's shoe? You bet they do, and they are now back in stock with new colors. Meet SMALLBirds (Get it? Small…birds…?) Read our Smallbirds Review, the Allbirds shoe for toddlers!
My kids also just got the chance to try the new Fluffy Smallbirds. What did they think?
As of writing this, our dude is 4 years old and our girl is 2 years old. Like most little kids, they hate socks – a lot. That makes it a challenge to wear any type of shoe – let alone a full shoe with laces and all. When we saw Smallbirds, we jumped at the chance to try a toddler shoe that didn't need socks.
As you can see, the SmallBird shoe looks like the Allbirds Wool Runners for adults. The current colors are Blue, Pink, Red, and Teal:
The Smallbird Shoe has elastic in the tongue of the shoe, to make the opening wider and easier to slide in wiggly feet. The shoe is lightweight and has a soft, rubber sole.
We've now given our 4-year-old three different pairs of Smallbirds – not because he's worn them out, but because he outgrew them.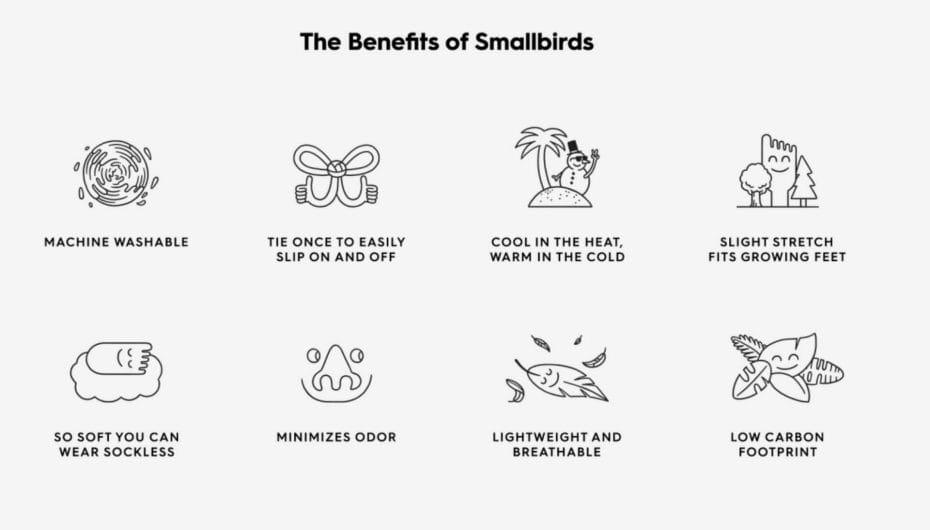 The benefits listed above are 100% accurate. They really are all of the above! We can't recommend the Smallbirds enough.
Smallbirds Review – Why this is the best shoe for toddlers that hate socks
As mentioned, our nuggets hate socks. We've tried all different kinds but he just hates socks. This wouldn't be a huge problem, but his little feet stink. Bad. Like, I-didn't-know-you-could-make-that-much-stink bad. We thought about getting him foot powder it smelled so bad. Add to that, he loves to be outside and it creates the perfect storm of stink. It's incredible.
One of the secrets of Smallbirds is the merino wool, the material of the upper and padded insole is made of, minimizes odor. We're seeing more and more wool products on the market right now (read our best wool socks feature) because it does minimize odor. We didn't really believe the claims that it minimized odor until we put on one of nugget's older pair of shoes – some Nike Velcro. They stunk to high heaven! The difference was real. We could smell his feet from a distance. With the Smallbirds, it's much, much better. Wool isn't magic, but it's darn close.
Smallbirds Review: How to wash
The other great thing is you can wash Smallbirds (see our instructions on how to wash Allbirds). So, even if the shoes do start to get a little funk in 'em – you can wash them.
We've washed the, several times and the short story is that your kid will outgrow the shoes before they wear them out! That's the beauty of Allbirds and Smallbirds – you can wash them and they stand the test of time REALLY well. 
We've even saved the shoes to pass down to our daughter. How many shoes can you say you will pass down to your next kid?
They've held up really well since he started wearing them in January (it is now almost the end of April). Here are some photos of how they've held up in four months of almost constant wear and tear.
What we don't love about Smallbirds
Nothing is perfect and Smallbirds aren't an exception. At $55, they are a little expensive. It's literally the only shoe our little guy wears now.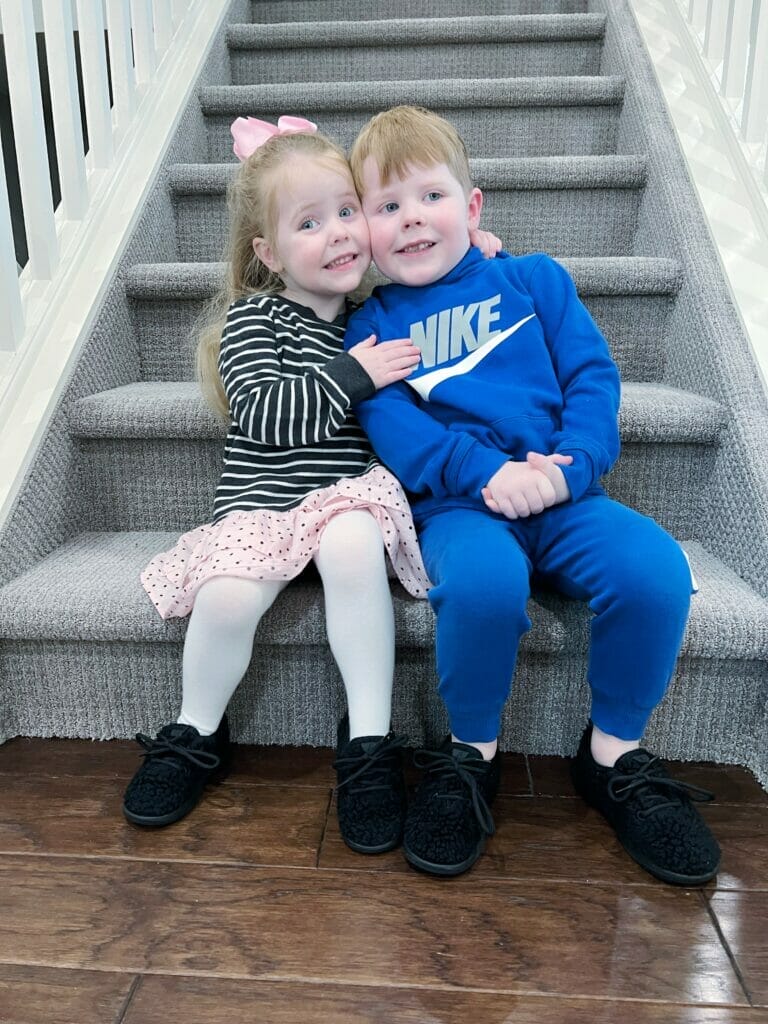 Smallbirds also run a little small, at least in our experience. The good news is that Allbirds has incredible customer service! We originally ordered the normal size he currently wears and they were far too small. We simply contacted customer support and got another pair shipped to us (we sent back the smaller pair with prepaid shipping).
The tongue can also get little toes (especially the pinky toe, if that's such a thing), just make sure to stretch the shoe wide open when putting your little ones foot in the shoe.
If you have a little one that hates putting on socks – we the Smallbirds are the perfect addition to your Allbirds Family.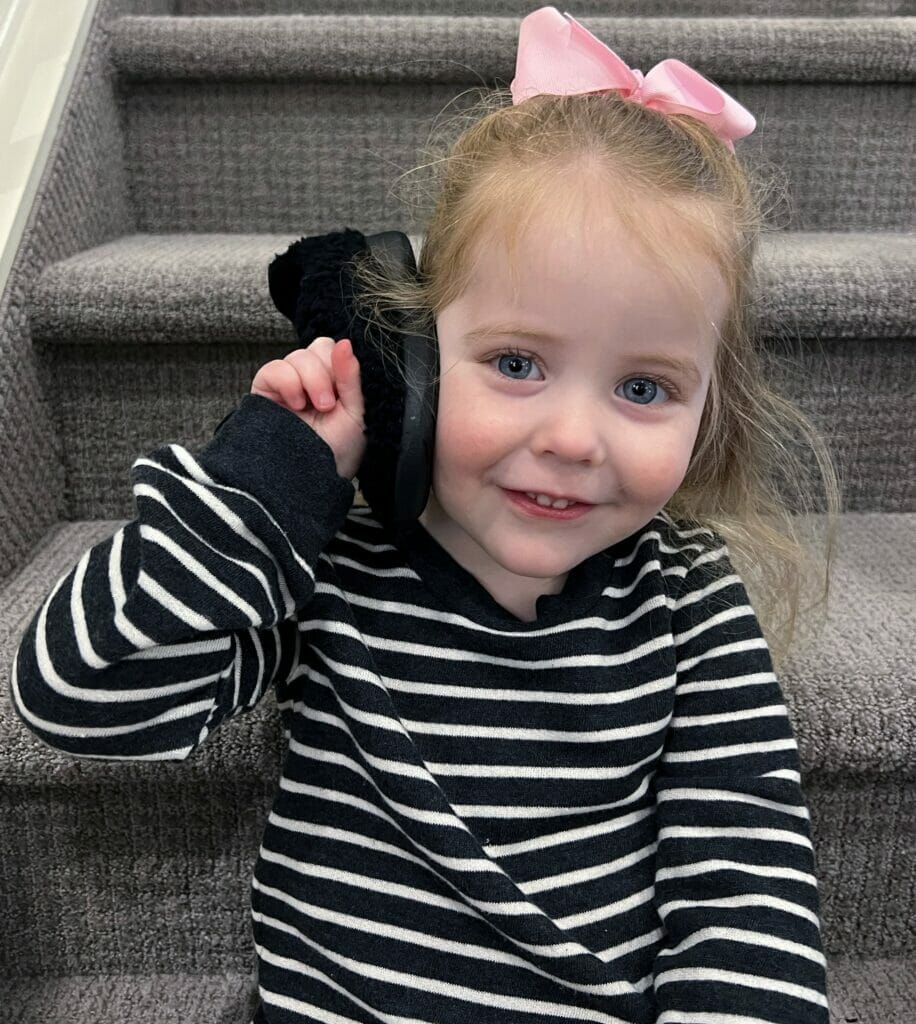 Bonus: How to replace with no-tie laces on Smallbirds
When we originally tried Smallbirds, we didn't like the fact that you had to tie the laces every time. Good news! We've found a great away to replace the laces so you don't have to tie them every time on the Smallbirds!
These are called the Hickies Lacing System. They are stretchable rubber shoelaces that replace the stock shoelaces on any shoe. But they work great on Smallbirds, too!
These take about 5 minutes to install, and they work perfectly. It also gives the shoe a nice, clean look. They are stretchy, so, you simply pull the shoe open and slide the foot in. No more having to tie shoes with a moving toddler. These have been great! We really recommend them!
Smallbirds Review: The Verdict
If you are looking for a great pair of shoes for your kid – please look at Smallbirds. If you don't want to deal with shoe laces, check out Hickies. It's the perfect combination for your toddler.
No stink + durable + no shoe laces (with Hickies) + easy styles + washable = the perfect shoe.
Recommended Product:
Smallbirds Kids Shoes
Great shoes for any kid – especially the ones that don't like socks. They are super comfortable and even washable. A must have for any kid (and any parent)! Just remember to size up as they run a little small.
Have any questions or comments about Smallbirds or anything else in our Smallbirds review? Let us know in the comments below.
Here's where we've found the best deal on Smallbirds.