Vuori Joggers Review: With the current state of affairs in this world, I am pretty much living in my athleisure. Oh wait, I was doing that before Covid because I stay home with my little kiddos and my only daily outing is pilates!
I like my athleisure to be extremely comfortable, but also look decent enough to leave the house in it. Do the Vuori Performance Joggers live up to these standards and so they live up to all of their hype in general? Well, I tried out two pairs of the Vuori Joggers to give you my honest review of the performance jogger from Vuori.
Want to see how Vuori compares to other joggers? Read our best women's jogger review.
Vuori Jogger Review: What is Vuori?
Vuori says that they make, "premium performance apparel inspired by the active Coastal California lifestyle." I seem to like brands that are created for an active lifestyle. 
Active Lifestyle does not mean "workout clothes"
What do I mean by this? Some athletic clothing is created solely for going to the gym and I do not generally like these brands and/or clothes. These brands tend to have bright colors with large branding and just don't look great – or they aren't even that comfortable. 
I like clothing that can transition from sitting on my couch, to rolling on the floor with my kiddos and also go with me to pilates. 
Not Constrictive
I also do not like constricting clothing, so I stay away from elastic waistbands and material that is designed to "suck you in". 
So now that I have explained my athletic wear preferences, let me give you my Vuori Jogger review. 
Investment in happiness
I also love what Vuori calls their Investment in happiness. Here's what they have to say:
Our Investment in Happiness is more than our product guarantee and our commitment to a great experience for our customers. It's our philosophy on doing business and it's symbolic of how we care for our team, our community, the natural environment and most importantly, each other. At Vuori our guiding principles are simple…we aim to make great products, be in great relationships and live extraordinary lives.
They are also dedicated to ethical manufacturing and sustainability. Both things we love at We Tried It!
Their approach to sustainability is fivefold: focused on the materials they work with, reduction of waste, offsetting 100% of their carbon footprint, social responsibility, and community leadership.
5 things we love about Vuori Performance Joggers
There's a ton that we love about these joggers, but there are 5 reasons that we love these joggers.
The fabric – stretch and soft
Vuori Performance Joggers are made from their signature DreamKnit fabric. This makes them incredibly soft. I would compare the soft fabric to Outdoor Voices All Day Sweatpants CloudKnit (read all about our Cloudknit Review) fabric. 
To me, they feel like the same fabric, and Cloud and Dream are kind of the same metaphor, right?? The fabric is thinner than the Lululemon Align Nulu fabric and a little less stretchy.  
The fabric is also moisture-wicking and has four-way stretch. Even better? It's made from recycled materials. Technically, each pair is made from 89% Recycled Polyester, 11% Elastane (the stretchy stuff).
The fit – perfect for working from home or pilates
These joggers fit me the best out of my entire jogger collection. This isn't just another pair of sweatpants. They are a lot more!
My closet has many different kinds of Lululemon joggers and the Outdoor Voices All Day Sweatpants. The fit on the Vuori performance joggers is described as slim but relaxed with a slightly cropped leg. 
That is exactly how I would describe the fit as well. It's a relaxed fit, for sure.
These joggers are not tight or constricting in any way, but they still have a slim look and relaxed fit. 
They also have an elastic band, but it is very loose elastic. This waistband does not give you a muffin top at all and they have a drawstring you can use to cinch them up if you want to wear them a bit higher on your waist. You can also, obviously, use the drawstring if they are a little loose.
The Vuori Jogger is also ankle length with a 25" inseam. 
This is fantastic news for me because I am only 5'2" and they look like pants, but if you were really tall they would probably have more of a cropped look. 
If you are taller, these may be a little short. But have no fear, they also feature a longer length, too. While the classic jogger has a 25″ inseam, the long version features a 27″ inseam.
The pockets are also a super nice touch. The pockets aren't too big and aren't too small.
The price! 
At $84 these are the cheapest joggers in my collection. Why does $84 seem so much better than $100?
Vuori Performance Jogger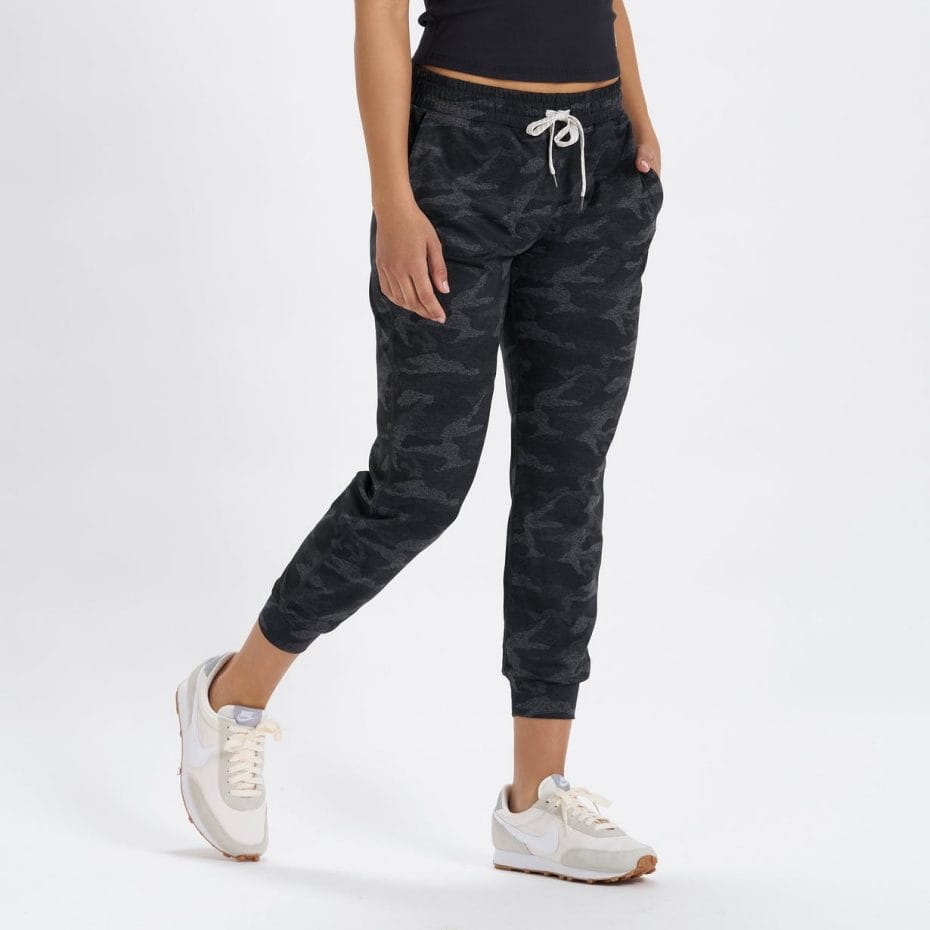 Super comfortable for your active lifestyle
Retail $88
Available in 14 colors
Runs true to size
The color options!
They come in 14 colors! I got the black and the camo Jogger because I have a strict no crazy color policy in my wardrobe policy, but there are so many wearable options.
The main selling point isn't the style, the main selling point is how soft and comfortable they are with four-way stretch.
The Sizing!
The sizing also runs true to size, which I appreciate from internet brands because returns are such a hassle (although their returns are free which is nice). I ordered an Extra Small and I wear a size 25 pant and a size 4 at Lululemon.
Vuori Jogger Review: what we don't love…
Crickets, crickets, crickets… uh??? The average rating on the Vuori Performance Joggers is 4.9 so I am definitely not the only one fangirling out there. 
If you read some reviews on their website, there are some people that complain about the pants pockets breaking.
But in Vurori's defense, they respond to each one of the reviews with a complaint on their website.
Vuori Joggers Review: Who is this product for?
I think the Vuori Performance Joggers are ideal for anyone looking for comfortable athleisure. 
More than just workout clothes
Whether you are going to sit on a zoom call all day, binge a TV show, or hang out with your kids I think you will like these Vuori Performance Joggers because they meet with both comfort and style. 
I have also worn these to pilates and they worked great! They are lightweight enough to wear exercising but still comfortable to wear working out.
If you are doing light exercise then I definitely recommend the Vuori Performance Joggers. More intense workouts might require more serious gear. 🙂
Vuori Joggers: Alternatives
If you are interested in how the Vuori Performance Joggers stacked up against the Lululemon Align Joggers and the Outdoor Voices All Day Sweatpant, I will be writing a full review and comparison very soon.
Vuori Performance Joggers Review: The Final Verdict.
I think I got an ad in the mail for this brand about a year ago and I am really kicking myself for not buying them for quarantine! These are great joggers that have a polished look, fit great and come at a more reasonable price point- you can't go wrong! These are a great pair of joggers that will be a welcome addition to any woman's wardrobe.
Top Pick
Vuori Joggers
Highly recommended
We love these joggers. Get a pair of these today.
Is Vuori a good brand?
Vuori is a great brand! They have awesome customer service and well-made products. We highly recommend Vuori.
Do Vuori joggers run small?
They are true to size, however, they are designed to be worn a little short. If you have really long legs, check out the Vuori Performance Joggers – Long.
Do Vuori Joggers stretch?
Yes! Vuori Joggers are 89% Recycled Polyester, 11% Elastane – the elastane is the stretchiest part.
How do you wear Vuori joggers?
Vuori joggers can be worn with tennis shoes or something like Allbirds. I frequently pair them with a t-shirt and a fleece. Check out our Allbirds Review.