xSuit 3.0 Review: Can a sub-$600 suit that claims to be stretchy, machine-washable and wrinkle-resistant be any good?
xSuit Review: 3.0 – Third time's a charm
We were shocked that it actually is a GREAT suit, to be 100% honest. While no one will mistake this for an Oscar De La Renta Tuxedo, it's the perfect travel suit and actually lived up to all of the crazy claims on the website.
Unboxing + First Impressions
I'm typically not a huge fan of unboxing videos, since they typically don't add a lot of value.
However, there's something very unique about how the xSuit arrives: in a bag, inside a box. Not just any box, but a really nice box with xSuit branding all over it.
Almost every other suit we've tested has come with a suit bag where the blazer is on a fancy hanger to make sure it doesn't wrinkle.
I was honestly a bit surprised at first, but then I realized that this is part of xSuit's efforts to be as sustainable as possible.
Also, it doesn't need to be hung up. Why? Because it's that wrinkle-resistant. Not "kinda, sorta" wrinkle-resistant but "I can literally throw this in my suitcase and it will be fine" wrinkle-resistant.
A quick disclaimer: make sure to tailor any suit you buy
It doesn't matter how much you spend on a suit. The secret to making it look expensive is custom tailoring. This doesn't have to be expensive, but it's the key to making a suit look amazing.
xSuit's material may be a little more difficult to tailor because it is SOOO stretchy, so make sure that you find an experienced tailor that you trust in this.
The suit you see in these photos of myself have not been tailored in any way. They are literally the first time I've tried on the suit.
How xSuit 3.0 Is Different
The xSuit 3.0 is a very different kind of suit. First of all, it's machine-washable. Yes, you read that correctly. You can actually put this suit in the washing machine and it will come out looking great.
They also claim that it's stretchy and comfortable, two things that are usually not associated with suits. And truthfully, the suit is both stretchy and comfortable.
I found the suit to be a slightly heavier weight than I anticipated, but most fabrics that are a heavier weight are not as stretchy. That's not the case with the xSuit 3.0.
The fabric is a very nice weight and has just the right amount of stretch to it. It's also really soft, which I wasn't expecting.
Infinite Flex Fabric
xSuit's all-new proprietary Infinite Flex fabric is engineered to provide maximum comfort and freedom of movement unlike any other suit.
They even tested the xSuit Fabric on extreme sports athletes and yogis to ensure maximum performance.
xSuit claims this new xSuit is the most comfortable fabric you will ever wear! Try it for yourself and feel the difference.
It is soft, stretchy, and breathable, making it perfect for any activity.
Machine Washable
A lot of people think that machine-washable suits are a myth. They hear the words "machine washable" and they immediately think of their dad's old leisure suit from the 70s that he used to wear on fishing trips.
But the xSuit 3.0 is different. This suit is made with proprietary fusing technology that makes it both durable and machine washable. So if you spill coffee on your xSuit, you don't have to worry about taking it to the dry cleaner. Just throw it in the washing machine and it will come out good as new.
And because the xSuit is machine washable, you can wear it more often and it will always look pristine.
Stain Resistant
xSuit's advanced nanotechnology repels stains and liquids, keeping your xSuit clean and dry all day long.
In reality, I think this is more of a DWR treating, not something proprietary to xSuit, but still a cool feature. xSuit's nanotechnology creates an invisible barrier that protects your suit from spills and stains.
Liquids bead up and roll off the xSuit, making it easier to clean and keep looking sharp. The best part is that you don't have to worry about those pesky coffee stains or red wine accidents ruining your xSuit.
However, since I tested this suit in "Jet Black" it's much harder to see any stains in general.
Wrinkle Resistant
The suit is also wrinkle-resistant, and the reason they ship it without a hanger is because it doesn't need one.
I was really skeptical about this claim, but it's actually true. I even took a photo of myself wearing the suit after I had stuffed it in my suitcase and taken it out, and there were no wrinkles at all.
Is it really stretchy, or just a gimmick?
It truly is stretchy – stretchier than ABC Pants and most other technical pants that we've tested here. That's really saying something, considering how stretchy those pants are.
I was able to do a full squat in these pants with no problem and I didn't feel like the fabric was going to rip or tear.
As a quick aside, don't go tugging and pulling this suit like crazy to see how stretchy it is. I did that in the video review and I heard some things pull. But that's my fault, not the xSuit's fault.
What is the xSuit 3.0 include?
The xSuit 3.0 is technically the xSuit Suit Jacket (also known as a Blazer) and Dress Pants. I did not see a way to purchase them separately on the website, but they retail for $599 together.
xSuit also still offers the xSuit 2.1 and some other items, and I'll post the reviews of those products separately.
What is the xSuit 3.0 fabric?
The xSuit 3.0 isn't a regular suit. It's been called a "limitless suit" (a term I hate) but is made from a blend of elastane, polyamide, and viscose. The fabric is really soft and has a nice amount of stretch to it.
Polyamide is a type of fabric that is sometimes used in suits. It is comfortable and doesn't wrinkle easily. Nylon is a type of Polyamide, for comparison purposes.
The fabric is what makes this suit machine-washable, wrinkle-resistant, and stain-resistant and fairly common with other performance wear.
How to clean the Suit
xSuit recommends that you wash the suit in cold water on the delicate cycle and then hang it to dry.
They do not recommend that you put it in the dryer, as that could damage the fabric. I would definitely follow their recommendation on this one. You can use a cool iron, if needed – but the clothes will naturally de-wrinkle with wear.
How does the suit look? Like a dress suit or leisure suit?
When I first saw the xSuit, I thought it was going to be a gimmick. But I was 100% wrong.
I was very pleasantly surprised with the overall quality and look of the xSuit 3.0.
I've tested other tech suits, see our Ministry of Supply Suit Review and our Bluffworks Suit Review – and those are both incredible suits in the same category.
I wouldn't necessarily say that the xSuit is BETTER than both of those suits, but it definitely holds it's own.
Trust me: no one will ever think you are super comfortable – because the suit looks like a normal, if not higher-brow suit, than you would get off the shelf.
You can be the only one that knows exactly how comfortable and stretchy the xSuit 3.0 really is.
What colors does the xSuit 3.0 come in… and which is the best?
The xSuit 3.0 comes in black, midnight blue, and graphite.
After reviewing many different travel suits, I have to say I'd recommend this one in Black (jet black as they call it), because I think it has the potential to look the best of the colors.
I only got Black, so I can't say this with 100% confidence, but it's easier to make a black suit look good than a heather charcoal suit (like the Bluffworks Suit and Ministry of Supply Suit I already own).
The slight variations in the color have to look just right in order for it not to look cheap or cheesy.
The Jet Black Color of the xSuit 3.0 didn't look cheap or cheesy at all. In fact, it looked like a high-quality suit.
Sizing of the xSuit
The xSuit is designed in the "Tailored" style – in between a standard and a slim fit.
However, on average, xSuit customers say it fits small – so we recommend sizing up if you are between sizes.
I personally found the pants to feel a little baggy (once again, get them tailored) but the jacket fit perfectly in my normal size.
If you're not quite sure what size to get, err on the side of caution and go with the larger size. But don't worry, xSuit also offers free shipping and returns.
Where the Suit Shines: Travel Friendly
This suit is absolutely perfect for travel. You can take it on trips and not worry about getting it wrinkled or having to get it dry cleaned.
Take it on long days of walking around cities, sitting in airplanes, and even sleep in it, if you want to.
It really is the perfect travel companion.
The xSuit also comes with a special "travel pocket" zippered inside the xSuit Blazer.
xSuit 3.0 vs. Other Suits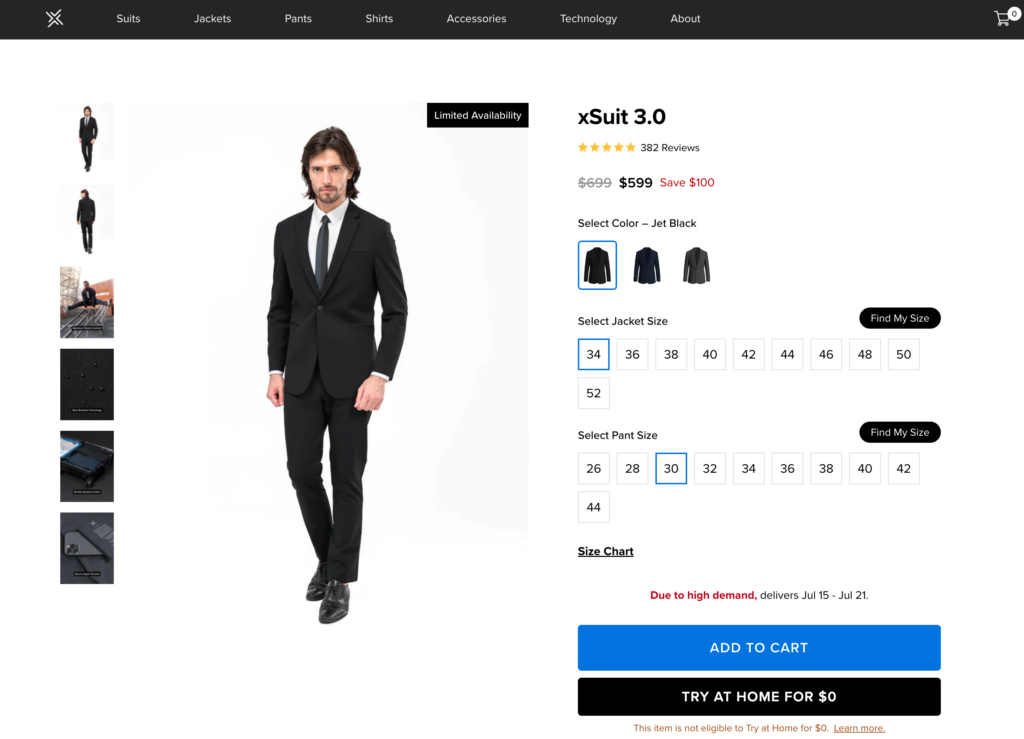 There are a few other companies that are making machine-washable suits, but they're almost all more expensive than xSuit – and not as stretchy.
To be honest, I think xSuit is one of the best values here. The suit is well-made and actually looks like a suit that you would pay significantly more for.
It's also worth noting that xSuit offers free shipping and returns, which is always a nice perk.
I'm working on a full comparison of the different tech suits: Bluffworks, Twillory, Ministry of Supply and xSuit – coming very shortly!
What we love about the xSuit
This is easy: the xSuit is an incredible value. It's a high-quality suit that looks great, doesn't wrinkle, and is machine-washable.
The xSuit is also stretchy and comfortable – which makes it perfect for travel.
I would definitely recommend the xSuit to anyone in the market for a new suit – especially if you travel frequently and want a super comfy suit.
After you read reviews on a product, I know you are thinking, "is there anything bad about it?" Of course no product or clothing is perfect. But here are a couple small things we didn't care for.
What we don't love about the xSuit
There are a couple of very nit-picky things that we don't care for with the xSuit. They are not dealbreakers, but I do want you, the consumer, to know exactly what you are getting.
The buttons
I know this seems small, but I wasn't a fan of the "X" buttons on the xSuit. I understand what they are trying to do here, but I think it looks a little cheesy.
The good news is that you can always replace the buttons with some that you like better. Not a big deal, but something to be aware of.
Pants are baggy
As I mentioned earlier, the pants on the xSuit are a bit baggy on my body. I would recommend getting them tailored if you want them to look their best.
This is not unique to xSuit – pretty much every suit I've ever owned has needed alterations in some way, so this is par for the course.
Branding on the inside of the blazer
Next to no one will ever see the inside of your blazer, but the xSuit has some pretty obnoxious, large branding on the inside of the blazer. I prefer the subtle orange highlights on something like the Bluffworks Gramarcy Blazer I've tested, but this is a small deal.
This is not a deal-killer for me, but it's something to keep in mind.
xSuit 3.0 Review: Final Thoughts
So how does the xSuit 3.0 stack up against other suits on the market? We've put it through its paces and here's what we think:
The xSuit 3.0 is an incredible value. It's a high-quality suit that looks great, doesn't wrinkle, and is machine-washable.
The xSuit is also stretchy and comfortable – which makes it perfect for travel.
I would definitely recommend the xSuit to anyone in the market for a new suit – especially if you travel frequently.