Bombas Socks Review: You may have seen the cute Bombas Bee or seen Bombas on Shark Tank and wondered, "Are these socks any good?" We give you our full and honest review of Bombas No Show Socks, Bombas Performance Running Socks, Bombas Merino Wool Socks and many more!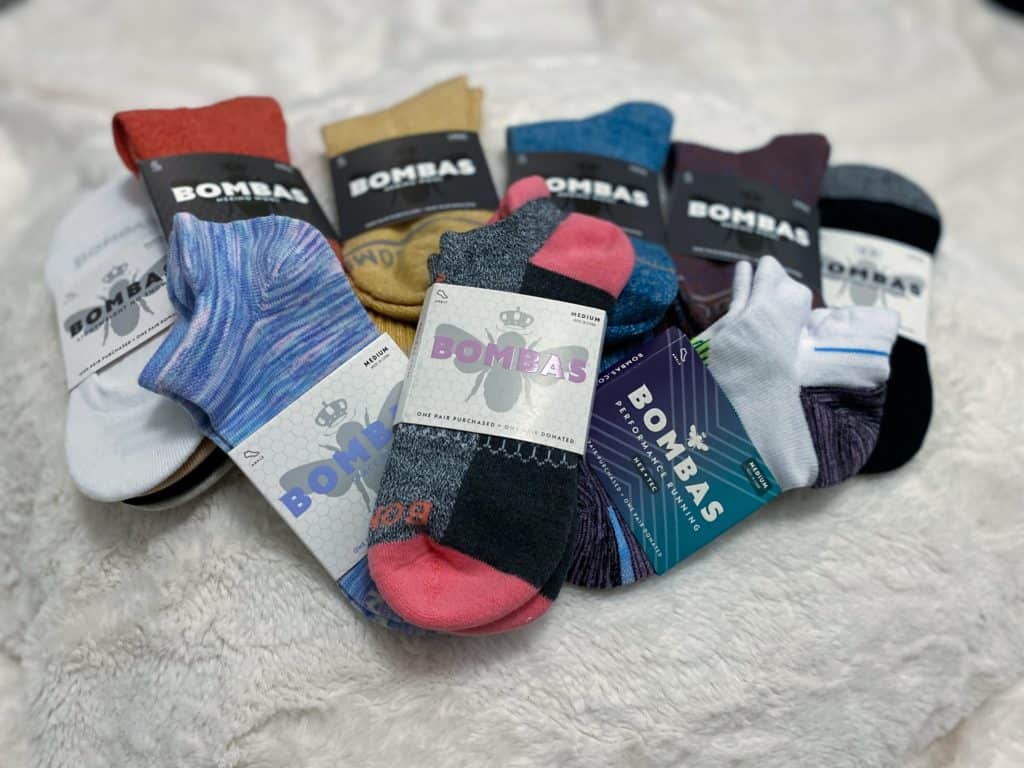 Full Transparency: Bombas gave us these amazing socks, and this blog post has affiliate links so I'll receive some compensation if you purchase from our links. But we would never give you anything less than 100% honesty about how we feel about them, even for all the free socks in the world. 
We have a confession to make: we typically hate socks and don't usually wear them. You may be saying, "how is that even possible? Don't your feet stink all of time?" Well, when you wear Allbirds – they really don't make your feet stick! Read our full honest Allbirds Review to learn more.
But when we had the chance to review Bombas Socks – we jumped on it (no pun intended). After all, we still wear socks sometimes!
👍🏻What We Love
👎🏻What We Don't Love
– Fun colors and super comfortable.
– Supports a great cause – donating over 34 million socks!
– Comfortable and a variety of sizes.
– Can be a little on the expensive side.
Bombas Review: Why Bombas?
Socks that do good? These ones do! Bombas has donated over 34 million pairs of socks. They believe that all people deserve clean socks no matter their circumstance and we love that mission. So it sounds like a great company, but what about their socks? Read on to find out what Bombas Socks we tried and what we loved.
You can read more about our social good products we review (not just sustainable but also products that just do good for others).
What Bomas Socks We Tried
We got the chance to try a lot of different socks! Here's the full list:
Men's Cushioned No Show Socks
Men's Merino Wool Calf Socks
Women's Lightweight No Shows
Women's Merino Originals Calf Socks
Women's Originals Ankle Socks
Women's Performance Running Ankle Socks
Women's Space Dye Ankle Socks
What we love about bombas socks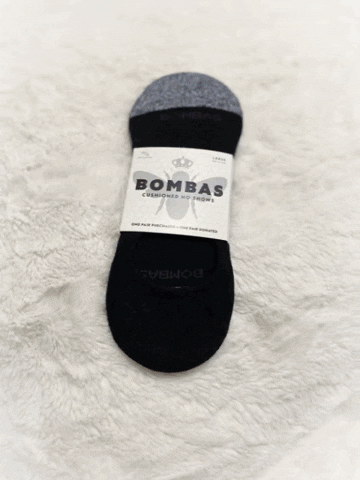 Bombas has so many different color and style options! They have something for everyone including men, women and even kids. They also have packs that fit into our incredibly minimal color wardrobe and packs that take us out of our comfort zone with fun and happy colors.
The comfort of Bombas is amazing! These are very plush high-quality socks.  The ankle socks have nice tabs that cover the back of your ankle and the socks all feel very luxurious.  
The Bombas no show socks blew us away. Typically no show socks have a "sock thread count" (not a real thing but you get the idea) of 50, these have a "sock thread count" of 1000. The material is soft, luxurious and best of all they actually stay on your foot! They also just feel like normal socks – some no show socks feel thinner than normal socks.
The merino wool socks are soft. How is this possible? Living in Colorado we have quite the collection of wool socks and none of them are soft. They are all scratchy and uncomfortable but you know desperate times and all that. Bombas wool socks are actually so comfortable. They are our new go-to boot socks (and Chukka Socks), for sure!
What we don't love about Bombas socks
The price is a little high for socks, but we feel like this is one of those things that you get what you pay for. The quality will make them last a long time, they will probably be your favorite socks in your drawer and you are also giving someone in need a pair for every pair you buy. 
Bombas No Show Sock – Deep Dive
No show socks are tough. We've tried "No Show" socks from a variety of different companies, from cheap-o Fruit of the Loom to more expensive versions like Mack Weldon. No Show Socks are simply tough – they either end up being too aggressively no show and end up slipping down your foot or too aggressive on comfort and you see the sock.
We think that Bombas hit the perfect balance here. The socks are the perfect thickness AND they have the grip "print" (I'm not sure what it's called) to make sure they stay on your foot. After wearing them for a while in a pair of shoes, the moment of truth came: would they still be on my foot?
Ding, ding, ding! We have a winner!! These still fit perfectly on the foot, even after wearing shoes for a couple of hours.
Who are Bombas for?
As we mentioned above, Bombas has something for everyone. 
They have socks for women, men and kids. They have all different styles and lots of different colors. We think everyone will find something they like. In fact, we were looking over their website while writing this review and noticed they have socks with grippers and said "We need those for the trampoline park!" Who doesn't want to jump in style?
Bombas Socks Review: The Final Verdict.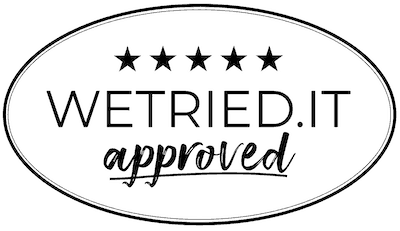 These socks are the bombas.com (bomb.com- like what we did there?). Haha, ok… sock jokes are all bad. In all seriousness, we are absolutely loving every pair of socks that we tried from Bombas. The high-quality material, thoughtful design, endless options and powerful mission statement get Bombas Socks the coveted We Tried It Seal of Approval.
Explore all of the great Bombas Styles. Use this link and code BOMBAS20 to save 20%!