Bluffworks Suit Review: The clothing company promises to offer the best clothes for travel – low maintenance, comfortable, and dry-clean optional. We put them to the test in our Bluffworks Review. In this review, we'll look at the Bluffworks Gramercy Blazer and matching Bluffworks Gramercy Dress Pants.
We've been dusting off some of our old reviews, like this one (for some reason we never published this Gramercy Suit Review) or even our full Bluffworks Review. We've tried tons of other Bluffworks products, like the Piton Polo and many more! Keep on reading if Bluffworks Travel Clothing is any good at all.
So, let's dive into our full Bluffworks Suit review to tell you: is the Bluffworks Suit any good? Also, don't miss our Ministry of Supply Suit Review, too. Also, check out our full best travel suit guide.
Meet the Bluffworks Suit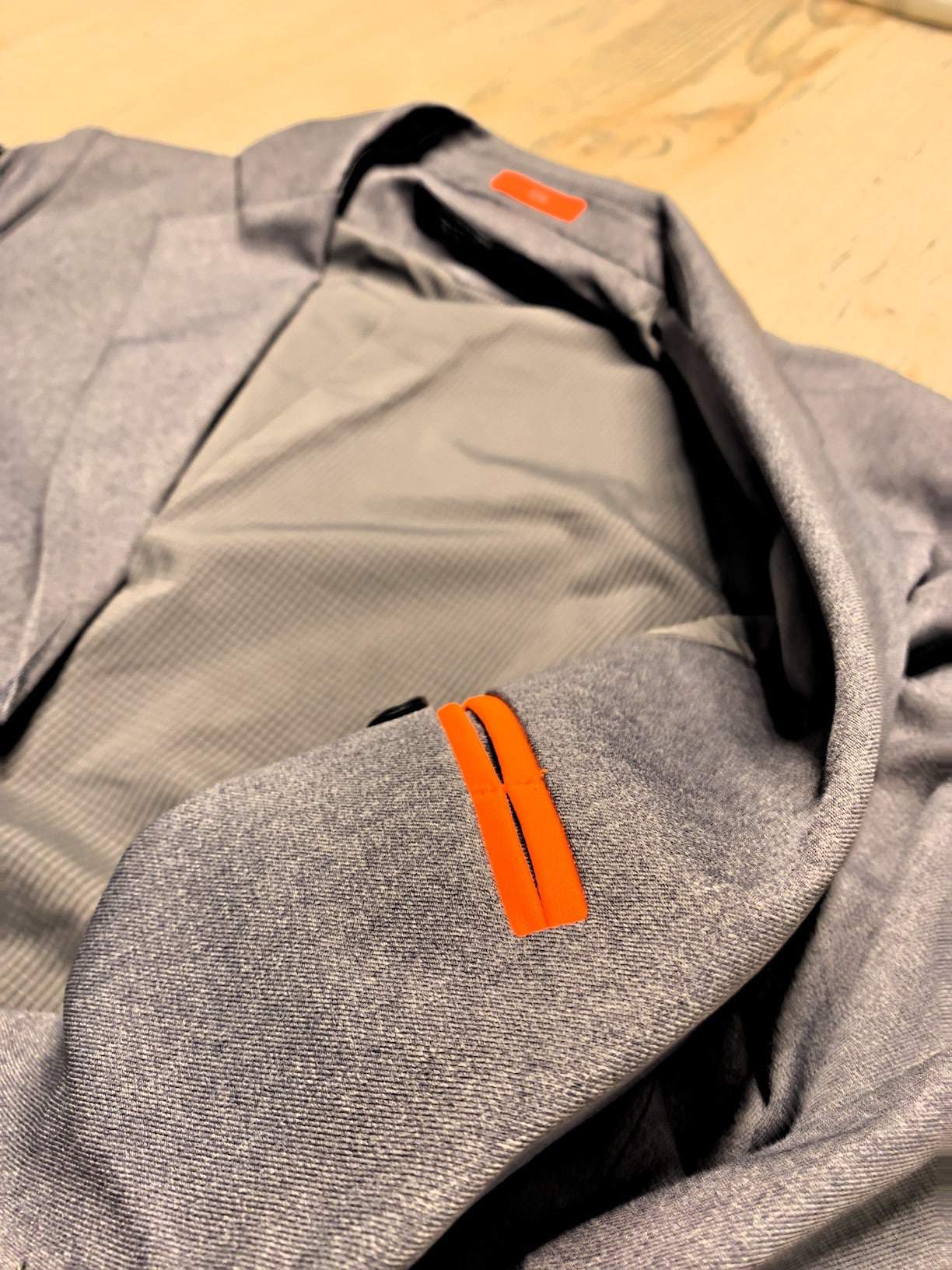 Any good?
Super comfortable
Machine Washable
Wrinkle Resistant
Lightweight
Looks like a "real" suit
Bluffworks Suit: Actually the Bluffworks Gramercy Blazer and Gramercy Pants
Technically, there is no such thing as a "Bluffworks Suit" there is the Gramercy Blazer and the Gramercy Pants – together, they make the Bluffworks Suit.
There is also the Presidio Blazer and the Presidio Pants – which is another Bluffworks "Suit," if you will. We tried the Gramercy Blazer and Gramercy Pants – together they cost $435 – which really isn't a lot of a full suit.
The Blazers come in a Standard/Normal Fit and a Slim Fit. The Pants come in Standard and Tailored Fit.
Bluffworks: The perfect travel suit?
I travel a fair amount for work. I don't typically wear a blazer but was hoping if I found the right one, I'd wear it more often. I run REALLY hot and hate to be warm. Honestly, that's a huge reason I hate wearing a blazer – they are usually too hot, and I hate to dry clean them, too!
Let's jump into our Bluffworks Suit Review.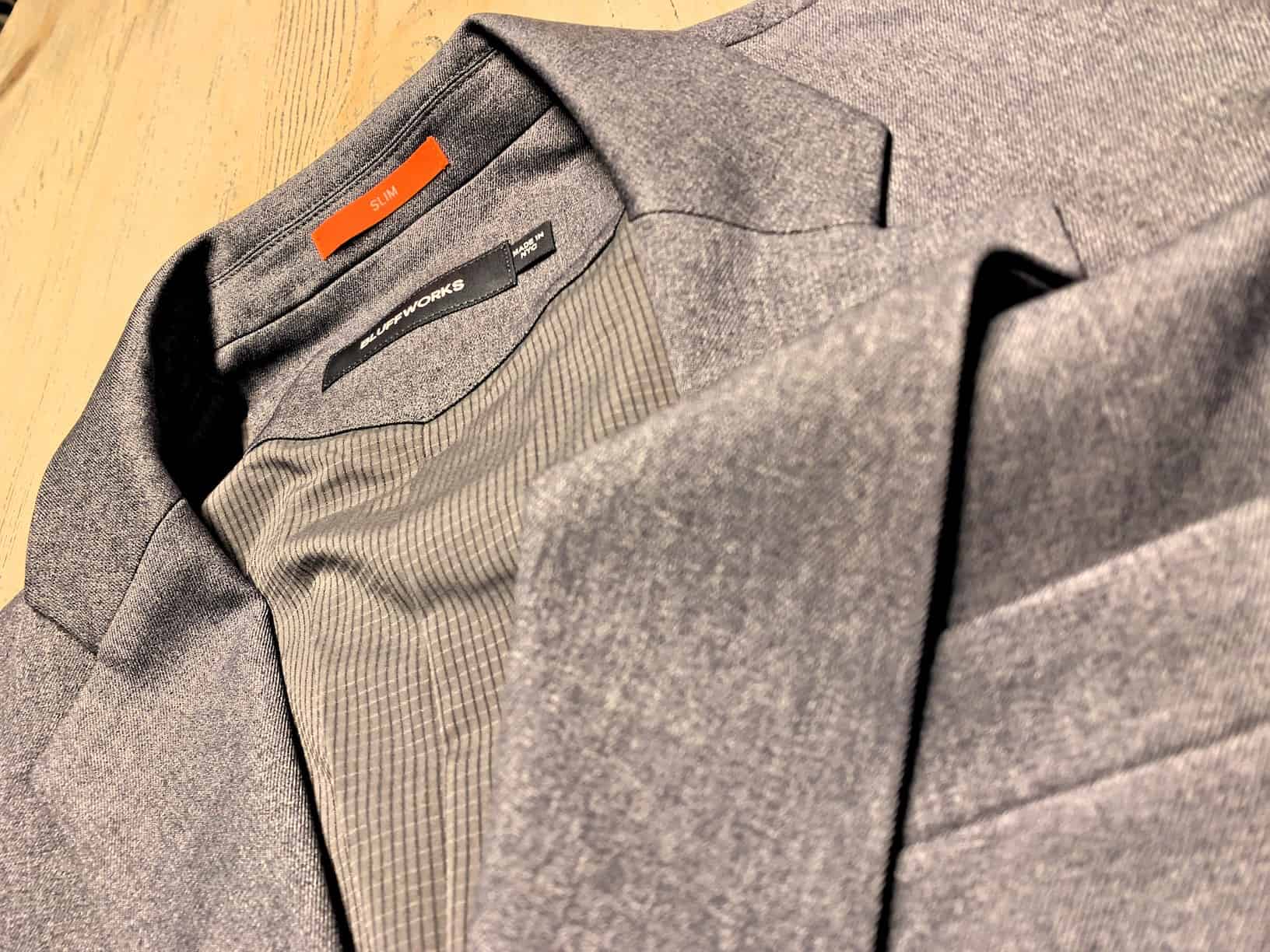 What Makes Bluffworks Different? Lots!
There are many things that make Bluffworks different:
It feels like Wool (most men's suits are made of Wool) but is 100% machine washable.
They "refuse to wrink" according to Bluffworks.
The fabric is breathable – no more sweating under your sports coat.
Tons of pockets – 10 to be exact.
Seriously… wrinkle resistant AND Machine Washable… how great is that?!
What does all of that mean? It means that Bluffworks completely changed the game for Blazers. Especially travel Blazers.
Bluffworks Review: How Does It Look?
My biggest concern with Bluffworks was that it would look like I was wearing a sports coat made out of sweatpant material. My biggest concern was quickly removed when I took the Bluffworks Gramercy Blazer out of the box. It looks like a REAL blazer.
You wouldn't know it had all of the technical features inside. That's a very good thing! Just look at how beautiful this Gramarcy Blazer REALLY is.
The suit looks much more like a wool suit than I thought. No one would even know the difference.
There are even nice accents on the inside of the jacket that I really liked. This definitely gave the jacket a much higher-class feel. The bright orange is a nice contrast for this Gramercy suit.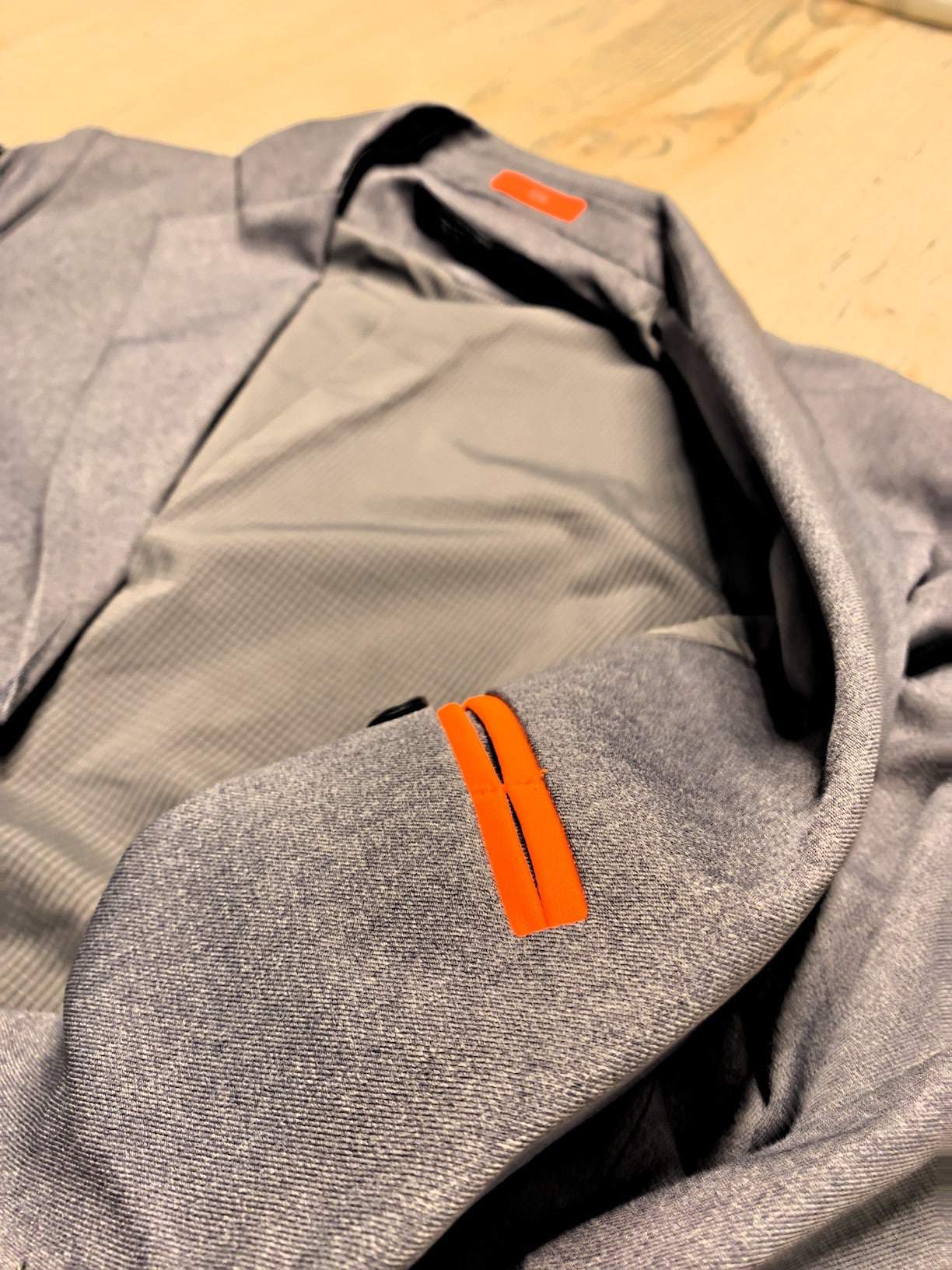 Bluffworks Blazer Review: Comfort
I thought the Bluffworks Blazer to be very comfortable and easy to wear. I didn't notice a huge difference between my Banana Republic Sports Coat and my Bluffworks Sports Coat, however, I was wearing it inside to test – not a lot of heat in general. I've heard from others that the Bluffworks Blazer is very breathable and is awesome when you need to look dressed up but it's hot outide.
I wouldn't hesitate to wear Bluffworks to an outdoor wedding. It's dressy enough to look good and breathable enough to wear outside.
---
Bluffworks Gramercy Blazer: How to wear it
I don't wear suits very often. In fact, I'm way more likely to wear a nice sports jacket (hello Bluffworks!), nice jeans, a button-up shirt, and nice dress shoes. Here's how I would typically wear a Sports Jacket/Blazer:
The grapic above is me wearing:
Even when you "dress down" Bluffworks – it still works and is still super comfortable.
---
Bluffworks Blazer Review: Fit
This is my biggest beef with Bluffworks: their fit. Granted, I don't wear suits a lot, but my 40 Regular from Bluffworks fit completely differently than my 40 Regular from Banana Republic. See how the Bluffworks fits differently: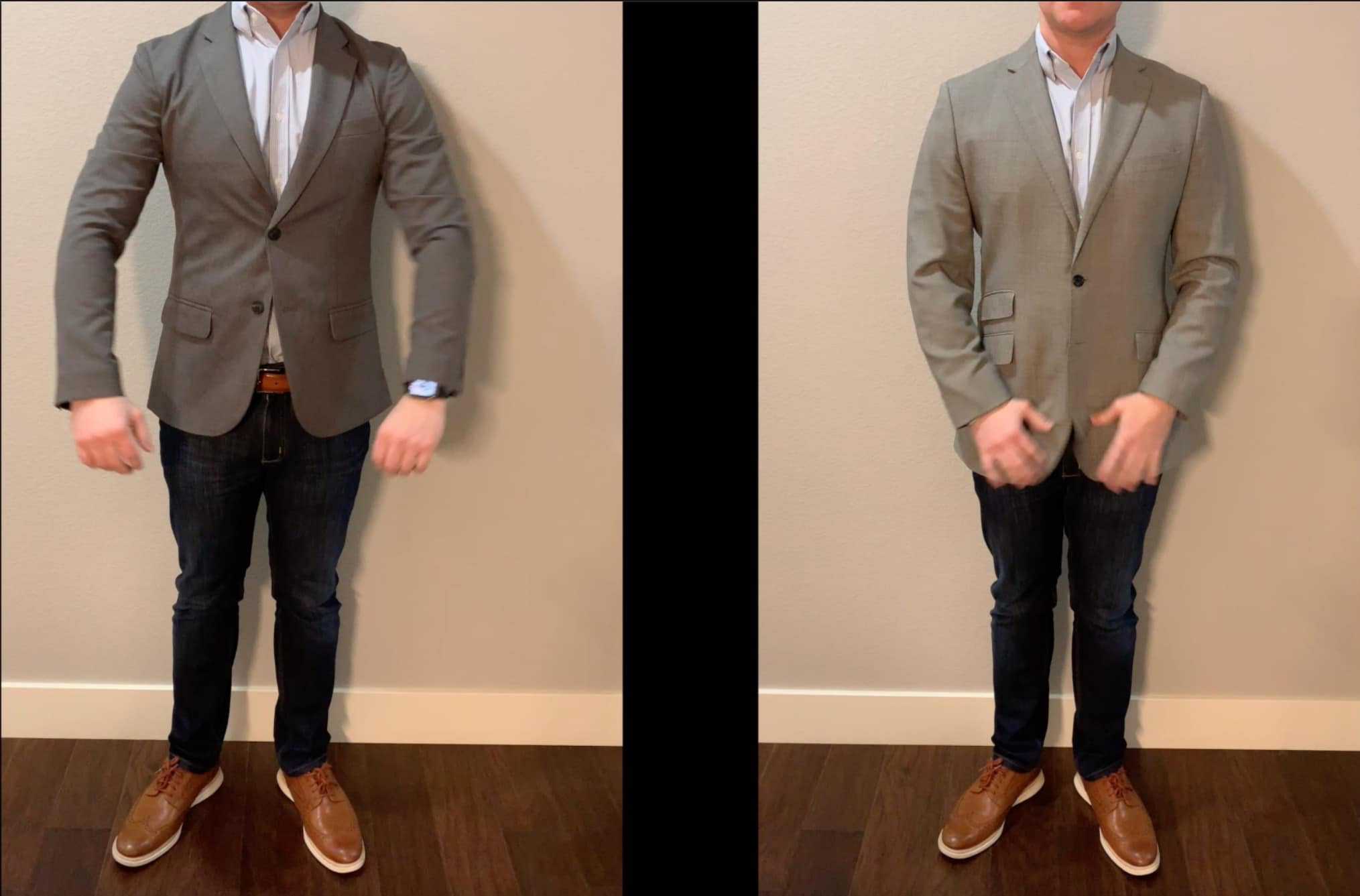 See the difference?
I exchanged the Bluffworks 40 Regular Fit for a 42 Regular fit and it fit…well, perfectly. So, I'd size up from traditional suit brands.
Also, ALWAYS and we mean ALWAYS, get your Suits tailored. It really makes a huge difference and makes your suit look more expensive than it really is.
Don't just take my advice, even GQ recommends it.
The other trick to a suit looking more expensive? Making sure it's not wrinkled. That's why the Gramercy Blazer is awesome because it is super wrinkle-resistant.
Bluffworks Customer Service: Amazing
The good news is that Bluffworks has simply amazing customer service. The orders ship fast (and usually have free shipping). They even personally called me to help me find the right size. That was pretty stinking cool!
Gramercy Suit: Let's talk pockets
The Gramercy Blazer has 10 pockets (yes you read that correctly!), including 7 interior security pockets. Several of the pockets are even zippered, so you can securely store anything you need.
But once again, this suit looks like a real suit – not a suit that was designed to have a ton of pockets. That's what makes the Gramercy Travel Blazer so amazing. It's got all the functionality you want without looking like Cargo Pants.

The Gramercy Suit pants even have pockets on top of pockets. There are 7 pockets in the Gramercy Suit. You can really only see the front two pockets and the back two pockets.
The newer version even has a "Signature Bluffworks phone pocket" – I have the previous generation without the phone pocket. I'm, frankly, not sure I'd ever use that pocket, but it is there!
Bluffworks Pants Review
I also tried the the Bluffworks Gramercy matching dress pants. They were just fine. Nothing super-amazing and nothing bad. But I knew I would only wear them with the matching Gramercy Blazer.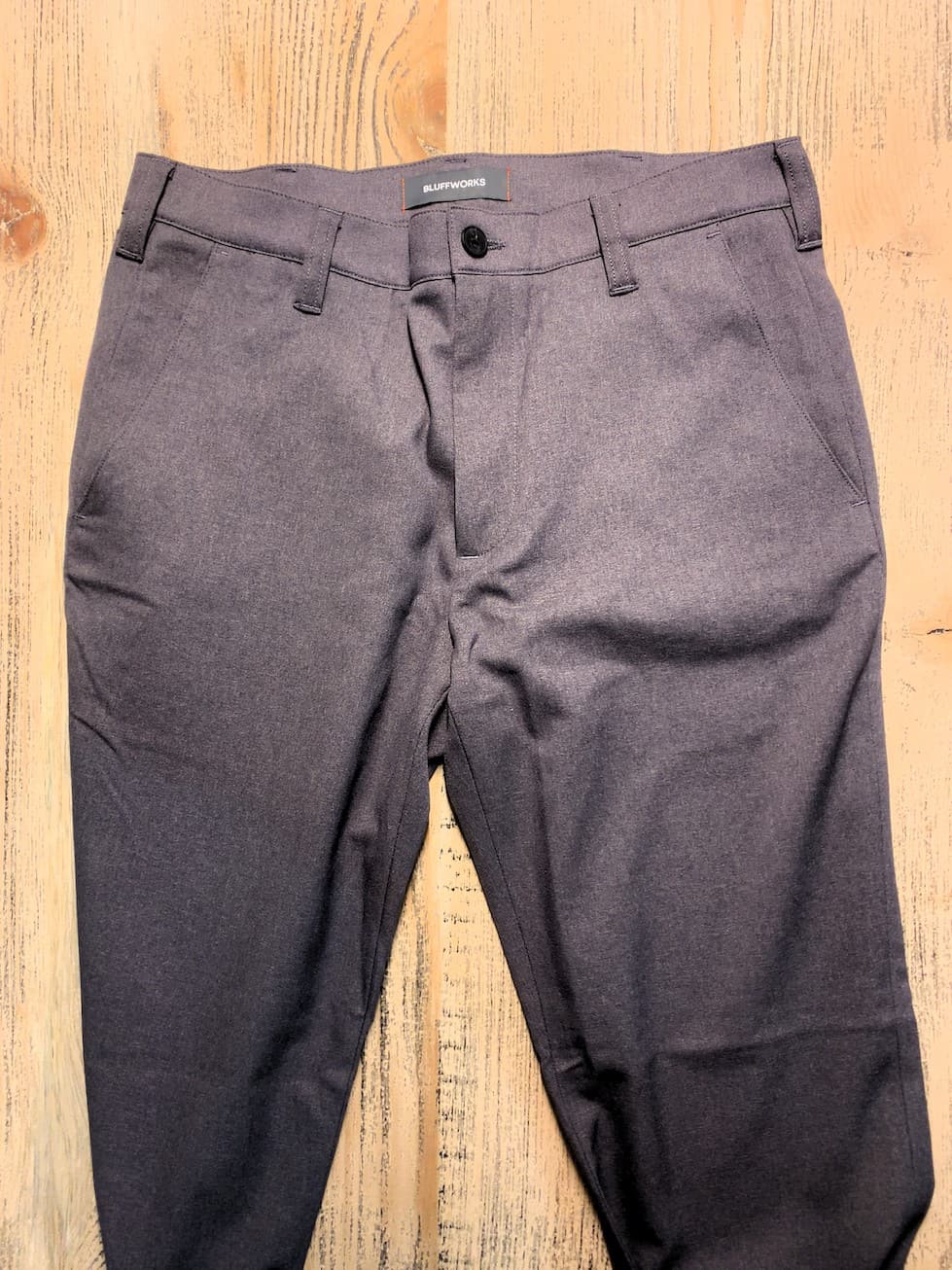 They, obviously, match the Gramercy Blazer Jacket Perfectly.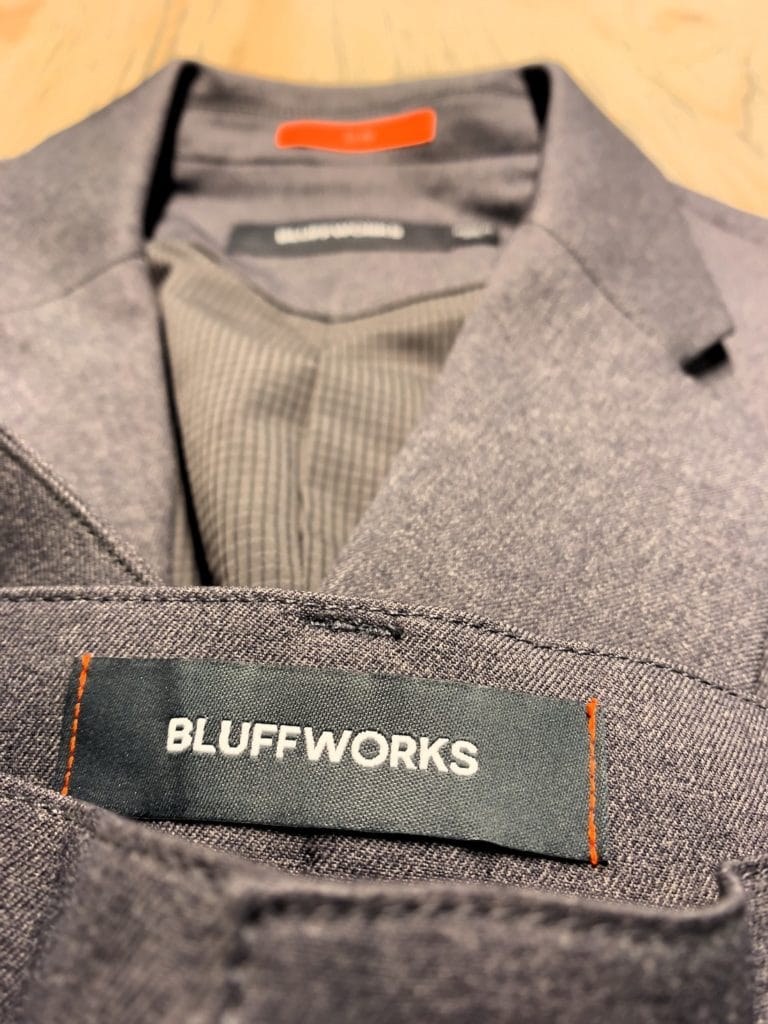 Put together, the Gramercy dress pants and the Gramercy Blazer are a match made in heaven. They both look good, provide a ton of features and make the perfect Gramercy Suit together.
Of course, you don't have to wear it as a true Gramercy Suit – you can easily pair the blazer with a pair jeans or a chino and it is the perfect business casual look.
Gramercy Suit or Presidio Suit?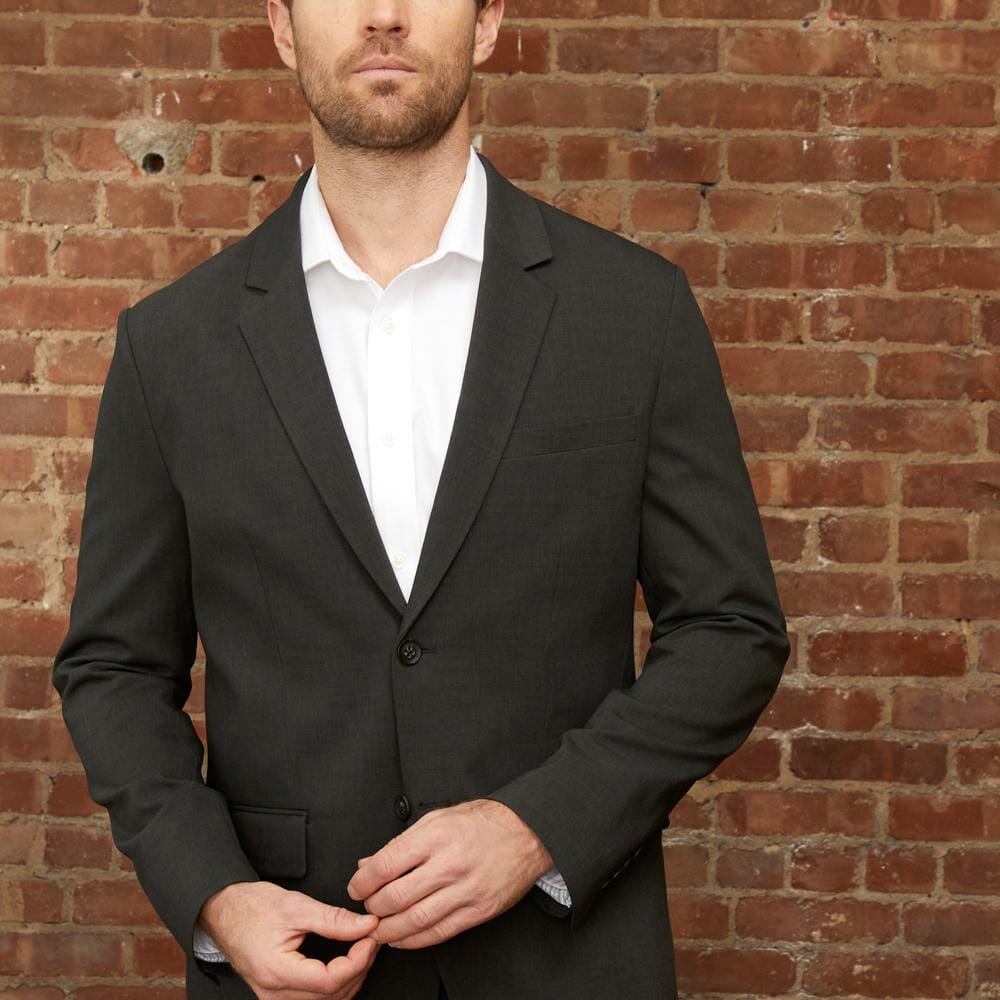 As with everything, it depends.
I picked the Gramercy Suit because it looks more like the kind of style that I would typically wear.
The Presidio Suit is definitely more formal. I wouldn't recommend wearing the Presidio Suit with Jeans (and neither does Bluffworks), so I'd make that be your defining factor.
| | | |
| --- | --- | --- |
| | Gramercy | Presidio |
| Style | Business casual | Formal |
| Texture | Soft, wool-like | Drapes like tropical wool |
| Body lining | Lined | Lined |
| Sleeve lining | Unlined | Lined |
| Season | Cool / year-round | Year-round |
| Product weight | Lightweight | Lightweight |
| Fabric weight | 5.99 oz per yard | 5.90 oz per yard |
If you are going to wear the Blazer with Jeans, get Gramercy. If you are going to only wear it more formally: get the Presidio Suit.
Who should buy Bluffworks?
As people start to travel again and weddings start to take place – the Bluffworks Suit is a great suit to have as your "go-to" suit.
The only reason that I have to be critical of Bluffworks is in their sizing. So, if you need a suit order a couple of sizes from Bluffworks and simply return the sizes that do not work for you.
Bluffworks amazing customer service is super easy to work with and they offer free returns. Just make sure that you get your suit tailored, so it looks even better.
Furthermore, that means you can't order a suit today and have it ready for the weekend. While Bluffworks does offer fast shipping, sometimes tailors can take a week or more to get this going.
So, if you're looking for amazing travel clothes, just buy these well before your next adventure.
Bluffworks Gramercy Suit Alternatives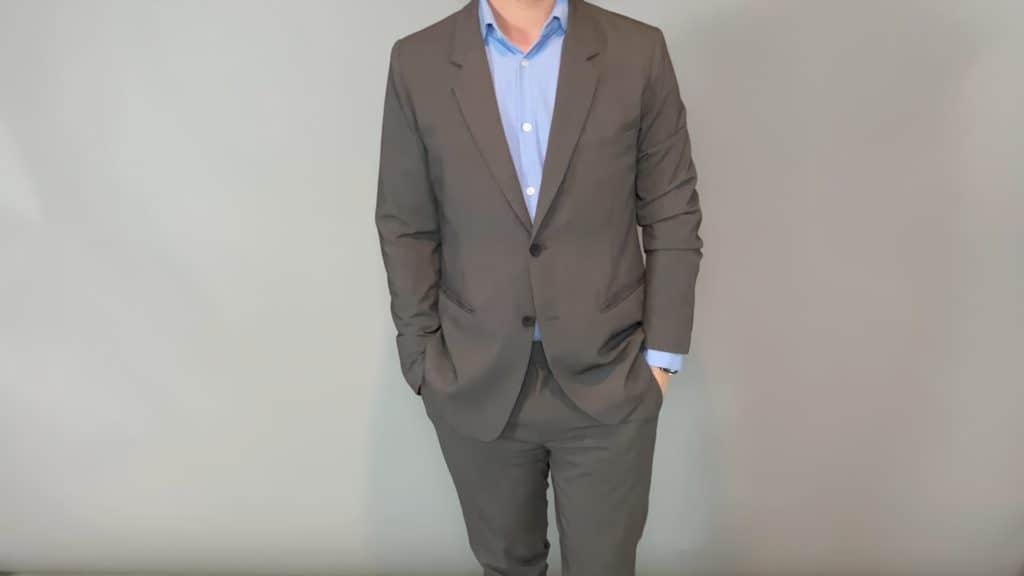 If you have a little extra money to spend, take a look at the Ministry of Supply Suit (see our full Ministry of Supply Suit Review).
I will say that is a better suit. However, it is twice the price. If you wear a suit a lot, then it might be worth it.
I wear a suit about 3-4 times a year and I would probably buy 2 Bluffworks Gramercy Suits (in different colors, obviously!) over 1 Ministry of Supply Suit, to be 100% honest.
Bluffworks Suit Review: The Final Verdict
If you're looking for a good suit, I would highly recommend the Bluffworks Gramercy Suit. The 10 pockets are perfect to carry all your essentials and it still looks like a real suit! With an amazing customer service team that will personally call you with any questions or concerns about sizing, this is definitely the best choice in travel + technical suits right now.
Have any questions or comments about our Bluffworks Suit Review? Let us know in the comments below!