Oh boy, do we have a treat for you! If you're like us and believe that eBikes are the future (or the present, if you're already cruising), then you're in the right place. We've got the lowdown on all those sweet, sweet tax rebates that are gonna make getting an eBike feel like a walk—er, ride—in the park.
We've sorted through all the noise to give you some active (or soon to be active) programs, so you can save some big bucks.
California e-Bike Rebate Programs
Alright, Californians, if you think your state is just about Hollywood and In-N-Out Burger, you're in for a treat. We're talking eBike rebates that'll have you cruising down the PCH in no time!
Rollin' in California Cash: The Golden State's State-Wide Rebates
First up, the California Bicycle Coalition, aka CalBike, scored a $10 million grant for their E-Bike Affordability Program. Partnering with the California Air Resources Board, they're gunning to help 10,000 of you ride into the sunset on an eBike.
Who Can Ride the Electric Wave in California?
The eligibility for the California E-Bike Incentive Project hinges on two main factors: the applicant's age and household income. Specifically, applicants need to be California residents who are 18 years or older. Additionally, the household income needs to be within 300% of the Federal Poverty Level (FPL) or lower to qualify for this incentive.
The magic number is 300% of the Federal Poverty Level (FPL) or less. To put it in perspective, for a household of one, the cap is at $43,740, and for a family of four, it's $90,000. And if your household is boasting more than eight individuals, just add $15,420 for each extra person to these thresholds. Priority is given to those with a gross annual household income of 225% or less of the FPL or those residing in disadvantaged or low-income communities​1​.
What electric bikes are eligible?
The California E-Bike Incentive Project welcomes Class 1-3 e-bikes, cargo e-bikes, and adaptive e-bikes under its umbrella, provided they sport electric motors of 750 watts or less, have operable pedals, integrated lights, and come with a minimum 1-year warranty on electrical components.
While Class 1-3 e-bikes and cargo e-bikes cater to conventional and heavy-duty users, respectively, adaptive e-bikes are tailored for riders with specific needs, broadening the spectrum of eligibility. However, used e-bikes, conversion kits, and those outside the 3-class system are left out in the cold​.
A great cargo bike that's eligible.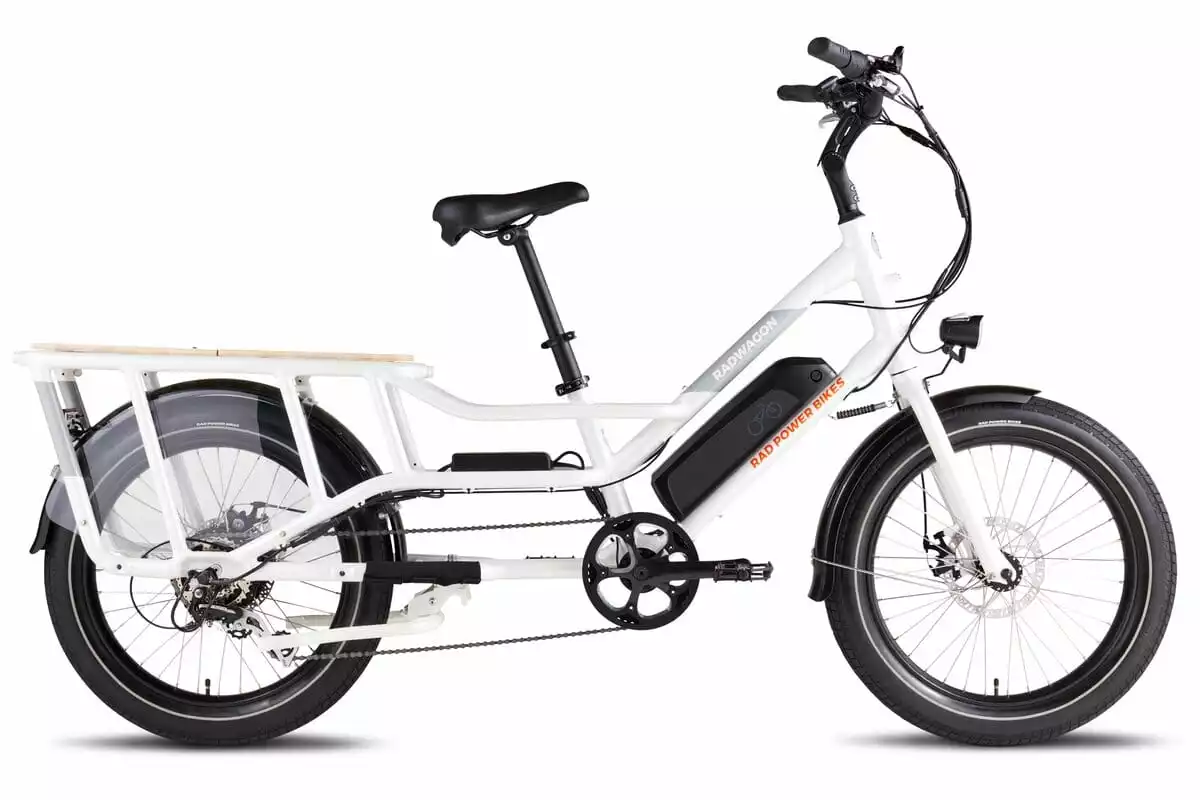 Radwagon 4
This is a Class 2 Cargo electric Bike, that meets the criteria for the California eBike requirements for a rebat.
Buy Now
Our Review
We might earn a commission if you make a purchase, at no additional cost to you.
When does it open?
As with most government programs, this one is a bit slow to take off. California encourages residents to sign up for updates for details when the program launches.
Alameda: Where Every Day is eBike Day
Alameda Municipal Power: So you live in Alameda? Lucky you! You can nab a 10-20% rebate on new or used eBike purchases. The deal is tiered, so listen up: Spend between $500-$999 and you're looking at a $100 rebate. Cross that $1,000 threshold and a $200 rebate is yours. This isn't Monopoly money, folks; it's the real deal. Learn more here.
Alameda TMA Special: If you're a part of the Alameda TMA (Transportation Management Association), sit tight because there's more. You can get your hands on a $300 rebate for a new eBike. It's like getting a golden ticket in your Wonka Bar! Learn more here.
Contra Costa & Marin Counties: Two for One
Metropolitan Transportation Commission: Spread across western Contra Costa and eastern Marin counties, they're offering an 80% voucher up to $500, or up to $1,000 if you're low-income. It's like hitting the eBike lottery. Learn More
Try Out Program: Ever wanted to test-drive an eBike like you're on a reality show? Here's your chance. They've got a try-out program for rides across the Richmond-San Rafael Bridge. Learn More
Contra Costa County: The One-Fifty Special
511 Contra Costa: Step right up, Contra Costa residents! You've got a $150 rebate waiting for you, and if you're low-income, they're doubling it to $300. It's like getting a two-for-one deal at your favorite taco joint. Learn More
Healdsburg: Where the Grapes and Rebates Grow
City of Healdsburg: They're serving up rebates like a sommelier pours wine. Get $100 for an eBike under $1,000 and $400 for an eBike over $1,000. Learn More
Santa Cruz: Surf, Sun, and Savings
City of Santa Cruz: They're not just about surfboards; eBikes are in the mix too. Get up to $2,000 when you trade in an old car for an eBike. Learn More
Santa Cruz: Where the Waves Meet the Wheels
City of Santa Cruz: Ah, the surfer's paradise is also becoming an eBiker's dream. Trade in your old gas-guzzler for an eBike and catch a rebate wave of up to $2,000. You could almost buy a surfboard with that kind of money! Learn More
Colorado: Active eBike Rebates
California isn't the one to have all the fun, Colorado also has some great active eBike Rebates
How to Score Up to $1,500 Off Your Colorado eBike: The Inside Scoop
The Starting Line: Application Hoops
First things first, let's squash the idea that you can strut into a bike shop and demand $1,500 off an eBike like some sort of rebate royalty.
No, siree! Your journey starts with a rebate application. Mark your calendar for October 9 to October 16, 2023, because that's your window to toss your hat into this rebate rodeo. Register your email, and if the Colorado Energy Office (CEO) picks you, brace yourself for the golden email on October 16. You've got 48 hours to upload proof of residency and income eligibility.
Who's Getting a Golden Ticket?
To be in this game, you've gotta be 18 or over and a Colorado resident. Easy, right? But here's the kicker—your eligibility is sliced and diced based on your income and the number of mouths you're feeding.
Low-Income Eligibility
If your household income is below 80% of your county's Area Median Income (AMI), you're in the low-income zone. So let's say you're a family of three in Eagle County, making less than $85,200—you're covered.
For the Middle-of-the-Roaders: Moderate-Income Eligibility
If you're sitting between 80% and 100% of the AMI, welcome to the moderate-income club. Using the same Eagle County example, you'd need to be earning between $85,200 and $106,500.
Show Me the Money: Rebate Breakdown
Here's where it gets juicy. Low-income qualified participants can nab a $1,100 rebate. Moderate-income earners, you're looking at $500. But wait, there's more! Add in $100 for safety gear like helmets (we like the XNITO Helmet and Thousand Helmets) or locks, and if you're eyeing an e-cargo or adaptive eBike, tack on another $300.
So yes, you could walk away with a whopping $1,500 off.
What Bikes Make the Cut?
You can use this rebate on any class of new eBike, as long as it's electric, has two or three wheels, fully operable pedals, and a motor that doesn't exceed 750 watts.
A trike that qualifies.
Rad Power Trike
The RadTrike is perfect for those with stability or mobility issues, offering a user-friendly, safe, e-trike experience.
Buy Now
We might earn a commission if you make a purchase, at no additional cost to you.
Be sure to check out some of our bike reviews for eBikes that qualify:
Full-suspension mountain bikes need not apply. And while there's no minimum spend, the cap is $5,000 for eBikes and $8,500 for e-cargo bikes.
The Finish Line: Claiming Your Rebate
Once you're good to go, hit up a participating retailer, choose your dream eBike, and watch that rebate get applied right at the checkout. And just like that, you're ready to e-ride into the Colorado sunset—or at least to your next destination—with a bit more jingle in your pocket.
So, ready to trade that car for an eBike and some Colorado mountain air? 🚴‍♀️💨
Don't qualify? Check out our best eBike Deals.
Connecticut eBike Rebates: Everything you need to know
We're only at the "C" letter names, bit Connecticut has plenty of eBike options, too.
The Price Tag: Keeping it Under 3K
First up, let's talk dollars and cents. If you're window shopping for eBikes in Connecticut, keep an eye on that price tag. The state's putting a cap on it—only eBikes with an MSRP of less than $3,000 qualify. It's like going to an all-you-can-eat buffet but being told you can only hit the salad bar.
The Timeline: Mark Your Calendars
The Connecticut DEEP's (Department of Energy & Environmental Protection) eBike Incentive Program saw a fervent response with 6,394 applications in its first round, exceeding its initial budget, which was subsequently increased from $500,000 to $750,000. However, funds were exhausted before all Voucher+ applications could be awarded, leaving no Standard Vouchers issued.
Post this, DEEP started notifying applicants of their status from July 25, 2023. As they plan for the next funding round, DEEP aims to evaluate the program's impact and compliance, with an eye on refining the incentive levels for a broader reach.
Learn more information here.
Florida eBike Rebates: Your Sunshine State Guide
Currently, only Tampa is offering a program and it's currently closed.
Eligible E-Bikes: Only Class I
In Florida's eBike incentive program, only Class I eBikes are eligible. Converting old bikes or getting full-suspension mountain bikes do not qualify for this program.
Selection Process: Lottery System
Unlike a first-come, first-served basis, Florida opts for a lottery system to select participants. There's a two-week registration window for applications. For example, the last eBike Voucher Application period was from March 31st to April 14th, attracting 900 applicants.
Income Eligibility: Below Tampa Area Median Income
Your income plays a part in eligibility. If your income falls below the Tampa Area Median Income, you qualify as low-income, which may accelerate your eBike incentive process.
The program is currently closed, but you can sign up for updates to know when it reopens for applications.
Hawaii's eBike Rebate Program Details
Hawaii's e-bike and electric moped rebate program facilitates a more affordable shift towards eco-friendly transportation by offering rebates of up to $500 or 20% of the retail price on new electric bicycles and electric mopeds. This initiative sprang to life under the statute HRS §196-7.8. The rebate program opened its application portal on February 28, 2023, accessible online or via hard copy requests through a dedicated phone line.
Key stipulations include:
Eligibility for new electric bicycles with a top speed cap of 28 mph and electric mopeds.
Purchases should be made at a retail store on or after July 2, 2022.
The rebate ceiling is set at $500 or 20% of the retail price, whichever is lower, with a cap of $500 in total rebates per individual each fiscal year.
Applications need to be lodged within a year from the purchase date, with the Department reserving verification rights and disclaiming liability if funds are insufficient.
Applicants must meet certain criteria:
Being 18 or older,
Either partaking in a low-income assistance program, not owning a motor vehicle with four or more wheels, or being a current student at a recognized educational institution.
The program also underscores safety by advocating for the use of properly fitted helmets, adherence to traffic laws, and refraining from riding on sidewalks or carrying passengers, all aimed at cultivating a safe and responsible e-biking culture in Hawaii.