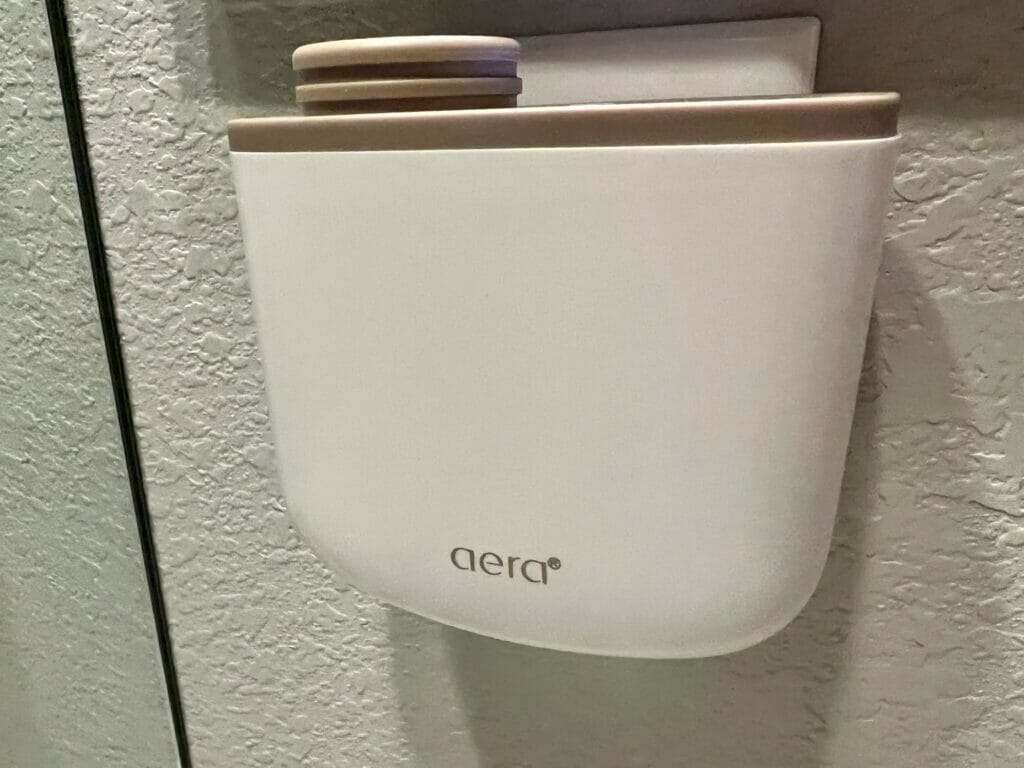 The Aera Mini Smart Diffuser is the smaller version of Aera's Aera Smart Diffuser. This new mini version is designed for small to medium-sized rooms and works perfectly in any home, office, or – as we use it – in the bathroom.
Great for small spaces
Aera Mini Diffuser
While the Aera Mini is a fraction of the price of the larger Aera Smart Diffuser, the Aera Mini Still packs a might scent punch. Perfect for small spaces that can stink (I'm looking at you, kid's bathroom), Aera's odor-fighting fragrances have a chance to show their true power.
Buy Now
Best Scents
We might earn a commission if you make a purchase, at no additional cost to you.
What is the Aera Mini?
With adjustable settings from 1-5, this device will surely please anyone with a sensitivity to strong scents.
The Aera Mini Diffuser plugs into a wall outlet, so there isn't a need for any messy cords.
The Aera Hypoallergenic scent technology ensures that pets and children won't have any adverse reactions when using this product either! Aera's technology is safe – it's Hypoallergenic, contains no Harmful VOCs, and even better – No Residue.
As you can read in our full Aera Review, the biggest question mark about this smart diffuser is simply the scents. Some people love the scents, other people do not.
Let's keep diving into our Aera Mini Review to find out if it's worth the price.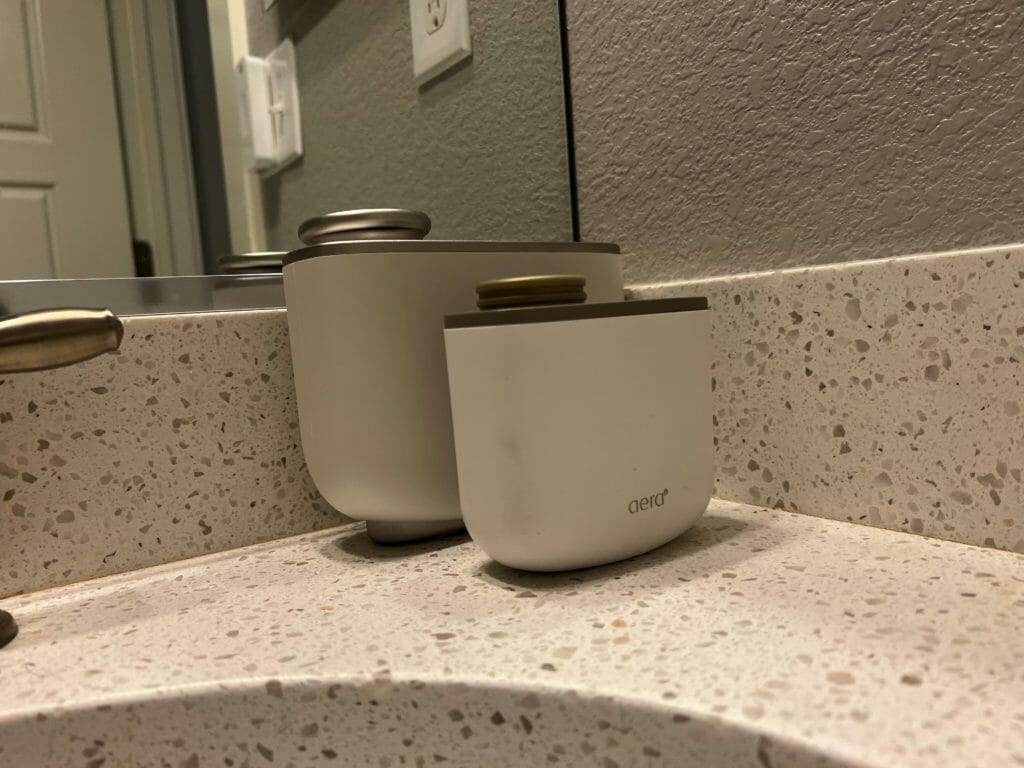 Aera Mini Review: What we love about Aera
The ability to schedule the fragrance times and intensity from our phone. This is so nice because you can set it to have the house smelling fantastic when you wake up or when you come home. 
The scents cost $30 and last for 600 hours, which is a fantastic value when compared to high-priced candles.
The unit's elegant, simple appearance of the full-size Aera Smart Diffuser.
It's a fair price, unlike the extravagant young living diffuser (Only $349)
What we don't love about Aera
When releasing fragrance, the device produces a lot of white noise.
They've updated the scents more recently, and we currently have the Laundress Original Scent in our Aera Mini.
It's difficult to purchase fragrances online. However, for $20, you may get a sample kit of five fragrances AND you get $20 off your next purchase.
Shop our best Aera Scents.
What we don't like about Aera: The scents
Scents are highly subjective. We understand this. Something smells wonderful to me might not be something that you enjoy, for example.
However, we discovered the scents to be strongly reminiscent of perfume and florals. The first fragrance we tried, ironically enough, was the Vanilla scent, which was BY FAR the least perfumey and floral of any we tested. On our Pura vs Aera YouTube video, we received this feedback:
We couldn't agree more!
If you want the too long, didn't read on this review: that's it. It all comes down to if you like the scents of Aera or not.
Ever wonder what the best way is to find your perfect scent? Well, now you can try before buying with Aera's Samples. For only $20 bucks, you can select four samples to try in your home. This allows you to try to see if you like the Aera Scents BEFORE you commit to the $99 device.
If you want a quick cheat sheet for the Best Aera Scents, we've created it here: The Best Aera Scents.
Aera Mini Reivew: How we use our Aera Mini Smart Diffuser
Let's be honest with you for a second. We use the Aera Mini Smart Diffuser in our bathroom. The Aera Mini diffuser is an excellent solution to a smelly bathroom. It's even better than a candle.
Here's why:
Let's pretend you have a smelly bathroom.
Simply turn up the scent dial to a 1 or 2 (depending on the bathroom size).
Wait about 5 minutes
The bathroom smells wonderful again.
Yes, it's true. It's that simple. Aera smells better than a candle and it makes your bathroom smell wonderful again in a jiffy.
We've found that Aera Mini is the best result for any small to medium-sized rooms, such as bathrooms or offices.
What size room works best?
Don't let Aera's small size deceive you. For every 1 aerosol droplet in the air, Aera's Micro-Droplet technology produces 125,000 droplets.
Yes, you read that correctly.
They evaporate quickly and fill any room with a ton of fragrance!
The largest size we'd recommend using the Aera Mini Smart Diffuser for is a small-to-medium-sized Bedroom.
It'd also be great for an office, too.
But most of all, we'd recommend this for a bathroom.
The Scent Levels: What to know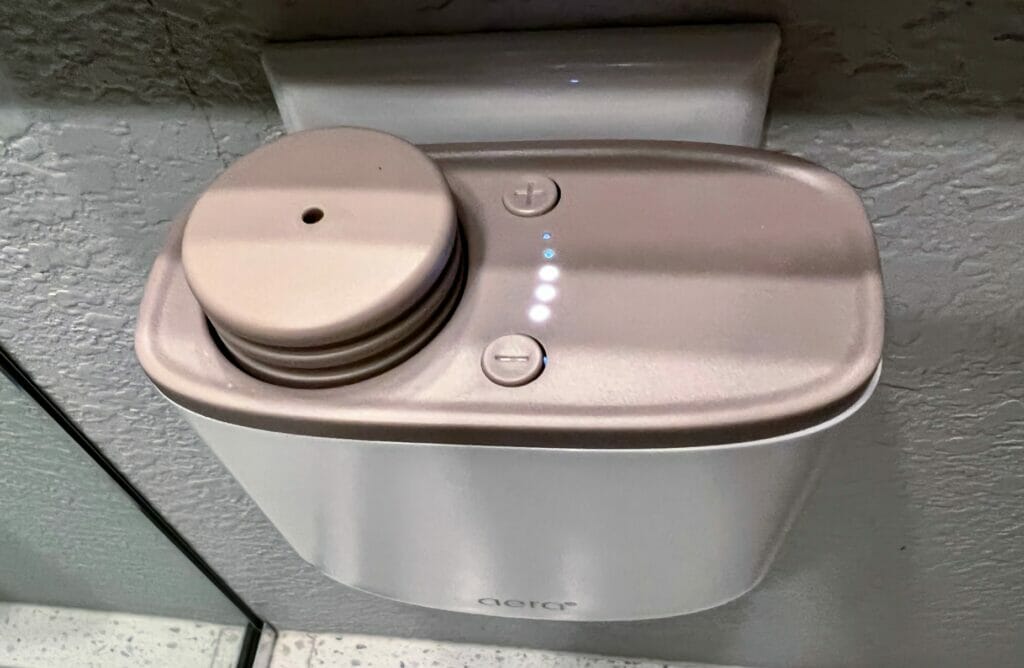 The best news is that the smart device has 5 levels of scent intensity. For a small bathroom, level 1 would be great. For a medium-sized office – level 2 might suffice. For a larger bedroom, you may want to crank it up all the way to 5. It all depends on how much scent you need.
I will say that level 1 or 2 in a small bathroom (shower, toilet and single sink), Level 1 is plenty to clear out any unpleasant scent in about 5 mins.
The Scents: What else you need to know
Besides offering some of the top-selling scents like White Tea, the Pura Mini Smart Diffuser also offers some of the Home Hygiene and Odor Remover scents we've used for REALLY unpleasant smells in the garage (due to bad/old trash).
I don't know what, exactly (OK, I actually do know what, exactly they put in these scents because they are 100% transparent about the ingredients list), but they have to sprinkle some magic pixie dust in. That's because Aera's scents have removed the most unpleasant smells that we've had around the house.
I can't recommend Aera enough for bathrooms or anywhere else you are trying to get rid of unpleasant smells
The Ultimate Deciding Factor: The Scent

We've said it a million times in our Aera vs. Pura Review and our Aera vs. Pura YouTube Video: but it all comes down to scents.
Scents are incredibly personal, as we've mentioned.
We, personally, like the Pura Scents (read all about our Best Pura Scents and read our full Pura Review, too) more than the Aera Scents.
That's because, up until VERY recently, Aera created all of their own scents. They recently partnered with brands like The Laundress (read our full The Laundress Review) and, not coincidentally, that is one of our favorite Aera scents. Many of their original scents were a little more floral and perfumy than we would have preferred.
Are all scents available for Pura Mini?
As of the time of writing this review, not ALL the Aera Scents were available for the Aera Mini, however, MANY of the best-selling Aera Scents are available for the Aera Mini.
Even some of our new favorites, like The Laundress Scent (the Classic) are available.
That's awesome.
The Pura Elephant in the Room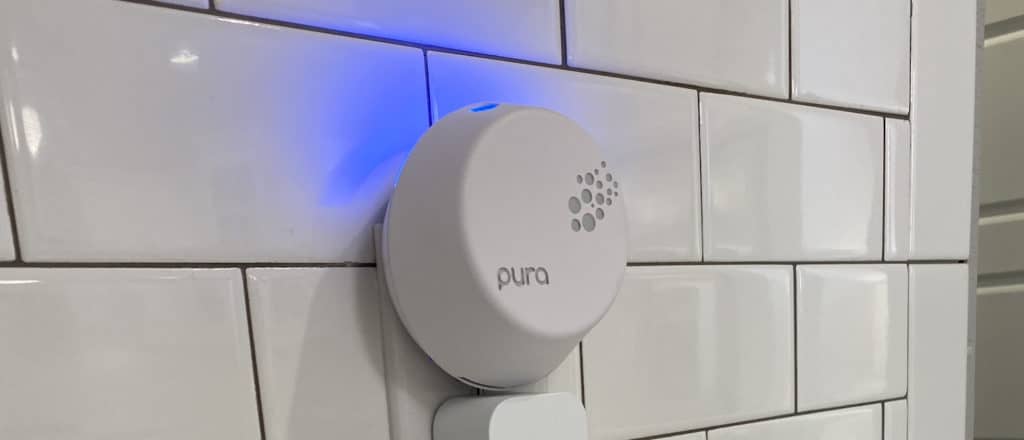 While the Aera Mini is available for $99, it is more expensive than the Pura Smart Diffuser, which is only $44. Save even more with our Pura Promo Code.
So, which is better?
Of course, we talked a lot about this in our Aera vs. Pura Review – but it all comes down to what you like.
If getting rid of odors is your #1 priority, go with Aera.
If your #1 priority is the actual scent, then go with Pura. Pura's Capri Blue is a perfect and Cheaper Capri Blue Dupes.
You simply can't go wrong with either, but it all depends on what you are looking for.
Aera Mini Review: The Final Verdict
The Good
Great for small spaces
Perfect for removing unpleasant odors
No wires
Great scents
Advanced technology
The Bad
Still-expanding name-brand scents
Not great for larger spaces
More expensive than Pura
Once again, it all depends on what you are looking for.
If you want to entertain folks with a familiar scent, go for Pura.
If you want to get rid of odors and fill a super large space with scent, then go with Aera.
Personally, we recommend using Pura in several locations spread around your home (and alternating schedule with our best Pura Scents), to fill your home with wonderful smells that your know and love.
Then, we recommend using Aera in the areas of your home that have the worst offenders: the Aera Mini in Bathrooms and the Aera Smart Diffuser in spots like the Garage.
If you love the scents of Aera, then use the Aera Smart Diffuser in larger areas. There's no wrong way to do it!
Also, check out our full Aera Review, Aroma360 Review, full Pura Review and get your Pura Promo Code.
Is the Aera Mini a cold air diffuser?
Is Aera Mini a cold air diffuser?


No, the Aera is not a cold air diffuser. All of the Aera diffusers us Aera's Microdroplet Technology dispenses fragrance as ultra-tiny scent molecules. This means that the fragrance is released gradually and over an extended period of time, instead of all at once. This also prevents the overwhelming sense of smell that can sometimes be associated with traditional diffusers.
Is this an essential oil diffuser?

Yes, kinda. Aera also offers a variety of scents, and some use essential oils, but you need to use Aera Capsules. These capsules are filled with pure, therapeutic-grade essential oils that will fill your room with the desired aroma.