If you're looking for an electric bike that can take your riding to the next level, then you need to check out the Cyrusher XF900. This eBike is designed for serious (and tall… more on that in a moment) riders who want to get the most out of their cycling experience.
With a range of high-end features, it's sure to change the way you think about electric bikes. So if you're ready to take your riding to the next level, read on for our full review of the XF900 eBike!
A serious off-roading eBike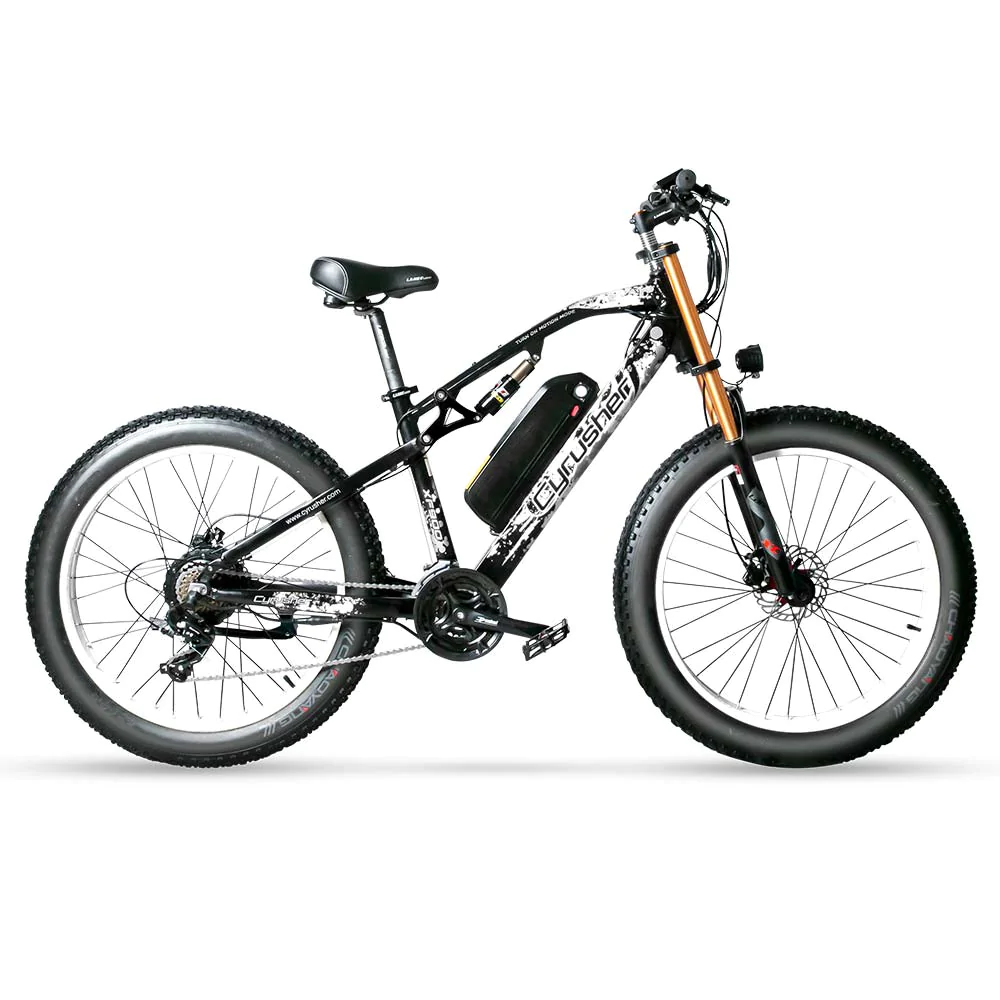 Cyrusher XF900 eBike
Tired of eBikes designed for short people? If you're 5'9"-6'4" - this eBike might be the perfect eBike for you!
Buy Now
We might earn a commission if you make a purchase, at no additional cost to you.
Cryusher Review: The Quick Lowdown
This eBike is a serious piece of machinery. It's perfect for anyone who wants to tackle tough terrain on their bike. The Cyrusher XF900 features a powerful Bafang motor and durable tires, making it perfect for off-road riding. So, if you're looking for a bike that can handle anything – and you want a larger bike, this a great option.
Want an even high-end bike? Check out our QuietKat Review.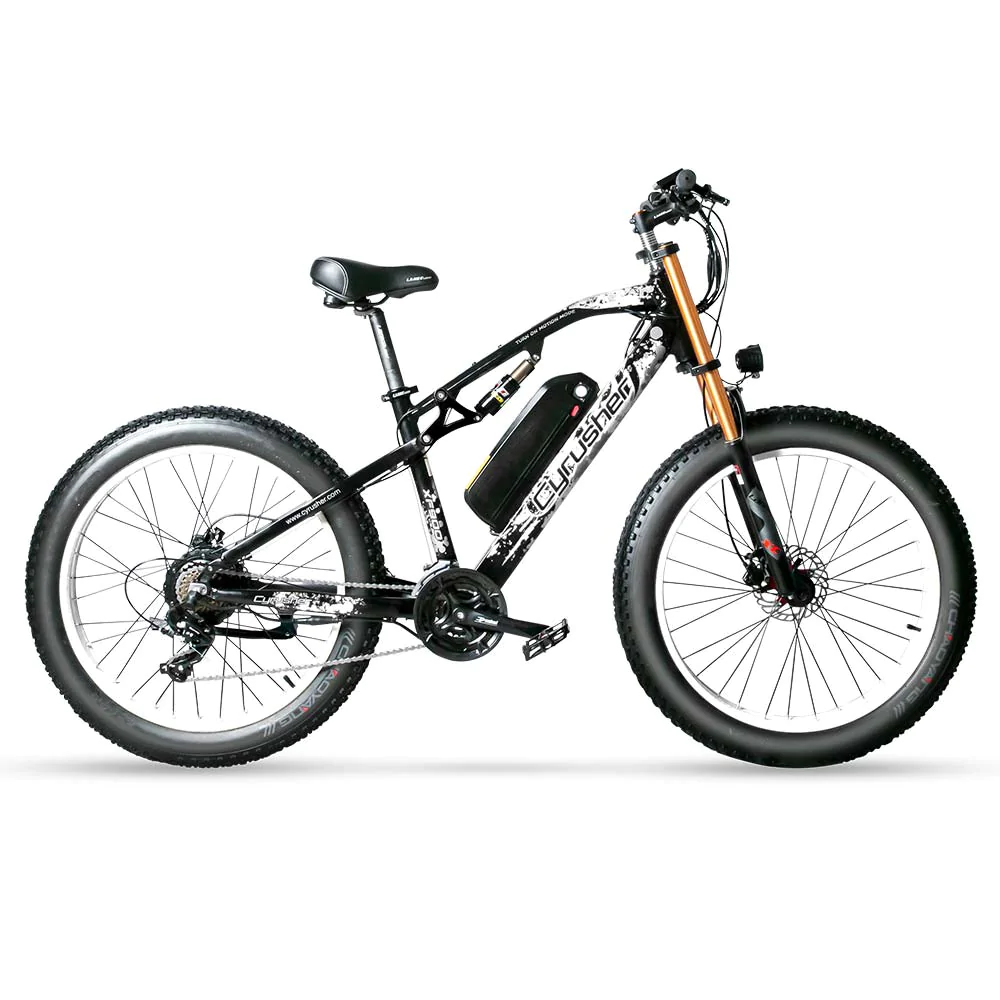 If you want a bike that you can throw (almost) anything at, and you fit within the size range (best for riders 5'9″-6'4″), this bad boy might just be right for you.
Meet the XF900 Electric Bike: What's the big idea?
The first thing you'll notice about the XF900 is that it's huge. Seriously huge.
Like, did they just take a regular ebike and give it steroids huge?
Want the best eBike Accessories? Check out the Thousand Helmets and the XNITO Helmet, too.
Where it fits in Cyrusher's Lineup?
The XF900 is at the top of Cyrusher's line of bikes.
Its great looks with those distinctive motorcycle-style front forks, huge fat tires and high-end components make it a bike for only the most daring riders hungry for power and beauty. It will take you through any terrain, up the toughest slopes, and take you farther on any adventure you can dream of.
This is a big bike, it looks much smaller on the website, but this is meant for larger riders.
If you're under 6 feet tall, you might want to consider another option. But if you're looking for a powerful all-terrain machine that will turn heads when you're riding it, the Cyrusher XF900 is a great choice.
The Specifications – First the standard features you'd find
The Cryusher XF900 has some pretty standard features found on other e-bike models. Let's quickly highlight those before we dive into what makes this e-Bike unique.
750W Rear hub Motor
The rear hub motor is pretty standard but what's not standard is the overall power. The XF900 has a 750 watt (1500 watt peak), 80 Nm Bafang electric motor.
That's a motor that isn't messing around. I also really like they tell you the name brand of this motor. While there aren't many truly unique ebike motor manufactorers, most eBike brands don't tell you exactly who made theirs.
80NM Torque
The 80NM torque is on the upper end of what's available. Most ebikes have between 50 and 90NM of torque. Torque affects how easily the bike accelerates and climbs hills, so more is usually better — though you may not notice it unless you've tested different bikes with lower levels of torque.
The extra power will come in handy when carrying cargo or climbing hills.
7-Speed Shimano Gear Set
You can always find a comfortable pedaling speed, whether you're cruising or climbing a hill, with 7 gears and 5 assisted levels to choose from.
7 Gears is pretty standard, as is the 5 levels of Pedal Assist.
LCD Display
The display is a basic LCD that shows your speed, battery level, and assist levels. Simply put, it's easy to use and understand; just what you need without any extras.
Admittedly, it does look VERY similar to some other eBike brands we've tested but hey- if it ain't broke don't fix it!
Range: Up to 62 Miles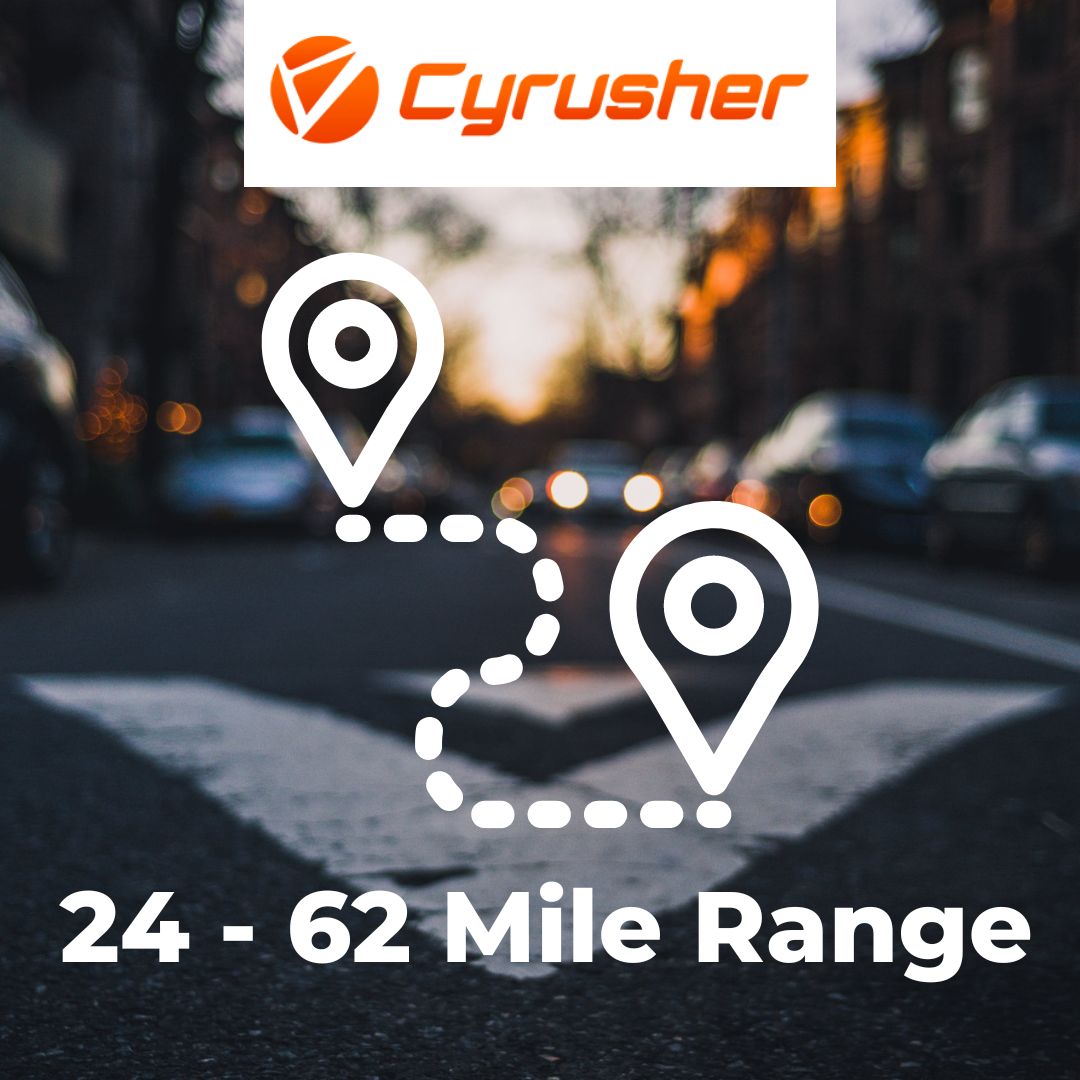 The XF900 has a maximum range of 62 miles on a single charge, which is above average for an ebike. Of course, the range will vary depending on factors like terrain, rider weight, and how much throttle or pedal assist is used. But for the average rider, you can expect to get around 30-40 miles on a single charge.
I've found that the best way to maximize range is to use the pedal assist most of the time and only use the throttle when you need a boost. That way, you can rely on the motor to help you most of the time, but you're still getting a workout and using your own power when possible. The motor will also last longer this way since it's not being taxed as much.
Of course, the range is technically unlimited – as long as you don't mind using your legs. But the battery life and motor will only help for about 35 miles or so. After that, it's up to you!
A Throttle – and a half twist throttle at that
Most eBikes we've tested have a throttle. The XF900 has a half twist throttle to tap into that extra power when you need it. Just give it a quick twist and away you go!
The throttle is great for getting up to speed quickly or for passing someone on the trail, or even crossing the street. Just keep in mind that it uses battery life, so if you're trying to maximize your range, use it sparingly.
Unique Features
Those are the basic features, the things you'd expect from an electric bike. What were we surprised by?
Hydraulic Disc Brakes
I'm a big fan of hydraulic disc brakes on eBikes. I think they offer the best possible stopping power for a bike, period. And the XF900 Cyrusher eBike is equipped with just that – Hydraulic Disc brakes front and rear.
These 160/180mm hydraulic brakes allow you to stop on a dime, which is critical when you're flying down a trail at high speeds. Additionally, Cyrusher has added motor cutoff capabilities for added safety.
I think this is an essential feature for any large eBike and I'm glad to see that Cyrusher has included it on their XF900 model.
A Class 3 eBike
A class 3 eBike allows you to go as fast as 28MPH when using pedal assist. If you go any faster than that, the motor will cut out.
However, if you pedal faster or go downhill, you may be able to surpass 28 MPH just because of the laws of physics.
Both front and rear suspension
The spring rear suspension adds to the XF900's comfort and versatility. Paired with a distinct front fork suspension with 110mm of travel preload adjustment, you get suspension on both ends to soak up any bumps in the road from the motorcycle-inspired frame make any rough terrain easy!
Also, check out the best e-bicycle accessories for the little extras that make all the difference.
What difference does it make?
This makes for a much more comfortable ride, whether you're on the street or flying down a trail. I'll talk more about taking this eBike on rough terrain in a section, but the added rear suspension makes this bike perfect for off-roading or street riding.
Built-in USB Charging
In case you need to charge a GPS or cell phone, Cyrusher added an easy-access USB charging port right on the battery. No more dead cell phones!
Fat Tires
We've reviewed a lot of fat tire eBikes (read about the best fat tire ebikes), but this eBike includes some of the thickest fat tires we've tested on an electric bike. At 4.0″ wide, these mountain-style puncture-resistant fat tires provide better grip, even in sand or snow, as well as giving it a look that turns heads.
Not only do they look good, but they can help you stay safe on the trails. These tires are also low-pressure so they can be ridden on pavement without worry.
The Weight!
The XF900 weighs in at 74 pounds, which puts it on the heavier end of all the eBikes we've tested.
However, that's to be expected because this awesome bike was designed for all-terrain riding and larger riders.
The good news is that the weight is evenly distributed, so it doesn't feel too heavy when riding. Additionally, the bike comes with a kickstand so you can easily park it without having to lean it against something (or someone!)
What we loved about the XF900
There are a couple of things that we really loved about the XF900 that we really liked. And they aren't super logical at first glance. Let's dive into them.
Built of taller riders
So many electric bikes these days are built for smaller riders. I'm not huge by any means (5'10" on a REALLY good day), but I'm on the smaller size of who this bike was designed for.
When you think of "larger" riders, you think fat. But this was built for TALLER riders.
With a total capacity of 330 Pounds, it also can handle the extra weight, but this bike was designed to work for taller people, so if you're shorter, you might feel a little lost on this one.
This bike knows exactly what it is… and what it isn't
Just as this bike is designed for larger riders, this bike knows EXACTLY what it is: a BIG offroad machine. Because it knows what it is, it doesn't try to be something it isn't.
It's not trying to be a road bike, or a cruiser, or anything else. It's an offroad ebike, and it excels at that.
All the little extra, included
The ebike had everything you'd expect (like an LCD display, etc). But this Cyrusher bike had a couple little touches we didn't expect, like an included air pump and front and rear fenders. Not all e-bikes include this, especially the air pimp, so it was a nice little surpruse.
What we didn't love about the Cyrusher XF900
I've said it once, I'll say it again: there is no such thing as the perfect eBike. However, there is the perfect eBike for you. Here are a couple of things we didn't care for.
Outdated LED Display
The LED display is pretty simple – and that's OK – but I wish it just had something more to it. It's pretty small, but can be seen in daylight pretty easily.
It's large and backlit. It has all the controls you could possibly need, but it does look a lot like the previous generation Rad Rover eBikes displays.
Bulky Battery
I know, I know – a bike this big needs a big battery. But at a whopping 8 pounds, this eBike's battery is one of the heavier ones we've ever tested.
It's mounted in a central location, so it's not going to throw you off balance, but it is something to be aware of.
The Ride Experience
This is an area I was super surprised by: how smooth the ride was.
I've only had the chance to ride a couple of electric bikes with a rear suspension, in addition to a front suspension fork
The Rear Suspension
Rear suspension is found on full-suspension mountain bikes and is commonly referred to as the rear shock, or "shock" for short.
The purpose of rear suspension is to smooth out bumps in the terrain, providing a more comfortable ride and improved traction. There are several different types of rear suspension, each with its own advantages and disadvantages.
One of the most popular types of rear suspension is air shocks, which use air pressure to adjust the amount of travel. Another popular option is coil shocks, which use springs to provide resistance. Rear suspension is an important part of any mountain bike, and choosing the right option can make a big difference in your ride quality.
The XF900 uses a spring rear suspension.
How the bike LOOKS
I actually don't think that I've ever specifically commented on the way a particular bike looks. Most of the eBikes we've tested have been a simple white or black.
However, this bike stands out in so many different ways. Featuring exaggerated colors: yellow, blue and white – this bike is designed to stand out.
And it does. If you're looking for something that's going to turn heads, this is the eBike for you.
Easy to Assemble
This eBike was incredibly easy to assemble. Since it is so heavy, I'd recommend getting help to assemble it, but you can definitely do it on your own.
As with most electric bikes, this one comes mostly assembled. It took about 20-30 minutes to put together.
The most difficult part (as with almost any electric bike), is getting the wrong tire aligned to the front brakes. After that it's just a matter of attaching things like the pedals, handlebars and front light.
2 Year Warranty
In my ultimate ebike guide, I discuss how important it is to get an eBike from a company that stands behind their product.
I love that Cyrusher offers a 2-year warranty to cover any manufacturing defects. The 2-year warranty includes the motor, controller and frame
They also offer a limited 1-year warranty for parts like the battery, charger, rims, stem, handlebar, headset, seat post, bottom bracket, crankset and shifting systems.
I think this shows a lot of faith in their product and I'm always happy to see companies that stand behind what they sell.
Who is the Cryusher XF900 Made For?
This electric bike is perfect for a taller person looking to hit the trails in a super-equipped eBike. It's also for the serious biker. A $2,599 – it's not the cheapest eBike we've tested and not a beginner eBike – unless you already love biking and want to add the thrill of an electric motor.
Who is the Cryusher XF900 NOT For?
The easiest way to describe who this bike is not for is to think of my 5'2″ wife. She hates speed and could never handle this bike.
This bike isn't for two types of people: people outside the 5'9″-6'4″ heights and people that want s bike for super casual riding.
This eBike is serious in all the ways – from the looks down to the components… and the price.
While it's not the most expensive ebike we've tested (that belongs to the Quietkat Apex, read our Quietkat Apex Review), you can find less rambunctious electric bikes for around half the price.
Once again: it's all what you're looking for.
XF900 eBike Review: The Pros
Super smooth ride experience – even on gravel roads and easy dirt trails
Exaggerated colors designed to turn heads
Incredibly easy to assemble – comes mostly assembled and takes about 20-30 minutes to put together
2-year warranty including frame, motor and controller
Perfect for taller riders looking to hit the trails in a super-equipped eBike
XF900 eBike Review: The Cons
Cyrusher XF900 is not for everyone – mostly taller riders
The bike is more expensive than others on the market
Not a good choice for casual riders
It's very heavy
You may not like the not-so-subtle design choices.
XF900 Cyrusher eBike Review: Final Verdict
A serious off-roading eBike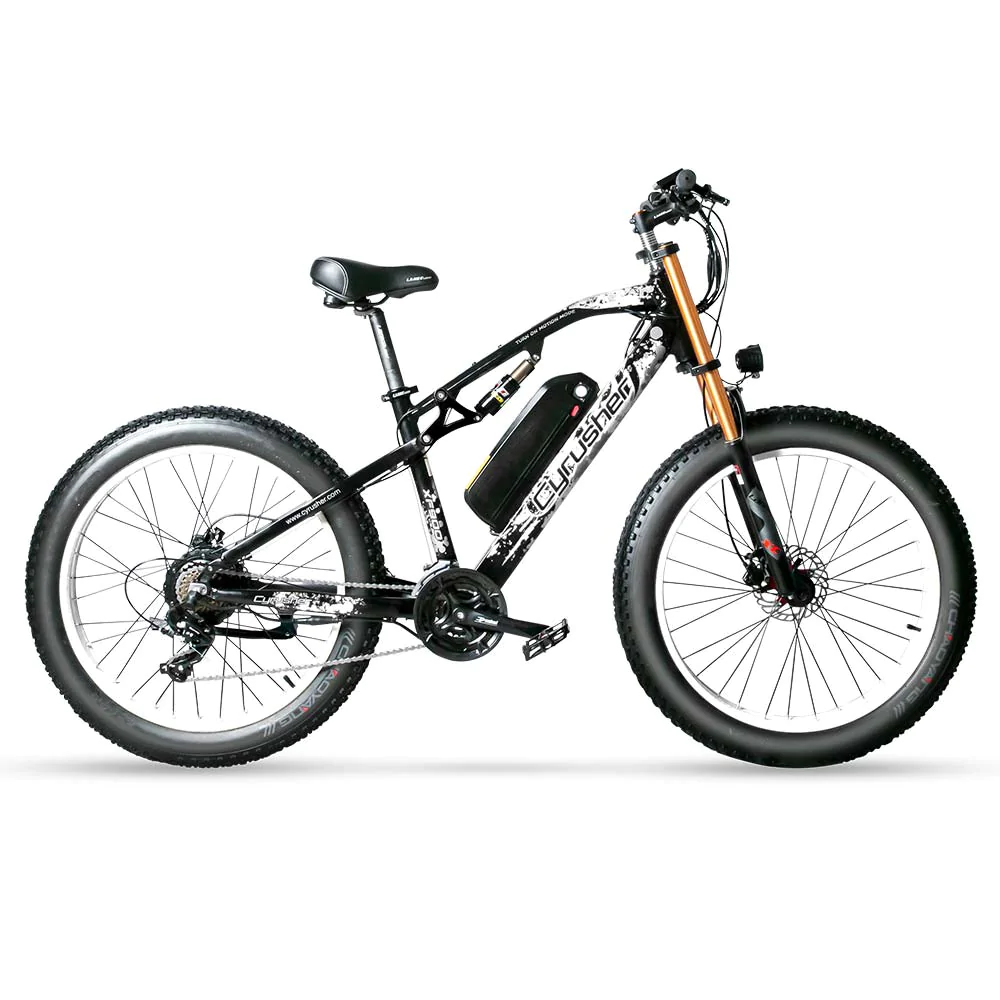 Cyrusher XF900 eBike
Tired of eBikes designed for short people? If you're 5'9"-6'4" - this eBike might be the perfect eBike for you!
Buy Now
We might earn a commission if you make a purchase, at no additional cost to you.
The Cyrusher XF900 is a great electric bike for anyone looking to hit the trails in a super-equipped eBike. It's perfect for taller riders and features a smooth ride experience, even on gravel roads and easy dirt trails.
Plus, it comes with a 2-year warranty that covers any manufacturing defects. If you are (literally) tall enough to ride this eBike, and you're looking for a durable and stylish option, the Cyrusher XF900 is a great choice.