Besides being work from home season – spring is here. That's when I like to bust out Polo Shirts the most – it's the perfect temperature for polo shirts. The collar on a Polo Shirt makes it look slightly less casual than a T-shirt. When one of our favorite brands, Everlane, released the Everlane Performance Polo, we had to do an honest Everlane Performance Polo Review and the best news – it's only $38! Without further ado, here's our Everlane Polo Review.
👍🏻What We Love
👎🏻What We Don't Love
– The price! Only $38
– Simple, classic style.
– Looks more classic than technical.
– Not sure how it will hold up over time.
Everlane Performance Polo review: what is it?
Here's what Everlane says about their Performance Polo:
A modern polo for those who want performance comfort—without the technical fabric look or feel. Our pique fabric is a breathable, durable cotton weave with old-school good looks and modern performance features. This shirt gets extra-clean design with a hidden button placket.
The Everlane Performance Polo is mostly cotton (93% cotton) but also has 7% elastane (also called spandex). The Everlane Polo is made with pique fabric, which is just a fancy term for it being "woven" – like a traditional polo shirt.
You get the best of Cotton (mostly the feel), but the flexibility and fast-drying of elastane.
In all honesty, until I understood there was a difference in Polo Shirts, I would wear the classic Ralph Lauren Polo Shirts like this: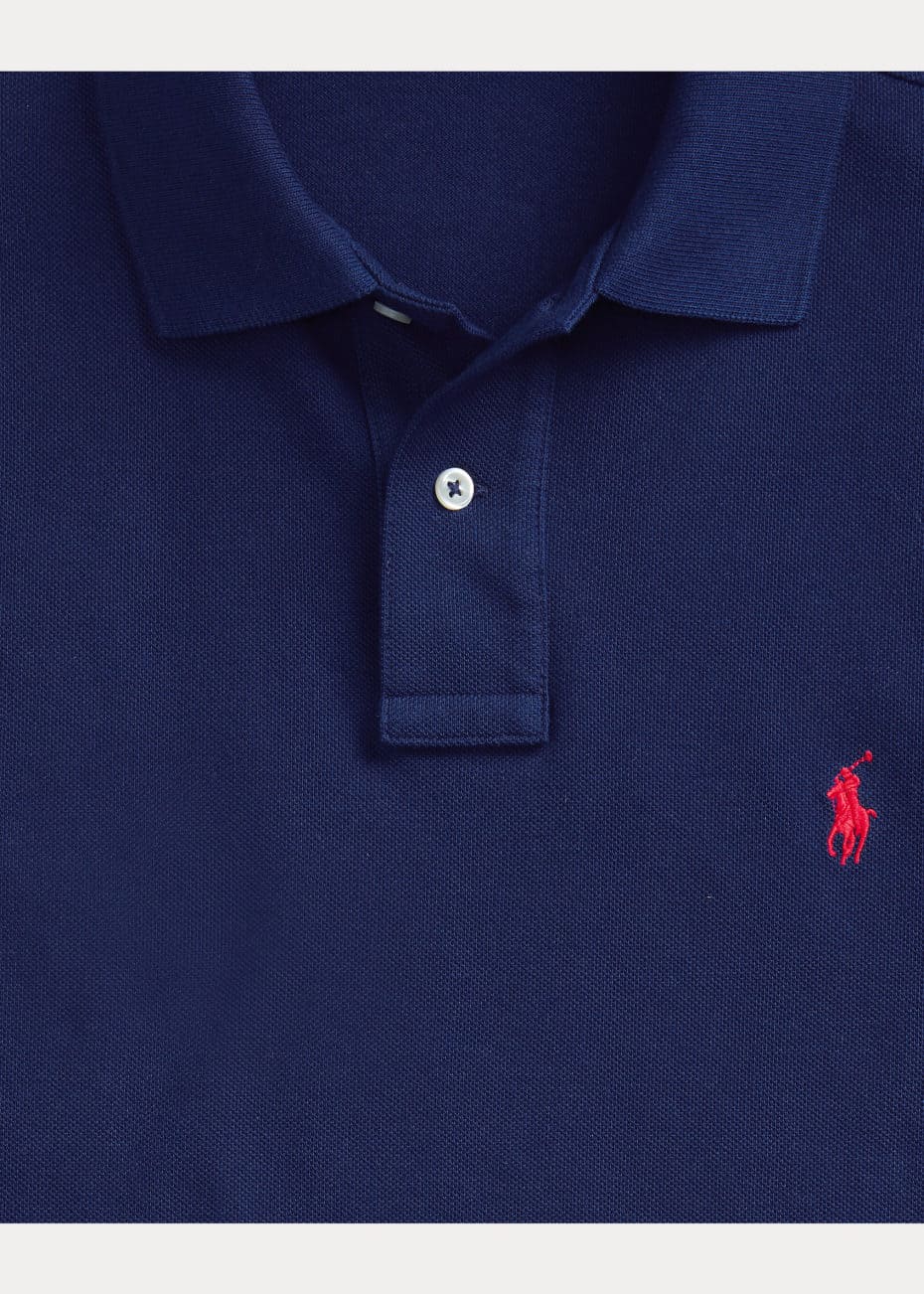 The classic Ralph Lauren Polo Shirt is 100% cotton – it is breathable, but also doesn't hold it's shape as well and fades a lot over time. On top of that, the Ralph Lauren Classic Polo is $90!
The fabric feels a lot more similar to the Ralph Lauren Polo shirt than something like an Under Armour Polo. When I first set out to do this Everlane Performance Polo Review, I wanted to see if it would hold up like an Under Armour Polo.
Everlane Performance Polo Review: The features
There isn't a whole lot to write about the features of the Everlane Performance Polo.
One of the unique aspects of this Polo is that is has "hidden" buttons on the front. Everlane calls this a "hidden button placket." There is a basically another piece of fabric that hides the buttons.
It's something that looks unique, but not out of place, that is a little different than other polos. It's a nice touch.
The Everlane Performance Polo also has two-way stretch, quick-drying, sweat wicking and is microbial.
Everlane Performance Review: The Fit
The Everlane Performance Polo is true to size. I typically wear a medium in other Polos and I wear medium in the Everlane Polo. The fit is slightly slimmer than more boxy polos, but not an overly slim fit.
Everlane Polo Review Verdict: There's only 1 concern
I really loved the Everlane Performance Polo. It's a great shirt at a great price. You honestly can't beat a performance polo shirt that doesn't look like a performance polo for less than $40. However, I have one really small concern that only time will tell: how will the collars hold up.
For some reason, a lot of collars on Polos roll a lot over time. The Everlane Performance Polo hasn't rolled much YET – but it appears that it could.
For some reason, Under Armour and Mizzen + Main Polos are the only polos I have worn that don't roll. Obviously, you can always iron out the collars, but that ruins the main selling point of polos to me: effortless style. You aren't going to walk down the red carpet in a polo, but it's just as comfortable as a t-shirt but looks a little nicer.
Here's where we've found the best price on the Everlane Performance Polo.
Be sure to check out our Everlane Performance Chinos Review, Everlane Leggings Review, and the best Everlane Products for Women. The polo didn't last as well as we thought it should. But read our fresh clean tees review to learn about a cheaper polo style that lasts.
Have any questions about our Everlane Performance Polo Review? Let us know in the comments below!