Before we jump into our Everlane Performance Chino Review, let's look at what Everlane has to say about their performance Chinos:
Performance chinos: Great in theory, but most are too crinkly, too tech-y, and too expensive. So we made a pair with all the technical-pant features—they're sweat-wicking, quick-drying, and have 4-way stretch—plus an authentic chino look designed for everyday wear.
Did Everlane break the cycle? Were they able to make their performance Chinos less crinkly, less techy, and less expensive? Let's dive into our full Everlane Performance Chino Review. We've been doing tons of reviews of pants like this one, so let's dive in!
Top Pick
Everlane's Performance Chino
More Chino – Less Tech
Everlane's Performance Chino is more Chino than tech pants – and that might be just the right thing for you.

Want to know what's right for everyone? The Price!
---
Everlane Performance Chinos – 👍🏻 and 👎🏻
👍🏻What We Love
👎🏻What We Don't Love
– The price! At $68 these are very reasonable.
– The material, it's great.
– The Colors
– Looks more like Chinos than technical pants.
– Not as comfortable as less technical pants, like Lululemon ABc Pants
---
The hunt for the perfect jeans alternative continues and next on the testing table is the Everlane Performance Chinos.
The search for the perfect jean alternative
Now, if you've been paying attention to our Mega Pants Review, then the idea of "technical" chinos is nothing new.
But what you might find surprising is a pair of pants that manages to strike a balance between comfort, style, AND cost: the Everlane Performance Chinos.
Part of the uniform collection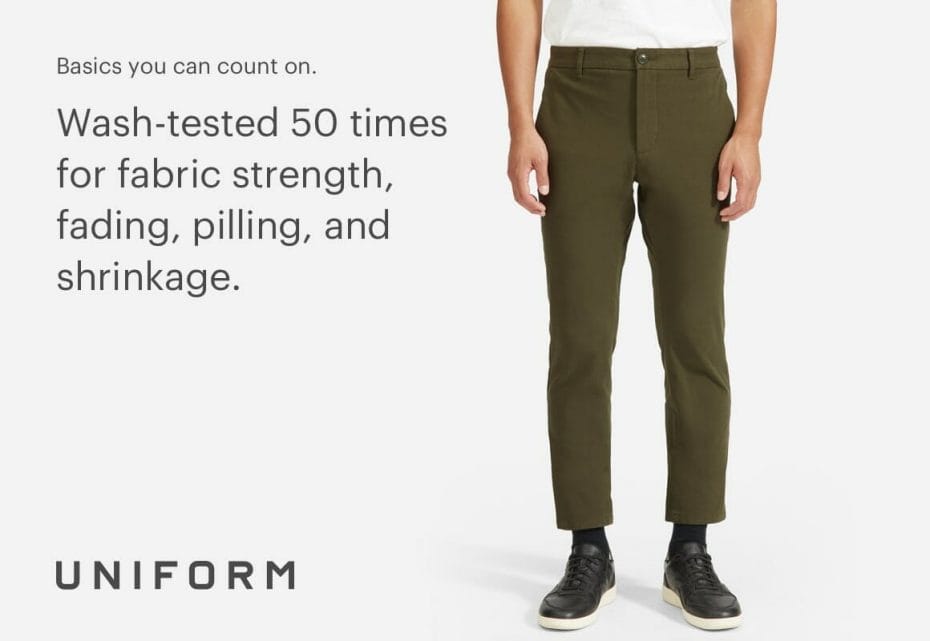 The Performance Chino is also part of Everlane's Uniform Collection for men. What's the uniform collection? It is a collection of classic men's styles that come with…wait for it… a 365 day guarantee. Yes, you read that correctly. That's the quality that Everlane continually makes.
In a world of cheap clothes, Everlane backs up their clothes for a FULL YEAR! These clothes all go go together and "match," if you will. This makes it incredible easy for you to find affordable, comfortable clothes that all work together.
Some of the other styles that are part of the Everlane Uniform collection are below. Everything from jean jackets to now a sport collection, if you want men's clothes, a great place to start is Everlance Uniform.
What is Everlane?
First up, who are we talking about here? What is Everlane? They are a San Francisco-based clothing brand for both men and women.
They are focused on providing classic quality over fashion fads and trends. This is evident in their clean and simple designs. See our top 15 Women's Everlane Styles for some of their most classic styles for women.
What makes them stand out from the crowd is something they have branded, "Radical Transparency." They are open and honest about their manufacturing costs, use ethical factories and how they source high-quality materials.
For example, Everlane shares that the performance Chinos are made at this factory in China. We like them already!
Everlane Performance Chinos Review – Technical Details
The Performance Chino Fabric
Everlane's Performance Chinos are made from 94% cotton, but the magic ingredient is the 6% elastane which gives them 4-way stretch for added comfort.
The fabric is about the same thickness as regular chinos, but a little thicker than the other jeans alternatives in the Mega Jean Alternative Review.
There is slightly less stretch than the other pants we tried, but the stretch is still fairly good and makes for extra comfort when you are moving around.
Add in the sweat-wicking and quick-dry technology and they are the perfect pair of pants for staying cool (and looking good) in warmer months.
Seasons the Chino is good for
You could easily and comfortably wear the Everlane Performance Chinos from Spring right through to Fall. However, I'd be leery of wearing in 100+ degree weather.
The Stretch
To be honest, 6% Elastane is not a ton of stretch material to start out with. Pants like the lululemon ABC Pants (see our ABC Pants Review) and the Myles Tour Pants (see our Myles Tour Review) are made from 100% polyester – which is good and bad. This gives both the ABC Pant and Tour Pant considerably more stretch than the Everlane Performance Chino.
Polyester has a bit of a bad wrap, but there are so many different types of polyester these days (lululemon calls theirs warpstreme) that it can be really hard to tell if a fabric is polyester or not.
The Breathability
While polyester can give you more stretch – cotton is slightly more breathable than polyester.
This is a plus in the column for Everlane. These pants are pretty breathable, but I wouldn't say they are the most breathable pants that I own.
I wouldn't recommend them for super hot days, but they are fine for most days.
The Look – Everlane Performance Chinos Review
The danger with slim-fit chinos is that they end up looking like a pair of skinny running pants (Or even yoga pants) or wrinkled beyond belief. But not the Everlane performance chinos!
How they look on
I was super impressed at how great and classic they look—just like tailored chinos. You could definitely pair these up with a button-down shirt and dress shoes for smart-casual occasions. You can also dress them down a bit and pair them with some canvas shoes.
The slim fit is perfect, too.
Not too slim where you look like a busted biscuit can, not too baggy either. They were pretty forgiving. Cotton also helps you there, too.
Fit and Feel: How do the Everlane Performance Chinos Feel?
So, they certainly look like regular chinos, but do you really want them to 'feel' like regular chinos?
Luckily, the Everlane Performance Chinos are much more comfortable! Whether you want to sit, walk, run, or do squats lunges (ok, that may be a stretch – no pun intended), you can while wearing the performance chinos from Everlane.
They are a more relaxed fit – not super slim, not super loose.
Room in all the right places
They do have some extra room in all the right places.
The 4-way stretch means they move the way you move while maintaining their fit and form. Also, they feel a good weight– not too light, not too heavy. Just right!
I wouldn't say they are "super comfortable" but they are more comfortable than the average slacks.
Performance Chino Limitations
After trying other Chino alternatives like the Tour Pants, I will say that these are not as suited for super active things – like golf, riding your bike, or anything else.
What other pants to consider
I'd recommend something like the Myles Tour Pants (see our Myles Tour Review) or Lululemon ABC Pants for something anything that needed more movement.
Everlane Performance Chinos – The price
At only $75 a pop, the Everlane Performance Chinos are half the price of the Lululemon ABC Tech Canvas! You might be thinking, "ah, but surely you get what you pay for?"
Well, here's the thing… Everlane has managed the impossible: a great jean alternative with athletic fit chinos that are comfortable, well-made with quality materials, AND affordable.
Everlane Chinos: How to style
There are a ton of ways to dress these Chinos up or down. From wearing them with a nice pair Mizzen + Main dress shirt (see our full Mizzen + Main Review) to dressing them down with a Canvas sneaker (like Everlane's Canvas Sneaker).
I would say that this Chino is much more on the dressy side than other jean alternatives that we've found – so just keep that in mind. That's not a bad thing at all!
You can feel more comfortable wearing these in a professional setting than something like ABC pants. They might be the perfect Chino for Office Casual.
Pros and Cons for Everlane Performance Chinos
| | |
| --- | --- |
| Pros | Cons |
| Looks great! | A little on the "thick" side |
| The price is great. | Not as wrinkle resistant as other brands |
| Classic looks that will stand the test of time. | Not as stretchy as other jean alternative. |
| Doesn't look too techy. Looks like traditional chinos but feels more comfortable! | |
How did the Performance Chinos… perform?
All in all, the Everlane Performance Chinos are a great pair of pants!
They are smart enough to wear to any place you'd normally wear regular tailored chinos, but they are much more comfortable. They are well-made and they certainly offer great value for money. Give them a try!
We love almost everything Everlane creates and this is no exception.