Should you ever spend $60+ on a t-shirt? Read out 100% honest Goodlife Review to find out more about this up-and-coming brand and if it's worth the price.
A good pick
Goodlife Clothing: Premium Tees
Super cozy t-shirts, made in the USA.
Pros:
Super comfortable

Easy to style

Great curved hem

No branding

Super soft

Made in the USA!
Cons:
About $60 for a T-shirt

Limited Styles
Buy Now
We might earn a commission if you make a purchase, at no additional cost to you.
As men, we often have a more straightforward approach to our clothing choices, but that doesn't mean we don't want to look and feel good.
The search for well-fitting, high-quality shirts that can seamlessly integrate into our wardrobes can be challenging. Enter Goodlife Clothing – a brand that provides modern, minimalist designs with premium materials that last. In this review, we'll examine Goodlife Clothing's t-shirts and see if they're worth the extra investment.
About Goodlife Clothing
Goodlife Clothing's t-shirts are known for their timeless, classic designs made with premium materials. Their signature tees are crafted from ultra-soft and durable fabrics that feel great on the skin and last through multiple washes. These shirts feature clean lines, minimal branding, and a tailored fit for added comfort.
The Values
One of their values is perfection. In fact, they say, "We strive for one goal when it comes to our product: to create the world's greatest t-shirt, providing you with the ultimate wardrobe staple."
What does that mean for you, the loyal t-shirt wearer? It's simple: you can expect superior quality and craftsmanship in every Goodlife t-shirt. From the reinforced seams to the ideal fit, no detail is overlooked when it comes to providing you with the best possible tee.
What Goodlife Clothing is known for
Goodlife Clothing is known for their tees, obviously.
In particular, they are known for the Tri-Blend Scallop Crew and the Supima Scallop Crew. Both of these shirts feature a scalloped hem, giving them a classic look.
What is a Scalloped Hem?
A scalloped hem is a curved or swooped bottom edge of a garment, typically a t-shirt. It is longer in the front and back, and shorter on the sides, creating an attractive silhouette. This design also helps to avoid the dreaded "plumbers crack" when bending over.
Goodlife T-shirts feature this type of hemline for added style and comfort. The curved shape of the hemline helps to flatter the body while also providing more coverage when bending over. The scalloped hem gives Goodlife T-shirts an extra touch of sophistication that sets them apart from other shirts.
In addition to looking great, scalloped hems are also very practical. They provide more coverage than traditional hemlines, making them ideal for activities like yoga or running where you may be bending over frequently. The curved shape also helps to keep your shirt tucked in better so you can go about your day without worrying about it coming untucked.
Overall, scalloped hems are an excellent choice for anyone looking for a stylish yet practical t-shirt option. With Goodlife T-shirts, you can enjoy all of the benefits of this unique hemline without sacrificing comfort or quality.
What We Tried from Goodlife
We were able to get our hands on a couple of different Goodlife Clothing options, including:
The Tri-blend Scallop Crew Tee
The Goodlife Tri-blend Scallop Crew Tee is the perfect combination of comfort and style. Made from a durable yet lightweight jersey fabric, this crewneck tee features short sleeves with a subtle co curved hem for an added touch of flair. It's available in several colors, so you can find the perfect one to match your wardrobe.
Plus, it's made in the USA from American grown pima cotton, making it both stylish and sustainable. Whether you're looking for something to wear on a casual day or a night out, this T-shirt is sure to be your go-to.
The Supima Scallop Crew Tee
The Goodlife Supima Scallop Crew Tee is a great choice for any man looking for a comfortable and stylish t-shirt. This classic crew neck tee is made with American grown pima cotton and modal, giving it a lightweight feel that will keep its shape.
The curved hem detail adds an extra touch of style to the shirt. Plus, the fabric blend ensures you'll stay cool and comfortable all day long. Whether you're heading to the office or out on the town, this tee is sure to be your go-to favorite.
The Sea Wash Scallop Polo
The Goodlife Sea Wash Scallop Polo is a great addition to any wardrobe. This polo shirt has been slubbed and salt water-washed for an old-favorite look that never goes out of style.
The scalloped hem gives it a chill vibe, perfect for your laid-back look. It also features a 3 button placket and comes in multiple colors, so you can find the one that fits your style best. Whether you're hitting the links or just hanging out with friends, this polo shirt will have you looking and feeling great.
What we like about Goodlife Clothes
There are three things we love about Goodlife Clothing: the feel, the simplicity and Made in the USA.
Let's dive in.
The Feel of the Fabric
The fabric used is always incredibly soft, often made with a blend of pima cotton and modal for the perfect combination of lightweight comfort and breathability.
These shirts feel like you've washed them 1,000 times, but look brand new the second you put them on.
The Simplicity
As far as simplicity goes, Goodlife's designs are classic and timeless – nothing too flashy or over the top.
Goodlife shirts are designed with simplicity in mind, featuring basic colors, classic silhouettes and minimalistic branding.
This means they can be paired with virtually anything, from jeans to dress pants, for a timeless look that never goes out of style. Plus, the scalloped hem detail provides an extra touch of sophistication that makes them truly stand out.
Made in the USA 
Goodlife is proudly made in the USA from American grown pima cotton. This means you can feel good about supporting local industry and businesses, while also investing in quality apparel that won't wear down after a few washes. 
Sadly, it's rare to find American-made clothing these days. However, Goodlife stands out from the crowd with its commitment to using local materials and production methods.
What we didn't like about Goodlife Clothes
Do you also avoid wearing expensive clothes and leave them hanging in your closet out of fear you'll ruin them… or somehow make them less nice? Anyone else?
That's exactly what happened with this brand of t-shirt. Starting at $60 retail (I'll put some ways to save some money below) per shirt, it's more than I ever imagined spending on a shirt.
Although I wouldn't wear this shirt while mowing the lawn, I'm willing to spend extra on high-quality clothing that lasts.
Take, for instance, my preference for Buck Mason Tees (check out our Buck Mason Review and Buck Mason Tees Review). Right now, their Pima Tee is priced at $45, which is quite expensive. It seems like inflation is affecting everything and everyone, doesn't it?
Good Alternatives to Goodlife
The most obvious comparison to Goodlife, that we've personally tested, is Robert Barakett (read our Robert Barakett Review).
Classic. Clean. Super Soft.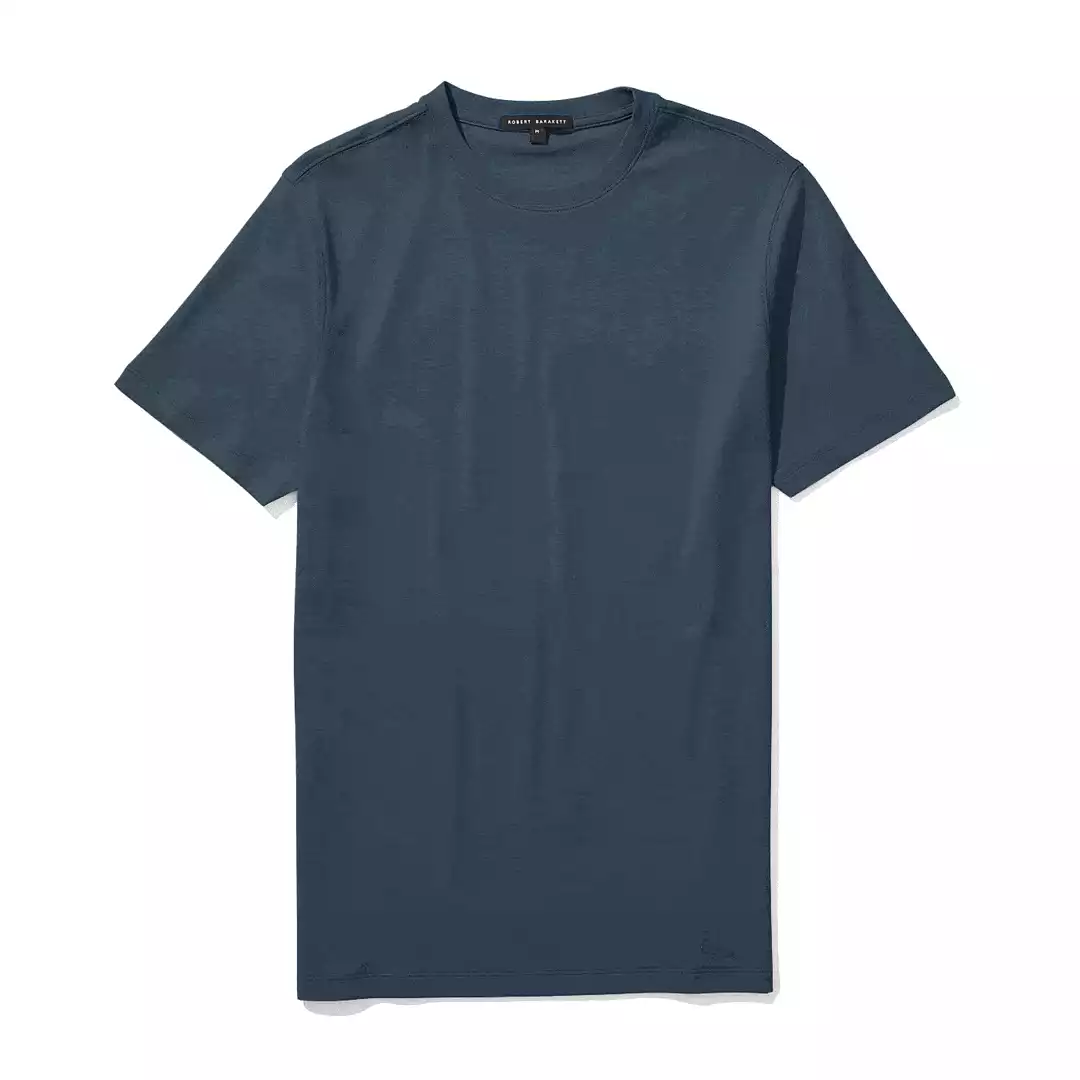 Robert Barakett Clothes
An incredibly premium take on menswear. Soft, sustainable and simply looks great.
Buy Now
We might earn a commission if you make a purchase, at no additional cost to you.
We tend to like Robert Barakett, which is similar price, slightly more than Goodlife.
You can also check out Fresh Clean Threads (read our Fresh Clean Threads Review), a great brand that has awesome shirts for less than $20.
Our #1 Best Value Shirt Brand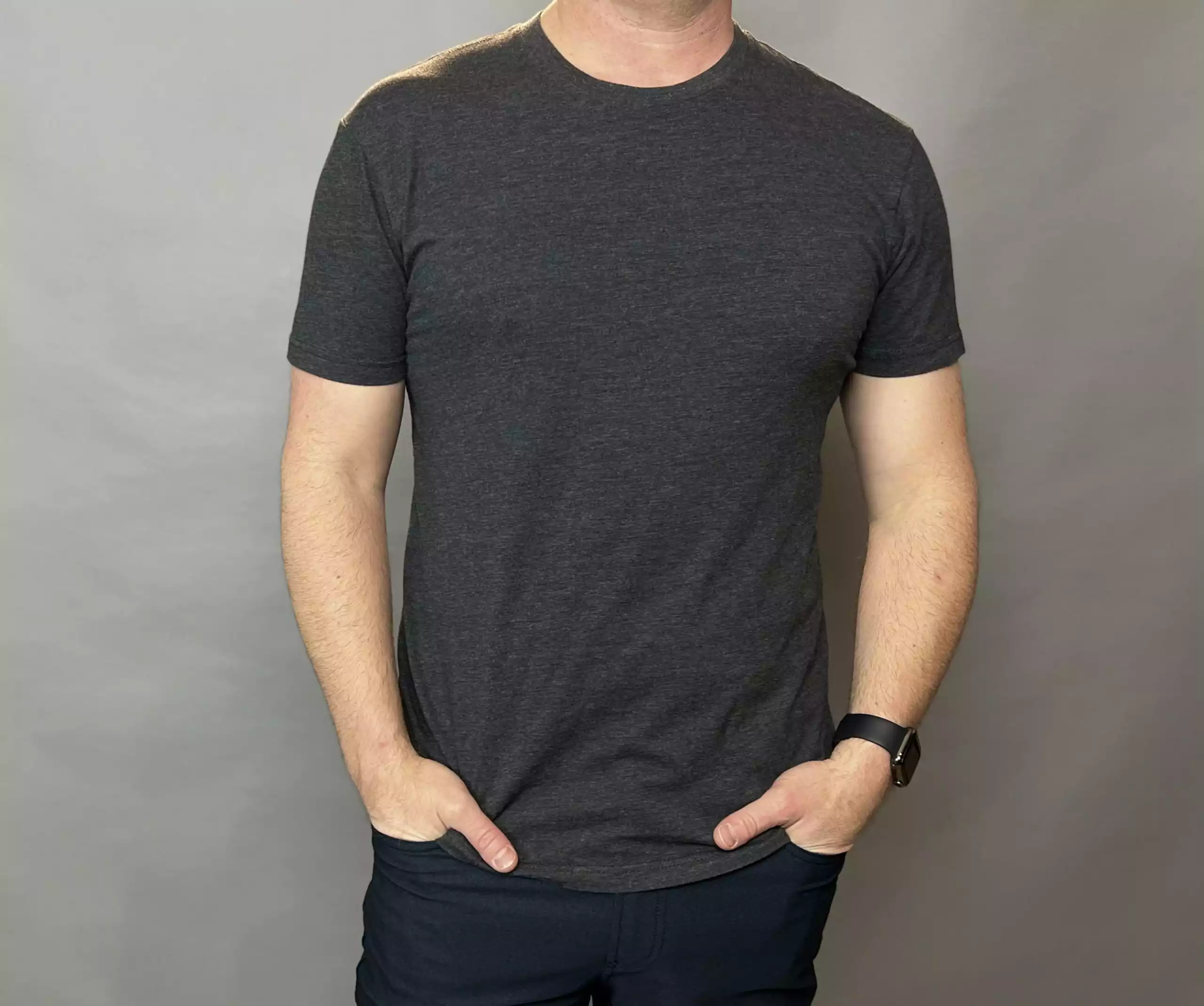 Fresh Clean Tees
A great shirt at a great price. Super comfortable and fits incredibly well.
Buy Now
Promo Code
We might earn a commission if you make a purchase, at no additional cost to you.
Frankly, Fresh Clean Threads is what most men would buy – but Robert Barakett or Goodlife Clothing is probably what a woman would like us to wear.
Classic vs. Modern
While Buck Mason Tees are a bit more of a "classic" style, I'd call Robert Barakett's (read our Robert Barakett Review) style more "modern." I'd say Goodlife Clothes are more "classic" than modern.
That can be interpreted a lot of different ways, but it's modern in the sense that it's got clean lines, is super function, and has some really nice little subtle touches that add to the overall look of the clothes. The classic look is no-frills. James Dean-type vibe.
With the exception of the new Goodlife T-shirt that is neon-colored, I would say this brand overall is pretty classic, in general.
Finding the Perfect Goodlife T-Shirt
Once feature I really liked on the Goodlife Clothing website is the simple "Find The Perfect T-Shirt" Quiz.
Simply hit, "Get Started" and it asks some questions, like:
Which attribute is most important in your perfect t-shirt?
Do you prefer a classic hem or a scallop hem? (with pictures to explain)
Crew or V-Neck Collar
After I did the quiz, guess what shirt it recommended? The Tri-Blend. That's perfect.
All about Fabric
I'd like to give you a quick tour of what Goodlife Clothing's fabrics have in store for you. They've got a nice lineup of quality fabric options like Supima Cotton, Tri-Blend and Slub that'll make you say, "Dang! That's some good fabric!"
Let me quickly highlight the three fabrics.
Where to Buy Goodlife Clothes
The best place to buy Goodlife Clothes is directly on their website.
However, you can also buy Goodlife Clothes on Nordstrom's Website and some select Nordstrom stores. You may also find this brand at SAKS 5th Avenue.
How to save money on Goodlife Clothes
The easiest way to save $$$ on Goodlife Clothing is to use our exclusive promo code, WETRIEDIT15. That knocks off 15% right there.
Another great way to save some money on Goodlife Clothing is to check out the Goodlife Vault. When writing this Goodlife Clothing Review, we found some great styles, like this Terry Crew for only $39 (see more in our best Labor Day Sales)! It's regularly $98 – so that's a huge savings!
4 for 3 Deals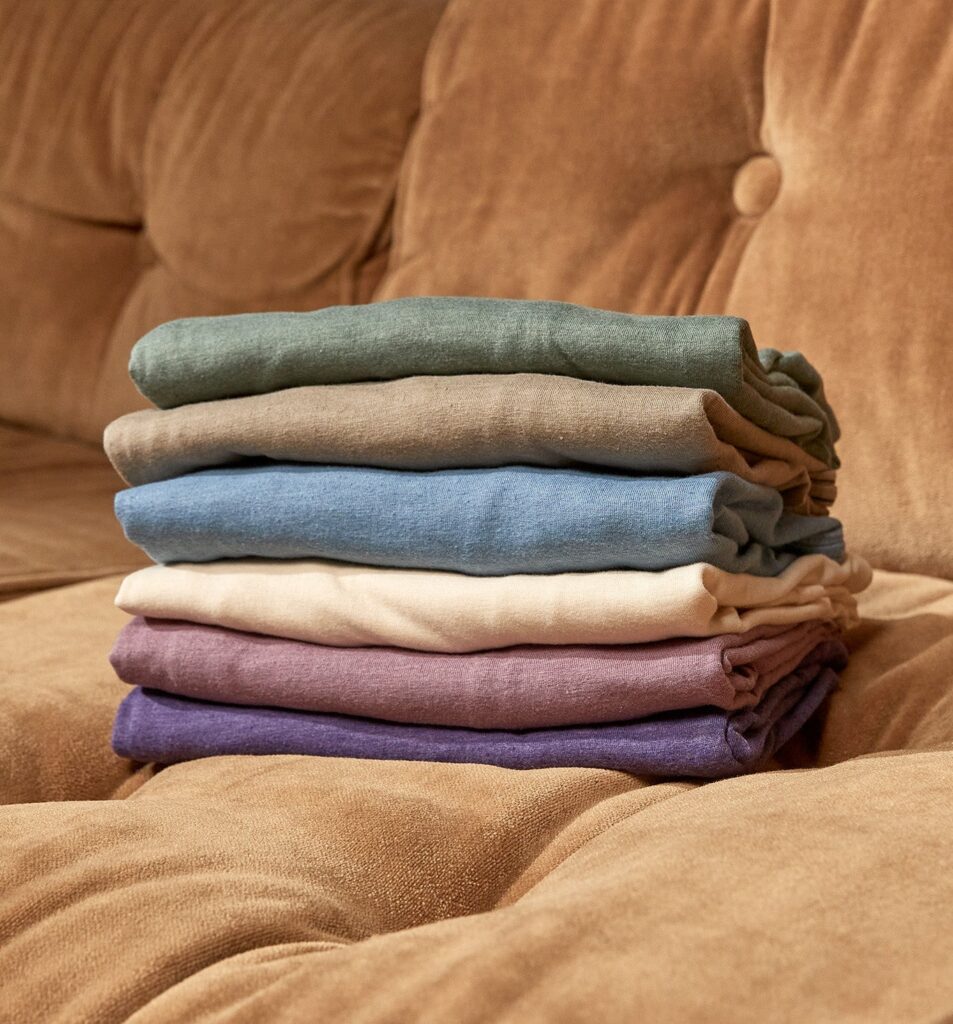 You can also get Goodlife t-shirts in a 4 for the price of 3 bundles. Simply look on this page for a great deal!
This brings the price of the shirt down to $45, the same price as Buck Mason Tees.
Who is Goodlife Clothing NOT for?
I usually start this out with who a particular product is best designed for. But if you are like me, you will have a hard time spending about $60 on a tee shirt. I get it. I'm cheap, too.
But that doesn't mean I don't like Goodlife; there are just so many different other brands to choose from around the same price. Like Robert Barakett, this is one of those products you would rarely buy for yourself, but when you do, you realize, "wow… this may actually be worth the money."
Who is Goodlife For?
As I mentioned, a lot of guys (especially dads, for some reason), won't spend this kind of money on clothes.
So, who the heck would buy Goodlife Clothing? It's simply a great gift for someone that would never spend the money on themselves. If your guy likes to wear the same things over and over, this may be for him – these clothes last forever and he would never spend the money on himself.
If you want 1 Shirt brand to rule them all
There are some people (especially some that call themselves "influencers") that love to say they wear the same thing every single day – and for some people Goodlife Tees are the only anwser.
Ever since Mark Zuckerberg came out saying he wears only the same shirt every day, it's become a trend among some of the people in tech. If you're looking for 1 Shirt to rule them all, then Goodlife is definitely one worth considering.
They will last a long time, go with anything else, and a no-brainer to grab when you're standing in the closet looking for something to wear. It just won't be super fancy looking. But you'll still look good.
Goodlife Review: Conclusion
A good pick
Goodlife Clothing: Premium Tees
Super cozy t-shirts, made in the USA.
Pros:
Super comfortable

Easy to style

Great curved hem

No branding

Super soft

Made in the USA!
Cons:
About $60 for a T-shirt

Limited Styles
Buy Now
We might earn a commission if you make a purchase, at no additional cost to you.
Goodlife Clothes are the perfect combination of classic style and modern design. Whether you're looking for a timeless wardrobe staple or an eye-catching piece to make your outfit stand out, Goodlife Clothing has something to offer everyone.
Their "Find The Perfect T-Shirt" Quiz helps narrow down exactly what type of t-shirt is right for you while their exclusive promo code WETRIEDIT15 makes it easier than ever to save money on these stylish pieces.
While many men won't buy this for themselves, it makes an AWESOME gift for the guy in your life.
FAQs about Goodlife
Is Goodlife a good brand?

Goodlife is a great brand because their clothing is classic and modern at the same time. They focus on quality materials, design, and manufacturing processes that ensure long-lasting durability.
Does Goodlife Clothing run small?

Goodlife T-Shirts run true to size, in our testing. However, we recommend referring to their sizing chart or take the quiz on their website for personalized fit recommendations.
Who makes Goodlife Clothing?

Goodlife Clothing is a brand that was founded by Chris Molnar. He established the company with the vision of creating high-quality, premium basics for men. Goodlife Clothing focuses on producing essential wardrobe pieces like t-shirts, sweatshirts, and loungewear, using luxurious fabrics and expert craftsmanship. The brand has gained popularity for its attention to detail, comfortable fits, and timeless designs.
Do Goodlife T-shirts shrink?

No, Goodlife Tees are designed to remain true to size, even after multiple washes. They are made with high-quality materials and pre-washed for minimal shrinkage. However, we recommend reading the care instructions on the label before washing.
Where are Goodlife clothes made?

Goodlife Clothes are made in the USA, making it one of the few brands that still uses American fabrics and manufacturing processes.