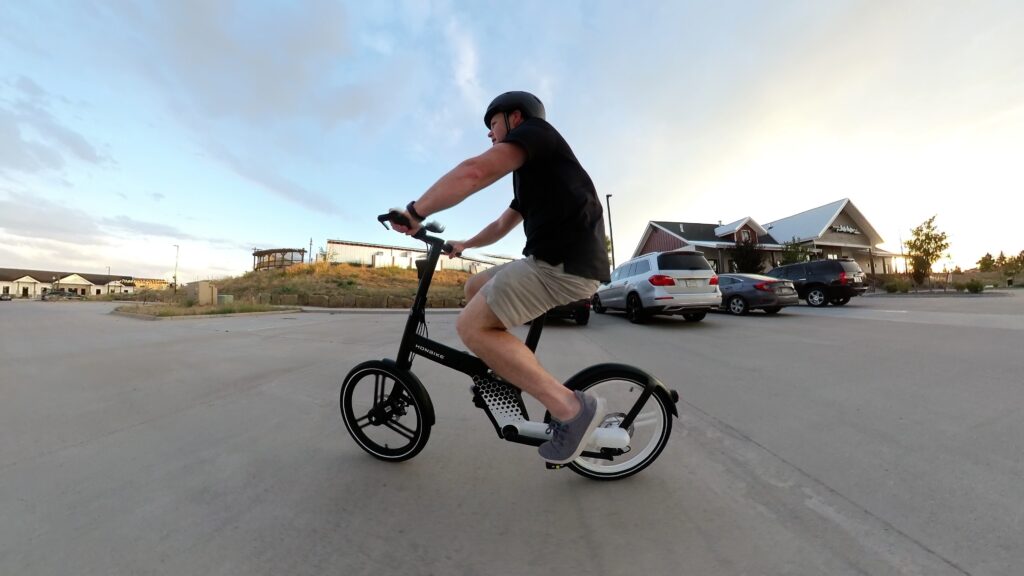 The Honbike HF01 eBike is an interesting bike. It's lightweight, has a super unique design, and is even foldable. But it gets even more unique as you examine it closer: it doesn't have a traditional bike chain.
Honbike is obsessed with minimalist design, in the best way possible. They claim the driveshaft provides thousands of miles of carefree riding (without any service). We put it to the test and found it to be incredible intriguing for the correct rider. 
A super unique eBike!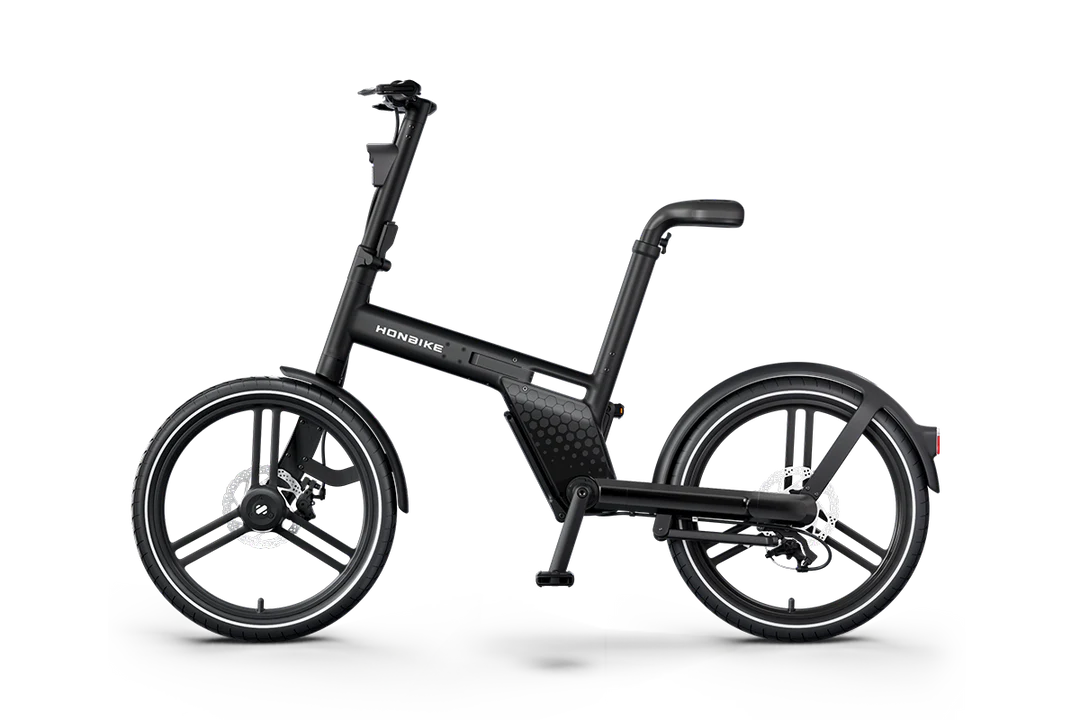 Honebike HF01
Buy Now
We might earn a commission if you make a purchase, at no additional cost to you.
Full of additional features like hill climb assist and safety tilt controls, this bike screams sophistication and modernity.
Meet the Honbike HF01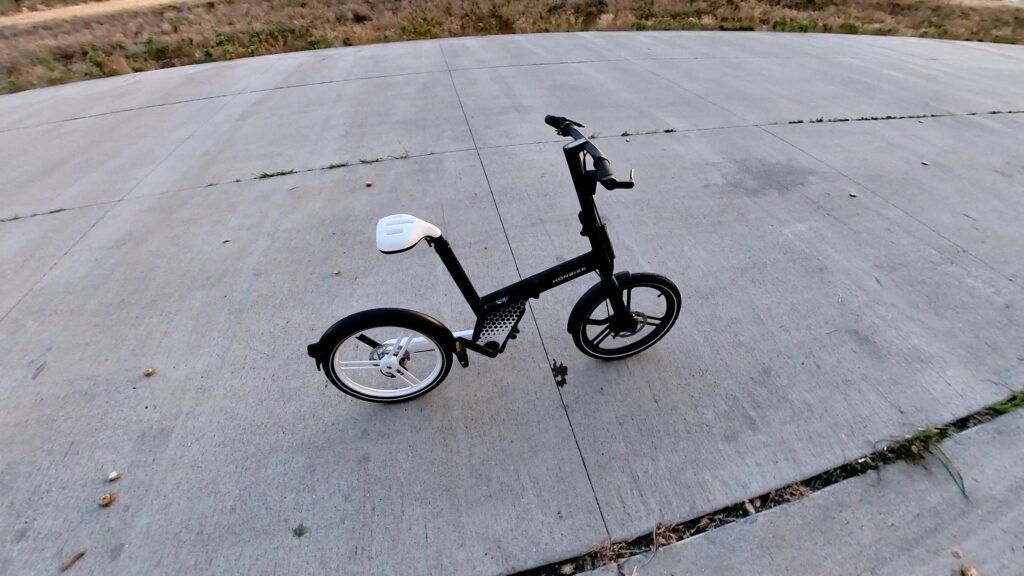 Honbike has a different approach to eBikes, one that we can respect. They believe in making quality over quantity, which is why they only have a handful of models on their website. The Honbike HF01 is the newest release and it's quickly become one of our their best-selling electric bicycles.
The Honbike HF01 has a minimalist design that's unique, yet still functional. They argue, you really don't need a lot of power, you need a bike that's easy to ride and that will get the job done without all the bells and whistles. which is something we can definitely get behind.
The solution? No chain, no fuss
Honbike prides itself on using shaft drive system technology, which is more commonly found in cars. This means that there's no chain to drop or get dirty and you don't have to worry about any chain failure down the line.
Honbike promises thousands of miles of carefree riding and we have to say, we're impressed.
The Specifications – Fairly Standard Features
The Honbike HF01 has some pretty standard features found on other ebikes. Let's quickly highlight those before we dive into what makes the HF01 Special
250W Motor Power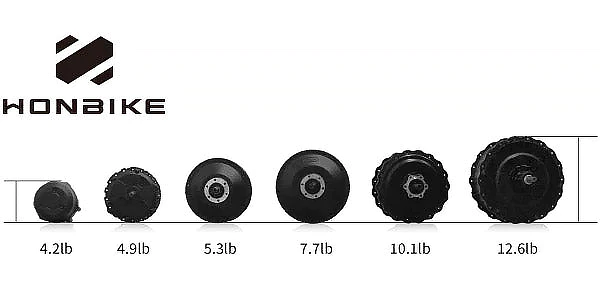 While Honbike calls this 250W Hub Motor "the smallest and lightest 250W motor merged the absolute best power, torque, and efficiency output," – I'd actually say that's pretty close to accurate.
The lighter weight makes the 250W more than adequate, but I wouldn't consider it "powerful" by many standards.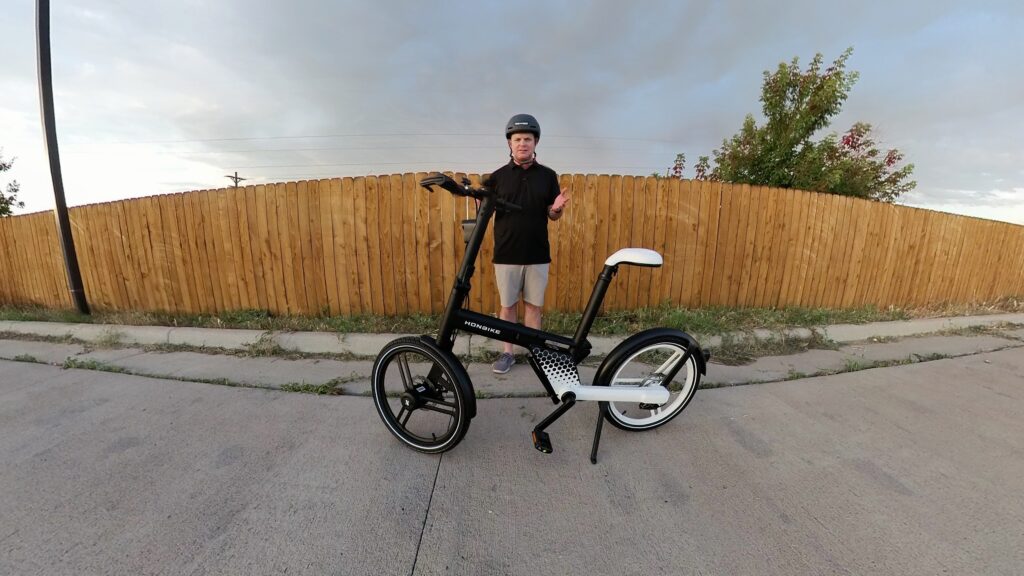 Sure, the lightweight design helps, but it's also part of the reason that the bike only has a top speed of about 15 MPH, at least in our testing. Most other ebikes have a top speed of around 20 MPH with Pedal Assist, this isn't too far off but still worth noting.
Honbike says that the e-bike has both a torque sensor and cadence sensor to deliver a smooth ride. The torque sensor definitely helped this bike feel like it wasn't jumping at every pedal.
Easy-to-understand LCD Display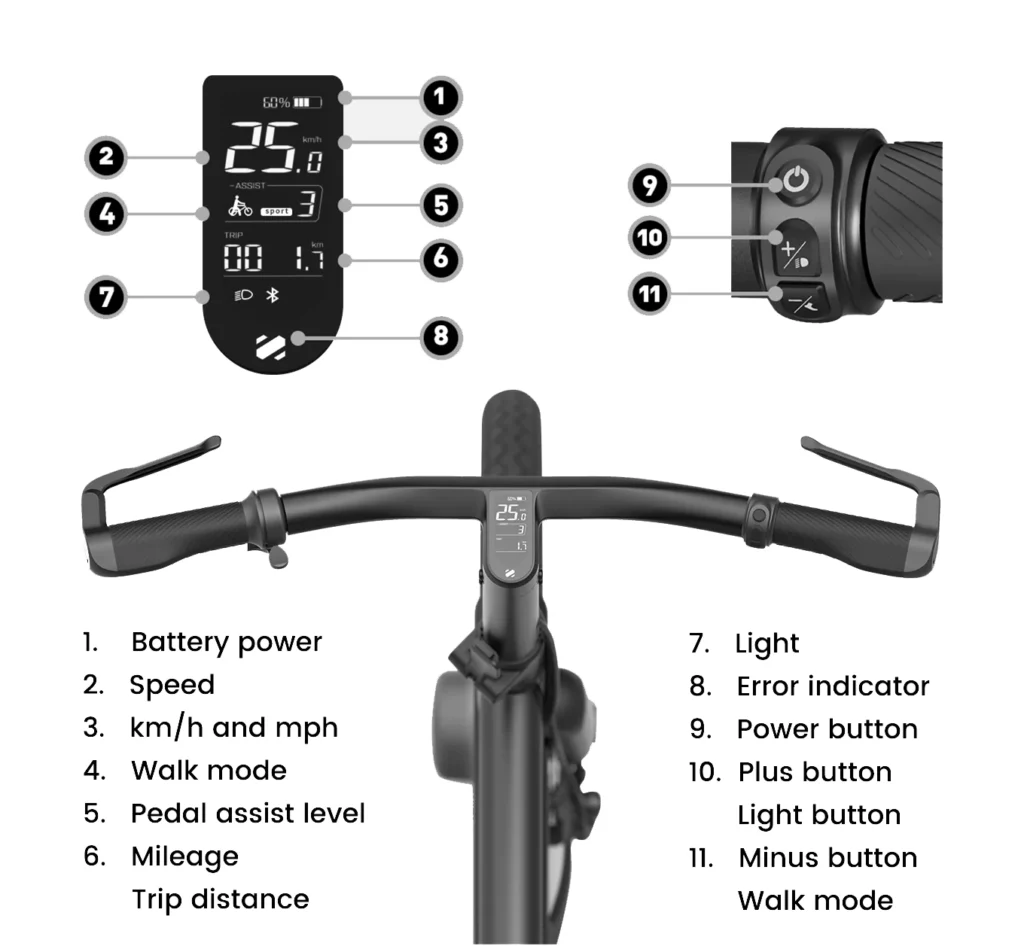 The Honbike comes with a large, futuristic LCD display that is easy to understand. I really like the look of this display, it really went with the overall look and feel of the bike.
5 Different Levels of Pedal Assist
Of course, the Honbike HF01 comes with 5 different levels of pedal assist. This allows you to customize your ride to however you want it. If you want just a little boost, you can use level 1 or 2. Or, if you want a more powerful ride, you can crank it up to level 4 or 5.
Total Bike Range: About 25 Miles
Technically, as I've mentioned in other eBike reviews, most eBikes technically have an infinite range (or as far as your feet want to pedal). The HFO1 has a battery range of about 25 miles, which is a little low on an eBike.
Of course, if the battery runs out, you can always just pedal. Since this bike is lightweight, it's not too much of a hassle to pedal if you need to.
Front and Rear LED Lights
The Honbike features bright LED lights on the front and rear of the bike. This is a great safety feature if you're riding at night or in low-light conditions.
I especially like the brightness and overall design on the front light. It just looks cool.
Where the Honbike HF01 eBike Stands Out
OK – now that we've talked about some of the standard features of the HF01. Let's talk about what makes this bike special.
To create this bike, it's like they looked at a standard electric bike and though, "How can we make this more simple… how can we use less parts?"
And that's exactly what they did.
The Overall Design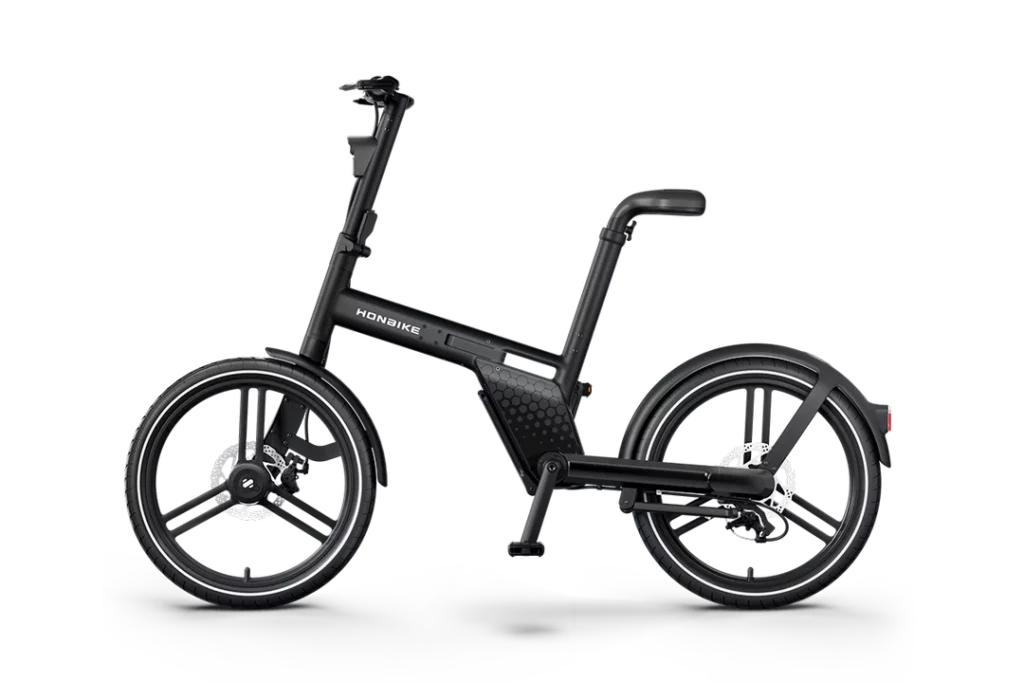 Starting with the overall design, there isn't much to the bike. Everything has its place and purpose.
In fact, it almost looks like a concept bike. Except, this bike actually works, unlike most concept vehicles.
Everything about this bike looks like it came from the future. From the brake levers to the unique "Golf Seat," everything on the electric bike was incredibly well thought out.
The Honbike electric bike almost looks like it's from a science fiction movie. And that's a good thing.
Easy to Assemble
The Honbike was one of the easiest e-bikes we've had the chance to put together.
It was almost too easy. I kept thinking to myself, "Is that it? That's all there is too it?"
But, alas, that was it. The Honbike really is that simple.
When I put the rear bike tire on, I seriously was confused. Since it didn't have a chain, I kept thinking to myself, "How does this thing even power the bike?"
But, after further inspection, I realized that the Honbike uses a shaft drive system, which is common in other vehicles, but rare on a bike.
The Shaft Drive System
A shaft drive system means that there is a shaft that goes from the motor (or the pedals) to the rear wheel. This design is not only more durable but also much simpler than a chain drive system.
Honbike claims the Honbike HF01 can go about 50,000 KM without maintenance on a the shaft system. For reference, 50,000 km is about 31,000 miles.
How many miles is 31,000 miles?
It turns out, at ton. The circumference of the world is about 24,901 miles. So you could travel around the world about 1.25 times on the Honbike HF01 before needing to maintenance the shaft drive system.
Of course, I doubt most people ever travel such a distance. But, it's still an impressive number nonetheless.
Foldable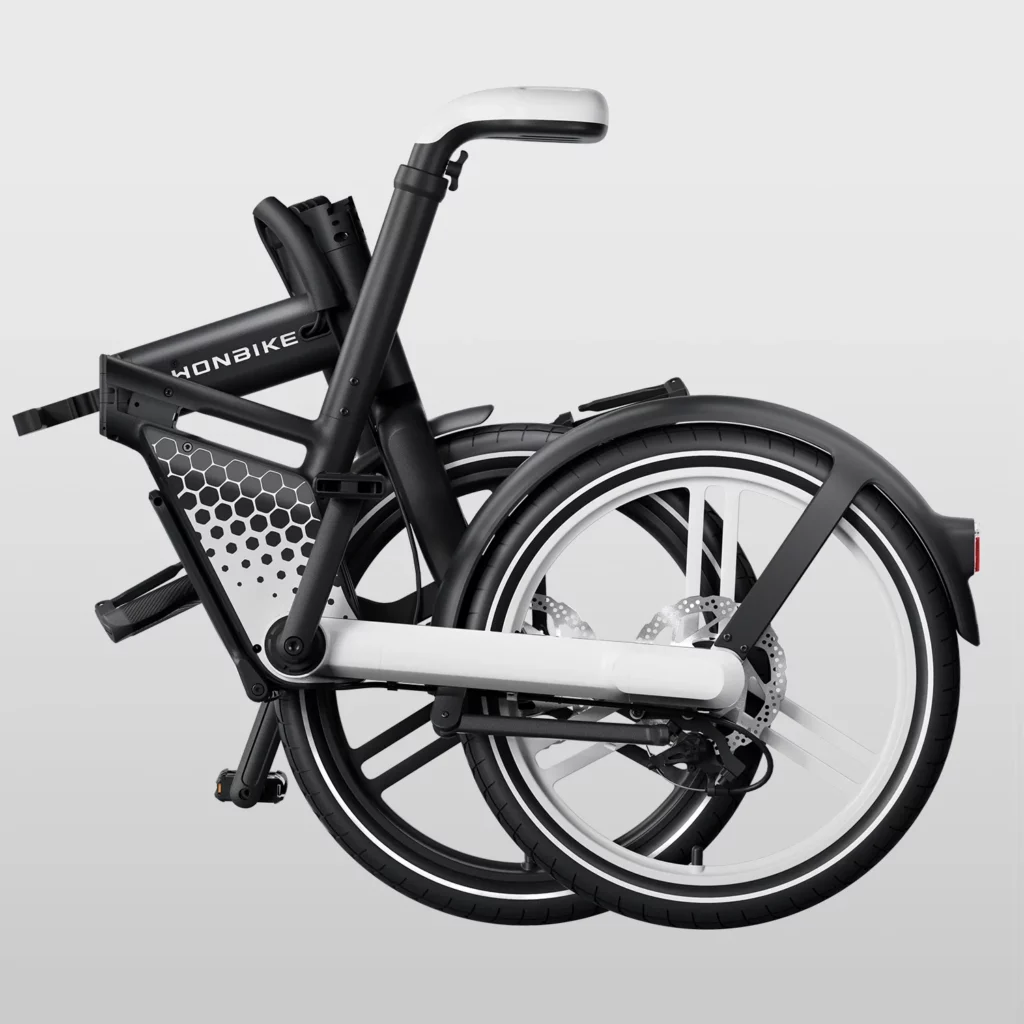 Yes, the Honbike HF01 is foldable. It takes less than 5 minutes (after you get the hang of it) to easily fold up the Honbike and put it in your trunk or take it on public transportation.
This is a great feature if you live in an urban area and need to commute to work or want to take your bike with you on vacation.
Whenever I think of folding bikes, I think of my parents who want a folding bike for their camper. Even better: a folding e-bike.
The Honbike App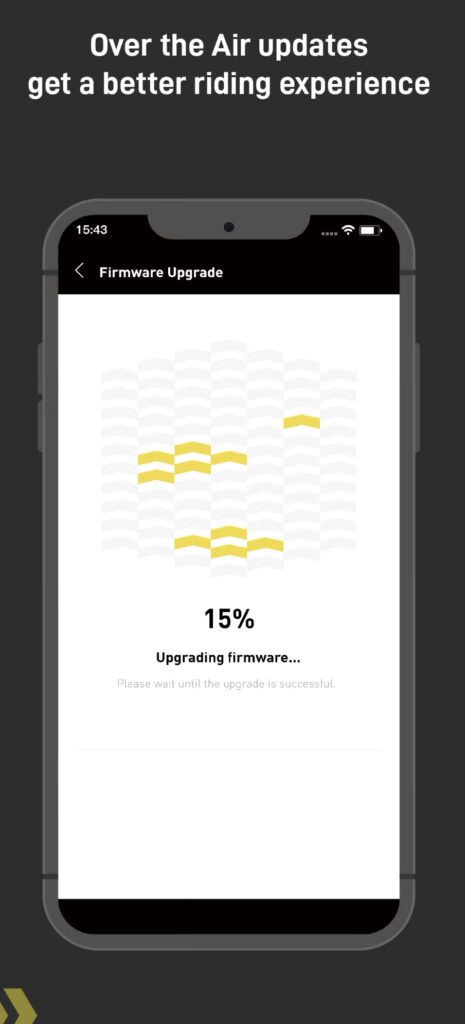 The Honbike HF01 comes with its own Honbike app. The app is available for both iOS and Android devices.
The app allows you to track your rides, see detailed statistics about your rides, and even provides over-the-air updates.
I thought this was a really cool feature – especially the ability to track your rides. I'm a data nerd, so I love being able to see detailed statistics about my rides.
The Honbike app is free to download and use.
Lightweight
At 45 Pounds, this eBike isn't super lightweight, but it is lighter than other electric bikes. This a great feature, especially if you need to fold the bike for public transportation.
Add in features like foldable pedals and this bike is very portable.
Angle Alert Sensor
The Honbike HF01 comes with a unique Angle Alert Sensor.
This sensor cuts off the motor power when the e-bike tilt angle is greater than 30 degrees. This prevents you from falling when making a turn. I think this is an incredible safety feature and I'm glad Honbike included it on the HF01. The Gyroscope sensor helps steer effortlessly and balanced the dynamics of your e-bike. Honbike has definitely thought of almost everything with the HF01!
Hill Assist Start Technology
This is another unique feature on the HF01 that I haven't seen on other e-bikes I've tested. This feature helps you start on a hill by automatically detecting terrain and slopes.
It also has a torque sensor to give you enough power in uphill scenarios and a safer and quicker uphill start assist to help you change pedals easily and properly.
I was skeptical that this would actually work as described. However, in my Honbike video review, you can see that it actually does work as Honbike claims. I was really impressed with this feature!
Honbike Review: What I didn't love
I've said it once, I'll say it again: there is no such thing as a perfect eBike or one e-bike that is the best for everyone. This is a good overall bike and I'm being a bit nit-picking on some of the items, but they are some of the things that I would want to know if I'm in your shoes.
It's not that lightweight
I'm about to post a review of the Ride1Up Core-5. It's only $1,199 and weighs only 49 Pounds, but it comes with a 750W motor. That's 3x the power of the Honbike, but at almost half the price.
Sure, it doesn't look as cool and doesn't fold or have the awesome drive shaft system, but it's something to think of.
Small design flaws like the battery design
I'm not a betting person, but I'd bet $100 that every single person that gets this electric bike will have the battery fly out at them the first time they try to take it out. That's because it is spring loaded and gravity is not your friend in this case.
The battery will literally fly out and drop on the ground unless you have your hand underneath the battery compartment. Almost every single person that uses this bike and takes out the battery for the first time will experience this.
Not only do you have the fuss with the folding stand to get it out, the battery will fly to you like a broken boomerang.
Once again, not a deal killer, but something to be aware of especially with a first-generation product.
Is the shaft drive system worth it?
I have to admit, the drug shop system made this electric bike very unique for me. However I can't help it ask myself is this just a gimmick. The truth is I will never ride in electric bike 30,000 miles before I die or something worse. So it's a unique idea that I applaud Honbike for, but is it truly worth the extra price?
The Top Speed and no Throttle
I know that I'm spoiled here. I'm used to going a top speed of about 20 MPH and having a throttle at my disposal. With a top speed of about 15 MPH with pedal assistance set to the max and no throttle, the Honbike leaves me wanting more.
I'm not saying that this is a bad electric bike by any means, but it's something to be aware of.
Who is the Honbike HF01 For?
This may seem like a silly thing, but I'd say this eBike is the for person who would buy an Eames chair. Why is that?
Just like the Eames chair, any other chair would technically do, but Eames reaches a unique customer, a customer that wants to buy the best of the best, even if it means spending a little more.
The Honbike HF01 is an great eBike and I would highly recommend it to someone who wouldn't mind buying an Eames chair – they wouldn't mind spending the extra money for a unique design and high quality product – even if a bean bag would accomplish the same exact feat at a much lower price.
Honbike Review: The Pros
Excellent build quality
Beautiful design
Great components
Lots of unique features
Good customer service
Foldable and unique
Honbike Review: The Cons
Not THAT lightweight
Small design flaws like battery compartment spring loaded release
No throttle
Limited top speed
Honbike Review: Final Verdict
A super unique eBike!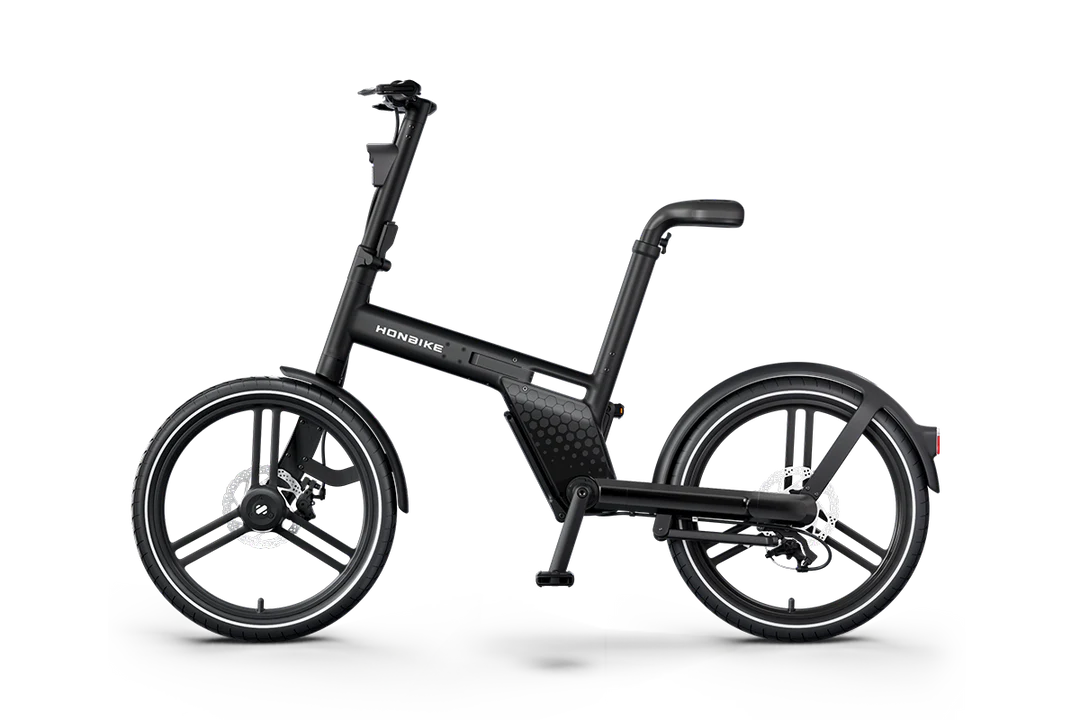 Honebike HF01
Buy Now
We might earn a commission if you make a purchase, at no additional cost to you.
In conclusion, the Honbike HF01 is a great electric bike, but it's not perfect. It does have some small design flaws and it's not the lightest e-bike on the market. However, it's beautifully designed, has excellent build quality, and lots of unique features. If you don't mind spending a bit extra for a high-quality product, then I would highly recommend the Honbike HF01!
Curious about eBikes we've tested? Check out our ultimate eBike Guide.
How fast does Honbike Go?
The Honbike goes about 15 MPH with pedal assist at the maximum level. There is no throttle on the Honbike.