Want your car to smell like your favorite candles? As Pura fans, we were thrilled to discover the Pura Car – a smart car diffuser that promises to fill your vehicle with the same amazing scents as our beloved candles.
Great, but not for us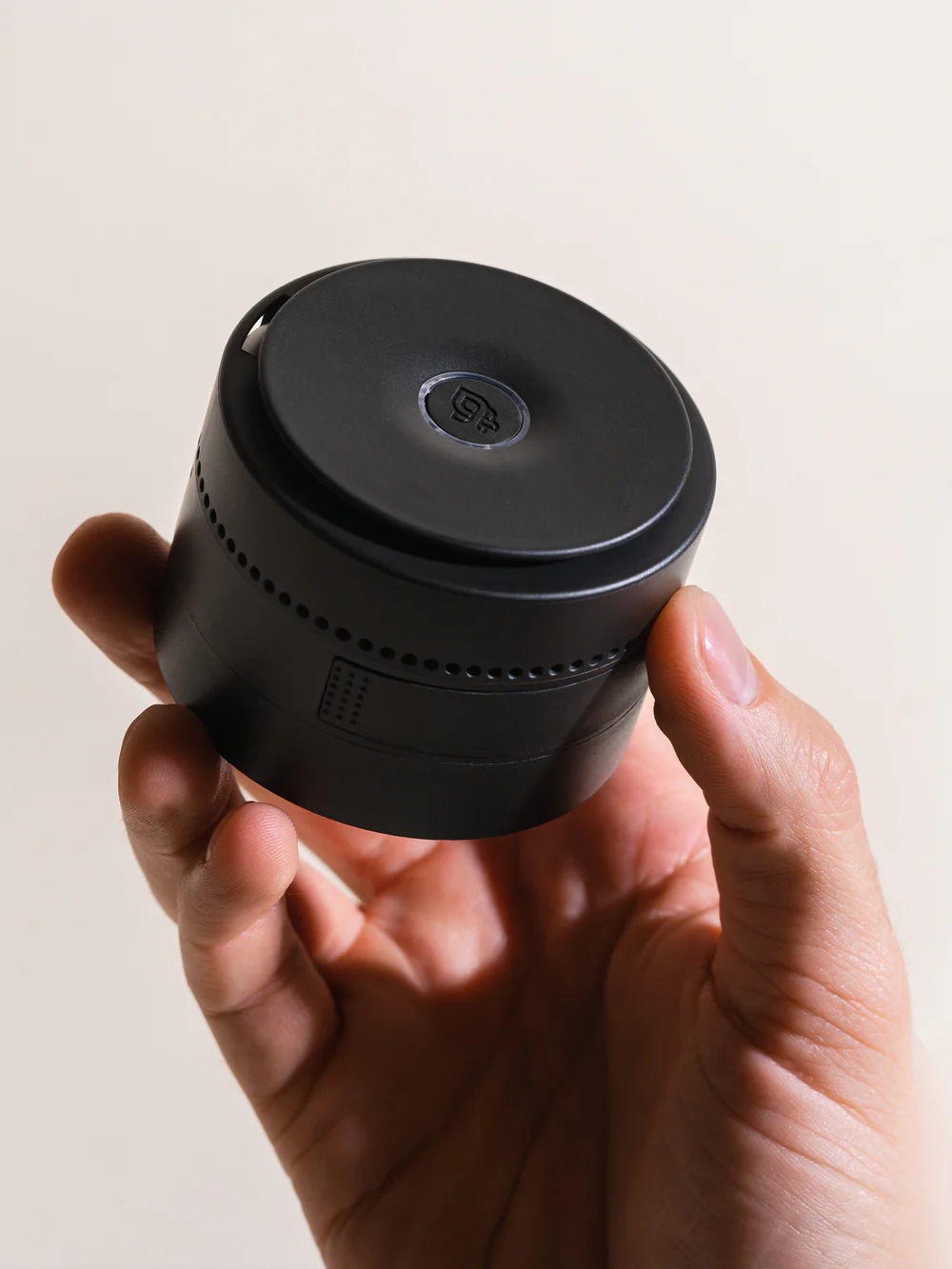 But after some research, we have to be honest: we can't recommend the Pura Car. Keep reading to find out why, and get our unbiased Pura Review, exclusive Pura Promo Code, and best Pura Scents. As fellow scent enthusiasts, we're here to tell you our 100% honest thoughts in this Pura Car Review.
What we recommend instead of Pura Car
drift scents
While we typically like high-tech solutions, the drift low-tech solution fits our needs better.
Buy Now
Our Review
We might earn a commission if you make a purchase, at no additional cost to you.
What is Pura?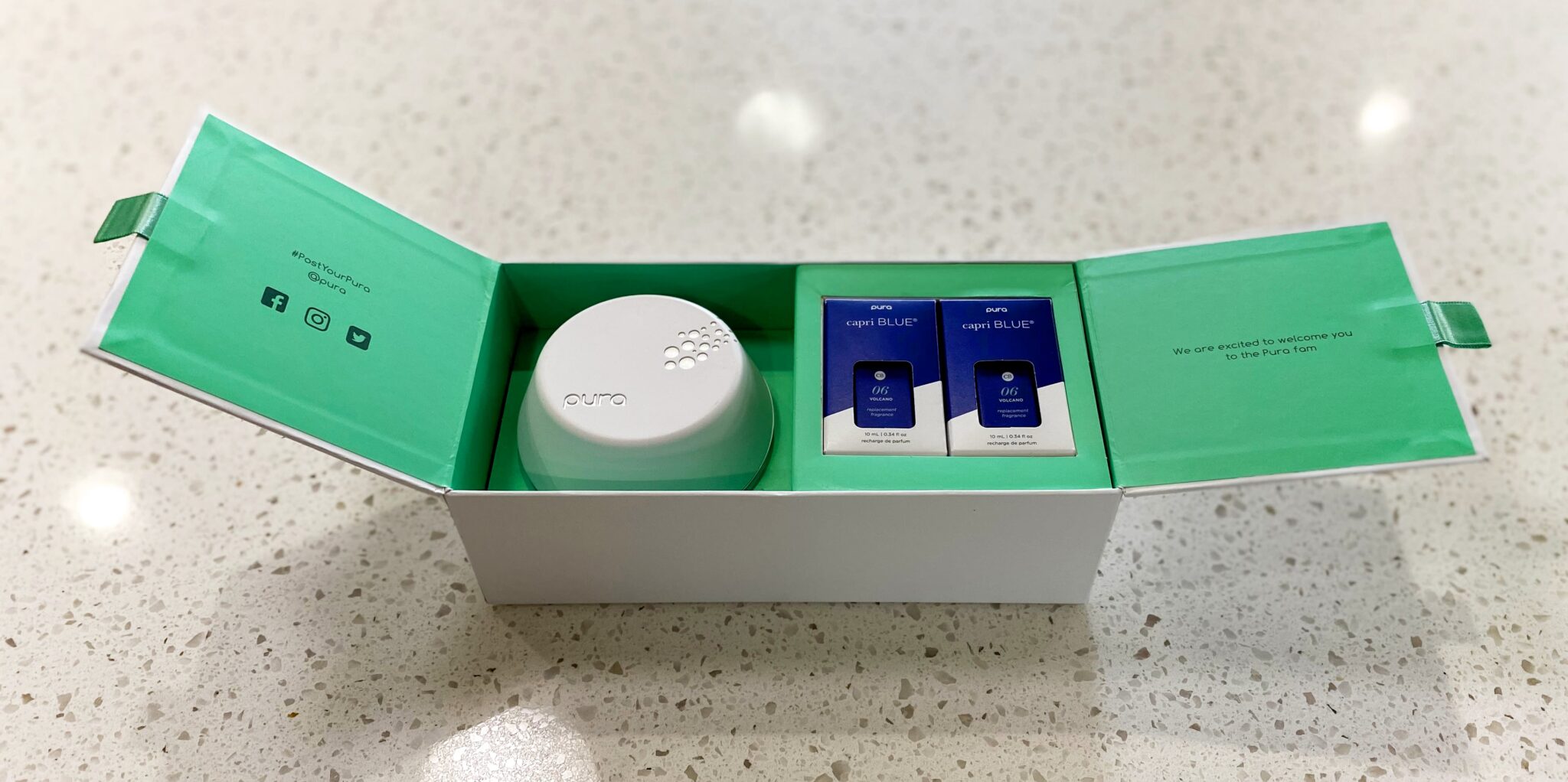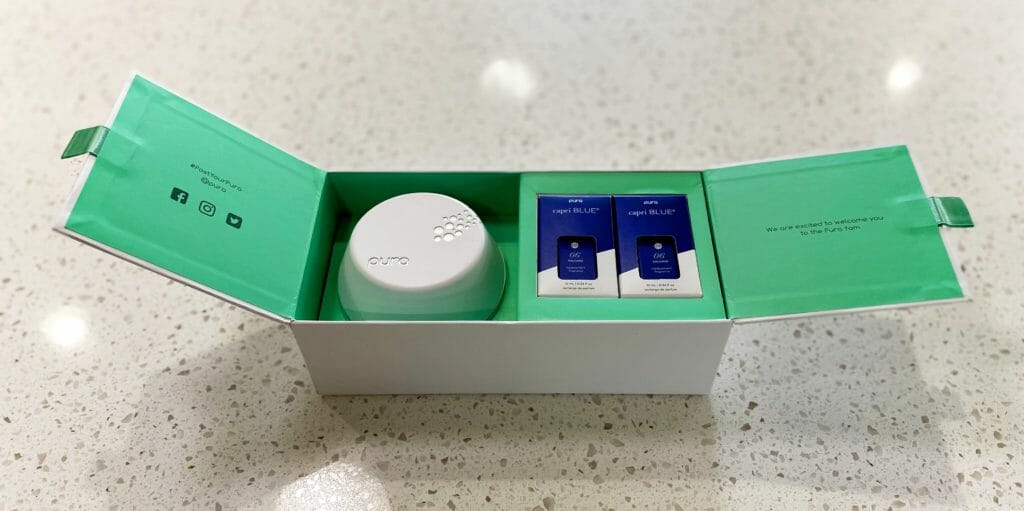 Before we dive into the new car fragrance diffuser, we should discuss what exactly Pura is and how this new car device fits in their portfolio.
Pura is on a mission to revolutionize how you experience scents at home. Using the world's first smart home scent diffuser, we're bringing the power of aroma to your fingertips.
Imagine being able to control your favorite scent from the convenience of your phone, anytime and anywhere!
Pura is unlocking the potential of fragrance with smart diffuser technology, bringing exquisite and pure scents right to your doorstep. Pura's fragrances are created with world-class perfumers (but that doesn't mean they smell like perfume) ensuring only the finest ingredients are used. Pura's partners include top fragrance companies such as Nest, Capri Blue, and Voluspa, bringing you top-quality scents you already know and love – but this time without the candle.
The Pura Smart Diffuser
Our #1 Smart Diffuser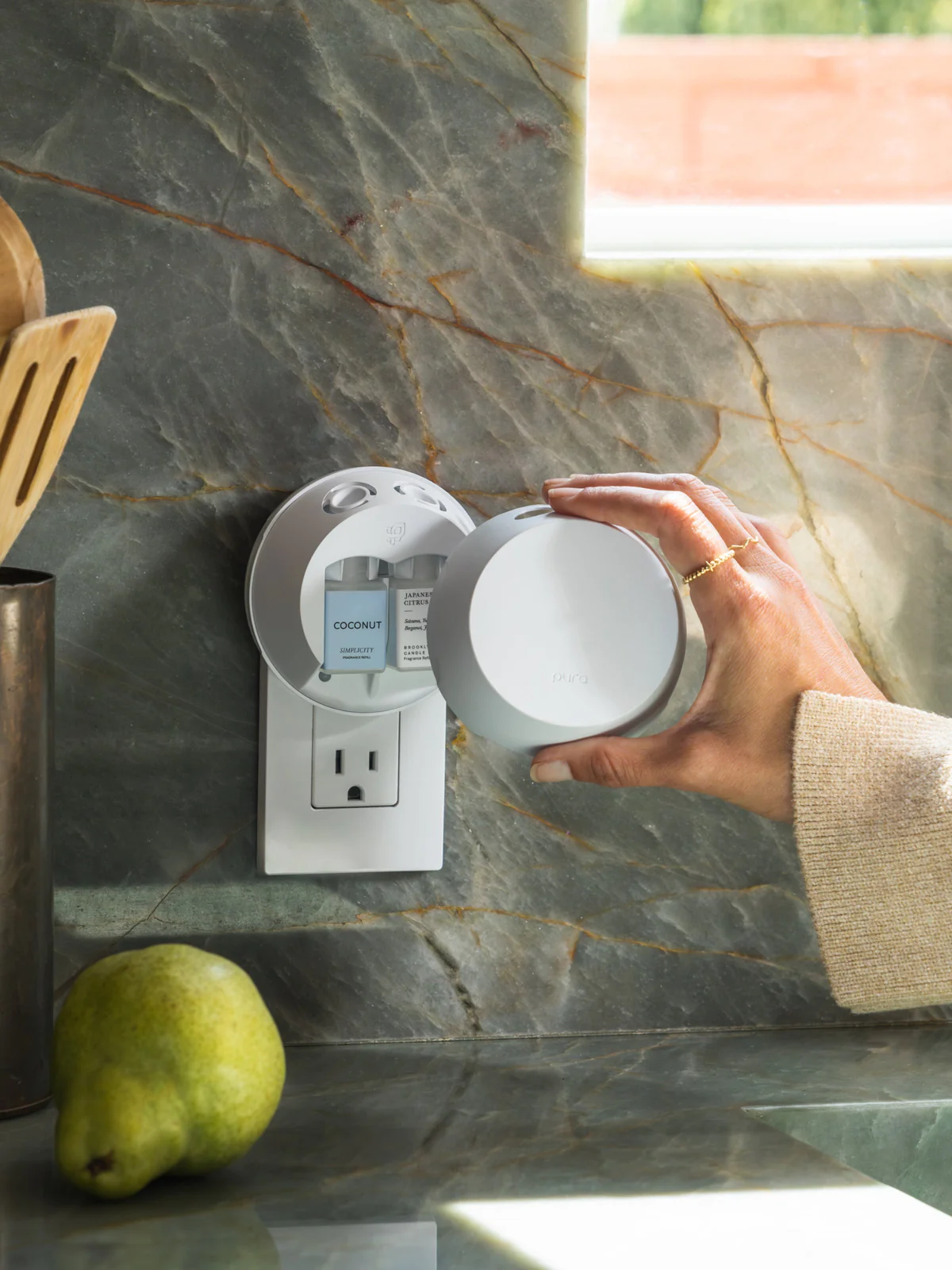 Pura Smart Diffuser
What's better than candles? Something that smells EXACTLY like a candle and is less expensive. We've found the world's best smart diffuser, Pura. Get Pura and enjoy scents you already know and love, like Capri Blue and many, many more.
Pros:
Many scents that you already know and love

Inexpensive device

Holds two scents - not just one

Programmable with your Smart Phone

Nightlight
Cons:
Limited coverage (but can always buy 2)

Diffuser is frequently out of stock
Buy Now
We might earn a commission if you make a purchase, at no additional cost to you.
As someone who loves to have a pleasant fragrance wafting throughout my home, I was thrilled to discover the Pura Smart Diffuser. This smart home fragrance diffuser has saved us tons of money on candles and it allows me to control the scent of my home from my phone, and has a number of amazing features that make it a must-have for any home.
One of the most impressive aspects of the Pura Smart Diffuser is its range of fragrance options. It fills my home with the bestselling fragrances, from brands you already know and love – like NEST, Capri Blue and many, many more.
The device connects to your home network through an app-based system, which makes it incredibly easy to use. I simply connect it to my phone and can turn it on and off remotely, set schedules, and rotate between scents. The Pura app even offers customization options on scent intensity and frequency.
In terms of longevity, I was pleasantly surprised to find that the Pura Smart Diffuser lasts quite a while. It can diffuse for up to 100 hours before a refill is needed, and app will notify me when it is time to swap out the fragrance vials.
What really sets the Pura Smart Diffuser apart in the market is its connection to the different brands. You know exactly what you are getting with every single fragrance you select, and they have minimal scents of their own.
Introducing Pura Car – the diffuser that makes your car smell great
The idea behind the Pura Car seems great – using the similar smart home diffuser technology to scent our car.
While Pura Car Diffuser is similar to the Pura Smart Diffuser, but differs in a couple of different ways.
What does it look like?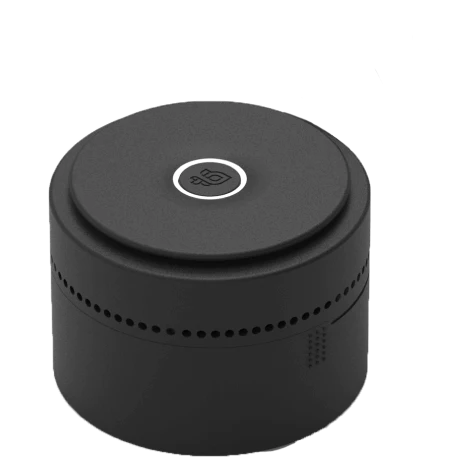 It is a small, sleek, smart device, designed to fit in your cup holder and is about as tall as 2-3 hockey pucks stacked on top of each other.
The advanced scent technology is better suited for the car, but comes with some other changes, too.
Only one scent at a time
One of the things we loved about the Pura Smart Diffuser is that it can alternate between contrasting scents. The Pura Car Diffuser can't do that. It can only diffuse one scent at a time, and there is no ability to customize or change it while you are on the go.
Not the same fragrance vials
The first thing you're probably thinking is, "Great! I can use my Pura scents in the car, too."
Nope.
The Pura Car Diffuser's scents come in a disc-shaped scent "hockey puck" design, which are probably less messy than the Smart Diffuser's essential oils, but it's also a different subscription to keep track of.
The fresh scents are still there, from teakwood and blue leather to creamy coconut to other natural scents.
Some cool features
The Pura Car does feature the ability to sync with the Pura Smart Phone App, but all it does is change the intensity (or turn off).
Why does my scent diffuser need an accelerometer?
It also features an accelerometer that turns the device on. That way, the diffuser won't run when your car isn't in motion.
The Pura app simply controls how much scent is released, but isn't really needed since you can't use two scents at a time (unlike the Pura Device, like we've mentioned). Of course, if you need to tweak intensity, you can use the app. But after I find the right intensity, you probably don't need to use it anymore.
Features a ton of great scents
The one thing that Pura has going for it over other diffusers we've tested (see our Aera Review or Aera Mini Review), is that Pura offers official scents from the brands you already know and love.
For so many brands, you can read the fragrance descriptions, but what does "bergamot" smell like? Or "sweet ocean breeze?"
That's why we were attracted to Pura in the first place. We could get great scents like Capri Blue Volcano (read all about the best Capri Blue Volcano Dupes), without having to fork over $40+ for a giant Blue Volcano candle.
What scents are available for Pura car?
The selection of scents for the Car Diffuser is not as plentiful as the scents available for the Smart Diffuser.
We expect this to change, but Pura currently only offers their own scents – everything from Linens & Surf to Teak & Leather Car to Cucumber & Mint. In total, they offer 8 different scents (available in both stand-alone pods and as a set: the diffuser + the scent).
They do not offer other brands, like NEST or Capri Blue, just yet.
The big deal killer, for us: needing to be plugged in and taking up space
I don't know about you, but our car charging space is limited – and so are cup holders.
They are both at a premium in our car (a Land Rover – known for the off-roading prowess, not the number of USB chargers and cup holders), and that makes it a deal-killer for us.
We only have two cup holders that are convenient to run a USB cord to, and those two cup holders are very valuable real-estate for us. That makes it really hard for us to justify having a diffuser with no ability to switch scents, and taking up one of our cup holders AND running a USB cord to.
We'd love to see the next iteration of Pura Car have some kind of battery-operated option that clips to a vent, so we can charge the device when we don't need the USB cord.
Differences between the Pura Car and Pura Smart Diffuser
Of course, right as I started working on this Pura Car Review, Pura creates this super handy graphic:
It's a pretty clear the differences between Pura Car and Pura Home!
Alternatives to Pura Car Diffuser: Drift
Car Scents that don't suck
drift: awesome car fragrances
So many car fragrances just stink, don't they?! Drift doesn't. We've only encountered 1 scent we didn't care for - and that's after trying almost 50!
Buy Now
We might earn a commission if you make a purchase, at no additional cost to you.
We use the Drift wood car freshener every single day. It's a unique take on traditional car air fresheners, with a clean, fresh design.
What is Drift Air Freshener and how does it work?
Drift is a monthly subscription service that sends a new car air freshener with different scents to you each month for $8. The air freshener comes in a clip-on design that can be attached to your car's sun visor. There are several scent options available, including Wood, as shown in the photo, as well as a Room Spray and a Car Vent version called "Rove."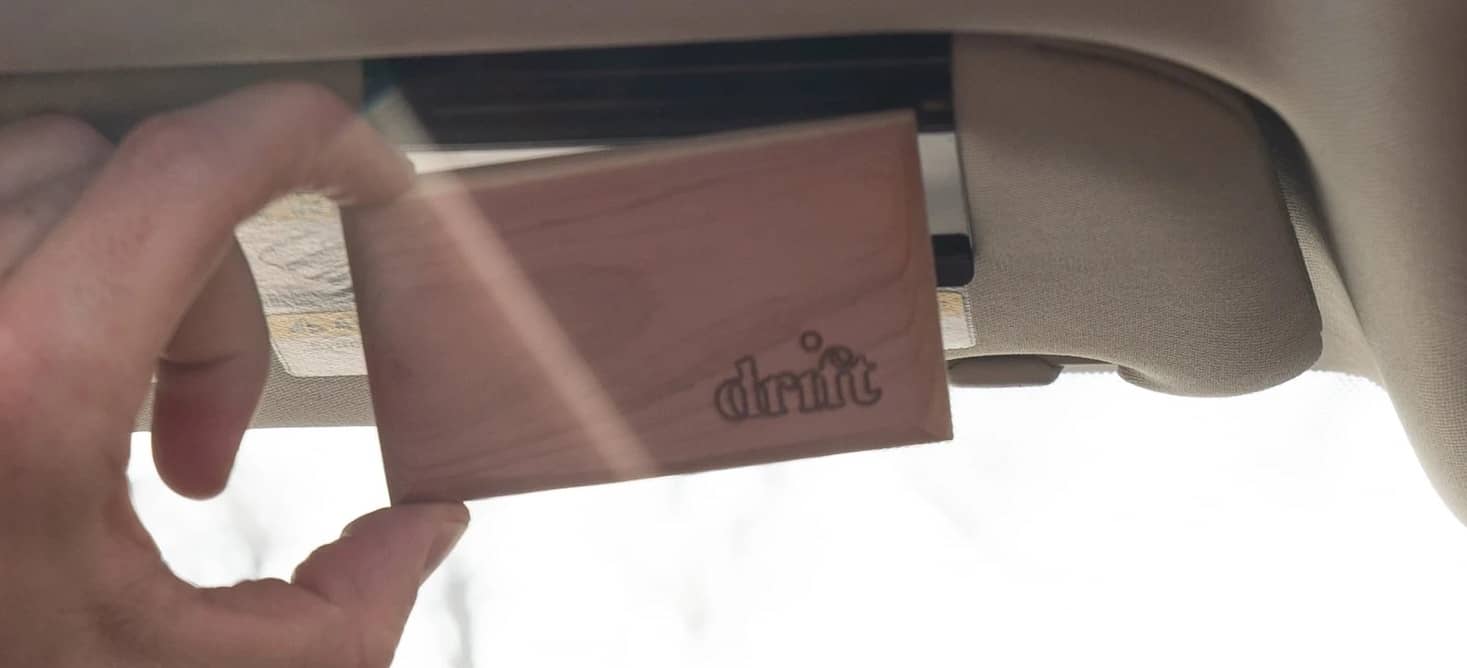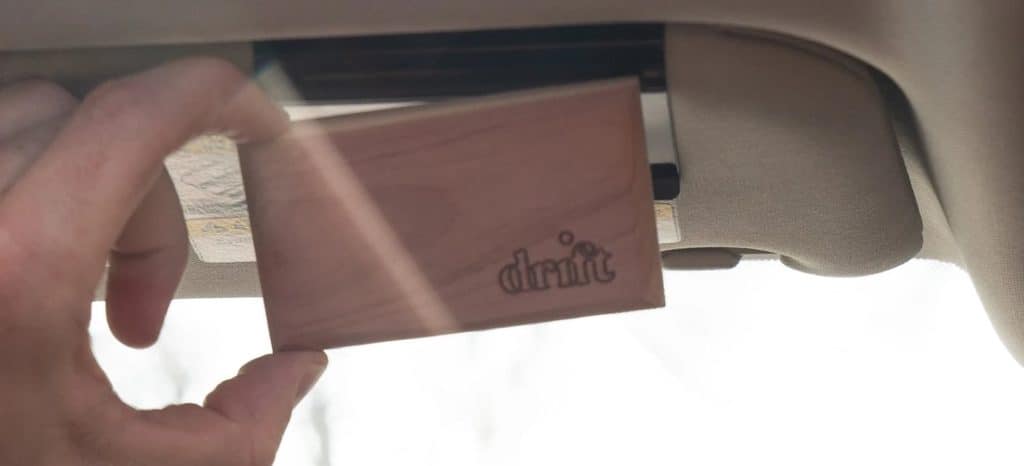 They send a new scent every month, and you don't get to pick, but the variety is amazing and we've only found 1 scent that we haven't liked – and that's after subscribing for more than 3 years.
Read more about Drift in our Drift Review and save with our Drift Pomo Code. The best part? No cords and it clips on to your visor. I'm a huge technology fan, but sometimes the best answer is the most simple.
Final Thoughts: Pura Car Diffuser
Great, but not for us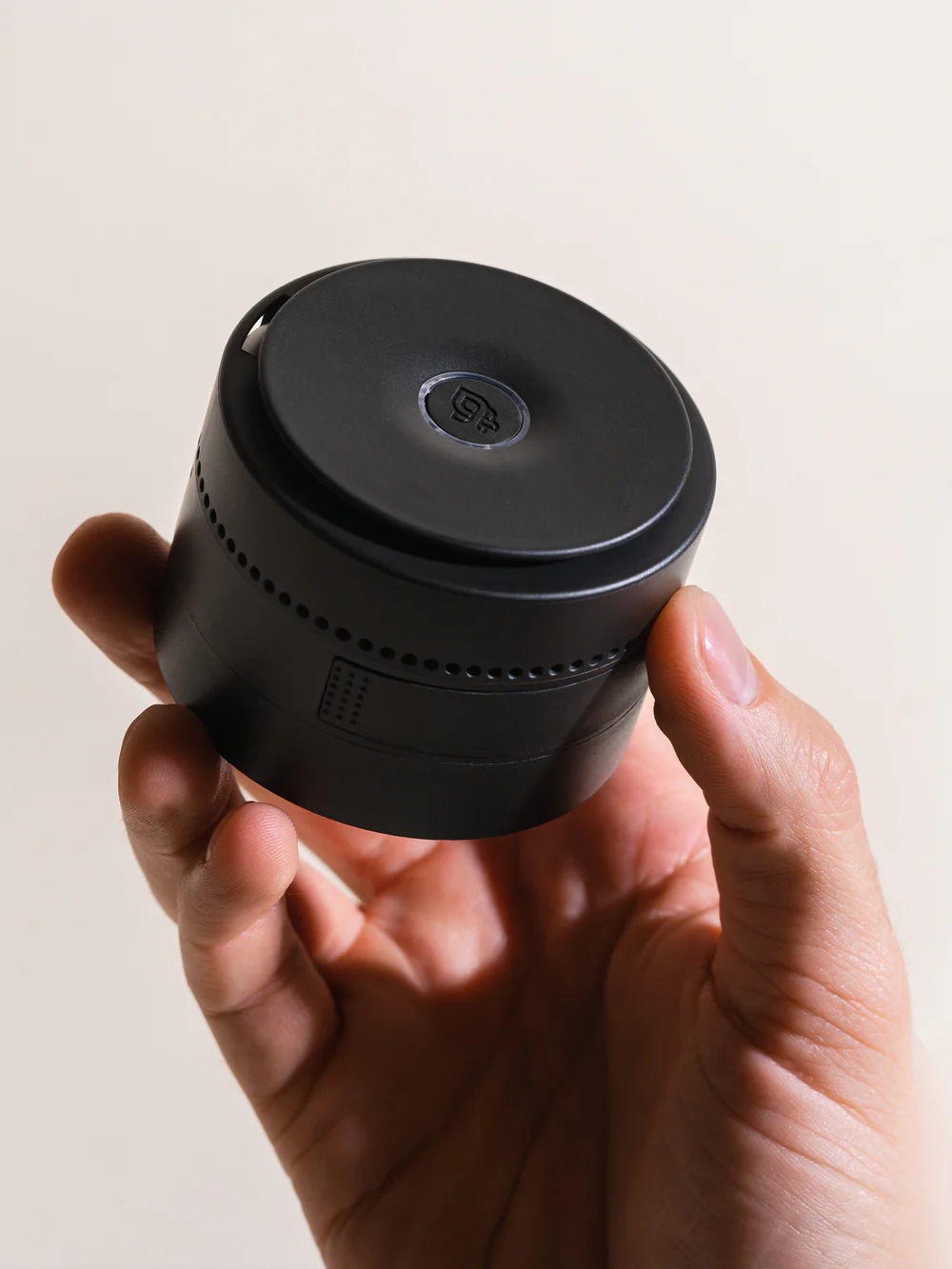 The Pura Car Diffuser is a great tool for those who want to enjoy their favorite scents while driving, but it does have some drawbacks. It doesn't offer the same fragrance vials as the Smart Diffuser and can only diffuse one scent at a time without customizing or changing options on-the-go.
Additionally, it takes up valuable car space that may be better used for other purposes. While there are some cool features like syncing with your phone app and an accelerometer that turns off when you're not in motion, we prefer using Drift air freshener due to its low-tech design and affordable monthly subscription service. Ultimately, if you're looking for convenience and variety of fragrances in your car diffuser, then Pura Car might be worth considering – otherwise, Drift may be a more cost-effective option!
Want to scent a smaller space? Check out our Aera Mini Review and Aroma360 Review.