Are you living in Henleys these days? I sure am. That's why I'm excited to bring you our honest Twillory Henley Review. Is the Twillory Henely the perfect blend of function, form, and comfort? Read our full review of the Twillory Henley to see if it's worth your almighty dollar.
Twillory Performance Henley: Rapid Video Review
We even posted a rapid video Twillory Henley Review here to see the Twillory Henley in action.
Twillory Henley Review: What's the big idea?
You're looking for a shirt that's comfortable and stylish, but also functional? Something you can wear working from home (that's not just a t-shirt) but also working out or playing with the kids?
Well, the Twillory Performance Henley is a perfect choice. It's made of stretchy polyester fabric with moisture-wicking properties to keep you cool and dry no matter what your day has in store. The tailored fit means it looks great on its own or layered under a jacket or hoodie. Plus, it comes in an array of colors so you can find the one that best suits your style!
This shirt is designed to be worn all day long – whether you're rowing at the annual UK event (fun fact, the Henley is named after the traditional uniform of rowers in the English town of Henley-on-Thames) or just going about your daily life. And because it doesn't wrinkle easily, this shirt will always look fresh and ready to wear when you need it most!
Already sold? Click here right now and order your new favorite performance henley from Twillory!
This isn't a performance dress shirt, but read all about our guide to the Best Performance Dress Shirt.
Twillory Henley Review: We test the claims
Twillory doesn't make some incredible claims about their Performance Henley, like some brands do, and that's for the better!
Here's what Twillory says about the Performance Henley and our verdict:
✅ Performance Poly Stretch Fabric
✅ Tailored Fit
✅ Moisture Wicking
✅ Wrinkle Free
✅ Cooling Tech
✅ Quick-Drying
✅ Reflective Back Logo
✅ Tag Free
✅ Anti-UV
Honestly, it's pretty rare that a shirt checks all the boxes, literally, from the marketing copy on their website. Like, super, duper rare. Good job, Twillory!
Why I love henley shirts
I, personally, love henley because they are the perfect combination of t-shirts and polo shirts – a little dressier than a t-shirt, but don't have the annoying collars of a polo shirt. However, I used to hate henley shirts for some reason (much like I used to hate vests – but now I'm a vest guy). These shirts are also wrinkle-resistant. This is, literally, right after I took the henley out of the box: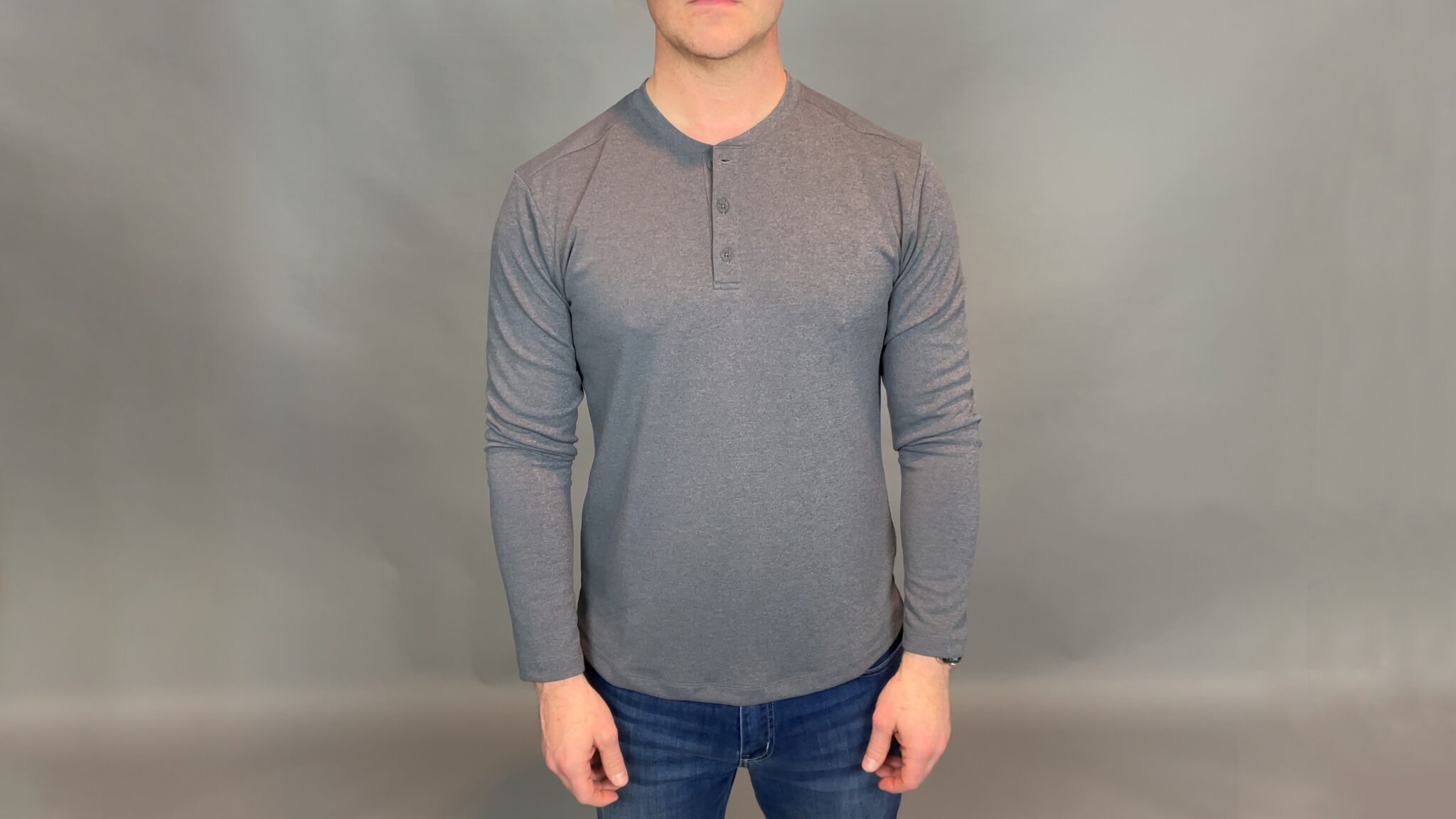 That's pretty incredible. I post a full review of some other Twillory items that I got that didn't have the same passing review!
Twillory Performance Henley Review: the 1 thing I didn't love
The one, tiny little thing that I did not love about the Twillory Henley was the large reflective logo on the back.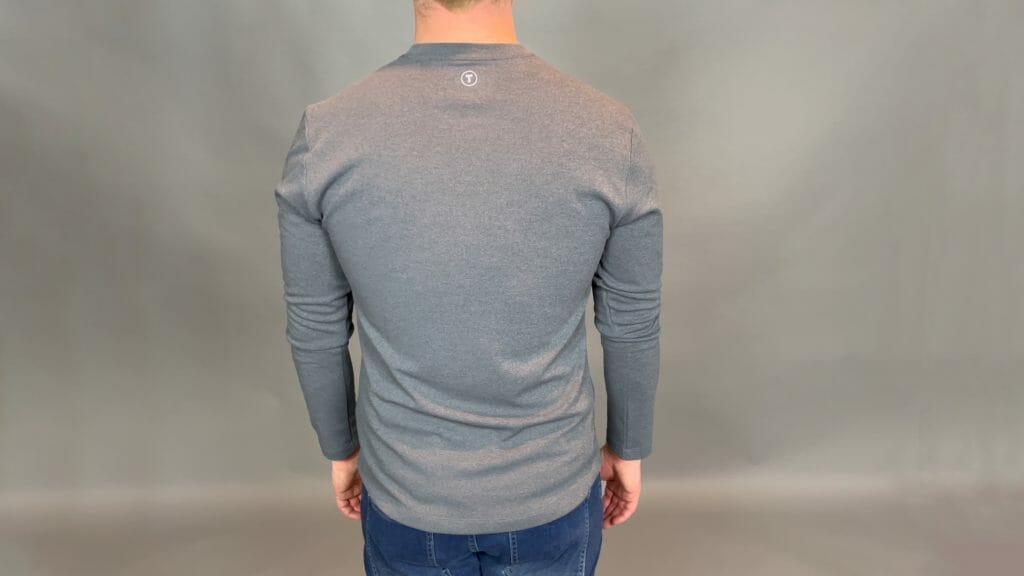 It's not the biggest of deals, especially since I spend most days on zoom and no one sees the back of my head, anyway. However, it was a little larger and visible than I would prefer. But, honestly, it's not a deal killer for me.
Twillory Style: The different colors
You simply can't go wrong with the styling on a Twillory Henley. They are super-classic and come in three basic colors: Charcoal, Navy, and "blue." The style you see in the photographs of me is Charcoal. However, here is Twillory's model wearing all three colors. WARNING: Just buying the Twillory Henley will NOT make you as jacked as this dude. 😂
The blue is very blue and light. However, the Navy is a fairly dark color. Nothing wrong with either Navy or Blue, but just know what you are getting yourself into. As you can see in the photos, the Twillory Henley in Charcoal is pretty close to my photos to the actual color. 👍🏻
Twillory Henley Review: The comfort
Honestly, this is one of the most important aspects for me. I tend to like a couple of different clothing items and wear them all the time. Sadly, my go-to Henley (as Mizzen + Main Henley) is no longer available to purchase. But these are a very close second for me.
While the Mizzen and Main Henley was more expensive, it was also slightly more comfortable. However, this Twillory Henley may get softer over time. If the Mizzen + Main Henley was a 10 in comfort, I'd give this a 9.5 – it's that close! The Mizzen + Main Henley was also $95, which is crazy, I know.
Especially considering you can get the Twillory Henley for $49 if you buy one, or only $39 if you buy two or more. That means you can buy 3 Twillory Henleys for almost the price of my favorite Mizzen + Main henley. I'd even say that's a better deal!
Twillory Performance Henley Review: The Final Verdict
Overall, I love my Twillory Performance Henley. It's a great, mid-weight, perfectly fitting henley to wear on Zoom calls, running errands or even outside playing with the kids. I'm excited to add it to my typical rotation.
You can buy the Twillory Henley directly from Twillory here. Make sure you take advantage of the 2 Henley for $39 offer – you really can't beat it!
Do you have any questions or comments about our Twillory Henley Review? Let us know in the comments below!