It's not very often I test a product and I feel the sudden urge to check my life insurance policy. But in this 100% honest Varla Eagle One Review, I'll put the Eagle One Electric Scooter to the ultimate test: suburbia.
While I do live in suburbia, that's actually where this scooter can shine.
Let me explain.
A super-fun & fast eBike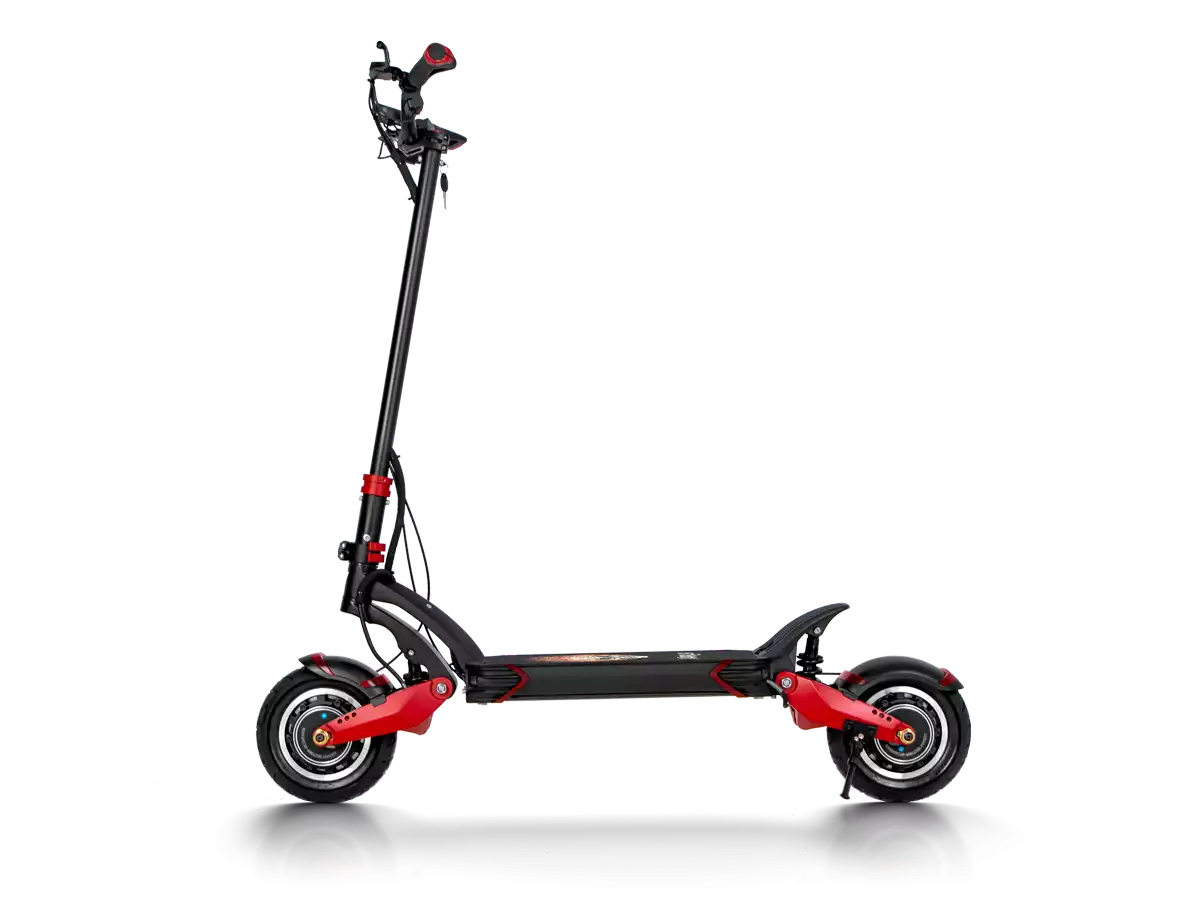 Varla Eagle One Dual Motor Electric Scooter
A super powerful e-scooter that is incredibly fun to ride. Our only complaint: the controls could be a little more straightforward.
Buy Now
We might earn a commission if you make a purchase, at no additional cost to you.
This ain't no Lime Scooter
This isn't your Lime Scooter. This is a Lime Scooter on Steroids… and Speed at the same time.
With its two 1000-watt hub motors and 52-volt, 18.2 amp-hour lithium-ion battery it's made to reach speeds of up to 40 miles per hour and has a range of more than 40 miles.
To put that into perspective, most electric scooter options don't have 1 motor with 1000-watt hub motors. But this Varla Scooter does.
The Pegasus Varla Scooter, which you can read our Pegasus Scooter Review, is a ton of fun, but it also has 2 motors, but they are each only 500-watts, half the wattage of the dual motors in the Varla Eagle One.
With 10 inch off-road tires, it can tackle any terrain you throw at it and with a whopping 330-pound capacity, riders of all sizes can experience this beast.
The scooter weighs about 70 pounds – not light, but not crazy. But it's definitely heavier and faster than any traditional consumer scooter you've ridden.
Quick Varla Eagle One Review
A super-fun & fast eBike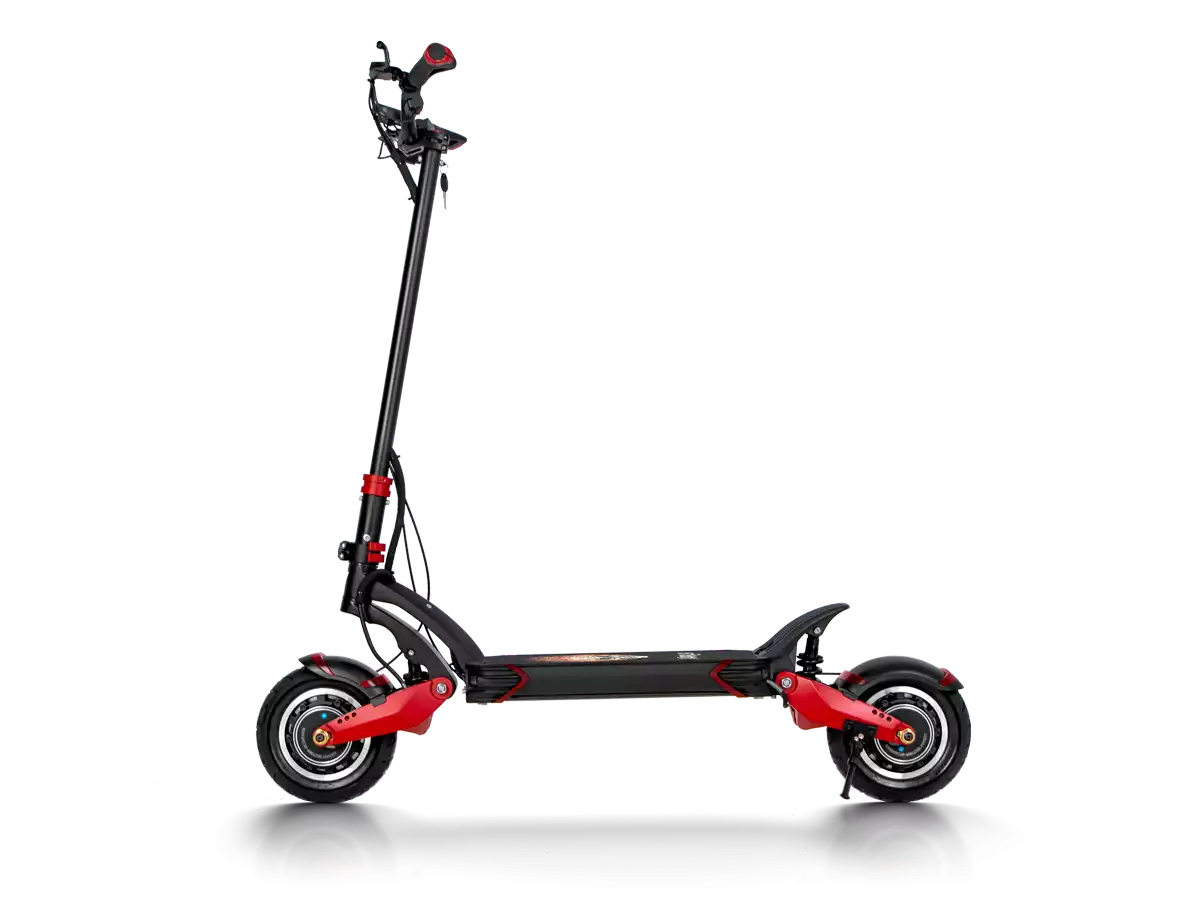 Varla Eagle One Dual Motor Electric Scooter
A super powerful e-scooter that is incredibly fun to ride. Our only complaint: the controls could be a little more straightforward.
Buy Now
We might earn a commission if you make a purchase, at no additional cost to you.
The Varla Eagle One scooter is a great choice for those looking for one of the toughest and most powerful scooters on the market. Featuring two 1000-watt hub motors, 52-volt battery, and 10 inch off-road tires, this scooter can handle any terrain you throw at it. Not only that, but it also boasts an impressive 330-pound capacity to accommodate riders of all sizes.
This scooter has plenty of the aesthetic appeal of a Lamborgini and stands out in both on and off-road situations. Furthermore, its high ground clearance ensures that you can get through even the toughest terrain with ease.
The Varla Eagle One Scooter packs plenty of power and performance into its sleek frame. It's built for maximum durability and designed to withstand whatever you throw at it. Whether you're taking it on a long journey or just cruising around town, this electric scooter is sure to provide you with an exhilarating ride each time you hop on board. And with one of the highest ground clearances available today, there won't be many places this scooter can't take you.
For those seeking an electric scooter that can handle any situation they find themselves in, the Varla Eagle One should be at the top of your list. Get the best deal on this powerful machine here!
But does the Varla Eagle One live up to expectations? Let's take a closer look.
Why should you trust us?
We've tested over 50 different eBikes and electric Scooters. While we won't pretend to be the ultimate bike nerds, we're 2 30-somethings giving our honest opinion of products we've personally tested.
While we aren't technical experts in any given field, we have a lot of experience (especially in the e-scooters market) and can compare this e-scooter to others. Don't miss our ultimate guide to all things eBikes!
Meet the Varla Eagle One
The very first thing you need to know about this scooter is the POWER. Yes, big-time power. The headline here is: dual (as in two) 1000W hub motors for an incredibly fun ride.
Let me stop and put that into perspective.
The highest-powered eBikes we have ever tested at 1000W, in one motor. On a bike that weighs like 80 pounds. While the Varla Eagle One weighs only 70 pounds, it has 2 of these same motors. That's 2000W in one small scooter, which is crazy!
These are powerful electric scooters.
I'm not sure if I needed to emphasize that much about the power and the dual motors, but trust me when I say you don't want to mess around with this scooter – because it can get up and go fast. The Varla Eagle One is no joke.
The Ride Experience: Let me try and explain
Riding the Varla Eagle One Electric Scooter is like being in a real-life speeder bike from the scene in The Empire Strikes Back.
In this scene, Luke and Leia pursue scout troopers through the forest moon of Endor on speeder bikes. The result was a thrilling chase that has become a classic movie moment.
The Varla Eagle One is like being in that scene! As you accelerate to its maximum speed of 40 MPH, you feel the thrill of fear and danger as you hold on for dear life. With its powerful dual motor system, you are going to be switching from, "Holy crap this is awesome," to "Holy Crap, this is scary!" depending upon what you're trying to accomplish on the scooter.
Every ride is an adventure that will leave your heart pounding and your adrenaline pumping.
The good news, is that if you don't ever want a terrifying experience, you never have to experience it. You can actually just have a very comfortable ride by getting to know the controls of this dual hub motor Eagle One.
Let me explain.
The Different Modes – AKA, How to Tame The Beast
There are three different ways to tame the beast, using the onboard controller.
Gears: There are only three gears, but this can help control the speed
Eco or Turbo Mode (more on that in a second)
Dual or Single Motor Mode
While the gears are a selection (starting in 1st gear), the Eco/Turbo Mode and Single/Dual Turbo mode.
Gears
The 1st, 2nd, and 3rd gear on the electric scooter act like they would on any other bike or car. When you change gears, you feel like changing gears on a sport car.
Each gear also limits the top speed. Gear 1 will only get you up to 15 MPH, Gear 2 will get you up to 25 and Gear 3 will get you a whopping 40 mph.
Depending upon your size, terrain, hills, etc. – it may not be possible to get to 40 MPH in Gear 3 – if you have it on Eco and Single Motor mode.
Eco/Turbo Controls
The Eco/Turbo mode is the other way to control speed on the Varla Eagle One. When in Eco Mode, the scooter will limit power output and top speed. This helps conserve battery life and ensure that you don't need to charge so often.
But when in Turbo Mode, this beast truly unleashes its potential, with maximum torque and speeds of up to 40 MPH (in Gear 3).
Single or Dual Motor Mode
Finally, there is a Single or Dual Motor option. On dual motor mode, both motors work together to produce maximum power. This is great for taking hills and when you need extra speed or torque – but it will also deplete the battery faster.
Single motor mode limits the power to one of the two motors and therefore decreases the total power scent to the wheels.
Controls: Great, but take a bit to get used to
Overall, there are 12 different combinations for different setting (Eco, Single, 2nd Gear Or Turbo, Dual, 1st gear).
While the gears have a physical indicator at the top of the controls, the Eco/Turbo and Single/Dual are buttons that have a pressed (Eco, when the button is pushed in and Dual when the button is pushed in). I know the creators of this bike wanted it to be easy to switch between modes, so I understand the general idea.
It takes some time to get used to, but once you have the hang of it, it's a breeze.
Unique Features of the Varla Eagle One
Beyond stunning good looks, lots of power and speed, the Varla Eagle One comes with some unique features.
The Looks
The Varla Eagle One definitely stands out from the crowded scooter market. It has an aggressive stance, a literal flaming skull (on the deck, don't worry – it can be replaced), the most beautiful under-lighting I've ever seen on a scooter, and big wheels.
This scooter like like a Harley Davidson meets a Lamborghini.
The Tires
The next thing you'll notice on the Varla Eagle One eScooter is the larger 10-inch tubless pneumatic road tires are great for comfort, especially when riding offroad. Their tubeless nature is great for evading pinch flats from rocks.
If you want to ride off-road, opt for the self-sealing tubeless knobby tires. They will not only double your traction but also ensure comfort and reduce maintenance. With these tires and 7 inch ground clearance, riding on rocky terrain will be a breeze since obstacles won't scratch up the underdeck!
Knobby tires are a type of tire designed for off-road use. They have a tread pattern with large lugs or knobs that provide better traction and grip on rough terrain.
These tires were made to be versatile and I confirm, they are. They can handle anything you throw at it.
The Suspension
The next thing you'll notice is the spring suspension – an independent suspension for each tire. It does a fairly good, but not perfect job of absorbing any bumps or dips in the road, making for a smooth ride.
The suspension feels a bit stiff, but this is beneficial for large bumps and prevents the scooter from bottoming out. If you're coming from a Lime Scooter, it will be a welcome change.
Like I said, this isn't your typical "Lime" scooter – it's a raging machine. You wouldn't expect to see suspension on a Lime Scooter. That's saved for serious riders who are looking to hit the trails and do some serious riding.
Even if you don't want to take this on the trail, it can take you over anything suburbia (and the nearby trails take you on).
The Battery
Finally, you'll also notice that this scooter has an impressive 52V/18.2Ah lithium-ion battery – well, actually, you won't notice it all. You can't see it, which we love! This gives you a range of over 40 miles per charge – more than enough for most people's daily commute.
But the best thing about the battery is what you don't notice: you physically can't see it on the scooter.
The scooter also has two charging ports to speed the charging process up.
Using one charger (what's included), takes about 8-9 hours to fully charge.
If you use both chargers, the time is cut in half.
Brakes – Hydraulic Disc Brakes
These hydraulic brakes on the Eagle One just work. Most eBikes and Scooters come with Mechanical Disc Brakes, which work, but aren't without their issues.
Mechanical Disc brakes tend to heat up easily and wear out your brake pads more quickly.
The Varla Eagle One, however, comes with a Dual Hydraulic Brake System plus ABS for maximum stopping power and longevity. This Sealed system works well in any riding condition and dissipates heat thoroughly so you can be sure you'll always be able to stop in a second.
And braking on a device that is going 40 miles per hour is a big deal.
In our tests, the scooter stopped in just under 11 feet from a speed of 15 mph.
What is an ABS System?
An Anti-lock Braking System (ABS) is a safety feature designed to help drivers maintain control of their vehicles in emergency braking situations. ABS works by preventing the wheels from locking up when the brakes are applied too quickly or with too much force. This helps drivers keep their vehicle on track and avoid skidding, which can lead to serious accidents.
(ABS) is a safety feature designed to help drivers maintain control of their vehicles in emergency braking situations.
On electric scooters, ABS is especially helpful because it allows riders to brake quickly without losing control of their scooter. It also helps reduce wear and tear on the brakes, since they don't have to be applied as hard as they would without ABS. This makes for a smoother ride and a longer-lasting scooter!
Ride Experience and Ride Quality
Let's talk about ride experience, beyond the pure speed. We've already covered it here. It's fast.
The overall ride quality is better than good, but not amazing. Of course, the suspension, which you won't find in other, cheaper scooters we've tested, they make a huge difference.
You'll still need to use your knees for big bumps, but nothing like the spine-breaking feel of hitting a bump on a scooter with no suspension at all.
It may just be because you are terrified for your life, but you will step off this scooter feeling like you had a workout. It's not a leisurely walk in the park by any means, but it's far more comfortable than most electric scooters.
What we loved about the Varla Eagle One
As we've mentioned, this is in the category of "high-performance scooters" that provide a comfortable ride, even at high speeds.
Friends love it
When friends come over to the garage, they want to test over some bikes and scooters. I almost always end with, "Wanna try something really crazy?" And I show them the Varla Eagle One.
At first glance, people think, "That just looks like a really cool scooter," but by the time they finish their ride, they've got a permanent smile on their fast. They just love how this rides, especially compared to other scooters.
We like that this is a definite "showpiece," in our eBike and e-scooter collection. It's not your average commuter scooter, but any stretch of the imagination.
Portable
While 70 pounds seems heavy, it doesn't feel the same weight as an eBike that weighs the same. I have no idea why, but this scooter doesn't feel that heavy.
The handlebar also closes, allowing the scooter to fit in smaller places (maybe not in the trunk of a small Sedan, but in the back of an SUV, for sure).
Overall Ride
The ride is great, it has more than enough power, and it's just fun to ride. It also looks great, even at night – with the bright brake light, bright LED front light and underlighting under the deck.
It's also great at climbing hills – something I'd never think about with e-scooters – hill climbing. I know the standard scooters, you feel like it may be quicker to walk when they go up a hill. But this powerful scooter will leave everyone else in the dust.
The dual hydraulic brake system on this scooter, also makes it squeak a lot less than scooters with mechanical disc brakes.
The scooter has rear fenders and front fenders to keep you dry and mud-free. While you won't stay 100% dry, the fenders on this e-scooter really do help.
What we didn't love about the Varla Eagle One
There's not a lot to not love about this dual-motor electric scooter. But there are a couple of things we didn't care for.
The controls
As mentioned above, the controls are ok, but not super intuitive. To have 12 different settings, essentially, is a way to harness the raw power – we just wish it was a little more straightforward.
It's also not super clear in the instructions, either. Depending on your riding style and overall experience, just start slow and you'll love this fast scooter.
We also found the finger throttle and gear shifter were not super easy to operate at the same time.
Not a deal killer, but not the best, either.
The Deck Design
This is super knit-picky, I know. But I don't care the flaming skull on the deck. Sure, it comes with other options you can add on, but I haven't bothered to, yet.
We just wish it came in a more classic black look, but that's OK.
Varla Eagle One Review: The Final Verdict
A super-fun & fast eBike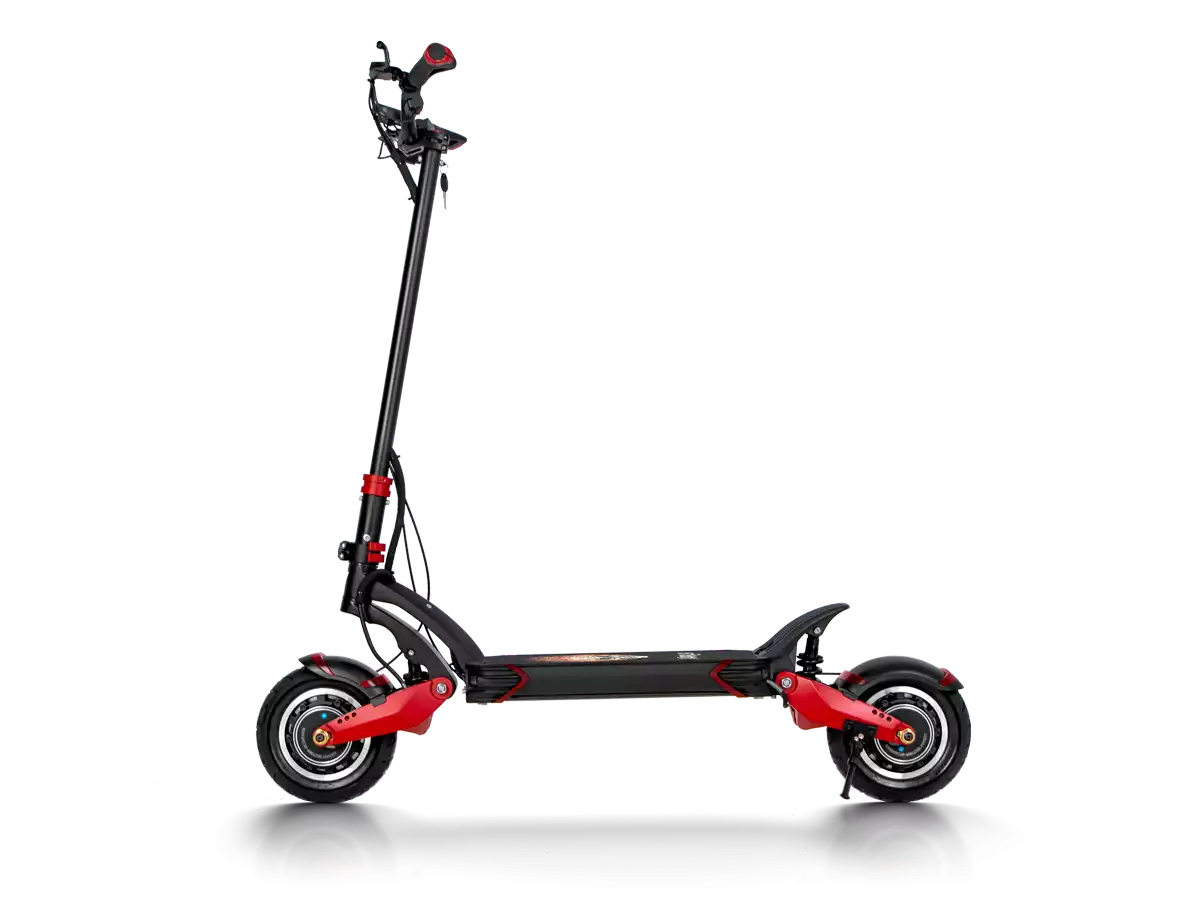 Varla Eagle One Dual Motor Electric Scooter
A super powerful e-scooter that is incredibly fun to ride. Our only complaint: the controls could be a little more straightforward.
Buy Now
We might earn a commission if you make a purchase, at no additional cost to you.
While no one would ever accuse me of being an adrenaline junkie. This scooter is actually perfect for a family like mine.
Let me explain in a bit of a random story.
My wife had to go to the eye doctor and before the appointment, they told her she would be able to drive back. In fact, I forgot that she even had an appointment.
She called me after the appointment and said, "I can't see… they dilated my eyes and I can't see right now."
So, I was going to just get an Uber and head over to get her. This was during the middle of the lockdown and the closest Uber was 20+ minutes away. That wasn't going to work.
I grabbed the Varla Eagle One (good thing it was charged) and I scooted off to pick up my wife. The most amazing thing was that I was able to get there faster than I would if I was in a car (even obeying the speed limit). The route from my home to the doctor's office is about 3 miles away, but the path was – literally – uphill.
The route also includes a roundabout, where traffic ALWAYS stalls. I was able to wiz by the cars on a designated bike trail that ran parallel.
When I got to the doctor's office, I simply folded the scooter up and tossed it in the back of our Land Rover.
Oh… and I got there in about 8 minutes. Pretty impressive.
While I don't use the Varla Eagle One to pick the kids up from school, or run a lot of errands, it is a fun scooter to take out and show off.
If you have the need for speed and want to have a lot of fun doing it – you'd be hard pressed to find an e-scooter more fun and a better value than this one.
Varla Pegasus vs. Varla Eagle One
Of course, this review probably will make you wonder if the Varla Pegasus is a better value than the Varla Eagle One. Read the Pegasus Review, to.
While the Varla Pegasus e-scooter has 2 500-Watt Motors, the Varla Eagle One has 2 1,000-Watt Motors. The top speed on the Pegasus: 28 MPH, top speed on the Eagle One: 40 MPH.
Don't get me wrong, they are both fast and a ton of fun. The Pegasus retails for $1,299, the Eagle at $1,699.
When deciding between the two scooters, it really depends on your needs and preferences. If you're looking for something with more power, range, and better suspension and brakes, then the Varla Eagle One is probably your best bet. However, if you're looking for something with more stability and peace of mind, then the Varla Pegasus might be better suited for you. It's also about $400 cheaper.
Ultimately, both scooters offer great performance and features that make them attractive options for any rider. So no matter which one you choose, you'll be getting an amazing ride!