When the weather heats up, it's important to have the right clothes to stay cool. Many men tend to stick with the same clothes they wear all year long, without considering that different clothes are better suited for hot weather. In this post, we'll take a look at some of the best cooling clothes for men and what makes them so effective.
Why we are reviewing the best cooling clothes
Do you always feel hot, even when it's not summer? Do you wear shorts around the home year-round? When summer hits, that becomes an instant problem: what do you wear when it's REALLY hot outside?
Several clothing brands claim to cool you down, but do they actually work? We try shirts from Arctic Cool, Mizzen + Main, Fioboc and many more to see if anything can save you from the Summer Heat.
What to look for when buying cooling clothes
When you're looking for the best cooling clothes, there are a few things you should keep in mind:
Overall look is important here. You need clothes that don't look like "tech" clothes. They can be filled with high tech fabrics and high tech materials, but they don't need to look like it.
The fabric is important. It's the key to making the clothing cooling
Fit is also important. Clothes that are too tight won't allow your skin to breathe and will make you feel hotter.
Color is another factor to consider. Light colors reflect sunlight and heat, while dark colors absorb it.
Another important attribute is odor control. We sweat when we're hot and you don't want a stinky shirt.
Why you won't find linen in the best cooling clothes review
On every single hot weather clothes list you find on the internet, you'll find linen as one of the top items on the list.
Well, you know what? I'm not a bed and I don't want my shirt to be made from the same material as the bed sheet. I'm sorry that I'm not sorry here.
Linen is great for many things, but I've never seen someone in linen and thought to myself, "Wow, that guy looks comfortable… I want to look exactly like him."
In fact, it's the same look I give people that wear Vibram Five Fingers. I don't care if it helps you live 10 years longer, I wouldn't be caught dead in them.
So, what is the best fabric for hot weather clothes?
As you'll see in this round up for the best clothes for the guy that runs hot – most of these clothes are actually synthetic – or have a synthetic/natural blend.
Cotton is obviously very breathable – but you know what else cotton is? It's a water magnet. So, if you're sweating (and you will be) that sweat is going to sit on your skin and make you feel even hotter.
Polyester, on the other hand, is a synthetic fabric that does an excellent job of wicking away moisture. It's also very lightweight, which helps keep you cool.
Bamboo Clothing is also a great option for the summer because it's lightweight, breathable and has a natural cooling effect.
Cotton also wrinkles like a mofo. So, you don't want to be wearing 100% cotton (or even linen) because you will look like you slept in your clothes.
Ok, now that we know what to look for – let's get into the best cooling clothes for men!
The best mens summer clothes are a synthetic/natural blend
As I mentioned above, the best fabric for hot weather clothes is a synthetic/natural blend.
This is because the natural fibers (usually cotton or even something like bamboo) help with breathability and the synthetic fibers (usually polyester) help with moisture wicking and wrinkle resistance.
The only, and we mean only, caveat we've found to this is merino wool clothing.
Merino wool clothing is great for hot weather because it helps you stay cool and it doesn't wrinkle. It's breathable and also anti-microbial.
It's not magic and doesn't come out of the box looking like a Mizzen + Main Shirt, however, the wrinkles to disappear after a few minutes of wearing it.
How does moisture wicking work?
If you're looking for cooling clothes, you'll see the phrase moisture-wicking thrown out more times than you can count.
But what does it actually mean?
Moisture-wicking fabric actually has two jobs:
Quickly moving (or wicking) sweat to the fabric's outer surface
The other is drying rapidly so that your sweat doesn't saturate the fabric.
The fabric accomplishes this by moving the sweat away from your body through a process called "wicking." Wicking fabric is usually made of synthetic materials such as polyester or nylon, which are better at wicking than natural fibers like cotton.
When you sweat, the moisture is absorbed by the fabric and then transported to the outer surface where it can evaporate quickly. This process keeps the fabric dry and prevents it from sticking to your skin, which helps you feel more comfortable. This helps keep you cool and dry, which is obviously important when it's hot outside.
The result is that you're more comfortable because your body can regulate its temperature efficiently and the fabric touching your skin has a dry, nonsticky feel.
But how does that make you cool?
Sweating is a cooling process when you're working up a good sweat. Sweat evaporates as your skin temperature drops, producing a cooling effect. When your body stops sweating, it's because its skin temperature has cooled to an acceptable level. It's a really efficient mechanism that moisture-wicking fabric can enhance.
Moisture-wicking fabrics are a must for hot weather clothes. Not only do they help keep you cool, but they also prevent the fabric from sticking to your skin and make you more comfortable overall.
The Best Cooling Clothes – Dress Shirts
#1 Best Performance Dress Shirt
Mizzen+Main Dress Shirts
The performance dress shirt that started it all. Available in a wide variety of designs and fits, you can find the perfect button-up shirt for you.
Buy Now
Our Review
We might earn a commission if you make a purchase, at no additional cost to you.
I will never forget the day I was in New York City. It was a record-breaking day for heat.
I arrived in the evening to check into my hotel. I thought to myself, "The sun is down, it'd can't be hot, right?" I don't know if I've ever been more wrong in my life.
Heat in New York City just sticks to you, like the city itself.
The heat just lingers. The concrete never cools down. And it's just hotter with no visible source of heat.
Everyone was miserable. Everyone but me.
Luckily, I travel wearing Mizzen + Main Dress shirts almost 100% exclusively.
These dress shirts keep you cool on a hot day – or hot night. But the best part is: no one knows you are the coolest person in the heat. That's because Mizzen+Main's shirts don't look like traditional hot weather clothes.
They don't have the big, billowy sleeves. They don't have a loose, airy feel.
They just look like a really good dress shirt – which is what they are. And that's how you can wear them in almost any situation. They are wrinkle-resistant and look great – even if they were just poorly packed in your suitcase.
Mizzen and Main is one of the reasons I started We Tried It. We were one of the first to try their clothes and continued to tell all of our friends about how much of a lifehack this really was.
Mizzen and Main are dress shirts that don't feel or act like dress shirts… but still look like dress shirts. You'll pay a little more for their products, but you're getting SOOO much more.
Seriously. They are that good.
Close Runner Up: Ministry of Supply Dress Shirts
Ministry of Supply Shirts
Filled with tech (even perforated vents under your pits!), just stick with the Aero line of dress shirts and skip the Apollo line (too shiny).
Buy Now
Our Review
We might earn a commission if you make a purchase, at no additional cost to you.
The Aero Zero is my favorite Button-up from Ministry of Supply clothing.
It's 100% recycled and milled under solar power, their Aero Zero° fabric is incredibly soft, light, and coiled for comfortable everyday stretch.
While it's not as stretchy as Mizzen + Main Shirt (read our full Mizzen + Main Shirt Review), it is a great-looking button-up shirt.
One really cool feature for hot days that make this a must-have cooling clothing pick: it has laser perforation in the underarms for ventilation. How awesome is that? No more sweaty pits.
Or maybe I should say, "less sweaty pits." That's also good for anti-odor issues, too.
The shirts are also quick drying – almost dry when they come out of the wash after a spin cycle (cold water) – but just hang dry. It's that easy.
The Aero Zero looks good whether you're wearing it with jeans or chinos and can be dressed up or down depending on the occasion. If you're looking for a new go-to shirt, I highly recommend checking out the Aero Zero from MoS Clothing.
The Best Cooling Clothing: T-Shirts
This whole review started because I came across an ad for Arctic Cool. They claimed to keep your temperatures cooler – or your money back. So, I thought I'd check them out. But they aren't my number 1 pick, but there are several that are VERY close!
Fioboc: The best Cooling T Shirt
Seriously cool!
Fioboc T-Shirts
I literally said WOW when I first tried on this t-shirt. That's how cool it felt. Save even more with our exusive promo code: WETRIEDIT15.
Buy Now
We might earn a commission if you make a purchase, at no additional cost to you.
I recently came across Fioboc (they actually reached out to me). As I've mentioned many times, I get asked to try all shorts of clothing and I pass most of time because the technology always seems to be just so-so or I do't like the overall style.
However, since my body temperature is always running hot and warm weather was just around the corner, I had to give these t shirts a shot.
I literally said "wow" the first time I put it on. I don't think I've ever done that. Ever.
Why?
The shirt instantly felt cool when I put it on. It almost felt like it was in the freezer. But it wasn't.
It was actually just cooled by the air (and our home air conditioning), but it felt cool to the touch. I was super impressed from the first wear – It made me feel cooler.
FIOBOC T-Shirts are made with a special cooling technology that is designed to keep you cool and comfortable, even in the heat. Their testing has shown that their T-shirt can instantly reduce the body surface temperature in the heat, making it a great choice for those who are looking for a cool and comfortable option.
The shirt is made from 34% bamboo fiber, 34% long-staple cotton, and 32% Sorona fiber, all of which are degradable and eco-friendly. The fabric is also comfortable, breathable, moisture-absorbing and durable, making it a great choice for guys (and girls that run hot).
But it didn't stop there.
Remember how, at the beginning of this blog post, I said that you should wear lighter colors?
Well, TMI warning here: I usually can't wear lighter colors because my chest hair pokes through. I don't have a Burt Reynolds – type fur, but I do have thicker chest hair.
Usually, lighter colors show this off more – but not with the FIOBOC T-Shirt. I don't know how it doesn't, but it works really well.
On top of that, it's got natural bamboo fibers.
While I don't think it will completely hide all chest hair (and let's be honest, why would you want to?), it definitely makes it less noticeable.
While $59 is a lot to spend on a shirt, you can save more with our FIOBOC Promo Code (FIOBOC Review coming VERY soon). I was pleasantly surprised at how awesome this shirt is!
Arctic Cool: The OG Cooling Shirt
The original Cooling Shirt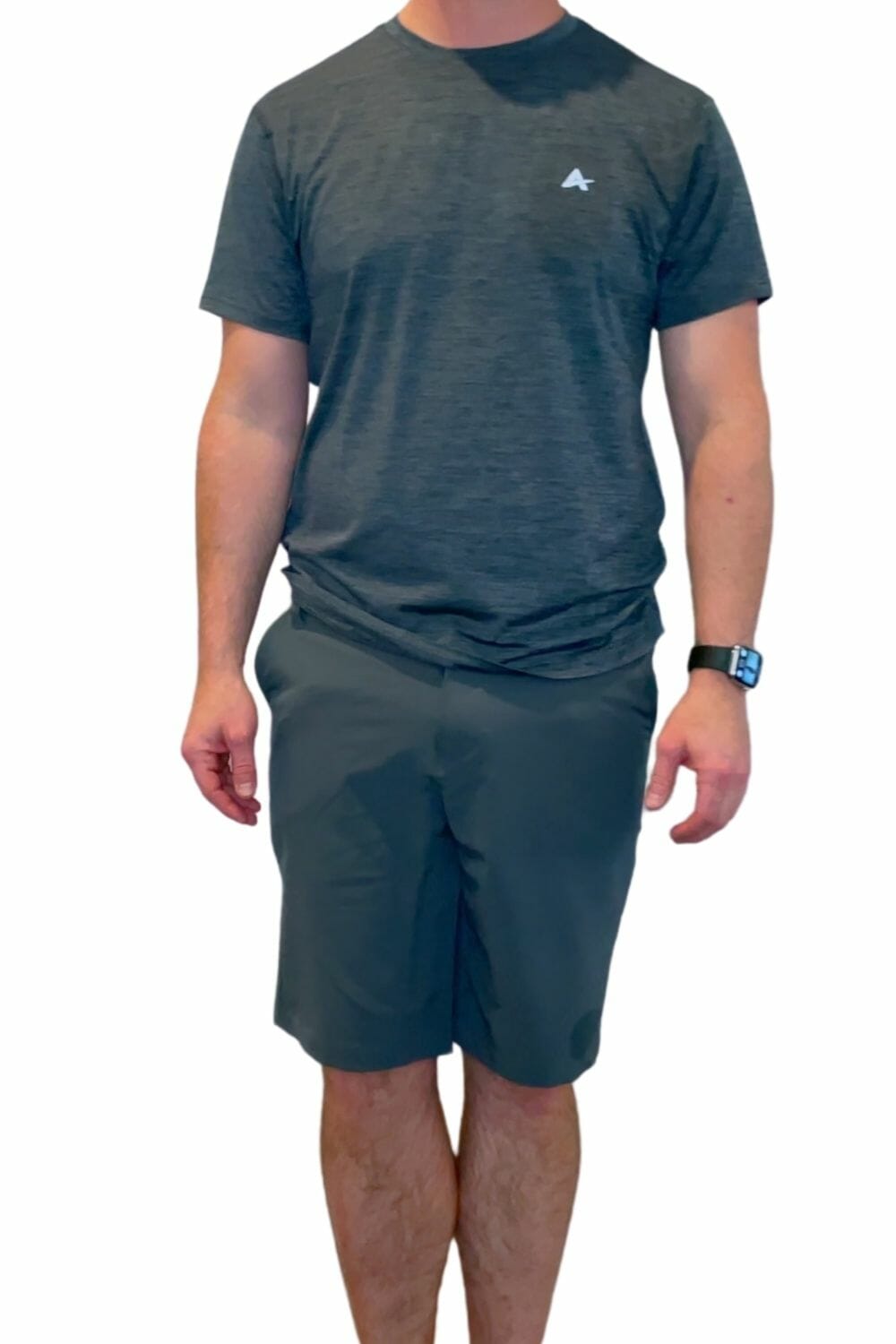 Arctic Cool Shirt
Great cooling technology and great price. We don't care for the logos on the front, but they REALLY work!
Buy Now
We might earn a commission if you make a purchase, at no additional cost to you.
I've had some Arctic Cool Clothes for a while now (read our full Arctic Cool Review). They've got a wide range of clothes from crew neck t-shirts to polo shirts to even shorts – and products available for both men and women.
We frequently wear the crew neck shirt on hot days.
At first, we thought the shirt may feel scratchy, based on the pictures. We were pleasantly surprised that this shirt didn't feel scratchy at all. It was super soft and felt like cotton, but cooler. In our test, it helped me stay cool.
Our only pet peeve is the big logo on the front: we aren't huge fans of giant logos, but it wasn't unreasonable.
How does Arctic Cool Work?
Arctic Cool's HydroFreeze X Technology is unlike anything else on the market.
As soon as you start to sweat, the HydroFreeze X Technology will activate and begin working to keep you cool. The Arctic Cool technology uses a multi-stage process to keep you cool and comfortable — all thanks to your own perspiration and movement. Thanks to the free-flowing fabric design, you won't feel weighed down or uncomfortable. Arctic Cool is the perfect way to stay cool and comfortable all day long!
The Best Cooling Clothes – Underwear
Of course, the most obvious option when it comes to Underwear is not wearing any at all on hot days – however, I wouldn't recommend that for MANY reasons.
During the dog days of summer, there are only two different brands of underwear I will wear: Exofficio Give-N-Go 2.0 Boxer Brief and the Mack Weldon AIRKNITx.
Exofficio Give-N-Go® Boxer Brief
An incredible value! 2-pack!
ExOfficioGive-N-Go Boxer Briefs
We've worn this for YEARS and love them. High quality and great for hot days and traveling.
Buy Now
We might earn a commission if you make a purchase, at no additional cost to you.
08/11/2022 11:39 am GMT
Exofficio has been in the business of making adventure-friendly underwear for over 20 years, and their latest offering is the Men's Give-N-GO 2.0 Boxer Brief.
This updated version of their popular boxer brief is designed to be more breathable, moisture-wicking, and quick-drying than ever before, making it an ideal choice for active men. The boxer briefs are made from a durable fabric that will stand up to extended wear, and feature 4-way stretch for freedom of movement. Additionally, they have flatlock seams that help to prevent chafing.
Whether you're hitting the trails or the gym, the Exofficio Men's Give-N-GO 2.0 Boxer Briefs will keep you comfortable all day long.
You can buy the Exofficio Give-N-Go® Boxer Brief online, or I typically get mine for a great deal at COSTCO.
Mack Weldon AIRKNITx
Our go-to Boxer Brief
AIRKNITx Boxer Brief
These are our favorite boxer briefs. The only downside? They are a bit expensive.
Buy Now
We might earn a commission if you make a purchase, at no additional cost to you.
Mack Weldon's AIRKNITx collection is engineered with a moisture-wicking and odor-fighting finish, making it the perfect choice for active wear.
The no-roll waistband ensures a comfortable and snug fit, while the light-as-air microfiber fabric provides superior performance.
My favorite feature of these shorts is that they stay on your quads without creeping up – and they don't feel constrictive. Whether you're working out or running errands, Mack Weldon's AIRKNITx collection will keep you feeling dry, fresh, and comfortable all day long.
Make sure to read our full Mack Weldon Review for more information.
Best Cooling Clothes: Bottoms
To be 100% honest with you, I never wear pants unless I have to. So, I'm going to skip pants because it's really hard for them to be cool when they are 100% covered up.
There are a couple of pairs of shorts I will wear when I know it's going to be HOT!
Faherty All Day Shorts
Impressive shorts
Faherty All Day Shorts
Super-versatile shorts that can be worn to the pool, running errands, and everything in between. Seriously impressive.
Buy Now
We might earn a commission if you make a purchase, at no additional cost to you.
Available in a dizzying array of fits and features, these shorts are call the All Day Shorts because you can literally wear them all day long. They dry quick and look great.
What do you wear under them? Check out what to wear under board shorts (or in this case, hybrid shorts).
I put them to the ultimate test: I wore them to a theme park AND a water park, to save changing in the gross water park changing rooms. And it worked perfectly!
Western Rise Boundless Short
The do-anything short
Boundless Short | Western Rise
From swimming to hiking to hanging out with friends, this short can do it all.
Buy Now
We might earn a commission if you make a purchase, at no additional cost to you.
I just got these bad boys and I love them.
The Western Rise Boundless Shorts are designed to be worn all day, every day. They excel in any situation, from a quick hike or an afternoon swim to happy hour drinks and a concert.
Boundless Shorts are your one perfect short for travel, work, and play. They're made from a lightweight, quick-drying fabric (great to wick moisture) that's comfortable in any climate. They have a versatile style that looks great whether you're hiking in the mountains or out on the town.
With multiple pockets, these shorts are functional as well as stylish (and a drawstring waistband, too). And because they're wrinkle-resistant, they always look great, no matter where your adventures take you. So whether you're headed to the office or the trails, Boundless Shorts are the perfect choice for any activity.
Best Shoes to wear in the heat
Our Top Pick
Hari Mari Flip Flops
More comfortable than Rainbows and NO break-in period make this our favorite summer sandal.
Buy Now
Our Review
We might earn a commission if you make a purchase, at no additional cost to you.
I'm going to state the super obvious here: the best shoes to wear in the heat are sandals and flip flops. Check out our best Summer Shoe guide for more ideas.
But we REALLY like Hari Mari (read our Hari Mari Review), Suavs (read our Suavs Review), and the Allbirds Tree Skipper (a hybrid boat shoe).
Also, some companies do offer Cooling Socks, which I don't think would be any good. I'd rather keep with sandals. That is, unless you are doing something like running (The Boundless Shorts make a great running short) and you need to wear shoes with socks.
If you don't want to wear socks, check out our Tree Dasher 2 Review – an innovative shoe made with merino wool material that allows you to skip the socks altogether.
Final Thoughts on the Cooling Clothes
The original Cooling Shirt
An incredible value! 2-pack!
Whew! We've covered a lot here: from clothes with real cooling properties to breathable fabric to shirts that actually give you a cooling sensation.
Be sure to wear sun protection. Some of these clothes are SPF rated material, but we always recommend wearing sun protection outdoors.