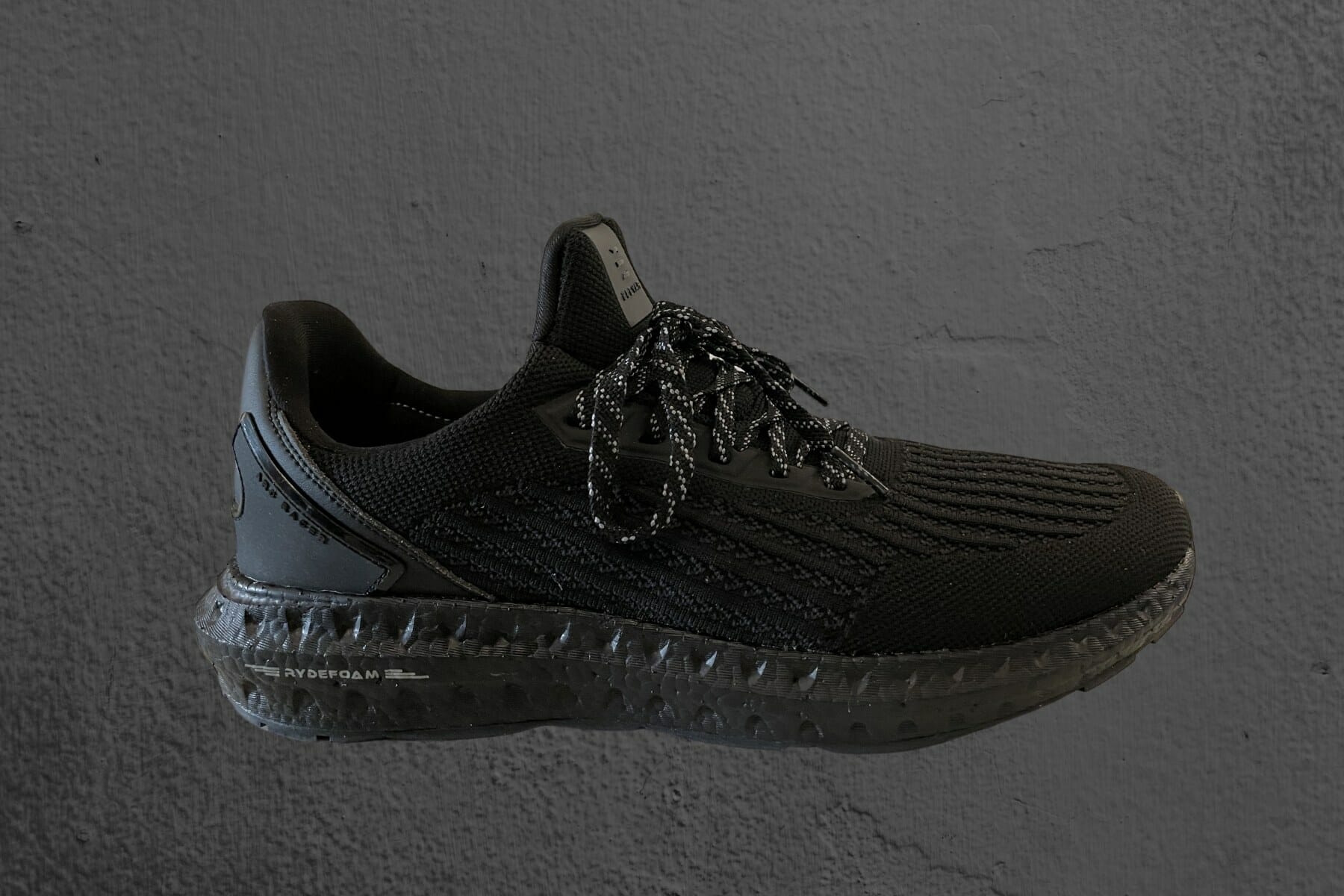 Elevar Arc Racer Review: Let me be 100% honest with you. I'd never heard of Elevar, but they reached out to us after seeing some of our YouTube Videos about Allbirds (see our Allbirds Review and Best Allbirds). Elevar claimed they had a better, cheaper Ultraboost alternative. We're always on the lookout to try new products, so when they offered to give us a pair of the Arc Racer, we said, "Sure! We'd love to do an honest Elevar Arc Racer Review." So, here we are.
Let's dive into our Elevar Arc Racer Review to see if they really are a worthy and cheaper ultraboots alternative.
Elevar Arc Racer vs. Ultraboosts: what's the big idea
As an Allbirds fan, we didn't really care for Adidas Ultraboosts at first – they were a little too futuristic and a little too "out there" for us (not to mention we couldn't find a cheaper ultraboost alternative). But we finally decided to look into them after getting asked again and again about them.
Ultraboosts: Why are the so popular + Why the world needs a cheaper ultraboost alternative
To tell you if the Elevar Arc Racer is even a worthy Ultraboost competitor, you first have to understand why Adidas Ultraboosts are so popular. Here's a quick overview (courtesy Wikipedia)
The Boost technology burst onto the scene in 2013.
It's popular because of "energy return" – think a bouncy ball vs. a tennis ball.
Old shoes are more like a tennis ball, Boost is more like a bouncy ball.
They got the help of the one and only Kanye West to design a shoe.
Boost is actually is a trademarked polymer used by Adidas, in the form of pellets which are compressed and molded for various shoe models the company sells.
Boost technology can be found in the Ultraboost, Energy Boost, and NMD lines of sneakers.
The pellets consist of proprietary thermoplastic urethane (TPU) that is formed into a small pill shape.
I promise this background will all come in very handy as we dive deeper into the Elevar Arc Review!
Most important to note: Ultraboosts really turned around Adidas image and probably saved the company.
The shoes that look and function the most like the Elevar Arc Racer are the Ultraboost 20 that retail for $180.
Quick warning: I am not a sneakerhead
There are a ton of people that know a lot about shoes, that wait in line for the newest Air Jordans to come out. That is not me. I like comfortable shoes that are sturdy, lightweight and last a long time. So, take this Elevar Arc Review for what's it worth: I'm not a sneakerhead, I'm just an above-average shoe review. That's it.
Elevar Arc Racer Review: The facts about the shoe
Elevar Arc Racer was created by a brand new shoe company, actually based in India (but the founders have a ton of experience in the shoe industry). Before we dive deeper into our Arc Racer Review, here's what Elevar has to say about their shoe:
Ultra-Responsive Cushioning Technology: The RYDEFOAM™️ sole unit is made from ETPU – tiny thermoplastic foam pellets that give a soft pillow-like feel on your feet along with high energy return bounce.

Sounds familiar to the TPU that Adidas Ultraboost uses, doesn't it?

Incredible Sock Like Fit: The AEROKNIT™️ upper is engineered by weaving together strong yet flexible strands of fabric to make a breathable upper that finds the right balance between providing your foot with stability and flexibility.
Integrated Foot Stability System: The TPU supported heel piece, inner ankle locking mechanism & mid foot stabilizers come together to form a system engineered to keep your foot balanced at all times.
Our Value Proposition: THE BEST SNEAKER TECH FOR WAY F'ING LESS.

You have to appreciate a shoe company that can states exactly what they are trying to accomplish.
Overall, the Arc Racer stands up from a straight up facts standpoint with the Adidas Ultraboost shoes.
Elevar Arc Racer: What's their big idea?
They really are trying to bring premium, high-tech products to the market in a unique way. They say, "Giant Sneaker Brands are a Giant Rip off." They even make great use of this old Kanye West tweet:
They are simply trying to cut out the middle man (shoe retailers), cut out expensive endorsements and pass the savings on to you. That's a pretty noble cause. Did they do it? Keep reading out Elevar Arc Racer Review to find out.
Elevar Arc Racer Review: What we love
As I mentioned earlier, I'm not a sneakerhead, I just like good comfortable shoes. There is a lot to like about the Elevar Arc Racer!
The Comfort
Comfort: 9.5/10
Weight: 315 Grams per shoe
Breathability: 9/10
Comfort: 9.5/10
Weight: 330 Grams per shoe
Breathability: 9/10
First things, first: these shoes are super comfortable and super lightweight. A size 9 Arc Racer is around 315 grams each shoe. The Ultraboost in the same size is about 330 grams per shoe. Not a HUGE difference, but that shows you how light these shoes really are.
In comparison, Allbirds Wool Runners weigh about 450 grams per shoe. In holding them in each hand, I couldn't tell a decreeable difference. It's a very odd feeling because there is much more to the Elevar Arc Racers – they look like they should weigh a lot more than they do.
The Arc Racers also have the same sort of "bounce" as the Ultraboots – it helps add to the lightweight feel.
Elevar also says that the TPU heel piece (Thermoplastic Polyurethane) is a strong but flexible material that adds structure to the heel as well as keeping your foot in shape, specially while running. So, it doesn't feel "floppy" (my words, not theirs) when you are wearing it.
The Design
We loved the simple, all-black design of the shoes we tried. They have a couple of other colors (blue and red, as of writing this).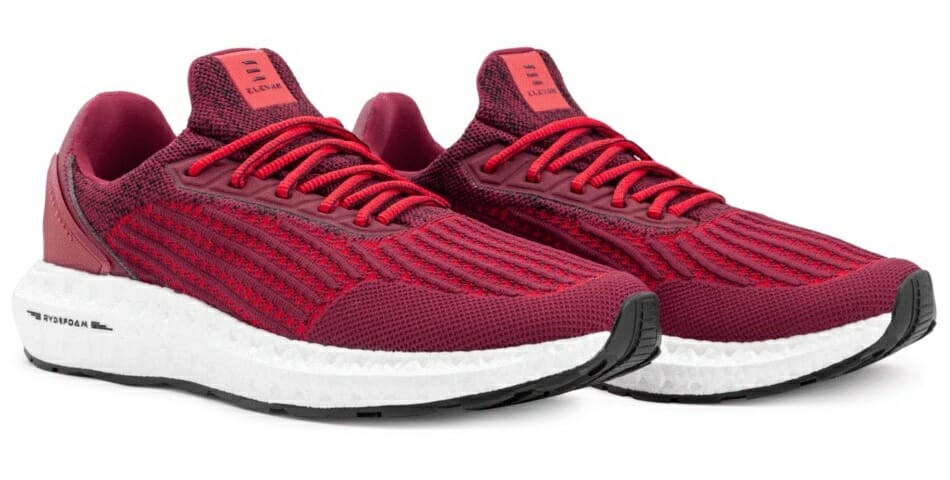 Knowing what they are – and what they aren't
We also really liked that these shoes knew what they stood for: they wanted to bring high-end technology at a more affordable price. Granted, at $80, they still aren't the cheapest shoes you will find, but they are an incredibly good value.
The Sock-like knitting
I didn't notice this when I was first wearing the shoe, but the upper is mostly all one piece. This means there isn't a tongue to the shoe (just like the upper on the Allbirds Tree Dasher – read our Tree Dasher Review), it's just like a large "sock" that you can tie to make tighter. I really like this, as it help keep the shoe together even better than normal.
Elevar Arc Racer Review: What we didn't love
There are only a couple of very small things that we didn't love about the shoe – and to be honest, they are rather nit-picky.
The Insole
The insole is a really cool red accent, which makes it pop. However, a slightly better-fitting insole would have been much better. Since I've been spoiled by Allbirds, I don't wear socks very often. You can get away without wearing socks with the Elevar Arc Racer, but they were designed to wear with socks (read our Best Wool Sock Review for more).
When I take my foot out of the shoe, without socks on, the insole comes out of the shoe pretty easily. This is a pain to shove it back in there. Like I said, nit-picky, but not a deal breaker.
The sole thickness
I know this is because of the ultraboost-esqe sole that provides the extra "boost" and the ultraboosts are the same way. However, I just associate thick soles with orthopedic shoes. I know, I know, that's a silly thing but I just do. The soles of the Arc Racer aren't any thicker and ultra boosts, it's just my personal opinion.
Elevar Arc Racer Review: A worthy ultraboost alternative?
Elevar Arc Racer
Comfort: 9.5/10
Stability: 9/10
Weight: 315 Grams per shoe
Breathability: 9/10
Style: Only available in 3 colors, for now.
Price: $80
Adidas UltraBoost 20
Comfort: 9.5/10
Stability: 8/10
Weight: 330 Grams per shoe
Breathability: 9/10
Style: A dizzying array of of styles and colors.
Price: $150+
If you don't care about the logo on the side of your shoes (the Arc Racer only has a small logo where the top of the tongue would be), the Elevar Arc Racer is a great, cheaper Adidas ultraboost alternative. I, personally don't care if my shoes say Nike or Adidas or anything else, we typically wear clothes without giant logos on them.
However, I do know a lot of sneaker heads are obsessed with the logos – it's 90% of the reasons Jordans sell out faster. It's not because they are the best shoe ever made, it's a fashion accessory. It's a collector's item.
I wouldn't put the Elevar Arc Racer in that bucket. It's not a collector's item. A Porsche Boxster Fanatic is never going to buy a Mazda Miata, even if it was cheaper, faster and came with a lifetime supply of Aqua Di Gio. It's just not the way it works.
If you don't care about the brand name and want the best athletic shoe for your money. Take a look at Elevar Arc Racer. They even have a 30 day "test-drive" option available.