Rothy's Mary Jane Review: is the newest Rothy's style also the best? We put Rothys Mary Janes to the test. Updated Jan 2021 with wear-and-tear updates.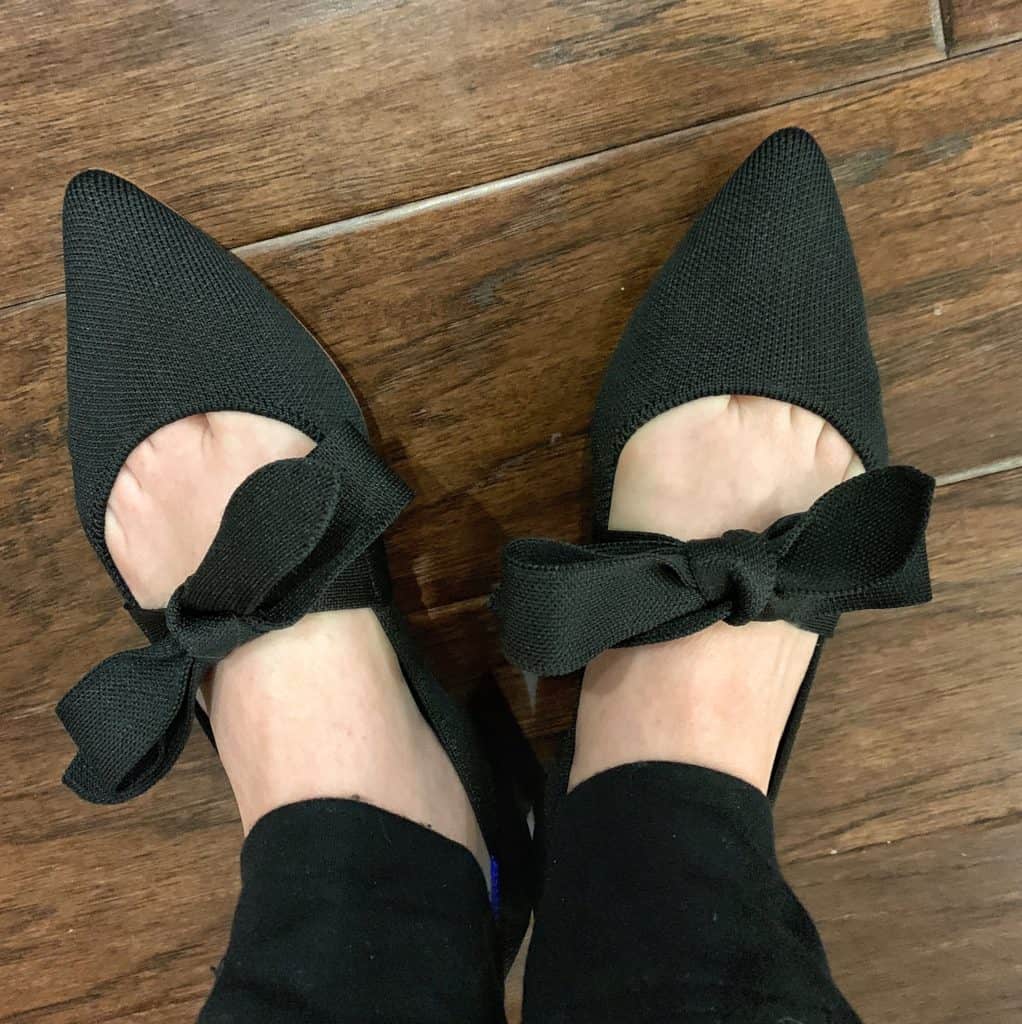 If you are not new to our site, you have probably seen all my fangirl posts about Rothy's (read our full Rothy's Review – even check out info on Rothy's Bags) If you are new, welcome! Rothy's has been one of my favorite brands over the past few years. Their shoes just make me smile!
Rothy's Mary Jane Review: An Update
As you may notice on our site, almost everything receives a glowing review. This is for three reasons:
1. The products are carefully chosen to begin with.
2. If we dislike a product we typically choose not to feature it because maybe someone else has had a better experience with that product.
3. We would rather focus on the products that have made a positive impact for us.
However, Rothy's has been a product that has gotten tons of positive posts on our site. When I first purchased these Mary Jane shoes I was so in love with them! I still absolutely love the style! Unfortunately, in my opinion, they have a design flaw: you have to tie them pretty tight to keep the bow secured and that made the fabric on the straps rip. After only a couple of wears, the straps on my Wildcat pair ripped. I will look into getting them repaired because I still want to wear them, but before I did that I reached out to Rothy's and let them know about the shoes.
Rothy's said that they would not repair, replace or exchange them but they did offer me $30 off a replacement pair. That to me is a bummer because they cost $165 and I feel like they should do more about this issue since it is a design flaw with their shoe. I also think they would have done more in the past (and have for me on other occasions), but maybe they are getting too big or just not as interested in making their customers happy.
—
They come in so many different styles (see the Rothys Chelsea Boot Review), fabrics (see the Rothys Merino Review) colors, but the best part is that they are made from recycled plastic in a sustainable way. Cool! Also, check out our Men's Rothys Shoe Review.
But wait, there is more! They just released their best style yet and I am OBSESSED. Welcome the Rothy's The Mary Jane.
Rothys Mary Jane Review: Sizing
The Mary Jane has a similar silhouette to Rothy's The Point. If you already own a pair of Rothy's The Point, you can order the same size in Rothy's The Mary Jane. I order a half size up from my normal shoe size in both of these styles (and the loafers). They do have a slightly different toe, which is a little bit more rounded.
Also, they have vegan leather soles, which I absolutely love because they elevate the shoe so much. BUT… the best part? THE BOW. They have a bow on the top that you can tie. SO CUTE!
What we love about Rothy's The Mary Jane
Besides everything? Well, here are a couple of specifics:
The style – so classy with the bow and the vegan leather sole.
The fit – very comfortable with the slightly rounded point.
The bow can be tied a number of different ways.
They have five different colors right now. I went with the classic black first, but I have my eye on the Wildcat! Hopefully more colors will come out down the road. Rothy's is really good about constantly offering new colors and styles.
The price – I think $155 is a really good price for the quality of these shoes when you consider comfort, longevity and style.
Did I mention they are made from recycled bottles? I don't even understand this voodoo magic, but I am definitely onboard!
What we don't love about Rothy's The Mary Jane
We don't dislike anything.
However, some people have struggled with keeping the bow tied. A couple tips:
First, they come tied really well, so just tighten this bow and slip them on.
They do not need to be re-tied everytime you wear them, so when you take them off just slip them off and don't untie them.
Pull the bow really, really, really tight- this helped mine not budge at all!
Lastly, keep the inserts that come in them in case you do need to redo the bow because it is easier to do on the insert than on your foot!
Who is this product for?
If you love Rothy's or even if you are new to the brand, this is my favorite pair so far!
That is saying a lot because I think I may be up to fifteen pairs at this point… don't tell my husband! Rothy's The Mary Jane is just special – it has that special occasion, special pop, shoes that make you feel good look and I am loving it. Even if you don't have a lot of special occasions, I think I have only worn mine to pilates and pre-school drop off, they still make you feel special!
What's included with the Rothy's Mary Jane?
Rothy's The Mary Jane has a slightly rounded pointy toe and vegan leather soles. They have two big pieces of fabric that allow you to tie them into a really cute bow.
Rothy's The Mary Jane and all the Rothy's styles come with removable insoles so you can throw them in the washing machine! Also, did I mention the recycled plastic?
Mary Jane Alternatives
If you don't own a pair of Rothy's, there are several styles to choose from. I have enjoyed all of the different styles, so do yourself a favor and poke around on their website and see which ones you like best!
Rothy's The Mary Jane Review: The Final Verdict.
Overall, these shoes are still really cute. I still think Rothy's is a great company doing so many awesome things to create eco-friendly, super-chic shoes, but I did want to share that I probably would no longer purchase these shoes again and I am not sure if I will ever purchase from them in the future after this experience.
New Rothy's styles have been known to sell out. Check availability now. Also, read our full Rothy's Review.