KBO Breeze eBike Review: While you can't call a $1,400 eBike a "budget" electric bike – it is less expensive and comes with some options that typically cost more on other electric brands. But is the KBO Breeze any good? Take a deep dive into our honest KBO Breeze Review to find out!
We love our eBikes here at We Tried It! We got hooked with the RadRover 5 (read our full RadRover 5 Review), so when KBO Bikes reached out and wanted us to try their KBO Breeze eBike, we jumped on the chance to test another eBike.
Also, don't miss our new KBO Breeze Step-Thru Review.
KBO Breeze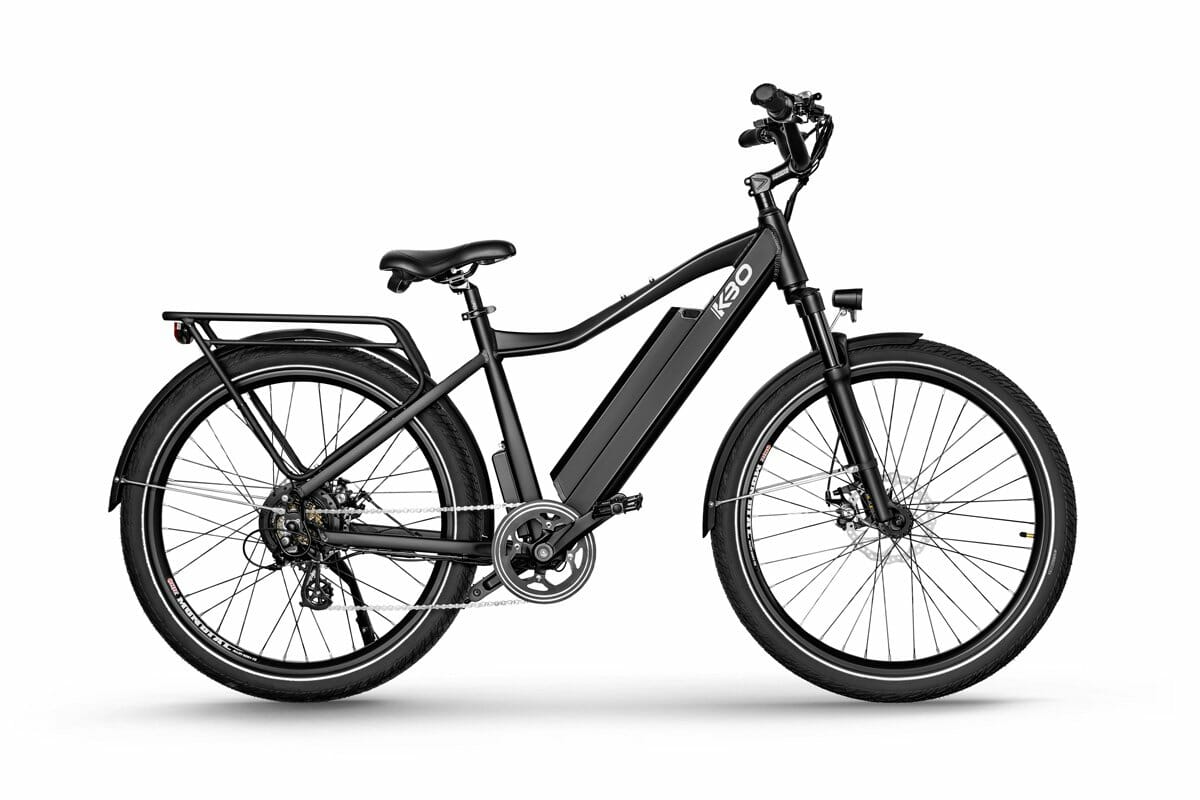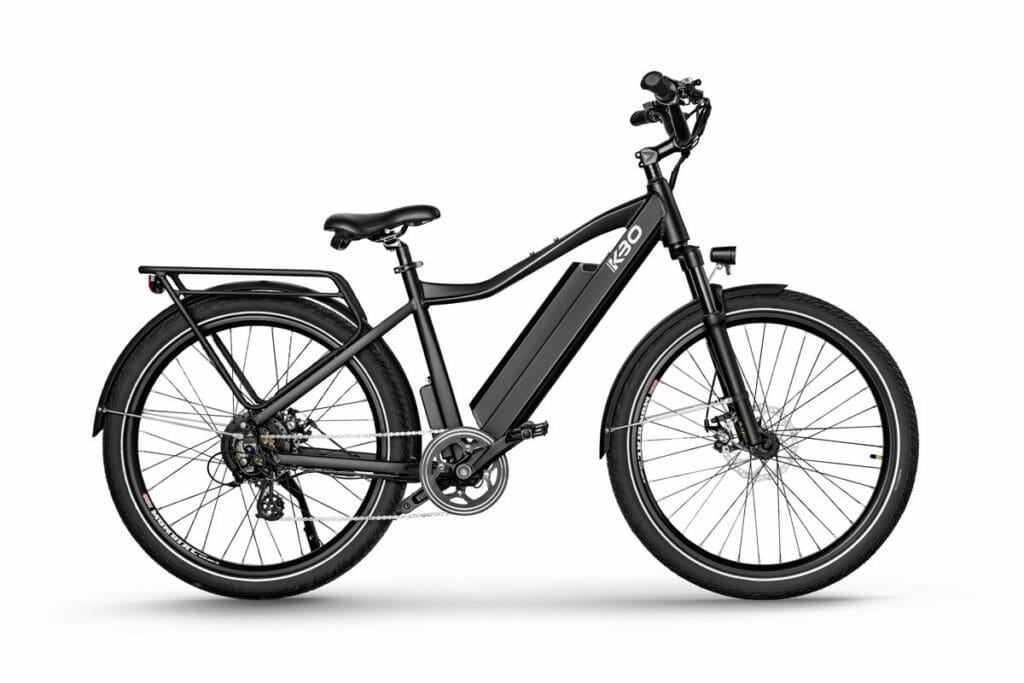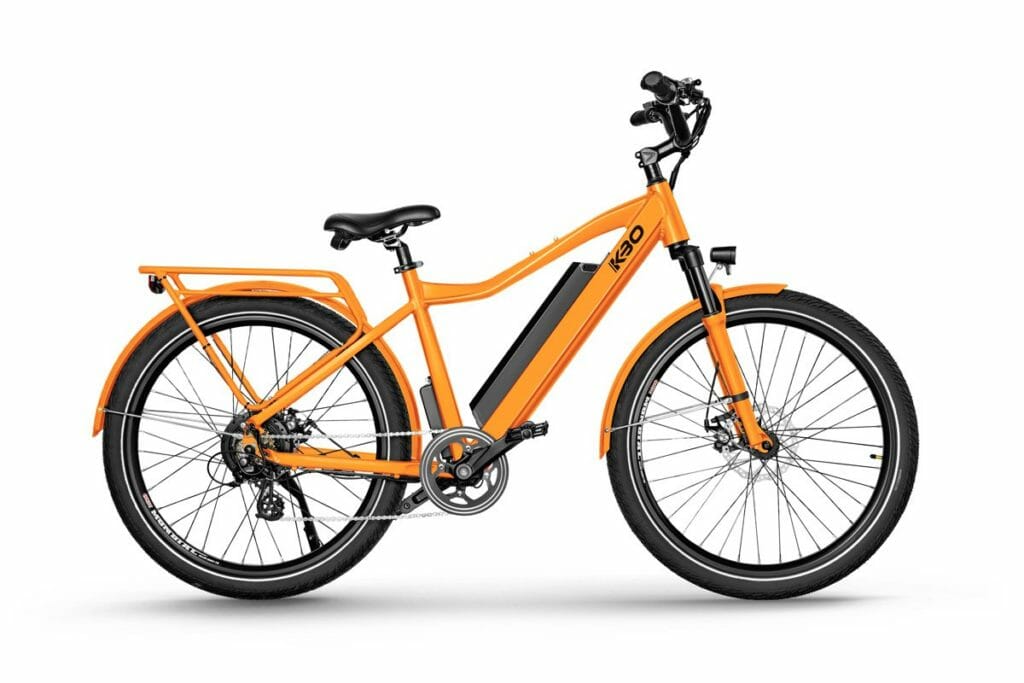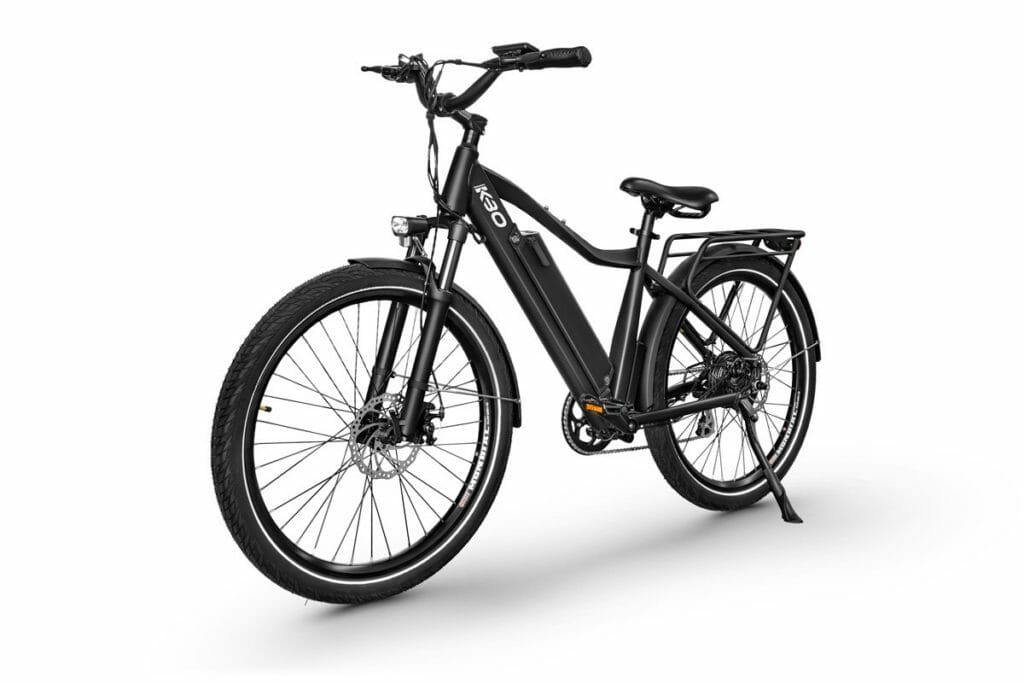 Specifications
$1,499
In stock now
Comes with built-in rear rack
Range: about 40 miles
Top Speed: 20 MPH
Shimano Altus Derailleur
Front and Rear Tektro Aries Mechanical Disc Brakes
Puncture-resistant tires
7 Speed
Front headline included + rear brake light included
Front and Rear fenders included
The breeze comes in black or orange
Easy to install
This "value" electric bike has a great set of features, but keep reading to see how it stands up to the test.
eBikes: Where and I use eBikes
While I've always wanted an eBike. I really don't have a logical reason for them, except for living in one of the country's most cycle-friendly cities.
We even have a famous beer made here called Fat Tire (for the bicycle) Fort Collins is full of trails to explore and it also has great weather around 300 days out of the year with some snow showers every now and then but mostly sunny skies all year long. Even if it's cold, the sun is usually out!
How I use my eBike
I simply like to get outside sometimes and enjoy the weather. My son sometimes uses a UrRider to come with me.
What is KBO Bikes?
KBO is a newer direct-to-consumer eBike brand. Much like Rad Power Bikes, they cut out the middle man by shipping the bike directly to you. They offer three models, the KBO Breeze, the KBO Step-Thru Breeze (read the Step-Thru Breeze Review, and the Hurricane (read our KBO Hurricane Review).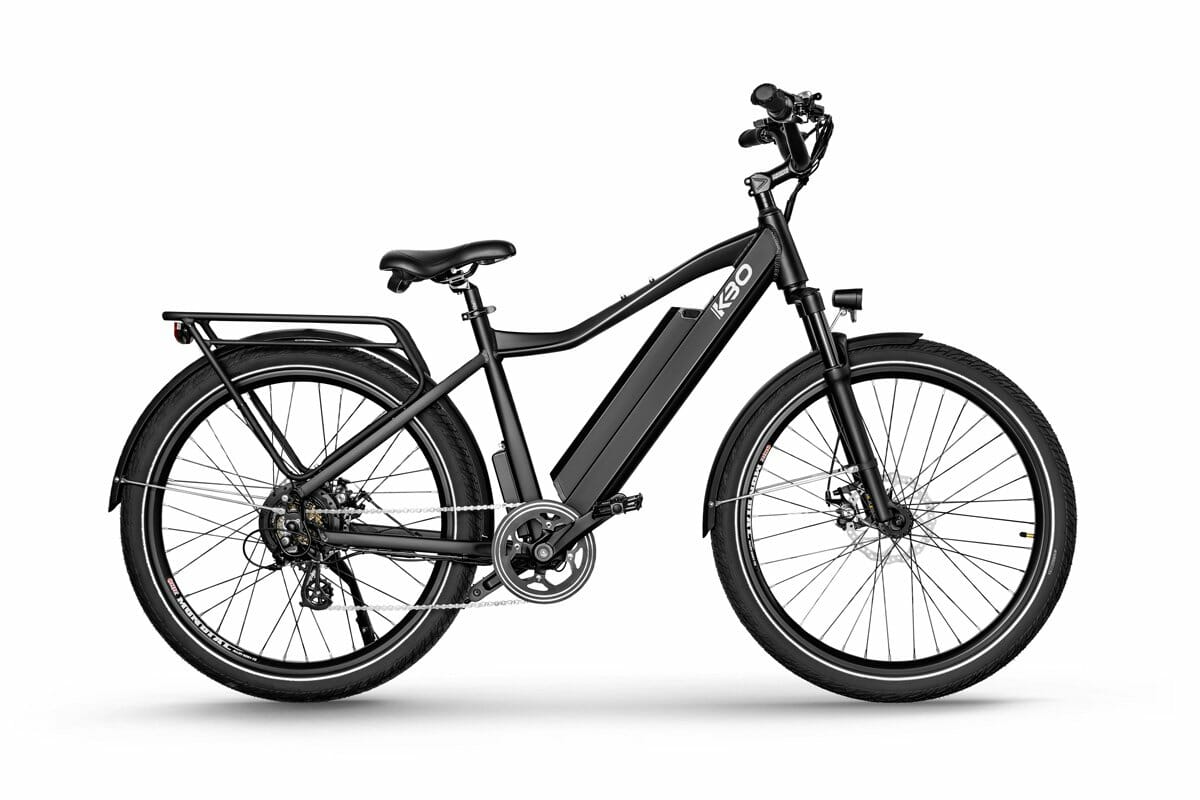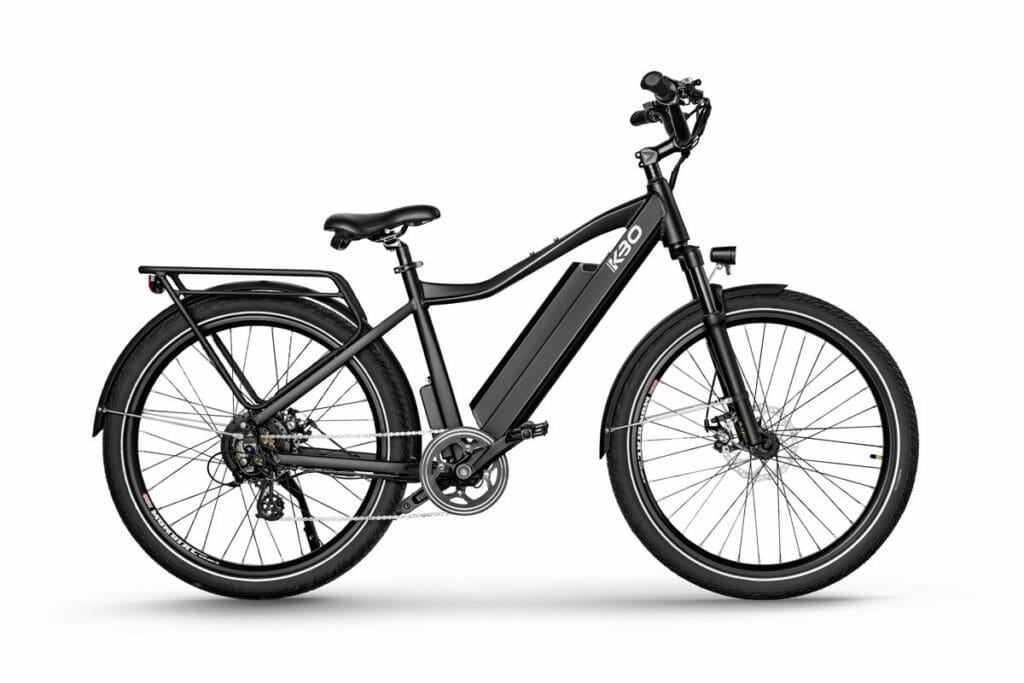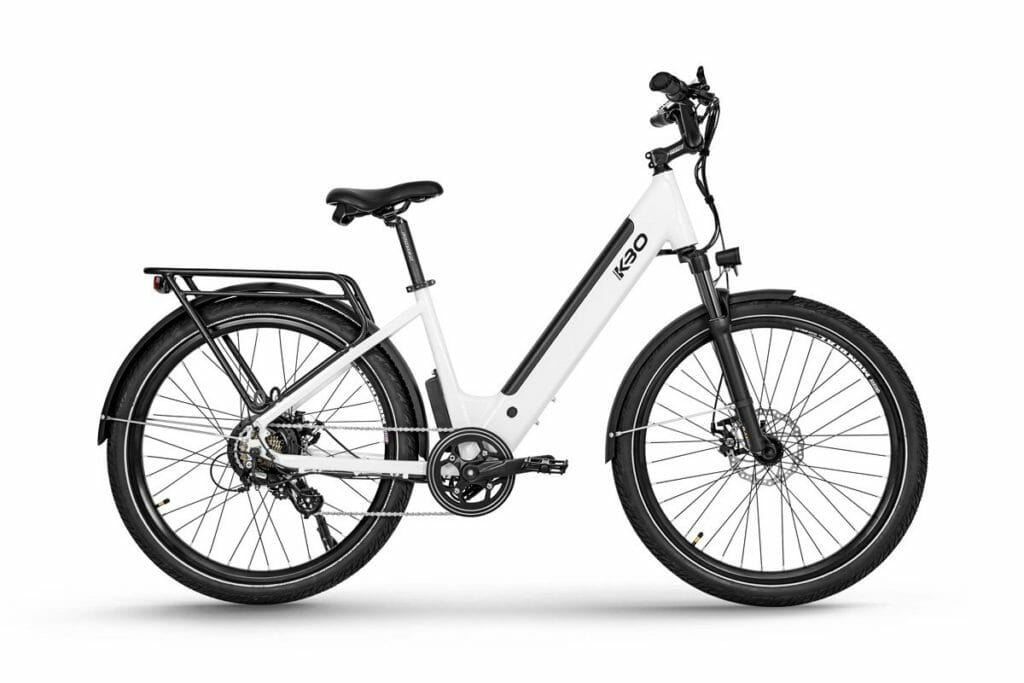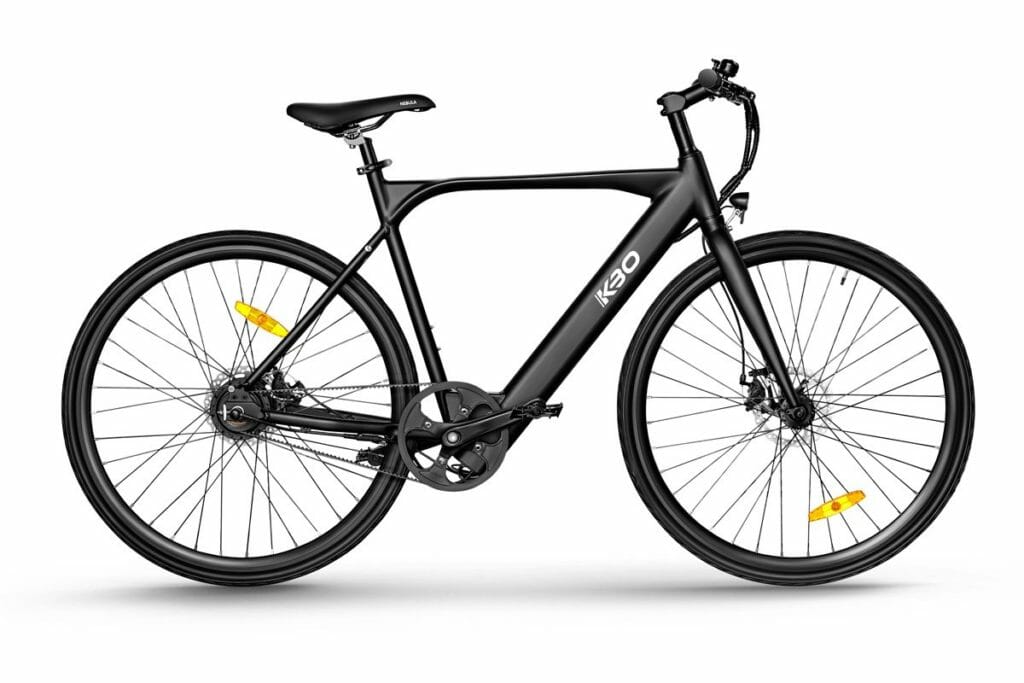 KBO Breeze Review: What is the KBO Breeze eBike?
The KBO Breeze is a Class 2 eBike (read all about the different classes of eBikes – but the short story is that most Class 2 eBikes can be ridden on the same trails/areas as traditional bikes) that retails for $1,499.
While $1,499 doesn't sound like a cheap price point, it does offer some additional features that are extra on other eBikes.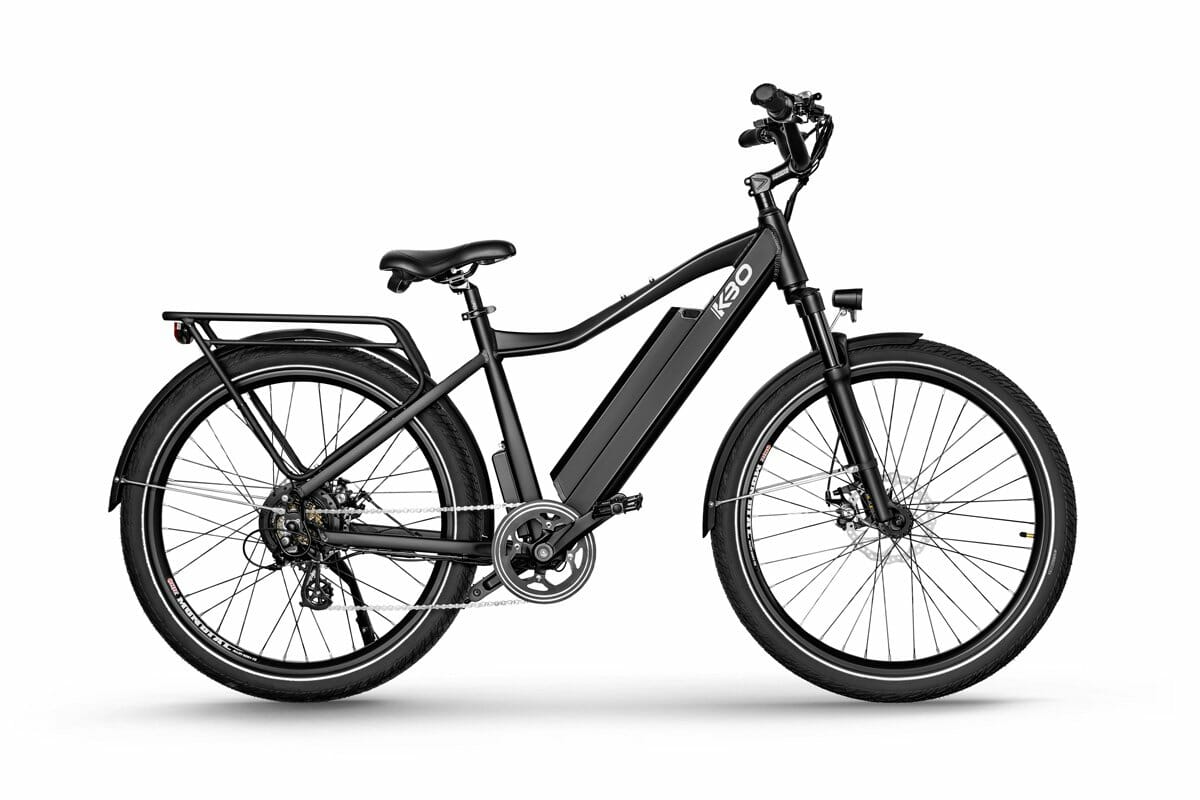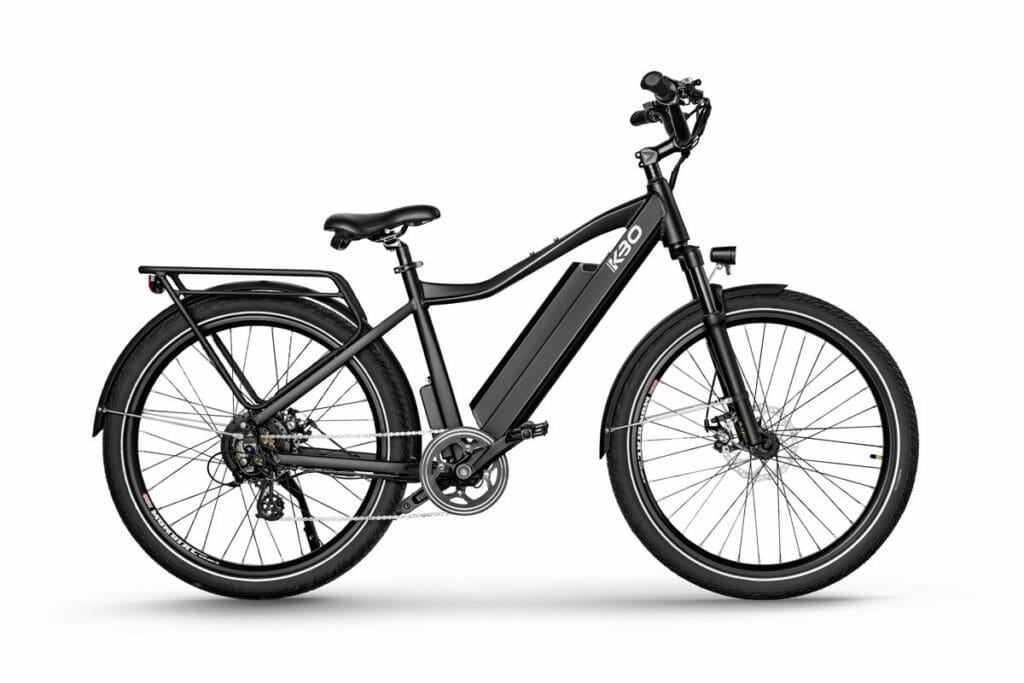 The KBO Breeze is a medium-sized tire electric bike (not super fat tires like the RadRover 5) with an aluminum frame, front suspension fork, and mechanical disc brakes. It offers both pedal assist (level 0 – 5) and throttle-only modes to get you where you want to get going – at a top assisted speed of about 20 MPH.
But the Breeze is not without its limitations, but more on that in just a second in our KBO Breeze Review.
Let's talk power, first
The Rear Hub Motor (which just means that the motor is in the hub of the rear wheel) peaks at 750W – the same as the RadRover 5.
Torque, torque, torque
I had no idea really what torque was until researching this with eBikes – partially because both the Rad Power Bikes and KBO eBikes tutorials talk about how many newton-meters of torque you need to apply in certain areas of assembly.
Torque is even more important when it comes to the motor's power.
The definition of torque is the amount of an engine's (or in the case of an eBike: a motor's) rotational force. If horsepower is how quickly the work can be delivered, then torque is how much work it can do. Torque differs from horsepower because it describes how much an engine can do, while horsepower defines how fast that work can happen. This means that sometimes people say 'torque' in everyday language as "pulling power" or "oomph".
The RadRover 5 has 80 Nm (newton-meters) of torque.
The KBO Breeze has 60Nm. While it's only 20 Newton-meters difference, it is actually 25% less – which is a lot.
Where you feel the difference in torque
I know I'm talking more about torque here than you thought I would, but it's probably the biggest difference that you'll ACTUALLY notice between this bike and some others.
You'll notice the biggest difference in the first couple of MPH that you are going.
The KBO Breeze has a super sensitive Pedal Assist, I think in part to make up for the lack of torque (which isn't a terrible thing), but you'll notice it the most going from start to just a couple of miles an hour. If it was a car, it would feel like a really slow – and long – first gear. If that makes any sense at all.
Electric Bike: Pedal Assist + Throttle
As discussed, this is a Class 2 Electric Bike – meaning it assist you in going up to 20 MPH – either through Pedal Assist OR pure throttle (no pedaling needed). Like other electric bikes, the Breeze has both pedal assist and a twist throttle (pictured below).
Overall, I found the pedal assist to be a little more sensitive than other electric bikes that I've tried. If you've never tried an electric bike before and don't have anything to compare it to – you wouldn't notice the difference at all.
However, I do find that the pedal assist is a little too touchy for my liking. It's not a deal killer by any stretch of the imagination – I would just have preferred it to be a little less sensitive (and in all fairness, their website says that it is sensitive).
Top Speed
I was able to get this bike to go just over the 20 MPH limit when testing – the fastest I got with throttle-only was about 22.5 MPH. I don't know if that's due to an error in the on-screen display or if I was actually going that fast.
Gravity and physics will not limit you from going any faster – you can always pedal to make the electric bike go over the assisted limit of 20 MPH.
Range + Battery
The Breeze features a Removable 48 volt, 16Ah Lithium-ion Battery with Samsung Cells
I haven't been able to take any of my batties down to zero yet (I'm not going on super long bike rides), but this is a more than capable battery.
KBO says this battery will give you 55 miles of riding on 1 charge. This will, of course, all depend on pedal assist level, terrain (hilly or flat), wind, weight on the bike, etc.
Other Great Features of the KBO Breeze
The KBO Breeze also features a front suspension fork – with some adjustment options – which allows this bike to be taken on some trails – just not extreme mountain biking.
It also has front and read mechanical disc brakes, a Shimano Altus derailleur, and a removable 48V, 16Ah Lithium-ion Battery with Samsung Cells.
Added extras with the KBO Breeze
One of the best added extras is the built-in, included rear rack that comes with the KBO Breeze. That is awesome that you don't have to install it yourself!
A bright headlight and taillight are powered by the bike battery and controllable via the bike's LCD screen and built-in controls.
It also comes with front and back fenders, which is super helpful if you ever come across water or puddles. Especially at higher speeds, this really helps keep your pants dry in the rain.
KBO Breeze Review: How does it compare to other eBikes?
If the RadRover 5 is an eBike on steroids, the KBO Breeze is much closer to an "normal" sized bike.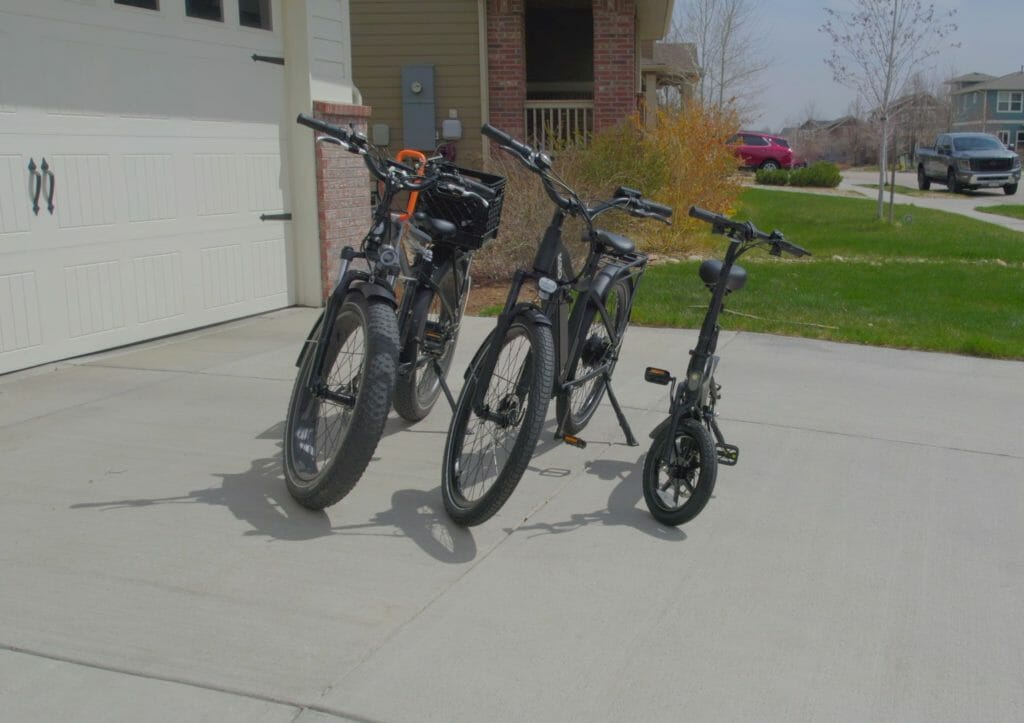 According the KBO, the Breeze is 62 Pounds – compared to the RadRover 5, which is 70+ pounds with accessories added. But the Breeze feels MUCH lighter than the RadRover 5, I think partially because it is just easier to move.
The smaller tires are easier to pick up off the ground and if just felt lighter.
KBO Breeze Review vs. other eBikes: Other Features
The KBO Breeze is a great value, when you consider is net to other eBikes. The closest example would be the RadRover 5.
RadRover 5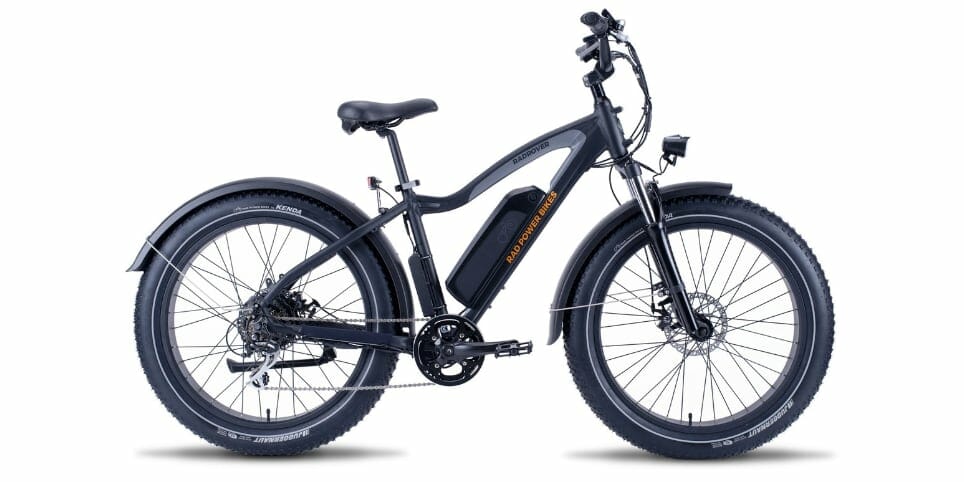 Price: $1,778 (price + cargo rack)
Motor Power: 750 Watt
Torque: 80 Nm
❌ Regenerative braking
Weight: 69 lbs + several lbs for rack
Throttle + Pedal Assist
Battery: 48V
✅ Fenders
Removable Battery
✅ Includes Front + Rear Tailight
Optional back cargo rack ($79)
Huge Tubeless Tires
Front Suspension Fork
RadCity 4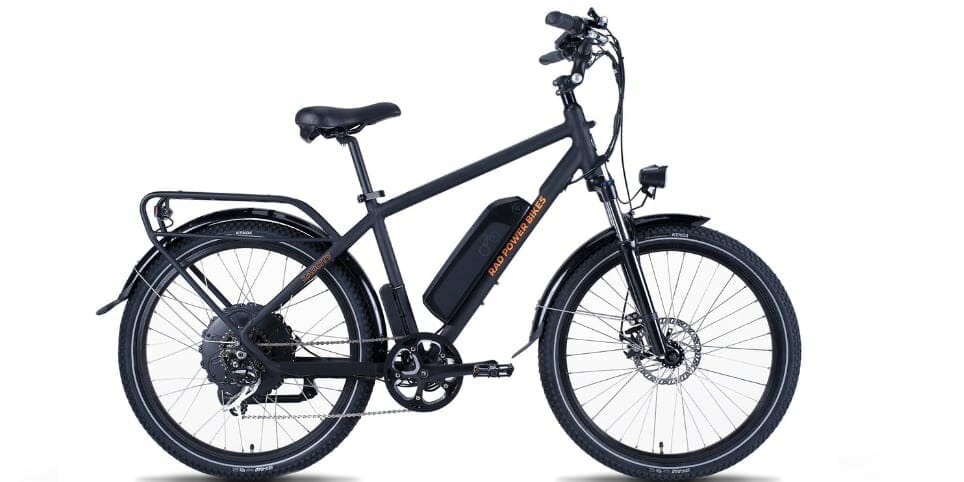 Price: $1,599
Motor Power: 750 Watt
Torque: 40 Nm
✅ Regenerative braking
Weight: 64 lbs with rack
Throttle + Pedal Assist
Battery: 48V
✅ Fenders
Removable Battery
✅ Includes Front + Rear Tailight
Includes Back Cargo Rack
Mid-size Tubeless Tires
Front Suspension Fork
Of course none of these bikes are exactly the same, right? On paper, the RadCity 4 looks a lot more like the KBO Breeze – but one thing we haven't talked about before is a feature on the RadCity 4: regenerative breaking.
What is regenerative braking?
Regenerative braking is a way to stop your bike by using the energy you lose when you brake. When you brake, some of the energy from your brake gets wasted. But with regenerative braking, some of that energy can be saved – or stored. You can store it and recharge the battery.
Power comparison
All three of these eBikes in the chart above have 750W Rear Gear Hub Motors (that just means there is a gear hub motor in the rear wheel – KBO says their motor can do 500W Sustained, but I couldn't find the same information for Rad Power Bikes), which is great. However, the torque is drastically different – the RadCity 4 has HALF the torque. While all three bikes will get you to the top speed pretty quickly, the lower torque from a complete stop is more difficult with lower torque.
If you have never tried an electric bike before, there is little chance that you would notice the lower power the first time riding the Breeze electric Bike.
My brother-in-law, who has never rode an electric bicycle before, had a huge grin on his face the first time he tried the Breeze – and you will, too!
Why and who should you buy the KBO Breeze?
The KBO Breeze is the perfect eBike for the casual biker. What I mean by that is simply someone who isn't a superbike nerd.
I'm not a bike nerd and slowly learning more about eBikes and what I like and don't like. But I don't consider myself an expert. Just someone who really enjoys eBikes and getting outside.
This would be a great commuter bike for traveling a couple miles to work everyday, too.
It's also perfect for the person that is 5'4″ – 6'2″ – that's the rider height the KBO website recommends. If you are shorter than 5'4″ or taller than 6'2″ – then look at a different eBike.
Why and who should NOT buy a KBO Breeze?
Besides being too short (or tall), this eBike isn't designed for the super bike nerd. If you actually know what Nm stands for and means in terms of torque, you should probably pass on this bike. It has a lot of great features, sure, but it's not designed for the person that is super-obsessed with bikes.
There will be times when you need to move this bike (parking, onto a hitch, etc.), and it is a beast. Just know that before you get it.
If you are commuting on paved roads to work every day, you could easily get a KBO Hurricane, which only weighs 36 pounds. Yes, you read that correctly!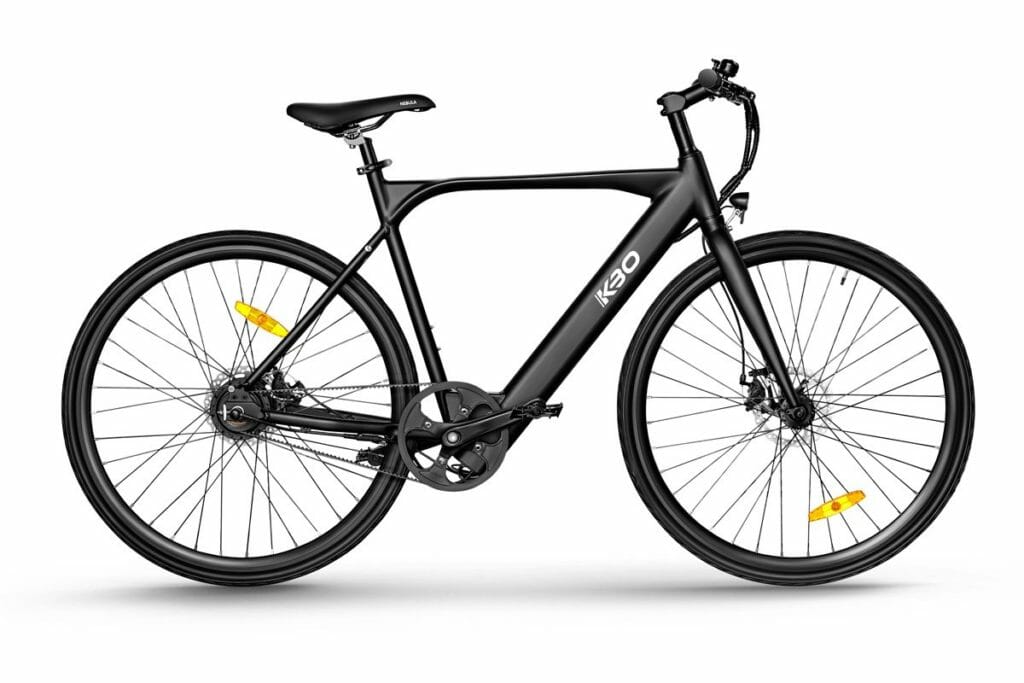 At only $1,099, it's a great "starter" eBike, especially for the average commuter. Just make sure to get fenders so your pants don't get wet – and get a rear rack if you need one.
How will you use your bike?
It all comes down to how you are going to use your bike. If you need your electric bike to be super lightweight, go with something like the KBO Hurricane (read our Hurricane eBike Review). If you need to carry a bunch of people, look at something like the Rad Wagon.
The Rear Rack
I love that the rear rack is included with the Breeze. Honestly, installing the rear rack on the RadRover 5 was not the easiest thing in the entire world, but. itis super nice that the rear rack comes installed on this bike.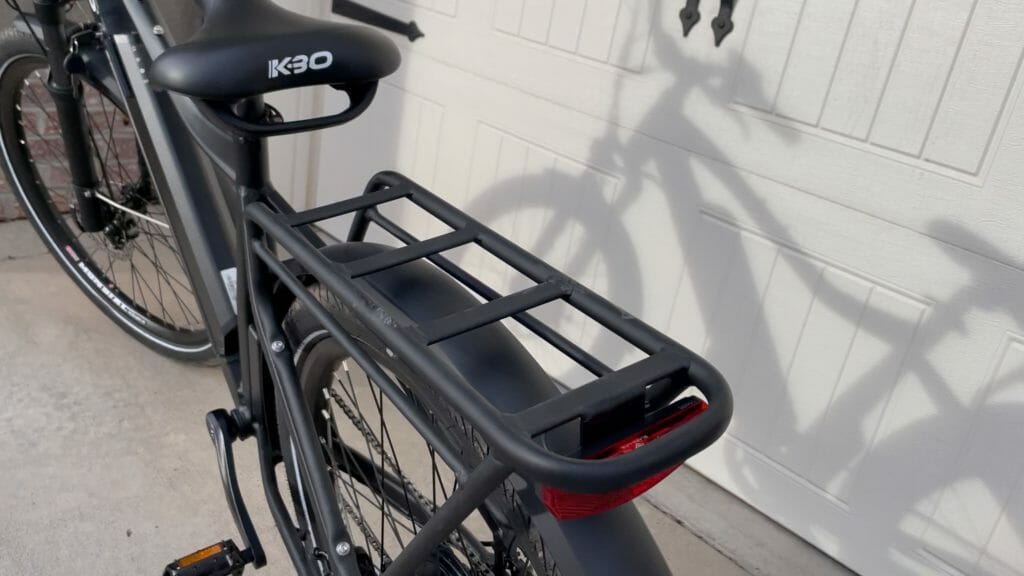 The only downside is that the KBO Breeze Rear Rack doesn't have the screw holes built into the rear rack like some other bike racks do.
Can I put together a KBO eBike by myself?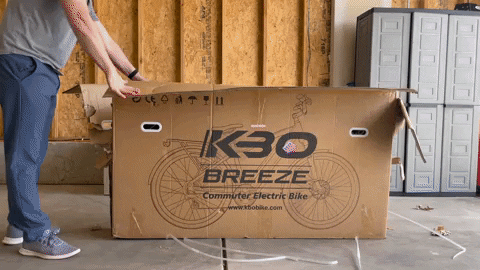 Yes! Plan on it taking about an hour and watch the video that KBO Bikes put together. They do a pretty good job in the video explaining exactly how to put it together. I simply opened up my iPad, viewed each step in the process, paused the video, and then did the step I just viewed.
The bike essentially comes in two pieces: the main part of the bike and the front wheel. You don't need to worry about connecting the motor and a whole bunch of electronics, it's way easier than I thought!
KBO Breeze eBike Front Wheel Install Tip
Turn the bike over to install the front wheel. I tried to do it right side up, but I had no luck.
Cool little tool that comes with the Breeze
The KBO Breeze does come with this little cool multi-tool, which comes in handy. I'd still recommend getting an Allen Wrench for putting it together, but KBO provides all the tools you need to put this bike together.
Pro Tip #1: Get a tune-up after 20 miles
This was a game-changer for me. I don't know if it's because I took the fall in the ice and messed up the derailer or what, but I wanted to have a mechanic look at the bike before I took it on any longer journeys.
He tuned the bike up – about $50 (and he came to me!) – and the bike ran much smoother afterward. I highly recommend a tune-up after about 20 miles. They can also help you test the brakes too. Mechanical disc brakes on an eBike will probably always have some squeak to them, the mechanic said.
Pro Tip #2: Make sure to tighten up the pedals
The only thing that I didn't do a great job at was putting on the pedals, according to the mechanic. He said that my pedals were way too loose. So, tighten up those pedals!
The mechanic told me that I could have stripped the pedals out – but I thought, "well, worst-case scenario, I could just use the throttle to get home…"
Get a high-quality lock
Obviously, you don't want to leave an electric bike lying around. Invest in a high-quality lock.
KBO Breeze Review: the final verdict
It's hard to call a $1,499 bike a "value" bike – but it really is. Especially for what you get included in the bike. Here's our final ratings and review:
This bike is a solid value at $1,499. It in stock, at the time of writing this, and the rear rack saves you about $100.
Great for the city and some light trails. Not for extreme mountain biking.
While this bike is larger than a "regular" bicycle, it's a really good and flexible size. It's pretty easy to move around but is also really sturdy.
This bike looks pretty nondescript in a good way. I like the matte black finish and the streamlined battery design.
I've had no problems at all with range on this bike – but I'm also not using it to go 60+ miles in a single trip, either.
While there's nothing wrong with the motor size, the smaller amount of torque is noticeable when comparing it to other eBikes. However, if you have never ridden another eBike – it will be hard to notice what I'm talking about.
If you want an incredible eBike that you might take mountain biking someday, check out the RadRover 5. Even if you never take it offroading, it's a super-fun, mid-range eBike that will bring a giant smile to your face.
Is the KBO Breeze right for you?
Like so many things in life, it all depends. The KBO Breeze will save you about $400 over something like the RadRover 5.
KBO Breeze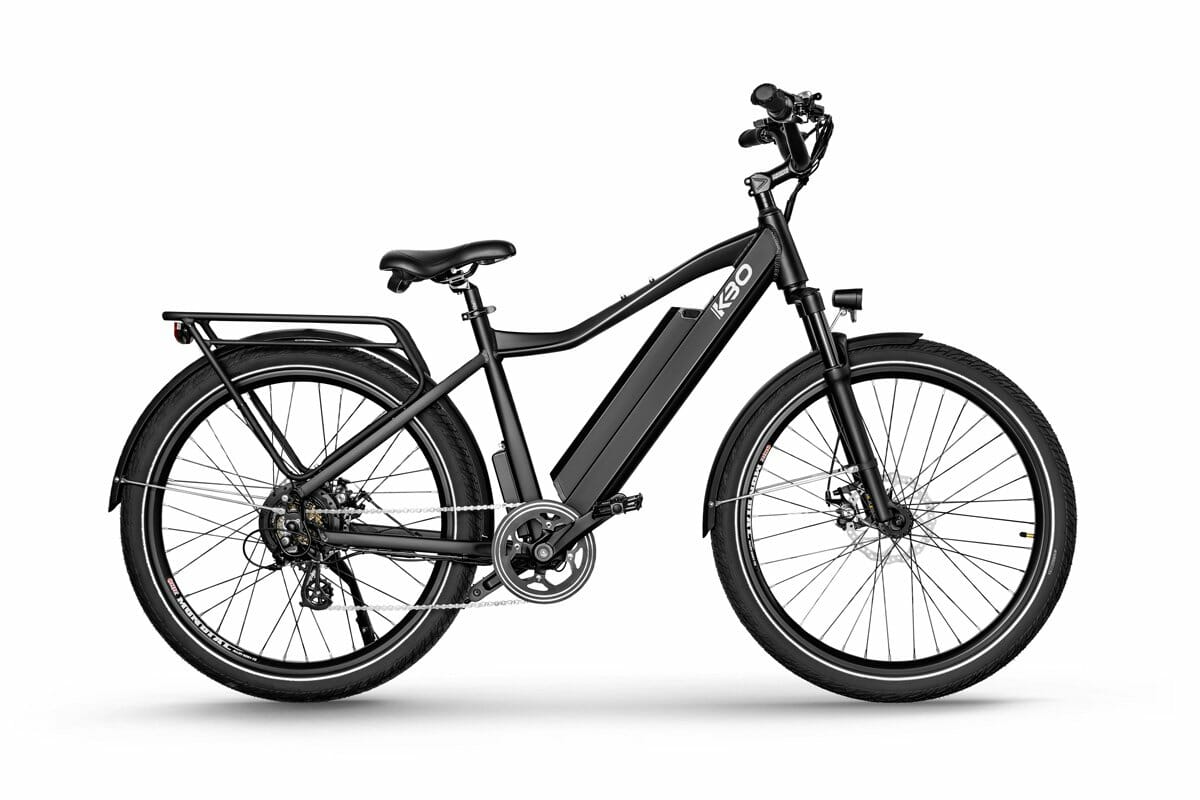 Pros
In stock right now
Save about $400 over RadRover 5
Smaller size
Easier to maneuver
Many of the same features as other eBikes
Cons
Slightly less torque
More sensitive pedal assist
Less popular brand
Overall, the KBO Breeze is a super capable eBike that is really flexible for use. It would make a great commuter bike.
This is a fantastic, all-around value electric bike. The KBO Breeze has some small downsides (less torque than other eBikes, super sensitive pedal assist), but overall it's an incredible buy for the casual biker at $1,300 who wants to save money and still get more power on demand.
If you're looking for something that might be cheaper or more expensive – there are plenty of options out there! But if you want a great deal on this category of product with lots of features without breaking the bank? Buy the KBO Breeze now and have fun riding around town in style!
How fast does the KBO Breeze go?
The KBO Breeze goes up to 20 MPH assisted. However, physics won't stop you from going any faster. The motor stops working at 20 MPH, so you'll have to pedal yourself or find a steep hill if you want to go faster. The KBO Breeze DOES NOT brake if you go over 20 MPH, but the motor will stop assisting you.
Are KBO Electric Bikes any good?
Yes! I didn't know anything about KBO Bikes before getting the Breeze. But KBO makes a great bike for the price!
How much does a KBO Breeze weigh?
62 pounds is the official weight of the KBO Breeze without an added accessories.
Do KBO Bikes have a throttle?
Yes! KBO Bikes are considered Class 2 eBikes – which include throttle AND pedal assist up to 20 MPH. Read more about the different classes of eBikes.
Do KBO Bikes ever go on sale?
Which KBO electric bike is best?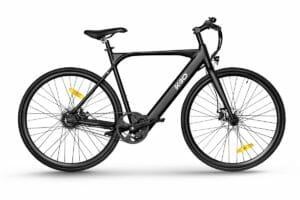 It depends on what you are looking for! The most versatile is probably the KBO Breeze. The lightest is the KBO Hurricane. Check out our KBO Hurricane Review.
KBO Breeze eBike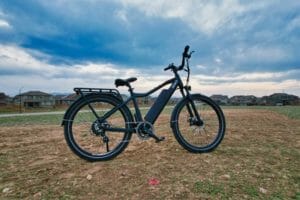 The KBO Breeze is a great value for an eBike. It has a ton of great features, comes at a great price point, and is in stock right now. In this KBO Breeze review, we'll dive into some of the small shortcomings and compare it to other electric bikes.
Product Brand: KBO
Product Currency: USD
Product Price: 1499
Product In-Stock: InStock