Perk's claim that its t-shirt is the softest and most comfortable in the world. Does it live up to that promise?
Perk T-Shirt Review. I've seen countless new t-shirt companies all over the internet. From the ridiculously expensive to dirt cheap to everything in-between. If you've seen these new t-shirt companies, you're probably wondering, "How are any of these different?" And to be honest with you, I thought the same thing. That was, until I opened the package and felt for the very first time, the Perk T-Shirt.
Perk T-Shirt Video Review – see it in action!
Read on to see what the big deal is about Perk and our honest Perk Clothing Feel Good T-Shirt Review.
Perk Clothing Review: Why you should trust us
We've tried countless t-shirts from brands like Buck Mason (read our full Buck Mason Review and our Buck Mason T-Shirts Review), Fresh Clean Tees (read our Fresh Clean Tees Review), Myles Apparel, Mack Weldon, and even the cheaper, store-brand names like Hanes.
We'll give you our honest review everything you we try and we know that you are looking for the best products for your hard earned dollar.
The ONLY three reasons to wear a t-shirt
In our book, there are really only three reasons to wear a t-shirt: to bed, working out or running errands. As you'll see here in a minute, Perk says that their T-Shirts are board room ready. Unless you're Mark Zuckerberg, you aren't wearing any t-shirt to the board room. It doesn't matter if it was $100 or $10. That just simply doesn't happen.
T-Shirts: What we look for
We want our shirts to be four things:
Be Comfortable
Fit Well
Not look sloppy
Cheap enough that I don't mind if something happens to them
That's pretty easy list. We'll dive deep into each area here in our Perk T-Shirt Review
Perk says a lot of things about their clothing. It's easy to say anything online, but you have to back it up! Here's what they say about their T-Shirts:
"Gets softer and fits after washing, so unlike your department store tee, you won't be throwing it out in a couple of months. Once you've got one in rotation, believe us, you'll want more. Fortunately, getting your hands on all these features won't break the bank".
But they really spent a lot of time also talking about the actual fabric that they use, which was a bit over-the-top, at first glance (but crucial as you'll soon discover!).
"When we couldn't find a yarn that met our standards of ultimate comfort and sustainability, we went to Perú for help. Our first proprietary knit is responsibly sourced right down to the fiber level. It's super soft, breathable, and moisture-wicking, all while being less harmful to the planet."
Perk Shirt Review: It's about the fabric
Perk lists the cotton as "100% Peruvian Pima Cotton." I actually know a bit more about materials than the average bear, just because it's interesting to me.
There are really only 2 types of cotton in the world, well, really 2.5. There is Upland Cotton – which is 90% of the world's cotton and the remaining 10 percent is Pima Cotton or Egyptian Cotton. They are both actually the same species of "extra-long staple cotton" (Gossypium barbadense), with longer, silkier individual cotton fibers for a premium fabric that is both luxuriously soft and incredibly strong.
Egyptian cotton, when authentic, is a premium fabric that originates in the Nile River Valley. Pima Cotton can be made anywhere, but Egyptian has to come from the Nile River Valley.
Kinda like how Scotch and Whiskey are the same things, but Scotch has to be made in Scotland (and bourbon is also the same, but has to be made in Kentucky). You get the idea.
What does GSM stand for?
Back to fabric here… Perk really touts the GSM of their shirts. GSM stands for grams per square meter. Perk's cotton shirt is 155gsm. To put it into perspective, Buck Mason's Pima T-Shirts are 140gsm. The higher the gsm, the thicker the shirt. Higher isn't necessarily better. A thick towel can be 900gsm – and you wouldn't want to wear a thick towel around, would you? A lighter gsm means that a shirt will be more breathable and will be quicker to dry.
I only go into so much detail because Perk talks about the fabric a lot and I like to educate myself about what a brand is saying before giving you my unbiased opinion.
Perk T-Shirt Comfort: I was shocked
I didn't expect much from Perk, honestly. I thought they would be another pretty comfortable t-shirt brand. And I don't mean that in a bad way at all.
Fresh Clean Tees are comfortable. So are Buck Mason T-shirts. They feel good on and they are actually fairly comparable to each other in many ways. But I was shocked – in the best way possible – when I touched the Perk T-Shirt that I pulled out of the bag.
I don't know if anyone was around, but I think I actually said, "wow." I was almost puzzled. How could a shirt that pretty much looks like every other shirt I've seen feel so incredibly different?
Perk T-Shirt Review: Just how comfortable are Perk's T-Shirts?
Here's how I'd classify the difference between comfort and the other brands that we've tried.

10
Comfort

9.25
Comfort
8.75
Comfort
Comfort = Breathability and Softness (for me, at least)
Perk's T-Shirt is just the right blend of comfort, softness and breathability. It still feels like you are wearing a t-shirt, it's incredibly soft and breathable. Did I say breathable yet? 🙂
I think that's what make the biggest difference in Perk's T-shirts is how breathable it feels. If you look very closely at the fabric, you can tell it looks a little different, too.
Fits Well – How Perk fits in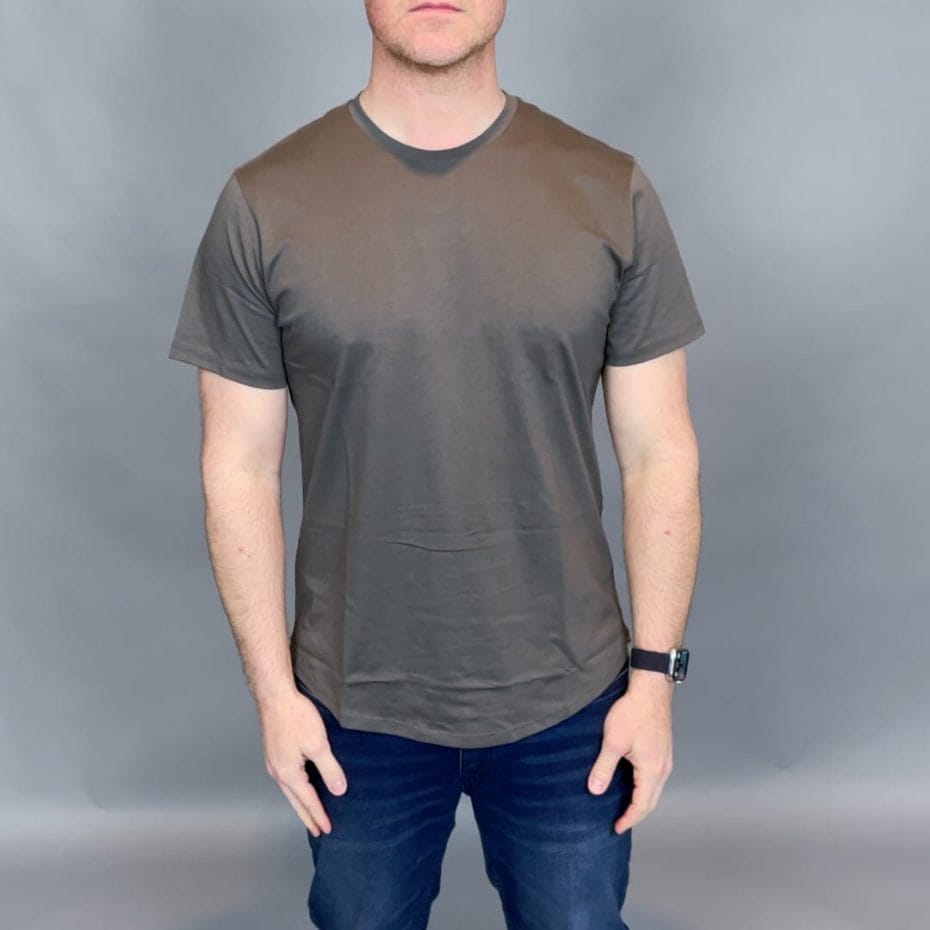 I just want a t-shirt that fits moderately well. Shouldn't look like a box, but shouldn't be too tight either.
I would say that Perk's T-Shirt a little wider at the mid-section than I would prefer. It's not super boxy but could be a little bit better.
Not look sloppy
Perk definitely doesn't look sloppy to me at all, it looks like a nice t-shirt.
However, as Perk says on the the tag that comes with the shirt, "Dressed down, they look fresh and casual; dressed down they're boardroom ready."
No t-shirt is boardroom-ready. That's just not true. You won't look sloppy, but this isn't for your next job interview, either.
Cheap enough that I don't mind if something happens to them
You might think this is worded funny, but it's worded this way on purpose. I would never, ever buy a Goodlife T-Shirt. Even if I was given a free t-shirt from them, I would take it – but I would probably never wear it.
Why? It may be a personal thing, but I have a tough time wearing clothes to things like going to the park, or a bike ride or running errands that I would be mad if they got ruined or stained. I would never wear a $60 t-shirt (even if it was given to me for free) to the park because I wouldn't want to ruin it.
Does anyone else think this way?
I would, however, have no problem wearing a Mizzen + Main shirt (read our full Mizzen + Main Review) to something for work – just because that's what it was designed for. It's an expensive shirt that was designed to be worn where it's acceptable to wear a more expensive shirt. Same thing with a suit. But I would never wear those to the park, either.
Does that make sense?

$35

$25
$15
For me, Perk's T-Shirt, at $35 is right on that tipping point for me. Buck Mason's t-shirts, at $25 are about the upper limit for me and t-shirts. Fresh Clean Tees at about $15/pop (less with our Fresh Clean Tees Promo Code) is almost a no-brainer. But $35 for a t-shirt is about the most I would ever spend on a t-shirt and not afraid to wear it.
Sure, you can get 3 Perk Shirts for $100 and save even more with our Perk Promo Code. But that's still about $30/shirt.
I always try to score things for my own satisfaction, for some reason. So, if comfort is the most important thing to you, here's how expensive each shirt is, by comfort score.
Cost by Comfort Score (Price/Comfort Score)

$3.30

$2.70
$1.74
Pact Shirts: Who they are for
If you're willing to pay for comfort, then check out Perk Tees. They are the most comfortable T-Shirt we've tried. That's a fact. But it's also the most expensive that we've tested (we've actually tried some more technical t-shirts that are more expensive, but those are in an entirely different category).
However, if you want something in the middle ground, look at Buck Mason or Fresh Clean Tees.
Do you have any questions or comments about our Perk Clothing Review? Let us know in the comments below!
Other Reviews – Similar to the Perk T-Shirt
Be sure to also check out our Fresh Clean Tees Review and Fresh Clean Tees Promo Code. You might also want to see our Buck Mason Review and Buck Mason T-Shirt Review.