Urtopia is a new brand that is quickly gaining buzz in the cycling world. They specialize in carbon fiber e-bikes, and their latest model, the Urtopia Carbon, is getting a lot of attention. This bike is designed for riders who want to enjoy the outdoors and get away from fatigue caused by sedentary urban lifestyles, especially post pandemic.
Pre-order and save $$$
Urtopia eBike
Check out these exclusive pre-order offers and save on this great eBike!
Buy Now
We might earn a commission if you make a purchase, at no additional cost to you.
What is Urtopia eBike and why is it unique
The Urtopia eBike is different because it is made almost entirely out of carbon fiber. This makes the bike much lighter than other e-bikes on the market, and also makes it more durable. On top of that, just wait until you see the Smartbar – the brain of this bike.
It's much lighter than other ebikes, coming in at just 14kg / 30 lbs. Other comparable eBikes weigh almost twice as much.
Meet the Smartbar – the revolutionary brain of the bike
The Smartbar is a game changer.
The Urtopia Smartbar is the world's first smart handlebar that offers a variety of features to make your cycling experience more enjoyable.
The LED dot-matrix screen offers a retro-style display that gives realtime cycling metrics in a way that is easy-to-read, clear, and bright enough even under direct sunlight.
The AI voice control is based on two noise-canceling mics and one 3W speaker and onboard AI algorithm, which also offers customizable voice commands and horn beeps.
The fingerprint sensor unlocks your bike easy-breezy.
The GPS and eSIM offers constant connectivity (if you choose so) and tracking for advanced interactive and anti-theft features.
Lastly, the accelerometer & gyroscope provide tamper alerts and movement detection.
additionally, the Urtopia Smartbar features haptic interaction thanks to its two vibrators located on each side of the handlebar. This innovative technology allows riders to communicate with their bikes in an intuitive and engaging way, adding another level of control and convenience to every ride.
So beyond just an awesome carbon fiber bike, you get this amazing new Smartbar.
I've never seen anything like this. In other eBike Reviews (check out our RadRover 6 Review or RadWagon 4 Review as an example), I dog on the antiquated technology they use.
Also, be sure to check out the VERY best eBike Accessories we've found.
Another awesome feature: ARES (Advanced Rear Early-indication System)
Another totally rad, un-heard of feature: Urtopia's Advanced Rear Early-indication System, or ARES, enhances riding safety by warning riders of incoming vehicles from behind when making turns on the road.
The system is based on millimeter-wave radar technology and includes a bright red position light to indicate the rider's location. Additionally, two projection lights indicate turning directions to nearby vehicles.
Let's talk about the design, quickly
The frame design of the Urtopia eBike is the brainchild of Mr. Mathis Heller, a multiple award-winning and globally-renowned product designer whose works include the BMW i Series and Siemens ICE 3 high-speed train. Inspired by the Möbius strip, the design embodies Urtopia's dedication to endless connectivity and sustainability.
Pretty cool, right?
But what about the ride, is it supposed to be any good?
This bike offers a customized motor and clutching system aided by a real-time input control system.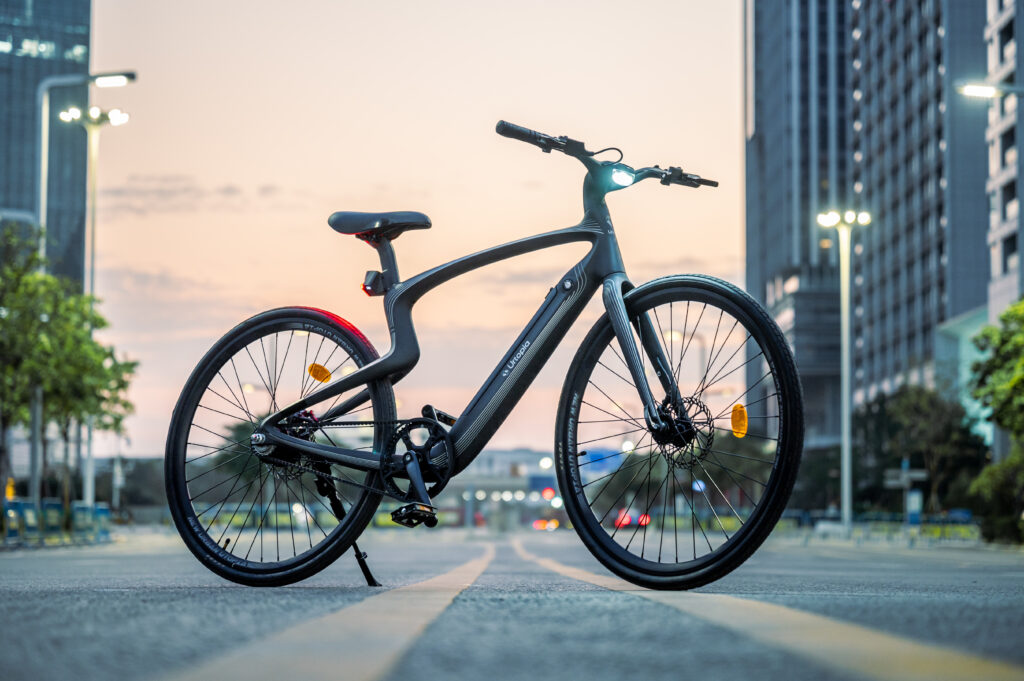 This means that you get a five-speed mode that includes a throttle-like Turbo mode and a pedal mode with near-zero resistance. The Urtopia is also built with a Gates Carbon Drive belt, which is maintenance-free and provides efficient power transmission. All of these features come together to create a smooth, highly rewarding riding experience that you'll want to enjoy again and again. And with a travel range of 50-130 km (or 31 – 81 miles) you can explore all kinds of new territory on your Urtopia.
But is it high-powered enough?
The 250W rear-hub motor is rather small compared to some of the other eBikes we've tested. We hope to get our hands on this eBike soon to give you our honest opinion. The only thing going for the smaller-powered motor is that the eBike is not as heavy, and you simply need less power to get going.
An Audacious Goal
Urtopia helps customers to find what they are calling a "New Urban Utopia," and they hope one day, people will proudly say "I'm not riding an e-bike. I'm riding an Urtopia." While we have yet to review this eBike, it has the possibility to completely change the way people commute in cities.
Final thoughts: Urtopia eBike
Pre-order and save $$$
Urtopia eBike
Check out these exclusive pre-order offers and save on this great eBike!
Buy Now
We might earn a commission if you make a purchase, at no additional cost to you.
We hope to give you our full review shortly on the Urtopia eBike. However, from what we can tell so far, this eBike is packed with features that are unrivaled by any other on the market. Urtopia has set out to create a "New Urban Utopia" and if their eBike is any indication of what's to come, we think they just might succeed. Stay tuned for our full review!