It's hard to believe it's been 3 years since we first got our hands on the Public Rec All Day Every Day Pants (AKA ADED Pants) – it's even harder to believe that we haven't stopped to give you our honest Public Rec All Day Every Day Pant Review! That's just crazy. Let's dive into our full Public Rec Review of their ADED Pants.
If you like the watch videos more than read, it's hard to believe our Public Rec Review is more than 10 minutes long! Here it is:
Also, at $98, are they worth it? That's a steep price to pay if they are simply glorified sweatpants. Our Public Rec ADED Pants Review will cover all of that… and much more!
All Day Every Day Pant Review: The claims
Public Rec does a great job with their advertising. In their ads, they say, "Feels like Pajamas, Looks like Jeans." But do they really?! Keep reading our ADED Review to find out.
A couple of other claims Public Rec makes about the ADED Pants:
Easy to care for and quick to dry
Super stretchy for Max Comfort
Highly Breathable
We have to say that the ADED Pants meets those three (easy care, stretch and breathable) with flying colors. They are incredibly stretchy, very breathable, and are pretty easy to care for. Our only very slight issue with the pants is that sometimes "little fuzzies" (I don't know what else to call them) get stuck on the pants. With dark colors, this happens frequently, but not a huge deal at all.
But if you're reading this Public Rec review, the first thing you are wondering is – what do they really look like? Do they really look like jeans?
ADED Pants Review: The Look
Let me shoot it to you straight here: no one will mistake the ADED Pants for Jeans or Suit Pants. But here's the better news: no one will probably mistake you for wearing sweat pants in public, either.
The All Day Every Day Pants straddle the unique line between Jeans/Chinos and Sweats. See this graph for an explanation:
As you can see, they are better than sweatpants, but not as nice looking as Jeans.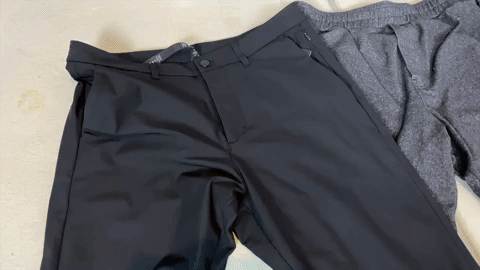 Granted these pants are now over 3 years old, but they are going strong! I've reached out to customer support to ask if they have been updated at all, and they said they've made them slightly less baggy.
They've also added the Stadium Pants, which are more sporty and the Workday Pants, which are more formal. I have not tried the Workday pants, but they look to be made from a similar fabric. Public Rec has a nice comparison on their website:
I'd say the ADED Pants are male equivalent to Women's leggings for men. Sure, leggings are still casual, but they look better than sweatpants, but they are just as comfortable.
All Day Every Day Pants are the dude equivalent of leggings…
If I had to give the ADED pants a "category" it'd be the leggings equivalent for men.
ADED Pant Review: How to Style
I typically wear my ADED Pants with Grey Allbirds (I have the Heather Charcoal colored All Day Everyday Pants) and a Mizzen and Main Henley – one of my favorite items. If needed, I'll put on a hoodie over it (the Marine Layer Signature Hoodie is one of my other favorite cold-weather items).
This is a little more difficult than I thought. In 100% honesty, it's rare that I wear these pants out of the home unless it's to the playground, store, or outside with the kids. I most frequently wear them when the weather gets a little cooler outside and I switch from my shorts to sweatpants working inside. The best use for the ADED Pants is simple: they are the best Work From Home Pants ever! That's a fact.
it's rare that I wear these pants out of the home unless it's to the playground, store, or outside with the kids… even though I love the pants. They are truly upgraded sweat pants.
If you are going to wear them out and about, keep it casual. Obviously, their All Day Every Day Pants pair well with Public Recs other clothes: the Public Rec Henley and their Public Rec Polo, but that's about as fancy as I would go. They don't really go with a button-up.
Above: Menlo Club Shirt and Shoes (get Menlo Club Promo Codes)
Above: All Day Every Day Pants with Allbirds Tree Runner Shoes, Mizzen + Main Henley and Marine Layer Signature Hoodie.
All Day Every Day Pant Review: Other Features
A couple of the other features that I didn't really believe I would care for have made a big deal in these becoming one of my favorite pairs of pants over the years.
ADED Review: The Pockets
The pockets on the ADED Pants are awesome! The fact that they are zippered, in the normal spots where we are supposed to have pockets (instead of the odd zippers on the side of so many pairs of clothes) is AWESOME! Here's why: when I wear sweatpants, my phone and keys ALWAYS slide out. I can simply zip the pockets and I don't have to worry about it.
Even better: at the playground with the kids, I don't have the worry about my cell phone falling out on the slide.
Not exactly gangsta reasons for buying these pants, but it's a huge deal. Recovering a lost phone or lost keys lets these pants pay for themselves quickly!
ADED Review: The Waistband
I was initially hesitant about the ADED Waistband, to be 100% honest. Here's what Public Rec says about the waistband on their website: Elastic waistband with internal drawstring for maximum comfort.
But the ADED Pants aren't like other sweatpants that you simply buy small, medium or large. You actually buy the waist and the inseam, like you would a normal pair of pants.
The All Day Everyday Pants have an incredibly strong waistband. Sometimes, when you are wearing sweatpants, there can be an issue with the waist being too loose. 3+ years later and I can honestly tell you that you won't have that issue. The waistband is still super snug!
So much so, that I'd say if you like loose sweat pants, to go up a size. The elastic is THAT strong. It doesn't pinch or feel uncomfortable, but they, for sure, aren't going to fall down. I'd be that it would be tough to pants you in these. But you don't need to try that… 🙂
The faux zipper front
The All Day Every Day Pants have a fake (aka "Faux" because these are fancy) zipper front. This is a bit odd but you're the only one that knows that it's a fake front. They did it to make the pants look more formal, but I've accidentally tried to use the restroom frustrated I couldn't find the fly. But that'd by design.
Public Rec Review: The Quality
Public Rec makes some incredibly high-quality clothes. I have had a very small issue with the zipper coming out of my pockets on the ADED Shorts (read our full ADED Shorts review, too!) but Public Rec took care of the seamstress costs to fix it.
The even more impressive part: the seamstress said they were some of the best made clothes she's ever seen. That's pretty amazing coming from someone that stares at clothes every day.
All Day Every Day Pant Review: The Final Verdict
If you're looking to replace your slacks with the All Day Every Day Pants, you're going to have to pass. However, if you want an extremely comfortable pair of pants that are super versatile, we'd recommend that you check out Public Rec's All Day Every Day Pants.
I was hoping that the ADED Pants would be a replacement for jeans, but the truth is, they do so much more than jeans – they just don't look like jeans. However, they do look slightly more like sweatpants than I imagined.
As I mentioned above, these are more like the male equivalent of leggings – super comfortable, functional, but no one is going to look at you like you are wearing sweatpants.
However, that's OK – even at $98 – I know that the All Day Every Day Pants zipper pockets have saved me more than that on lost iPhones, broken iPhone screens, and lost keys alone. And I didn't look like a slob doing it.
If you're in the market for higher end, functional pants, I'd pick these over something like lululemon's City Sweat Jogger, for example. Not only are the lululemon Joggers more expensive ($118, they also look a lot more like sweat pants!).
Get the All Day Every Day Pants from Public Rec.
Have any questions or comments about our All Day Every Day Pant Review? Let us know in the comments below!