Taylor Stitch Review: To be honest with you, we get pitched a ton of different clothing brands all the time. People want us to review their products.
We are super flattered. Most of them we politely decline, but there are only a handful of brands that we seek out and want to try ourselves. Taylor Stitch is one of those brands. But are they any good? Are they worth the premium price? Keep reading our full and honest Taylor Stitch Review to find out.
What is Taylor Stitch?
Taylor Stitch clothing is made for the modern man. They are built to last, but not just any old way and for everyday wear. The Taylor Stitch Brand clothes are responsibly built for the long haul with sustainability in mind. The company was founded by two guys who wanted to create clothes that could handle chopping wood, surfing sessions, snagging trout, or going at the office – all without limitations.
How I think about Taylor Stitch vs. other brands
There are obviously a ton of other men's clothing brands out there with an ethos kinda sorta like Taylor Stitch. The brand I can easily and fairly compare them to the most is Buck Mason.
If Buck Mason (read our Buck Mason Review) is designed for the modern man on the beach, Taylor Stitch is designed for the modern man in the woods.
They are both obsessed with making incredibly high-quality staples that should last a really long time.
I feel like Taylor Stitch's clothing is a little more hearty, which may or may not be for you.
Simply put, you can't go wrong with Taylor Stitch, Buck Mason or Taylor Stitch – it's all about application.
Crowdfunded Products
You can shop Taylor Stitch like any other eCommerce website: find something you like and buy them. However, Taylor Stitch also has products that are crowd-funded via their Taylor Stitch Workshop program. What does that mean?
Taylor Stitch designs new products in the Taylor Stitch Workshop. You crowd-fund them and save 20%. Our planet takes on less waste. Taylor Stitch delivers them when they're seasonally appropriate. Everybody wins.
This is brilliant because it means you can get your hands on some great products at a discount but it also insures that Taylor Stitch doesn't make products that no one wants. It's a win, win-win.
Technical Products that aren't Techy
I know this sounds weird, but as we started to work on this Taylor Stitch Review, we kept coming across clothes with technical aspects, but no one would describe Taylor Stitch as "technical clothing" like Mizzen + Main or Duer, for example.
Take the Workhorse Jacket, which we reviewed. Here's how Taylor Stitch Describes it:
Responsible, rugged, and ready for anything—that's  Boss Duck. Our signature hemp-based blend is seriously sturdy and incredibly soft, which means it'll keep you comfortable even when it comes time to do some heavy lifting. The Workhorse Jacket features a recycled nylon lining (filled with recycled polyester), plus contrast corduroy accents on the collar and cuffs and brushed organic cotton pocketing.
There are technical components to this jacket, like a hemp blend. However, this isn't going to be a super-stretchy jacket that looks like it's made out of Under Armour material.
It's the real deal.
Another great fabric that has a lot of benefits, but isn't really "technical" is Merino Wool. Merino wool is a natural fiber that is sourced from the Merino sheep. It's temperature-regulating, moisture-wicking, and odor resistant.
The best way to describe it is: staples infused with technical aspects and features. Or even better: hard-working staples that John Dutton wouldn't be embarrassed to wear.
Taylor Stitch Clothing Review: Let's talk about the clothes
We got our hands on a couple of unique pieces from Taylor Stitch that caught our eye and we'll be updating this page as we get more products to review and put to the test.
We'll also update this page with wear and tear that we experience (or hopefully don't experience at all). I have a weird thing where I don't allow myself to wear anything that I am going to review until I at least take photos of it before wearing it. Weird. I know.
Workhorse Jacket – Taylor Stitch Clothing Review
Taylor Stitch Workhorse Jacket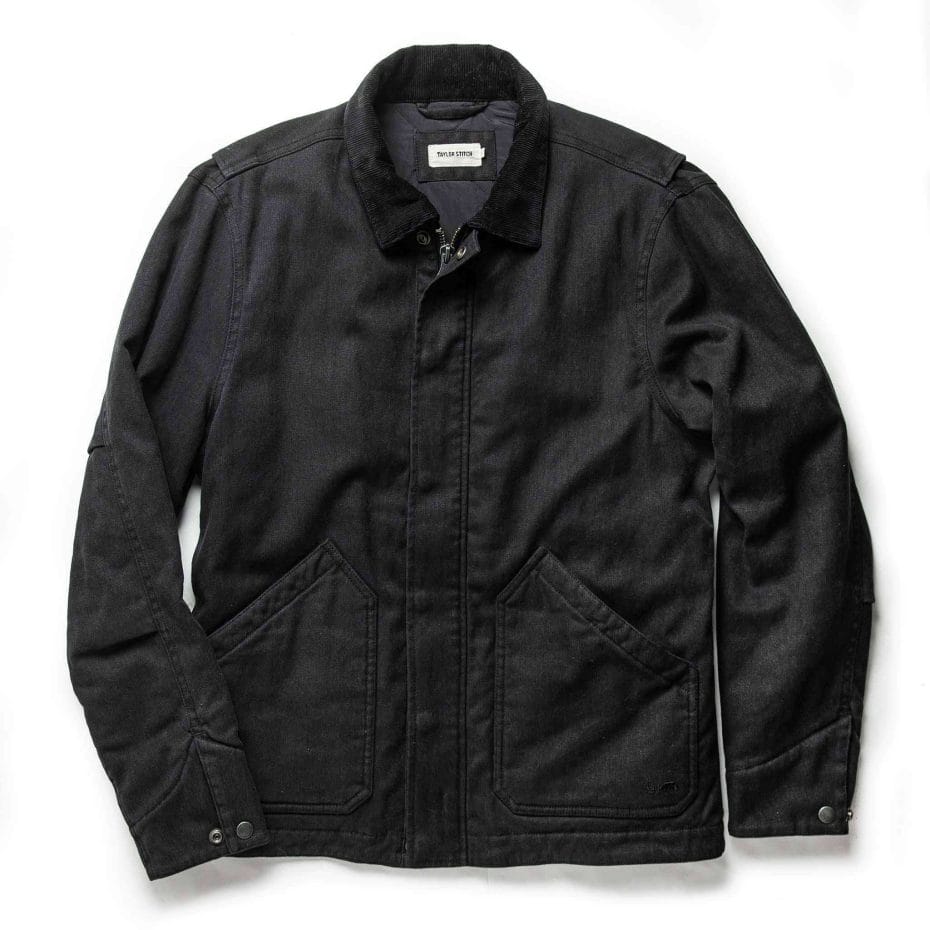 Rugged and built for the long hall
Incredibly well made
Super sturdy
Soft
Sustainable
The Workhorse Jacket is a simple, rugged jacket made out of Taylor Stitch's signature Boss Duck fabric. I've already talked about it a little bit above but it's incredibly rugged but not too stiff.
The Workhorse Jacket has lots of great features (like the corduroy collar and cuffs) that make it really versatile for different types of weather, but also durable enough to be worn daily or even on your next hunting trip.
This is one area where Taylor Stitch's clothing really shines. They aren't making a "technical" jacket that is going to be out of style next season or isn't versatile enough for different activities.
The Workhorse Jacket is a great example of this and would be perfect for someone who wants a single jacket that they can wear all the time, in any weather. While it's not going to win any fashion awards for a night out on the town, it would be perfect for outdoor activities like hunting, camping, hikes or even cutting down a Christmas tree.
I'm not going to lie: I feel a bit like John Dutton (or even Rip) when I wear this jacket. It's a little more rugged than my typical style, but it's perfect when you need a heavy-duty jacket that won't let you down.
How to wear the Workhorse Jacket
The Workhorse Jacket would go great with a pair of jeans, or better yet – the Chore Pant by Taylor Stitch if you are doing something that needs to be more rugged.
Boots to go with it
I, personally pair them with my Lems Boulder Boot (read our full Lems Review) and some Wool Socks (read about the best Wool Socks).
You can also layer it with something like a hoodie underneath.
Taylor Stitch also makes some boots that we haven't had the chance to try, which look great, too.
Final Thoughts on the Workhorse Jacket
The Workhorse Jacket is perfectly named. It's a workhorse.
It's not going to be the most stylish jacket you own, but it will be the most rugged. It's definitely the type of jacket that is made to take on whatever life throws at it and still come out looking good (and more importantly – functional). That's the thing about Taylor Stitch's clothing – they aren't flashy. They are pretty much like John Dutton (heck, even Anna Gunn): simple and to-the-point with a no-nonsense attitude that gets the job done.
Merino Henley – Taylor Stitch Clothing Review
Taylor Stitch Merino Henley
Comfortable, simple stylish
Super soft
Made from great merino wool
Moisture-wicking
Anti-microbial
If the Workhorse was a stretch of my personal style, the Merino Henley is a perfect fit. Why? It's comfortable, easy, and incredibly functional.
It's made of Merino Wool, which is a natural fiber that is sourced from the Merino sheep. It's temperature-regulating, moisture-wicking, and odor resistant.
The best part about this Taylor Stitch Henley is how soft it is. It is seriously one of the softest shirts that I own. It's so soft that I can't help but pick it off the hanger and wear it if it's clean.
Merino Wool also doesn't need to be washed after every wear, so I wear this shirt a lot.
Merino Henley Features
This Taylor Stitch Merino Henley looks like it's just a simple Henley, but it's pack with features.
The merino wool it's made with keeps you warm in winter but doesn't make you hot in summer. It's also stain-resistant and anti-microbial so you don't have to worry about it getting stinky.
It also has a really nice fit – not too tight and not too loose. I usually wear a medium in most shirts and this shirt runs true to size.
How to style the Merino Henley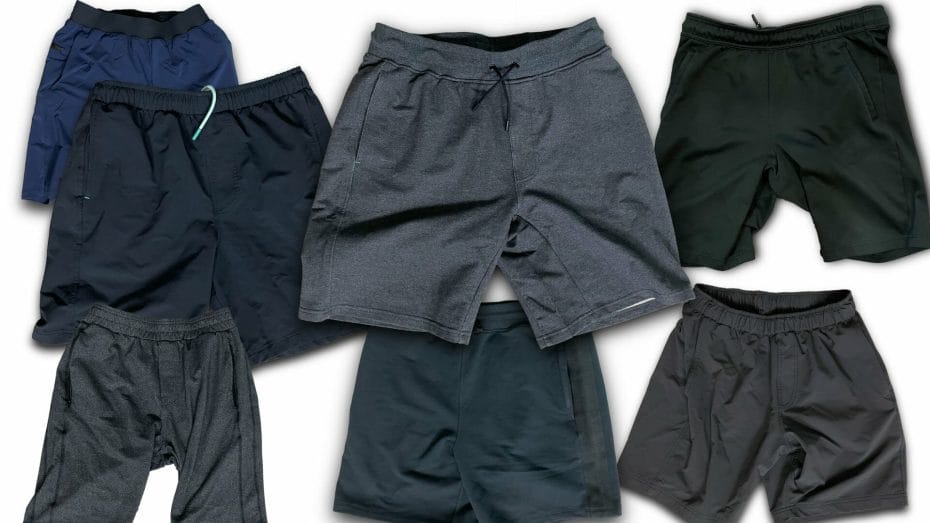 The Merino Henley is easy to style – a big reason why I like it so much.
To be 100% honest, I'm typically wearing it with shorts when I'm on Zoom calls all day long (see our best Work From Home Shorts Review). Henley shirts are kinda the best of both worlds: comfortable like a t-shirt, but have some buttons so it doesn't look too casual.
If I'm venturing out of the house, I wear this Henley with jeans and Allbirds (or even the Lem Boots if it's cold out).
It's super easy to style and an absolutely perfect shirt.
Other Styles from Taylor Stitch
We've tried some other styles from Taylor Stitch and wanted to give you our quick opinion on them.
Taylor Stitch Oxford – Jack Shirt
Many moons ago, we tried the Oxford Jack Shirt from Taylor Stitch.
In the world of Reddit loves the Oxford Cloth Button Downs, or OCBDs. And to be honest, Taylor Stitch makes a great Oxford shirt. You'll see in other Taylor Stitch Reviews they are some of the most highly rated – they are a true fan favorite.
What Taylor Stitch Says
Here's what Taylor Stitch says about this Taylor Stitch Shirt:
Just the right amount of sturdy for year round wear. Soft to the touch but built for a decade of solid wear. Oxford is a perfectly versatile fabric that looks just as good pressed as it does pulled off the back of a chair. While traditional cotton uses 25 percent of the world's pesticides, our organic cotton doesn't use a drop. A better shirt, responsibly built for the long haul.
But here's a simple reason why we didn't care for the Jack Shirt: it's not because they aren't incredibly high quality (they are VERY well made), this is just one area where we wish Taylor Stitch was a little more technical.
How to style the Everyday Oxford
You can wear The Jack Everyday Oxford is can be worn tucked or worn untucked and is pretty effortless for style.
Wear these with some traditional denim (Taylor Stitch makes some great denim, too), but we've paired with The Perfect Jean (read our Perfect Jean Review and get our perfect jean promo code) and Duer Jeans (read our Duer Jean Review, too)
What we don't like about the Jack Shirt
We hate oxford shirting – or any shirts for that matter, that you need to iron. Seriously.
After we had the chance to try Mizzen + Main Dress Shirts (read our Mizzen + Main Review), we will have a hard time going back to any button-up shirt that needs to be ironed to get the wrinkles out.
I never realized how much I hated ironing until I never ever had to do it again.
I highly recommend Taylor Stitch if you need a well-made shirt, but not if you want to avoid the iron like the plague.
The Heavy Tee – T Shirt
If you want to make your eco-friendly lifestyle even more sustainable, then the Heavy Bag Tee is for YOU. Made with up-cycled and recycled yarns of Cotton and Polyester that were shredded before being re spun into new threads without any water used in production!
This means each shirt doesn't require over 1,000 gallons of water, as it would if made conventionally ( gasp!). The choice has never been easier: pick out a color or design from their vast inventory today ($45) AND help save Mother Nature at the same time?
We simply don't need another t shirt (we love Buck Mason Tees, too – and they are a little bit less expensive, but not as sustainable); so we haven't added this to our collection, but it's an awesome shirt. Check it out if you want to help add some sustainability to your wardrobe.
Other Products
Taylor Stitch makes a ton of great products, from the their flannel shirts to their amazing leather jacket and their motor jacket. This San Francisco based brand is full of surprises from classic staples at every turn. Taylor Stitch is continuing to change the clothing industry.
Taylor Stitch Review: The Final Verdict
Top Pick
Taylor Stitch
Made for the long haul.
A great brand that features all the staples. Built for the long haul.
As we mentioned at the beginning, we get approached by a ton of different clothing brands, all the time. But few brands are able to do what Taylor Stitch does: reinvent classic staples that are made to last. Taylor Stitch has done just that.
While we don't love everything they make, the products that we do like are some of the highest quality clothes you can find. If you're looking for a durable, sustainable and stylish wardrobe, then Taylor Stitch is definitely worth checking out.