If you've been reading the blog, you know that we love Birdies! Read our full Birdies review. Also, be sure to check out Birdies (and other shoes like Rothy's and Allbirds) in our loafer roundup. This blog post will focus on the Birdies Heron Review.
Birdies Heron Review – The truth!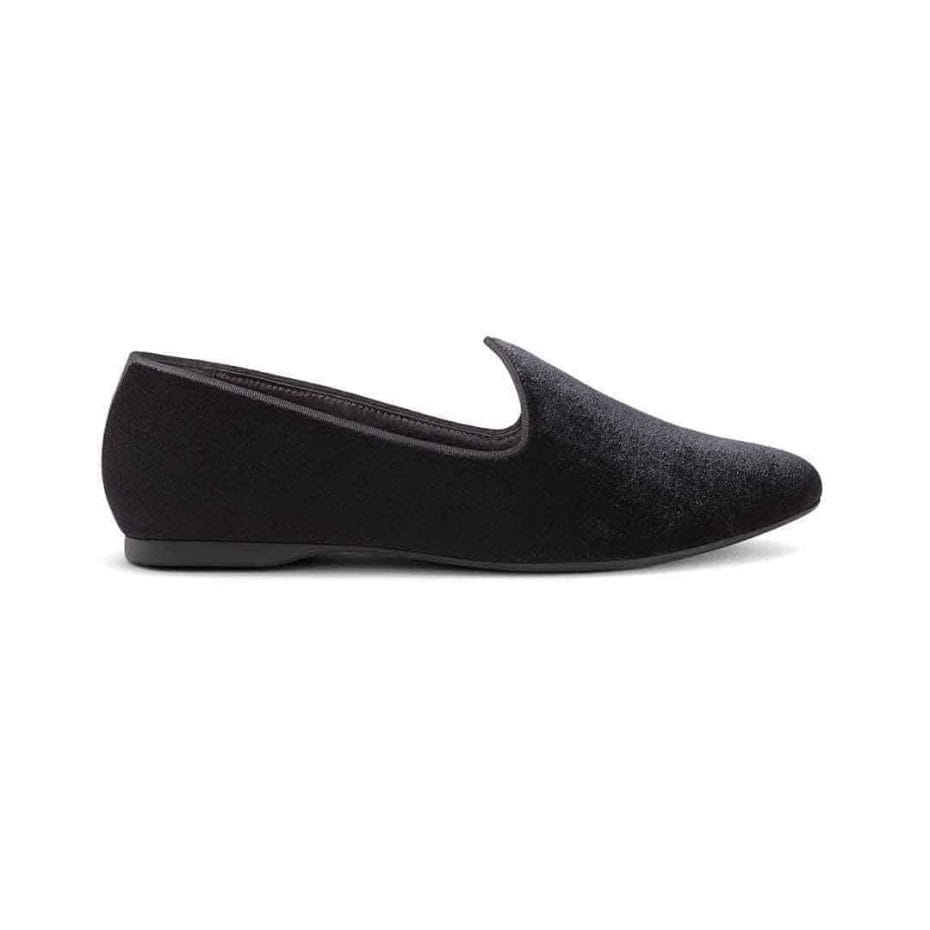 The Heron by Birdies has quickly become my favorite winter shoe! Birdies found inspiration for these shoes from generations of Venetian Gondoliers. They are a fresh twist on the classic loafer style and the little point makes them look extra chic! They are priced at $95 and still feature the amazing 7-layer comfort technology that Birdies is famous for. They truly feel like slippers, but look like elegant flats. 
What we love about The Heron by Birdies
Comfort! The 7-layer comfort technology that features memory foam and lots of arch and heel support makes these incredibly comfortable flats that you can wear all day! 
I ordered the black velvet pair, which I absolutely love and are super versatile in my winter wardrobe but they also come in olive and currently their color of seasonal crushed velvet. 
They fit true to size! I ordered my typical size 7.5.
They are so chic and easy to wear with casual outfits and more formal outfits!
The price point at $95 makes them very reasonable to the high-quality shoe that will last for a long time. 
I never want to take them off! I have been wearing them on repeat all winter. The point on the top makes them even more chic than the original classic loafer style. In my opinion, less like wearing your slippers out!
The Heron By Birdies: How comfortable are they – REALLY?
Here's what Birdies says about the Heron shoe:
Get the support of a sneaker, the softness of a slipper, and the style of a designer flat with our exclusive comfort technology. All Birdies feature soft quilted satin, dual-layer high-density memory foam, shock absorption, and arch & heel support.

Birdies
While there is a lot to digest there that sounds like a lot of marketing hype, I will tell you this: the Heron by Birdies are SUPER comfortable.
What we don't love about The Heron by Birdies 
I'm getting nothing here right now. I will update this if I come across anything I don't love about these shoes!
Heron By Birdies Review: Who is this product for?
The Heron by Birdies is a fantastic shoe for anyone who lives in a place that has any type of winter. They instantly make an outfit with leggings more chic, but would be just as polished with a suit for a more formal work outfit. 
How to Style the Heron by Birdies
I think the sky is the limit with how you could style these cutie loafers, but I typically wear them with a pair of leggings, a tee-shirt and a long sweater to give a comfy look a slightly more elevated look!
Alternatives to the Heron by Birdies
If these loafers look a little fancy to you, check out our review on Allbirds Loafers here. The Allbirds are just as comfortable, but have a much more casual look. 
Rothy's Merino Collection (read our full Rothy's Merino Review) may also be a good alternative if you don't like the Birdies.
The Heron by Birdies Review: The Final Verdict.
These may be my most favorite shoes in my closet right now! I just love how comfortable and stylish they are. I feel like they are very chic looking without sacrificing the style in the slightest. They help me dress up otherwise very plain outfits and are keeping my feet very toasty this winter. Grab them for $95 while you can!