Birdies Slippers: Birdies says they are "The stylish flat that's secretly a slipper." Is that true? Read more in our honest Birdies Review.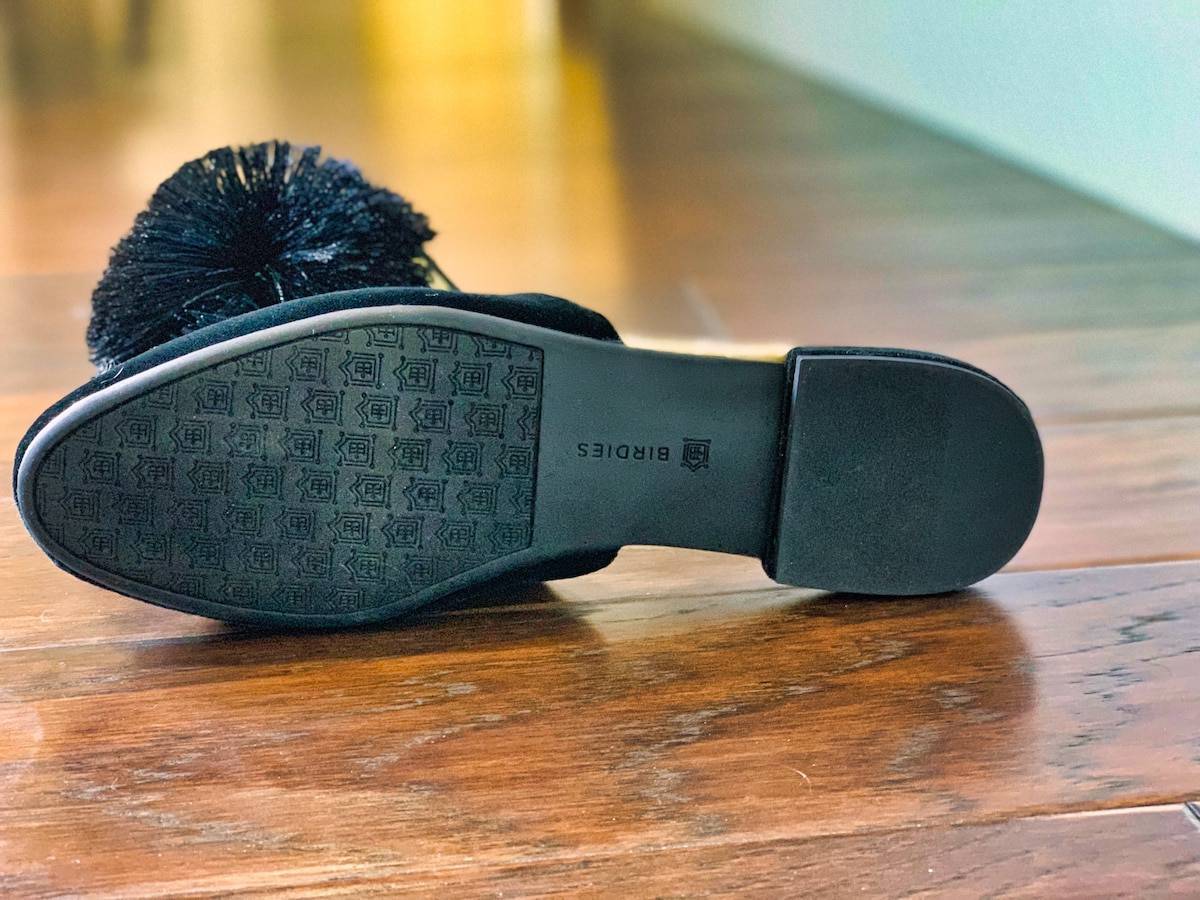 Birdies Review: What are Birdies?
Birdies is a San Francisco-based footwear startup founded by former Facebook and Ross Stores (yes, that Ross) executives, Bianca Gates and Marisa Sharkey. The dream team duo have designed a shoe that masquerades as a slipper, or is that the other way around?
Their unique selling point is that they have created a shoe which combines the comfort of slippers, the support of sneakers, and the style of a high-fashion shoe. With all of those promises and royal fans such as Meghan Markle, it was about time I tried Birdies slippers!
Birdies Slipper Review
If you're wondering about the brand name, you'll soon realize why: all Birdies slippers are named after our feathered friends. You have the Heron, the Sparrow, the Chickadee, the Raven, and well, you get the picture!
Birdie slippers are crafted from luxurious materials such as velvet, calf-hair, and suede. They have memory foam insoles and are lined with quilted satin.
To be honest, I have very high bar for loafers/flats (a full flat review coming soon – but check out my Rothy's Review or Allbirds Review).
To really give a thorough Birdie flats review, I ordered two pairs, the Songbird mules and a pair of the Starling loafers. Let's see how these slip-on Birdies slippers faired on my feet…
Birdies Review: The Fit 'n Feel
First thing I noticed was how comfortable they felt, straight out of the box. No need to wear them in or give them time to stretch to my feet. Both the mules and the loafers were good to go from the first fit. I also ordered my usual size and they were a perfect fit – so I would say that Birdies sizing is pretty true to size.
I have to admit, they really do feel like slippers, but slippers with structure and support. The inside quilted material is super soft and comfortable.
Bridies Slippers: The Look
First up, my favorite pair out of the two is definitely the Birdies Starling loafers. With their funky floral pattern, they look super cute. Mr. We Tried It didn't quite agree with me here… he likened them to my grandmother's couch! But, what does he know?!
I loved the little details, such as the cute tags with the emblem on the heels and I can see how they would go with lots of different outfits.
I did like the Birdies Song Bird mules too, but I was a little disappointed with the pom-poms as one was rather squished from the packaging. It annoyed me that they weren't symmetrical. The Song Bird pair did look a little more like slippers than shoes. That said, they are still cute and would definitely work well in jazzing up a pair of leggings and an oversized sweater.
Birdies Review: The Price
Birdies slippers range from $95- $140 which, for slippers is a little steep, but for shoes that feel like slippers but feel like flats, that's a lot more reasonable! They are just the right blend of classic and fashion. They can be matched with so many outfits and for different occasions. You will get plenty of wear out of them, so I do think the price tag is worth it.
| | |
| --- | --- |
| Birdies Positives | Birdies Negatives |
| They are super comfortable! | Some styles look like slippers. |
| Some styles look more professional and polished. | The price can be a little steep for a pair of "slippers." |
| Great customer service! They fixed the pom-pom issues quickly. | The pom-poms were a little squished on one of my pairs. |
| Great blend of comfort and fashion. | |
Birdies Slipper Review Verdict
I think Megan Markle is certainly onto something here. The Birdies slippers are a little treat for your feet. They are cute, stylish and super comfortable. I do love my secret slippers and, if my pom-pom 'foofs' back to life, I'll be even happier!
I really recommend Birdies for anyone looking for a comfortable, fun addition to their wardrobe.
If you want to get a great discount on Birdies, be sure to use our Birdies Promo Code. Also, see Birdies features in our ultimate Loafer Review.
Also, be sure to check out our new Birdies Heron Review.