The Flyer Cargo eBike (AKA the Flyer L885) is the perfect family hauler. It's beautifully designed and packed with top-of-the-line hauling capabilities, making it easy to haul cargo and kids with ease. But is it a worthy competitor to the RadWagon 4? Read on for our Flyer Cargo eBike review.
A super-attractive alternative to the RadWagon 4
Radio Flyer Cargo eBike
From the beautiful colors to the extra features, you can't go wrong with this cargo eBike - for hauling kids, hauling gear or just hauling butt!
Buy Now
We might earn a commission if you make a purchase, at no additional cost to you.
Meet the Flyer Cargo ebike – Technically the L885
Most people will simply call this cargo bike the "Flyer Cargo eBike," but it's technically called The Flyer™ L885. Yes, it's Flyer, as in Radio Flyer – an iconic
I have no idea what the numbers mean, but that's what it's called. Who is this electric bike for? It's perfect for families (more on that in just a moment) who want to ditch the car keys in favor of a bike helmet.
With an optimal combination of speed, durability, and hauling capability, this men's and women's electric bicycle allows parents to get where they want with ease and style. The Flyer Cargo eBike is perfect for those who want the convenience of a cargo bike without sacrificing style or performance.
The Specifications – Fairly Standard Features
This eBike features many of standard offerings we've come to expect in an electric bike:
Class 2 eBike (read about the different eBike Classifications)
Goes 20 MPH with Pedal Assist OR Throttle
Half-twist throttle on the right handlebar
500W Motor
Mechanical Disc Brakes
Front and Back Fenders (more about the unique back fender in just a second)
Bright, front LED Headlight
Integrated tail light – the rear LED lights are the brake light
5 Pedal Assist Modes
40+ Miles Range
Battery key lock
Dual-Leg Kickstand
73 Pounds
400 Pound Total Payload
These are many of the features you'd expect in most electric bikes. But there are a few things that make the Flyer Cargo eBike unique. Let's take a closer look.
Where the Flyer Cargo eBike Stands Out
Of course, this bike comes with many of the things that other electric bikes do – but some are unique (or at least super well-designed) in the Flyer bike.
The Overall Looks
Dang. This bike looks good. I know I called the RadWagon 4 the Minivan of eBikes (in the best way possible), but if the RadWagon 4 is the Minivan of eBikes, the Flyer Cargo eBike is the Suburban or Tahoe. It's large, in charge, and looks good doing it.
The Flyer Cargo eBike is available 4 colors: red, white, blue and black – and they all look super tasty.
I just love the overall black color of this bike and how it looks.
The brown-contrasting running boards are just the icing on the top. I know this is a "cargo" eBike, but it looks great!
The low profile
Since now you know this bike looks good – why does it look so good? It turns out there are several reason.
For starters, the Flyer Cargo eBike has a very low profile. The battery is hidden in the downtube, which gives the bike a sleek look. This also helps with the balance of the bike, as we'll see in just a moment.
The other unique thing about this bike's design is the rear tire is actually smaller than the front tire. The smaller rear wheel creates a lower center of gravity for better stability, while also being more efficient for the motor.
The front wheel is 26 inches and the rear is 20 – which is a fairly large difference.
This is why it feels so low.
This is great news for couples who want to share this bike (or for those of you who are taller or shorter than average).
Available in a wide variety of sizes
The Flyer bike also comes in Small, Medium, and Large sizes. We have the Medium, which is listed for 5'1" – 6'2". That's a large number of the population!
This Radio Flyer bike also includes an adjustable handlebar angle and flexible integrated steel seat post (and also the super comfy included padded foam seat).
What size is right for you?
If you are the primary rider and your height falls between two sizes, we recommend selecting the size that puts your height in the middle of the range versus the bottom or top end of the range. For example, if you are 5' 3", we would recommend selecting the Small frame.
If you're still unsure, we typically recommend sizing down. If the bike will be used by many people, we recommend selecting the size that encompasses the height range of all riders.
The Fenders
This bike comes with both front and rear fenders, which is always a good thing. But the back fender is where things get interesting.
Not only is there a rear fender, but the Flyer also uses a dark plastic cover to protect you from a large part of the wheels.
The RadWagon uses a piece of transparent plastic (which can get visibly dirty very easily), we prefer the approach that Flyer took with their cargo bike.
It's not perfect, but we'll discuss more when we talk about hauling kids.
The Frame and Battery
As we mentioned before, the battery on this bike is hidden in the downtube. This gives the bike a sleek look, while also providing good balance for the bike.
The battery is a 48V 15Ah (687Wh) UL Recognized Lithium-Ion Samsung 50E 21700 Cells – which is a good size for an electric bike. It's not the largest we've seen, but it's still a good size.
An extra battery?! Boost your range.
I thought, at first, the wiring was a little off when putting this electric bike together. I thought, maybe, they didn't tuck some wires in on accident.
But, it's 100% by design. You can actually buy a spare battery to boost your battery power & range with the Flyer L885.
The bike is designed with a port for an additional Flight Speed™ (the name-brand for their batteries) Extended Range Battery, so you can increase your range by up to 50+ miles per charge with an additional 48V, 15Ah Lithium-Ion battery.
Hauling Capabilities – Kids and More
This thing can haul! The Flyer Cargo eBike can hold up to 400 pounds of payload – that's you, your kids, your groceries, your dog, whatever you need to haul! And it does it all with ease.
The Flyer L885 comes with a rear rack that was designed with ultimate flexibility.
The bike comes standard with the rear rack and nice hardwood accents on the top of the rack, that matches the running boards.
However, we got the Kid & Cargo carrier which offers an ingenious solution for carrying cargo.
A must-have accessory
Kid & Cargo Carrier
If you are planning on hauling kids with the Radio Flyer eBike, you need the Kid and Cargo Carrier.
Buy Now
We might earn a commission if you make a purchase, at no additional cost to you.
The Kid Carrier & Cargo Package
This is simply brilliant. Every longtail cargo eBike should come with something like this. Seriously.
This versatile carrier accessory is designed for on-the-go families with the Flyer L885. It includes a couple of components:
The "Cage" which holds the kids in place – the metal bars the kids sit in
Cushioned seats that replace the wooden top seats of the rear rack
The amazing zipping fabric covering that offers even MORE flexibility.
Here's how it works.
If you want to use the cargo rack to transport stuff – simply use the cargo mode? Cargo mode is just zipping up the sides of the carrier and allows you to easily fill the carrier with stuff. Just use a net or bungee cord to hold it down, if need be.
Want to move the kids around? Change it to Kid Mode – which takes about 30 seconds. Simply zip the sides of the fabric down and use the buckles to attach over the running boards.
This almost guarantees that a kid can't get their feet in the spokes of the rear wheel and it looks good doing it.
The fabric features Radio Flyers' highest quality fabric, DuraClean® 2.0, which is durable & easy to clean. We haven't had to clean the fabric, but I've waited on taking the kids to the pool, simply because I didn't want the fabric to get wet.
Also, check out our best electric bike accessories.
A large rear storage basket, too
And, if you don't have kids, or don't need to haul them around, you can simply zip up the sides and use it to carry anything. It basically turns into a large rear storage basket.
That's pretty cool.
It also has a front zipper compartment to store little things like sunglasses.
Front Basket Available, too
If you need the ultimate in storage, Radio Flyer also makes a front wheel front basket that allows you to have matching front and rear baskets. This sits over the front fender very easily and looks great on the larger front wheel.
Use with Thule Kid Seats
If your kids aren't big enough to sit in the kid carrier by themselves on this Radio Flyer, you can always get a Thule kid seat to lug 'em around.
Thule Yepp Maxi Child Bike Seat is perfect for the long haul. It's easy to mount on the rear rack of all Flyer electric bikes, and the water repellent materials make it both easy to clean and keep dry. This sturdy seat will be with your family for years of riding fun.
Watch your little ones enjoy safe and comfortable riding with the kids Thule Yepp Maxi Seat for bikes. The seat is comfortable and shock absorbent, and features a childproof safety buckle. The adjustable padded 5-point safety harness, foot strap, and footrests deliver a custom fit.
Built in reflectors and a safety light attachment point enhance visibility while riding. Thule Yepp Maxi Child Bike Seat is perfect for long rides, rough terrain, and adventure.
Make sure to check with your pediatrician before riding with a kid under 1 year old.
Can fit two for a comfortable ride on this cargo bike, thanks to the smaller rear wheel
The cool thing about this over other cargo bikes is that the Flyer L885 can actually fit two of the Thule Seats. The Flyer M880, another Radio Flyer bike, can also fit one of these Thule child seats on the back.
How does the Flyer Cargo Bike Ride?
This is a REALLY interesting one. A couple of points I'd like to point out:
It rides REALLY low, especially compared to something like the RadWagon 4. That's not bad, but it comes with good things (easier to control) but also more difficult aspects (like bottoming out in our driveway.
It's also easier to get in and out of, in general.
Since the center of gravity is lower, I found it overall easier to control but when I got a little un-easy (like trying to control the bike AND my invisible selfie stick), that's when it got even more unweildy.
A word of warning to anyone carrying cargo: be careful
A traditional bike can't do the many things that this bike can. In fact, I use the half-twist throttle more often than I'd like to admit, simply because it's easier to get going.
This bike weighs a whopping 73 pounds, but the motor and fat tires help make up for it – a lot.
So much so, it can give you too much confidence that you've got this whole thing "figured out." The truth is – from the moment you load cargo, to every bump you hit, you need to be extra vigilant when riding this bike. This is even more true with kids in the back.
All in all, the make payload of this electric bike is 400 pounds. That's about 200 MORE pounds than a typical old school bike can handle.
So, all I'm saying is this:
Be. Careful.
Ok?
Now, with that out of the way, let's talk about how it actually feels when it rides.
How it feels to ride
It's not going to be the most agile bike on the market, but it's also not the worst, either.
I described the RadWagon 4 as like driving and ice skate or a limo. I'd describe this as a little similar, but maybe a bit more agile due to the low center of gravity.
However, the RadWagon 4 does have a more powerful motor (750 watts vs 500 watts in the Radio Flyer). And to be 100% honest, I didn't even notice the difference until I headed up a steep hill.
Don't worry, the bike didn't just stop. However, it did feel like it was struggling a bit. It slowed to about 12 miles an hour, which isn't crazy, but it was noticeable.
Assembly: Pretty Easy!
Assembly of the Radio Flyer bicycle was pretty easy. It took about 30 minutes, but I had a little "helper" who kept asking me if I was done.
The truth is the Cargo Carrier took longer – about an hour, simply because you have to take off some of the parts (like the wooden seats on the rack) to add things like the cushioned seats.
If this makes you a little uneasy, have no fear.
The White Glove Service Option: Velofix Direct
If you're worried about assembling the Radio Flyer bike yourself, have no fear. You can order the 100% white glove oven (well, I'm not sure if they actually come in white gloves, but you get the idea!).
With this service, a professional technician from velofix's expert network will come directly to you at your home or office to deliver, assemble, fit, and answer any questions about your new Flyer eBike.
Just select Velofix direct when you select a shipping option and a velofix representative will contact you to schedule delivery of your fully assembled electric bike!
Schedule with a local bike shop, too
You can also schedule your professional assembly with a local bike shop at checkout and pickup your fully assembled eBike.
With over 800 active in-shop and mobile retailer locations, Beeline Connect helps to connect you to a local bike shop for assembly services. Select and schedule your appointment directly at checkout, and then simply pickup your fully assembled Flyer™ eBike, ready to ride.
Of course, you can always assemble this bike yourself and have a certified bike mechanic come and look at your work. That's what I do!
The elephant in the room: RadWagon 4 vs. Radio Flyer Cargo Bike
It's very clear both bikes are going after the same market here: families that want to skip the car for shorter trips and take the kiddos with them.
Especially with gas being so expensive, it's an obvious target market to go after.
Let's quickly compare the differences.
Also, be sure to read our RadWagon 4 Review and "Are Rad Power Bikes Any Good?"
The Price and Options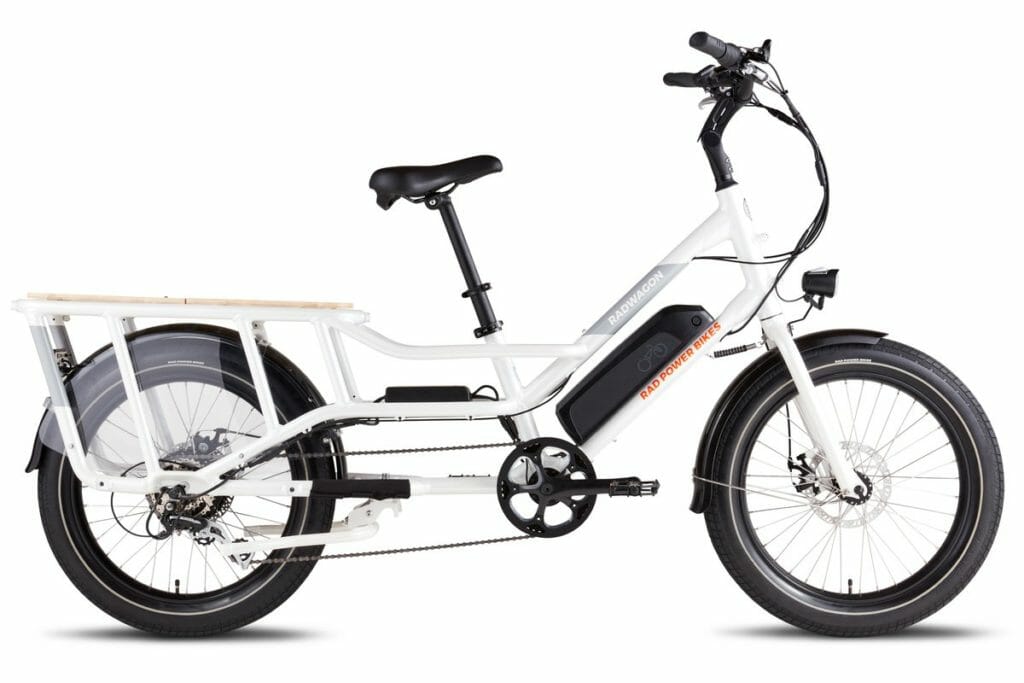 The RadWagon 4 Retails for $1,999. Guess what the Radio Flyer bike retails for? $1,999.
However, the Flyer L885 comes with a key feature this extra in the RadWagon: running boards. Not only are the running boards included – they look really stinkin' cool. We just love the way it looks.
Options
The Flyer Kid and Cargo Carrier option for the back is $299. This included the padded seat, the "fence" that holds the kids in, the padded seats AND the fabric around the Carrier.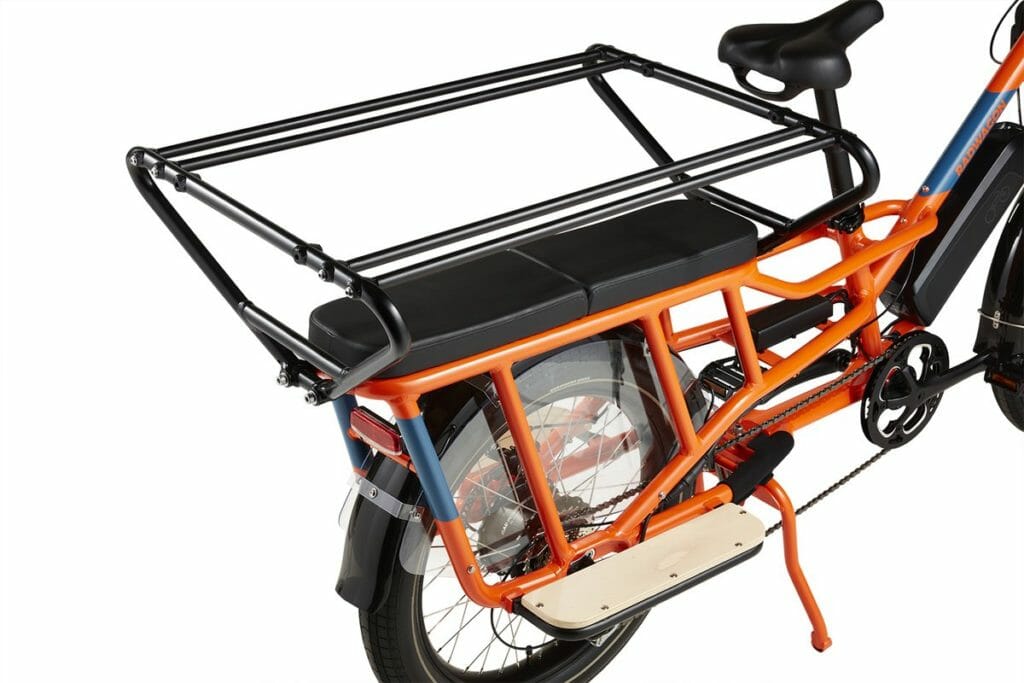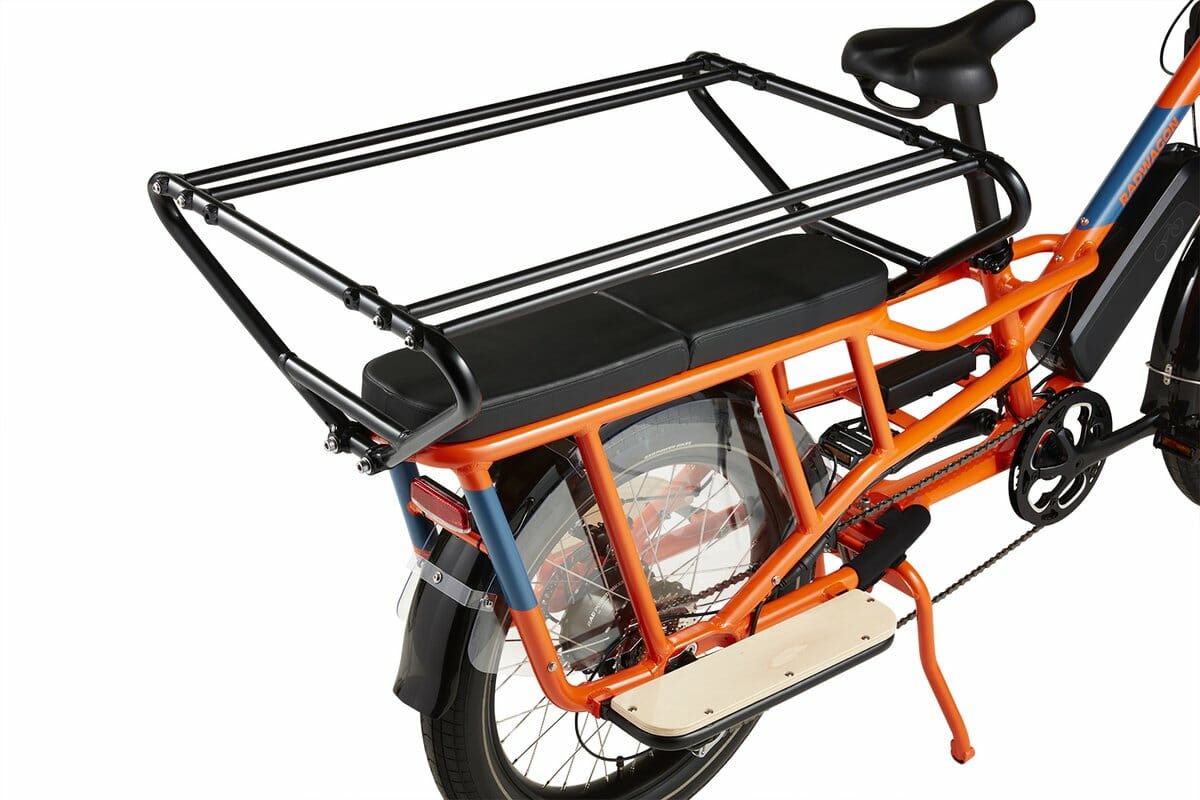 The RadWagon 4 has a "fence" (they call it a caboose) that is $199. The running boards are $99 and the padded seats (call the deck pad) is $69 for half the rear rack, for both pads (like the Radio Flyer has) it would be $138 for the padded seats.
That means the total package for the RadWagon rear rack set up is about $438, vs the Cargo Carrier for only $299.
BUT… here's the big but here: the RadWagon does have the brilliant design of the Radio Flyer Kid & Cargo carrier. There isn't anything close to it.
Just based on the overall price and features, it looks like the Radio Flyer Bike is the clear-cut winner, right? Not so fast…
RadWagon 4: Where it shines
Check out our full RadWagon 4 Review, but we use this cargo bike the most of any in our collection – almost every day. However, it only has about 90 miles on it. That's because it makes the two-block trip to the pool almost every day during the summer.
A couple small areas where the RadWagon 4 is better than the Radio Flyer Cargo Bike:
The RadWagon 4 does have a more powerful motor. It features a 750 Watt motor vs the Radio Flyer's 500 Watt motor.
The RadWagon 4 has a little more ground clearance. This becomes an issue when you're going over curbs, or small speed bumps.
I felt like the gears were a little more finally tuned on the RadWagon over the Radio Flyer, only because it was "too easy" to pedal in the highest gear on the Radio Flyer. I know, that's an odd thing to complain about.
The RadWagon is also on its 4th iteration, so they've made some mistakes and improved on them. Radio Flyer is also a little newer to the electric bike space (however, they do have a pretty sweet mini electric Tesla).
Radio Flyer Cargo eBike Review: Where is Soars
Besides the brilliant Cargo System, the Radio Flyer bike has a few other advantages over the RadWagon 4.
The first is just the overall looks. I really like the way this bike looks. It's sleeker, bolder and more stealth-like. The RadWagon is more limo-like.
The next is the extra battery feature. I've seen other eBikes with two batteries (see our Haoqi eBike Review), but never one that was designed to potentially ADD another battery easily. This is a brilliant choice by Radio Flyer.
Many people that ride these Cargo Bikes get hooked and start to ride it everywhere. The LCD Display will also show the battery level of each battery (something even the Haoqi bike didn't do).
Of course, this will also add to the weight but will greatly extend the range.
The Radio Flyer bike also has the ability to carry about 50 more pounds than the RadWagon, mostly due to the center of gravity.
Key Features:

Payload: 400 Pounds
Bike Weight: 73 Pounds
Motor Power: 500 Watts
Additional Riders: 2

Key Features:

Payload: 350 Pounds
Bike Weight: 76 Pounds
Motor Power: 750 Watts
Additional Riders: 2

Key Features:

Payload: 400 Pounds
Bike Weight: 77 Pounds
Motor Power: 750 Watts
Additional Riders: 1
Attractive alternative
Key Features:
Payload: 400 Pounds
Bike Weight: 73 Pounds
Motor Power: 500 Watts
Additional Riders: 2
Super Dependable
Key Features:
Payload: 350 Pounds
Bike Weight: 76 Pounds
Motor Power: 750 Watts
Additional Riders: 2
An awesome cargo eBike
Key Features:
Payload: 400 Pounds
Bike Weight: 77 Pounds
Motor Power: 750 Watts
Additional Riders: 1
Be sure to check out our ultimate guide to eBikes, too.
Final Thoughts: Radio Flyer L885 Review
A super-attractive alternative to the RadWagon 4
Radio Flyer Cargo eBike
From the beautiful colors to the extra features, you can't go wrong with this cargo eBike - for hauling kids, hauling gear or just hauling butt!
Buy Now
We might earn a commission if you make a purchase, at no additional cost to you.
Simply put, you'd have a hard time convincing me that the Radio Flyer L885 was inferior to the RadWagon 4. I like the way it looks, I love the way it handles and the Cargo system is so incredibly well-designed. You can tell they didn't just go straight to an eBike manufacturer and say, "Take this other eBike and slap our logo on it."
The only thing I could dog Radio Flyer about is that they aren't one of the true eBike pioneers like Rad Power Bikes. But Radio Flyer has been making vehicles with wheels since 1917. That's longer anyone working at Rad Power Bikes.
If you want to save some money, get your kids outdoors and have a lot of fun doing it. Then check out the Radio Flyer L885 eBike. We're proud to give it the We Tried It Seal of Approval because of all the great things we mentioned here.
Do you have any questions or comments? Let us know below!