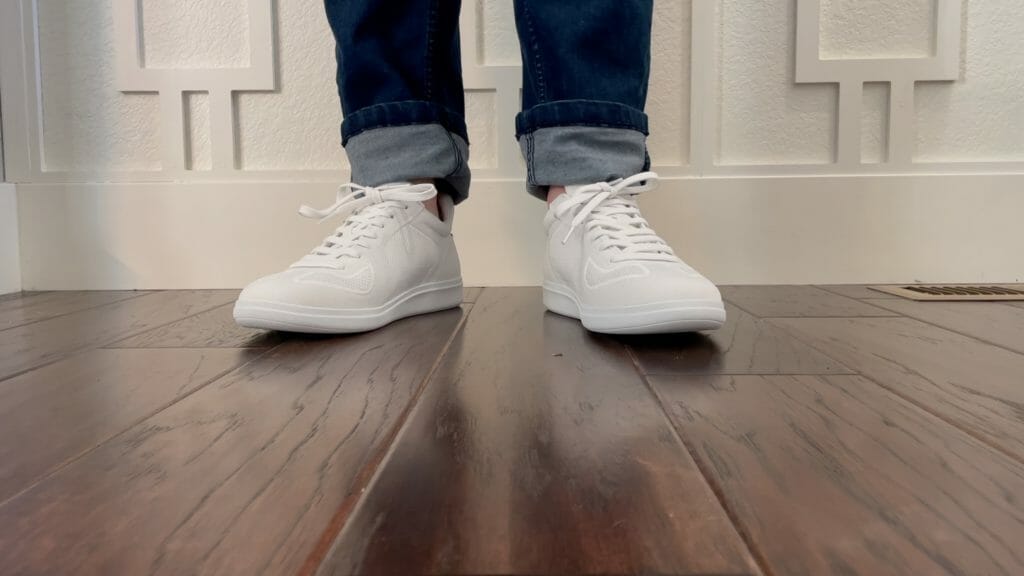 We love Rothy's (read our full Rothy's Review) on We Tried It. Well, Mrs. We Tried It has loved Rothy's. That's because Rothy's has only made Women's shoes for the past several years. However, Rothy's now makes several different styles for men. Keep on reading our honest Rothy's Men's Shoe Review to find out what we think!
Men's
Rothy's Men's Shoes
Sustainable
Machine Washable
Easy to style
Comfortable
Rothy's first take on the men's shoe is just OK… we done love it – but for two main reasons: the weight (it's super heavy) and the price (it's $175).
Rothy's Shoes: A shoe… made out waterbottles?!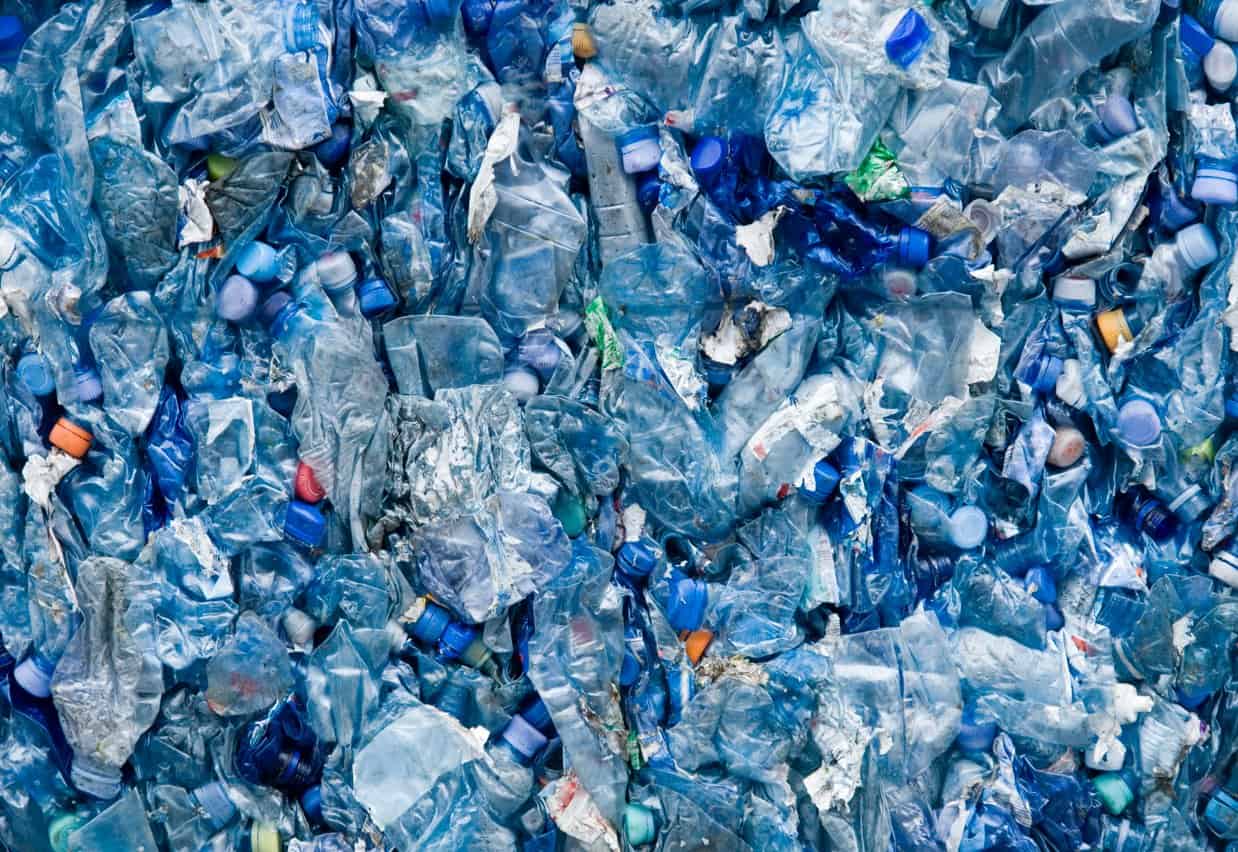 All of Rothy's shoes are made from recycled water bottles. How does Rothy's do this? They divert plastic bottles from landfills and transform them into their signature thread. They take this thread and knit it into durable, washable, and sustainable styles? Much like Allbirds and their Tree Fiber (read about Allbirds Wool vs. Tree), who knew that water bottles could actually be comfortable?!
The best part about Rothy's? They are machine washable, just like Allbirds!
Rothy's Men's Review: What we tried – The RS01 Sneaker
Rothy's introduced two new men's styles: the RS01 Sneaker and the Driving Loafer.
See more of our Best Summer Shoes for Men – and great shorts to pair them with – in our Summer Shorts Guide.
The RS01 is $175 and the Driving Loafer is $185.
What Rothy's Says: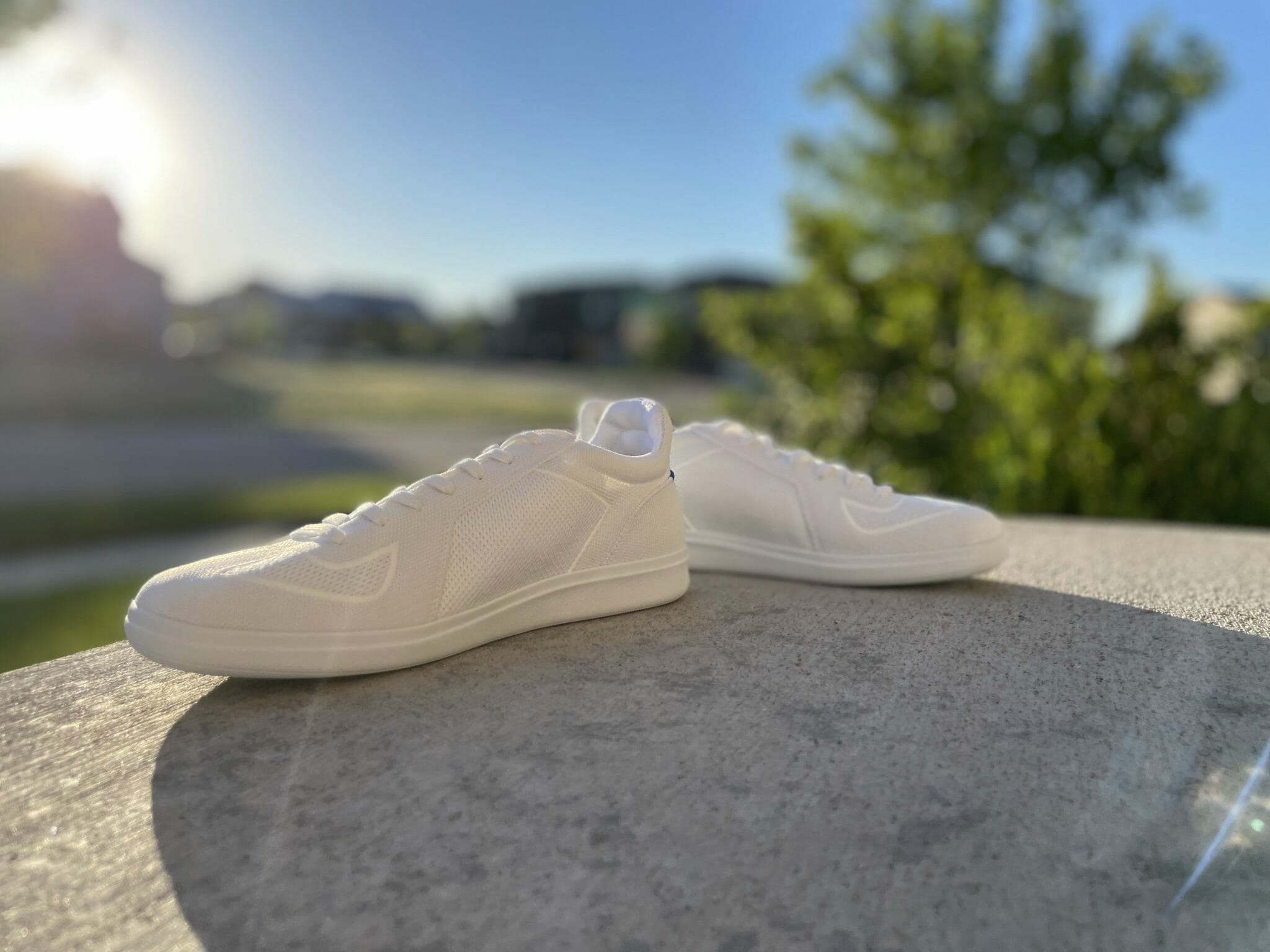 The RS01:
Raising the bar for white sneakers everywhere. An American classic made sustainably, this versatile style takes comfort, durability and style to a whole new level.

Rothy's
The Driving Loafer:
Comfort on and off the road. With its soft knit feel and dual-density insoles, our versatile slip-on in black is a timely upgrade to the nubby-soled, roadster-approved classic.

Rothy's
Is this all hype? Keep reading out honest Men's Rothy's review to find out!
Rothy's Men's Shoes Review: The first thing you'll notice – the weight
When I took the Rothy's Men's Shoes out of the box, the first thing I noticed was the weight… surprisingly.
My wife's Rothy's shoes were always super lightweight, so I was shocked at how heavy they felt.
They were so heavy, in fact, that I thought there were weights or something stuck inside the shoes. Yes – they were that heavy!
To me, weight = comfort. I know that isn't 100% true in reality, but that's the way I feel with many shoes. The lighter they are, the more free that I feel.
How Rothy's Men's Shoes Compare in Weight
For comparison, the Allbirds Tree Piper (read our full Allbirds Tree Piper Review) weigh only 226 grams (just under 8 ounces) – that's about half the weight of the Rothy's RS01.
Even my wife's Rothy's shoes are lighter than the RS01.
My wife's shoes only weigh about 265 grams – much lighter than the men's version of Rothy's.
The Extra Weight: Where does it come from?
It's not entirely clear where the added weight comes from. However, this shoes simply has more overall structure than shoes like Allbirds.
One area where the shoe is much thicker is the sole of the Rothy's Sneaker:
Rothy's Men Shoes: The Comfort
Overall, I thought these shoes were on par with the comfort of other shoes like Allbirds or Suavs (read our full Suavs Review).
The Rothy's Sneaker for Men did have some nice extra padding on the back heel, which was a really nice touch.
The insole also was made of a really nice, almost moleskin type texture that I really enjoyed. It was super comfortable!
Sizing: How do the Rothy's Men's Shoes fit?
I typically wear a size 9.5 or 10. In Allbirds, I wear a 10 and order these in a 10. They fit perfectly.
I like my shoes to be a little on the looser side, just an FYI – and the Rothy's Men's Shoes doesn't come in half sizes. But take their advice if you are between sizes: size up!
Other Rothy's: How does it compare?
As mentioned, my wife loves her Rothy's shoes. She loves them for many reasons that do bleed over to the Men's shoe.
Machine Washable
My wife loves that her Rothy's are machine washable. So are the Men's Rothy's Shoes! Even the white Rothy's are machine washable. That's perfect when you have two kiddos.
Sidebar: why do kids always step on your toes? Seriously?!
Sustainable Material
Just like Allbirds, Rothy's are made from sustainable materials. We love that at We Tried It! It's even better that these Men's Rothy's are made from the same recycled water bottles as the other Rothy's. Pretty cool!
Comfortable
I didn't think that the Men's Rothy's Sneakers were UN-comfortable, I just didn't feel they were AS COMFORTABLE as other shoes like Allbirds.
However, the RS01 Sneaker is simply a more substantial shoe with more to it, overall.
Style with… or without socks!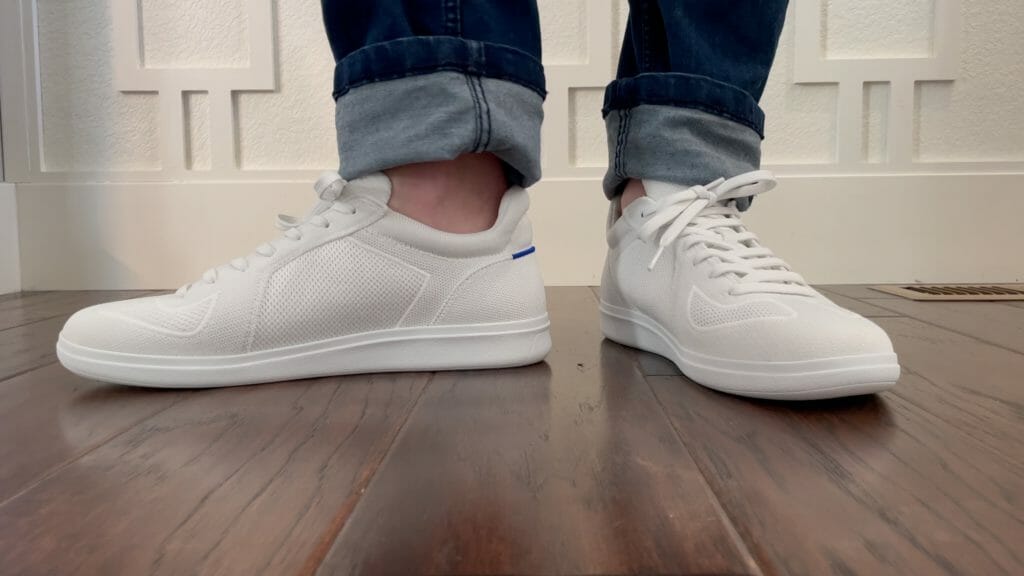 Like other Rothy's shoes, you can wear the Rothy's Men's Shoes with, or without socks. Seriously, if you have the choice (and aren't going to be hiking… why would you ever wear socks?.
These shoes are breathable and washable. This equals a big win for people that hate wearing socks (and the people around them that don't want to smell stinky feet).
Rothy's Men's Sneakers: What we don't like
We've harped on the weight a lot, but the other big thing we don't like is really simple: the price.
Granted, Rothy's makes an incredibly high-quality shoe. However, we simply don't feel like it's worth the additional price.
For example, the Allbirds Tree Piper is $95. The Rothy's RS01 Sneaker is $175.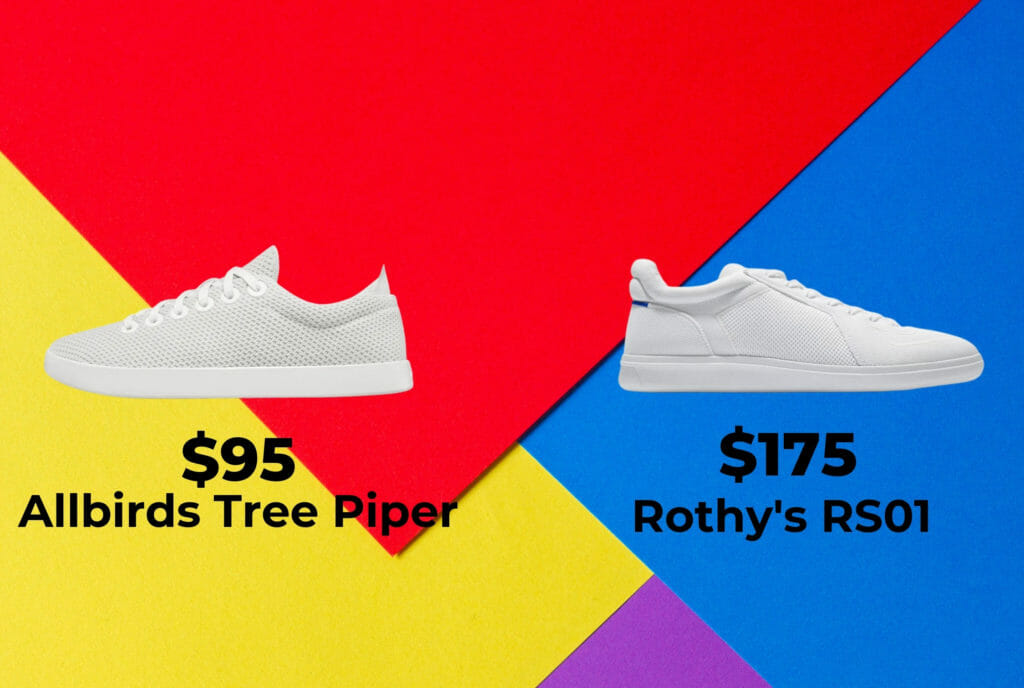 It's simply hard for me to justify the added price of the Rothy's Sneaker over something like the Allbirds. I do think the Rothy's sneaker is higher quality, however, $100 is about the most I want to spend on a pair of shoes like this.
You can, however, save some $$ by using our Rothy's Promo Code, too.
How to Style the Rothy's Men's Shoes
As the designer for the RS01 Rothy's Sneakers said, "White shoes never go out of style."
We totally agree! Here are some style you can try with the Rothy's Shoes for men:
Rothy's Men's Shoe Review: The Final Verdict
Men's Rothy's
RS01 Sneaker
🤷🏼‍♂️
These shoes are comfortable, but overall, a little too expensive and heavy for our taste.
The Rothy's Men's Sneakers are super comfortable, machine washable and made from sustainable materials. But they're almost twice as expensive as comparable shoes from brands like Allbirds and nearly twice as heavy. Unless you need a more substantial shoe with more support, pass on these guys – at least until their prices come down check out the Allbirds Tree Piper Shoes instead.
Read our honest Allbirds Tree Piper Review and Suavs Zilker Review for much cheaper – and lighter – shoes!