Aera vs Pura, Pura vs Aera, Pura vs Capri Blue Candles. Which is the best…which is actually cheaper? Here are the 8 topics you need to know about when comparing Aera vs. Pura.

Aera vs. Pura: What you need to know
The main difference between Pura and Aera comes down to price, coverage and scents. Pura is cheaper, Aera has more coverage and Pura has better scents. It's that simple.
In the great Pura vs. Aera debate, let me tell you a dirty little secret first. People, like us at We Tried It, get paid whenever you make a purchase from clicking a link on our website. It's true.
However, we're proud to only recommend products that we would spend our hard-earned dollar on.
So, if you look up Pura and only see great reviews or if you look up the Aera Smart diffuser and only see great reviews: be skeptical. Each one of those reviews is trying to convince you to click the link to buy the product. Buyer beware.
Pura Smart Diffuser vs. Aera Smart Diffuser – Quick Overview
| | Pura | Aera |
| --- | --- | --- |
| Diffuser Price | $44 | $200 |
| Fragrance Price | About $15 | About $50 |
| Fragrance Lasts | About 300 Hours | About 800 Hours |
| Coverage | "Up to 1,000 square feet" | "500 – 1,000 square feet" |
| Scents Available | Pura Brand + Name Brands like Capri Blue and Nest | Only Aera Brand Scents |
Pura vs. Aera: How did we decide?
There are a lot of reasons to look at both smart diffusers. Here is what we were looking for:
A way to reduce what we spend on candles every year.
Have a safer alternative to candles (aka no flame).
Do a better job spreading the scent across our (mostly) open floor plan.
If you had to boil it down, those are probably the most common reasons that people are looking for a smart diffuser like Pura or Aera. We'll come back to this three criteria shortly.
Aera vs. Pura – what we didn't think about before buying
Here's something that seemed small, but turned out to be a GIANT deal in the great battle of Pura vs Aera: the scents.
Obviously, the scent is the biggest reason you buy a diffuser or a candle, but we under-estimated how hard it is to create a great scent. With Pura, you can know EXACTLY what you are getting.
You know what Capri Blue Candles smell like or what Nest Candles smell like, so you know EXACTLY what Pura's scents smell like.
With Aera it was a bit different: you can read the descriptions on the website, but what exactly does "pink pepper," "cypress" or "bergamot" smell like? That's a much more difficult question.
Luckily, Aera has sample sprays you can check out to see if you really like the scent before you buy them. As you'll see, we REALLY recommend that you buy the sample sprays if you are considering buying the Aera Smart Diffuser.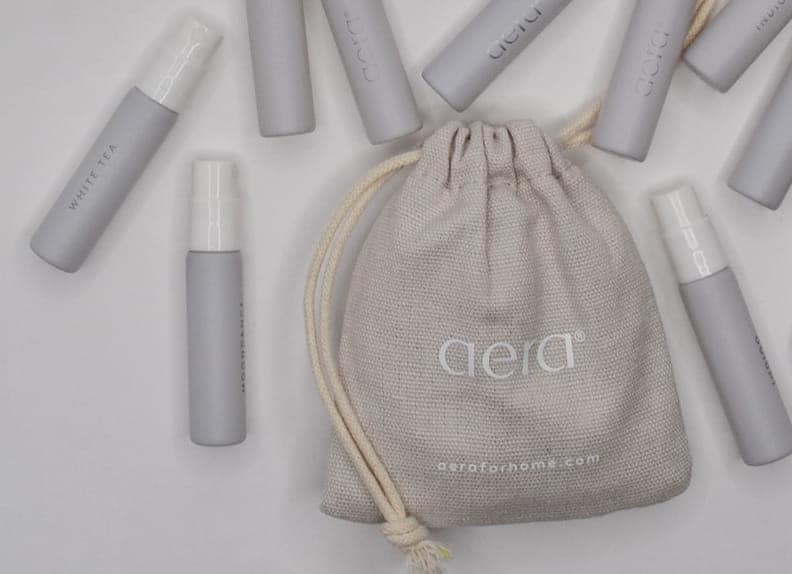 Pura vs Aera: Which is cheaper in the long run?
This was actually a big part of our decision. Pura is, obviously cheaper, to start. The device itself is $44 – but use our Pura Promo Code to save even more.
Aera is more expensive to start. The Diffuser is $200 for the Smart Version and $150 for the "touch" version (also, be sure to use our Aera Promo Code to save even more.
Aera says their fragrances last for up to 800 hours. So, for 1 fragrance and 800 hours, you are talking roughly $200 ($150 for the touch diffuser and around $50 for the fragrance).
Pura says that each fragrance lasts about 350 Hours. The Pura holds two fragrances, so you are talking roughly $75 for the Pura and two fragrances ($44 for the Pura and about $16 for each fragrance).
We found that Pura didn't not quite last 350 hours at a medium fragrance, especially in the dry Colorado Climate. So, let's round down and say 300 hours.
Aera = $200 for the first 800 Hours = about $.25/hour
Pura = $75 for the first 600 hours (2 x 300 hours – one for each fragrance) = about $.125/hour
However, that's when things get a little more interesting….
After there first scent fragrances are gone, it costs:
Pura: about $32 for the next 600 hours = About $.05 an hour
Aera: about $50 for the next 800 hours = About $.06 an hour
To put that into perspective, a Capri Blue 19 Ounce Candle is $30 and lasts about 85 hours = $0.35 an hour about 7 times more expensive than Pura or Aera!
Disclaimer: we weren't able to test Aera for the full 800 hours, as we'll describe more below
Winner: Pura
Aera or Pura: The Scents
As we mentioned above, we severely underestimated how much NOT knowing what a fragrance smelled like made an impact. It is a GIANT deal.
In short, if you like scents that smell more like candles, especially ones you already know and love: go with Pura.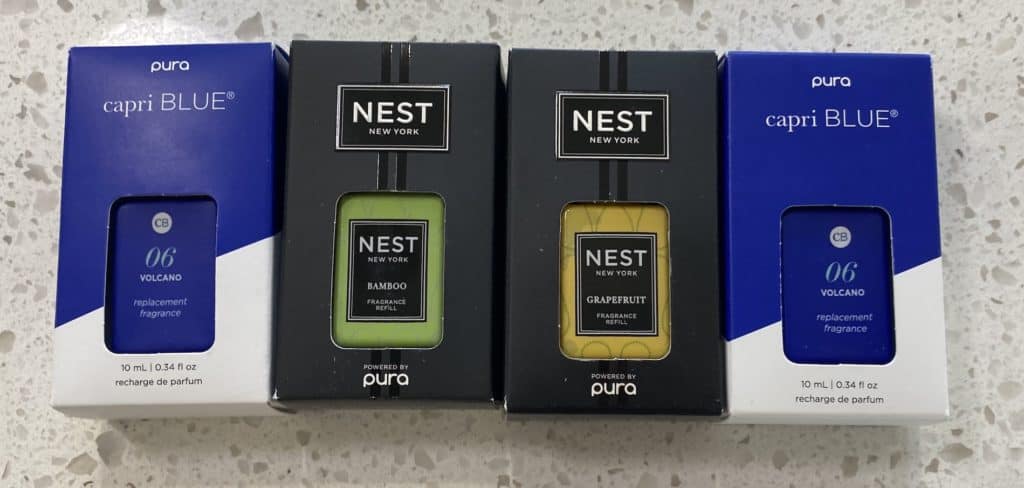 If you like VERY perfumey, floral scents: go with Aera. We've tried 15+ scents from Aera and the only one that isn't perfumey and floral is the vanilla scent.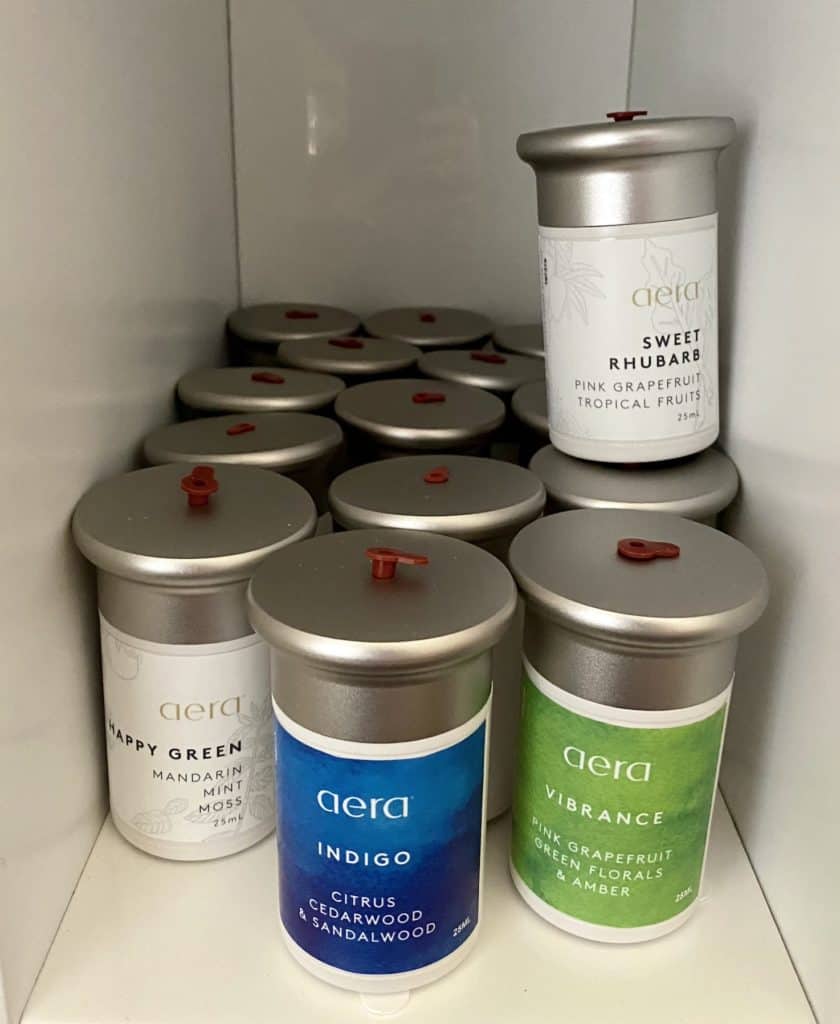 We kept thinking, whenever Aera came out with a new scent, that new scent could be the one that would change our minds. It never happened.
You buy the diffuser for the scents, that's pretty important. We never got to 800 hours with any scent because they were too floral and smelled too much like perfume.
Winner: Pura
Pura vs Aera: Overall Coverage
Partially because the Aera scents are more fragrant (in the perfume/floral way), we tended to smell the more in our mostly-open first floor. Our second floor opens up the the first floor and we occasionally would even smell the Aera on the second floor, too.
Aera says that it covers about 500-1,000 square feet, which is fairly accurate.
Pura says that is covers about 1,000 square feet, which is probably slightly generous.
One way that Aera "pushes" the scent out there almost a fan that you can hear. They call it "Microdroplet Technology" – "Aera's Microdroplet technology converts liquids to ultra-tiny droplets which are fifty times smaller than traditional aerosol droplets. They transition instantly to invisible aroma molecules which can fill a room in seconds with consistent scent."
The one downside to the technology is that you can hear it. We thought the device was broken until we reached out to customer support.
Winner: Aera
Aera vs Pura: Overall set up and operation
To be honest with you, both devices do a really good job here. They are both easy to connect to WiFi and have pretty good apps. Both apps could use a little finesse, but that's easy to do and we've seen updates on both apps since we've owned them.
Both the Pura and Aera can be operated via the app with custom schedules. Aera and Pura can be controlled via Alexa, but we didn't test it (the schedules work well for us).
The Pura does have a slight edge here as it also comes with a customizable LED light. The light can be tuned to any color and be on at certain times or when it is dark. We have it set to turn a cool blue color when it is dark, to use as a nightlight.
The Pura also allows two scents to alternate (which we recommend so you can smell them better when they change). The Aera only has one fragrance you can use at a time.
Winner: Pura
Pura vs Aera: The Final Verdict (and how we use BOTH in our home)
Pura is the clear winner here. The combination of superior scents and a cheaper price make this a no-brainer.
The only way we would recommend Aera over Pura is if you want a large aera to be filled with a stronger, more perfume-like smell. Ironically, that's exactly how we use Aera at our home.
While the Pura is in our kitchen, usually filled with Carpi Blue's Volcano and Havana Vanilla, the Aera is actually in our garage. A couple weeks ago, we had a party on a Saturday. Garbage comes on Friday. So, we had a super stinky garage.
We, actually, weren't using the Aera at the time due to us not liking the scents. So, I grabbed it and put it in the garage. Aera now has Home Hygiene scents that are perfect at getting rid of odors. We put it in our garage and a couple of hours later – no bad smell (just the scent of Orange Peel and Eucalyptus). While it is an expensive garage diffuser, we'll be keeping the Aera in the garage to keep the smell away.
However, our kitchen is the heart of the home is and will be where our Pura (and the Capri Blue Volcano scents) live.
Our recommendation: Pura Smart Diffuser

Be sure to use our Pura Promo Code to save even more the Pura Difuser.
If you're curious about either device, check out our full Pura Diffuser Review or the Aera Smart Diffuser Review. What do you think about our Pura vs Aera comparison? Is it fair? Would you pick a different winner with Pura vs Aera?