If you're looking for the perfect Chelsea Boot look no further. We had the chance to try the Amberjack Original (read our Amberjack Original Review) and fell in love. Keep reading our honest Amberjack Chelsea Boots Review to find out what makes this pair of boots one of our favorites.
Our new favorite boots
Meet the Amberjack Chelsea Boot
Amberjack is quickly becoming our new favorite dress shoe company. From the Original Dress Shoes (which we think is the most comfortable dress shoes on the market now) we were incredibly excited to try this new style.
The Amberjack Chelsea Boot has a classic look that can be dressed up or down. The leather is soft and comfortable yet durable. It's packed with technology, although you'd never know it looking at it – and that's what makes Amberjack one of our new favorite shoe brands.
Why You Should Trust Us
We've tried all the major shoe brands and aren't afraid to give you our honest opinion on any shoe that comes across our way. For example, check out our Birchbury Shoes Review – we've tried hundreds of different shoes to give you our honest opinion.
Our goal is always to find high quality, comfortable products that stand our test: not the most expensive (or the cheapest), but the best value for your money.
What does that mean? High-quality products that will last a long time and are easy to wear and maintain.
Why we love Amberjack so much

I'll admit it. I was one of the people that fell in love with Cole Haan's Zerogrand line of shoes – well technically, called ZER0GRAND (with the O being a Zero… lame I know).
But their shoes look like they came from Back to the Future.
We like clothes and shoes that look normal, but you know they aren't because you're wearing them. That's the same thing with Mizzen + Main (read our full Mizzen + Main Review) and even lululemon's ABC Pants (read our full ABC Pant Review, too). These shoes are packed with features but you're the only one that knows it.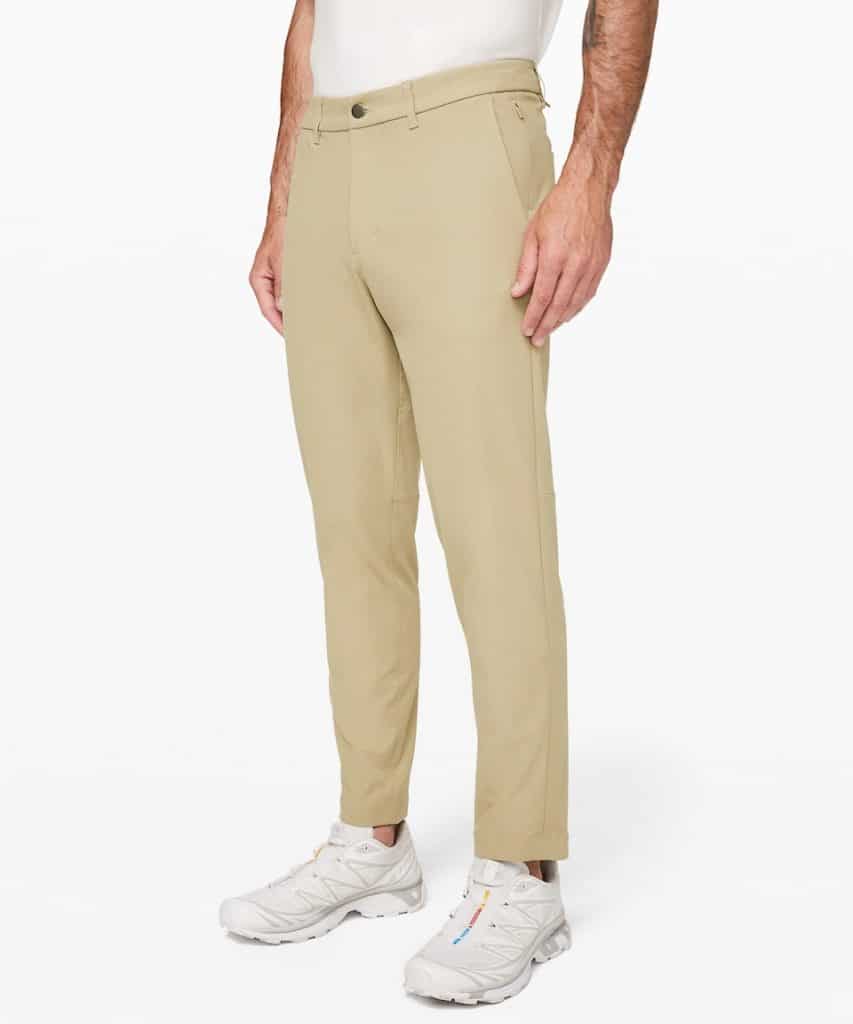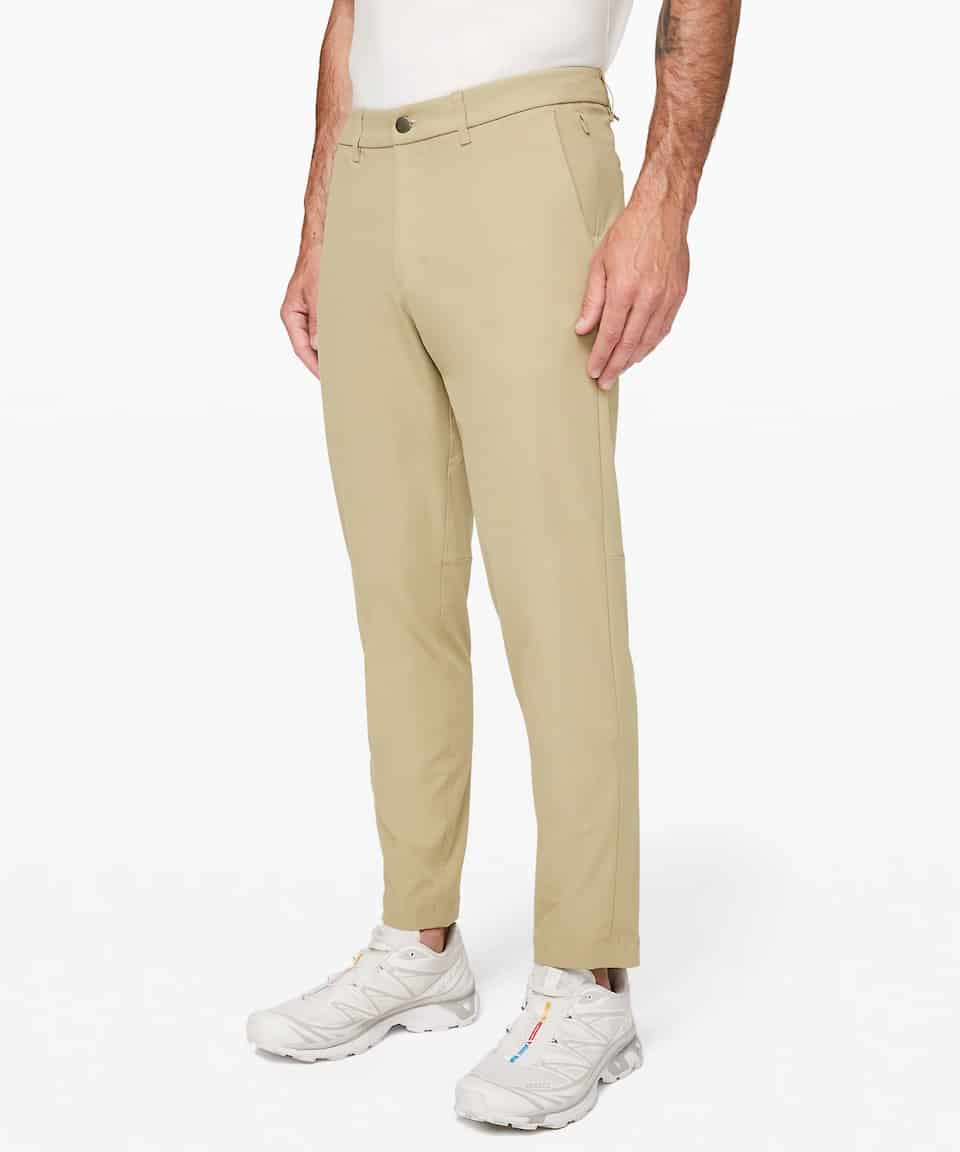 That's exactly the way we like to keep it.
Another, more hearty boot to check out: is the Lem's Boulder Boot (in our Lem's Boot Review). This is more designed for hiking and the outdoors, but a great boot, too!
Amberjack Chelsea Review: The Look
First things first: this is a simply beautiful shoe.
We got the Honey version and it's a piece of artwork – as far as shoes goes. The toe has a slight variation of color that simply screams class. We love the way this shoe looks and we get compliments on them everywhere we go.
The shoe comes in a wide variety of colors from classic and traditional honey to honey and cream (a slight variation with a lighter sole) to Chestnut (a nice dark color) and a black and white version (called Onyx).
The Amberjack Chelsea also comes in several suede options, which are simply beautiful, too.
We tend to stick to leather over suede. However, if you're looking for a beautiful boot the suede versions are just as stunning.
Amberjack Chelsea Review: The Technology
Once again, we love the technology in these boots because you would never know it's there. Your feet and make them feel like they're walking on clouds.
The Soles
Amberjack Chelsea boots are made with new, proprietary materials that deliver surprisingly sweet comfort, all day long.
The Insole
They've got fancy foam that uses heat to form to your foot. True story: the first time you wear these shoes, they won't be as comfortable as the second or third time. That's because the heat from your feet helps mold the insole to your exact foot shape.
It's like memory foam but more durable so it'll stay supportive way longer. Plus, they have a special cushioned insole that provides additional support and helps to reduce foot fatigue.
The Outsole
Step into a pair of Amberjacks and feel the difference. Their proprietary TPU outsole uses high-performance athletic technology in the front, for flexibility, and strong hiking boot material in the back (heel), for support. They're comfortable for all-day wear.
They've literally thought of it all: from heel to toe.
The outsole is made of a rubber that is designed to be both slip resistant and durable. We've worn these boots in the rain and through some light
Inside the Chelsea
If you're looking for a boot that's both comfortable and stylish, you can't go wrong with the Amberjack Chelsea. The soft sheepskin lining will hug your feet, while the laser-perforated detailing allows for airflow.
Amberjack says, "You'll basically not want to wear socks!" However, we do recommend it in this case! Here are the best wool socks we've tested.
Plus, the Chelsea silhouette is effortlessly chic. Whether you're running errands or headed to a meeting, the Amberjack is sure to make a statement.
Amberjack Chelsea Review: The Fit
The Amberjack Chelsea fits true to size.
My "True" size is about a 9.5. I do like my shoes to be a little on the looser side (just don't like my feet feeling constrained), so I sized up to a size 10 with the Amberjack Chelsea.
We said the same thing in our other Amberjack Shoes Review, too.
How Lightweight are they?
The first thing you'll notice when you put these shoes on is how light they are. It's really incredible. You feel like you're not wearing anything at all – it's that light. And yet, they're still durable enough to last in almost any situation.
How heavy are the Chelsea Boots?
The Chelsea Boots clock in at about 516 Grams. How heavy is that? It's about the weight of 2 medium eggs. To put that into perspective, it's about the same weight as the Wolf + Shepherd Crossover Shoe, the Wolf and Shepherd shoe is a couple of grams heavier. Check out our full Wolf & Shepherd Review, too.
Curious about how heavy a gram is – it's about the weight of 1 single paper clip. Now you know a little more about how light the Amberjack Chelsea really is!
By the way, we are totally in love with the new Wolf + Shepherd Loafer!
Amberjack Chelsea: The Quality
OK, real talk here.
One of the reasons I started to despise Zerogrand was that their quality decreased but their price didn't. They've gone from being a great pair of shoes to the Brooks Brothers of footwear. To put it another way, you're an idiot if you ever pay full price for anything at Brooks Brothers (buy 1 shirt, get 87 for free).
Amberjack: New Player but game changer
Amberjack is a new player in the shoe game, but they're already making waves with their high-quality, fairly-cost offerings. They aren't the cheapest, but they definitely aren't anywhere close to the most expensive, either.
The Chelsea boot is Amberjack's flagship product, and it's easy to see why. These stylish boots are made with full-grain leather, perforated sheepskin lining, and a custom TPU outsole, yet they still manage to come in at a fraction of the cost of similar shoes on the market.
Amberjack has vertically integrated with one of the world's best tanneries to bring you the best quality leather at an unbeatable price. Leather makes all the difference in leather shoes – to be super obvious. The craftsmanship of the leather is the next most important step. Poor leather + poor craftsmanship = poor shoes.
The good news is this new footwear brand isn't skimping on leather or craftsmanship.
This means they can control the quality from beginning to end, ensuring every shoe is perfect before it leaves the factory. It also drastically cuts down on costs because of how expensive materials are these days! Amberjack Chelsea Boots are made with premium A-Grade hides from American steer, so you know you're getting a high-quality product that will last.
A couple of winters ago, I only wore my Zerogrand Chukka, now these are my go-to boot. They are more comfortable and higher quality.
How to Style the Amberjack Chelsea Boot
Amberjack Chelsea Boots are not only some of the most comfortable shoes you will ever wear, but they also look great.
No one else will know that you are rocking a dual density outsole or something that has as much style and comfort as you do.
They won't know you have one of the world's best shoes on, with a super soft buckskin lining.
They won't know you've found a comfortable dress boot.
Amberjack Chelsea Boots are the perfect combination of style and comfort and you will be able to wear them all day without having to worry about your feet being sore or uncomfortable. You can finally have the best of both worlds with Amberjack Chelsea Boots.
I'd say these are a bit different than the Amberjack Original (ready our Amberjack Original Review) these look like a great pair of dress shoes and pair great with a pair of Chinos – something like the Everlane Performance Chinos, Myles Tour Pants or Lululemon ABC Pants.
I'd be more likely to wear them with something like Jeans and a long sleeve dress shirt, personally. Mizzen + Main makes our best performance dress shirt (and read our full Mizzen + Main Review, too).
The Chelsea Boot is just a little more substantial. I don't know if I'd ever where it with short sleeves or a polo, it just wouldn't go. Like a winter snow jacket and shorts, it just wouldn't make any sense.
Amberjack Chelsea Boot: The final verdict
Our new favorite boots
The bottom line: If you're looking for a comfortable, stylish boot that will take you from the office to the weekend, we highly recommend the Amberjack Chelsea. With a variety of colors and sizes to choose from, there's sure to be a perfect match for you.
Are the Amberjack Shoes worth the extra price? You bet your boots they are. That's why we are proud to give Amberjack Shoes our coveted We Tried It seal of approval.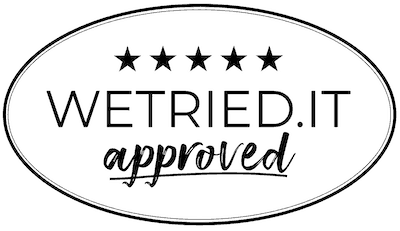 Amberjack Chelsea Boots are the perfect footwear for both style and comfort. These boots are made with high-quality materials and are designed specifically for Amberjack's signature style.
The Chelsea boot is a versatile style that can be worn with any outfit, and the Amberjack team has worked hard to make sure that their boots are comfortable enough to be worn all day long. With a variety of sizes and colors available, Amberjack Chelsea Boots are the perfect choice for any fashion-savvy individual who values comfort and style.