Wolf and Shepherd Review: this one is interesting for a lot of different reasons. I love testing out high-tech dress shoes for some reason, but when my wife saw these shoes, she asked, "How many high-tech brown shoes can different companies make?" And there's some truth to that.
There are a lot of dress shoes meet high-tech sneaker companies out there.
Dress shoes that feel like sneakers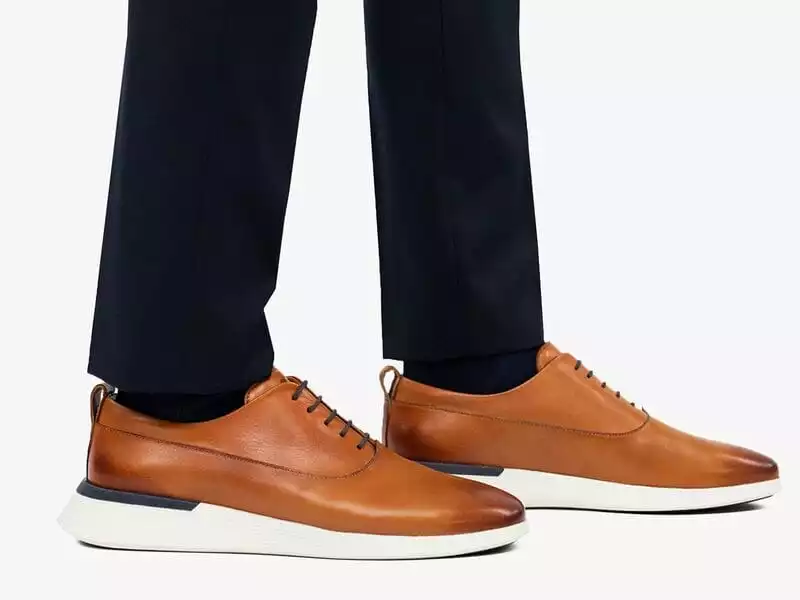 It, of course, all started with Cole Haan Zerogrand (read our Cole Haan Zerogrand Review). Then, you started seeing other brands come to market with similar high-tech dress shoes. Most recently, we tried Amberjack (see our Amberjack Review).
We had the chance to try out Wolf + Shepard and compare it to some of these other brands. Where does it stand in the crowd (yes, pun very intended here)? Keep reading our honest Wolf & Shepherd Review to find out.
The Wolf and Shepherd Story
They say, "Men's dress shoe brands have always favored style over comfort – until now."
Wolf & Shepherd was founded on a basic concept: to provide hard-working professionals with shoes that keep up with them. Their footwear aims to do as much as you do – day in and day out, using athletic innovations combined with classic looks.
Founded by former Adidas and New Balance designer Justin Schneider and run by him and his wife. We love that the founders of Wolf + Shepherd are 2 parents with young kids, just like us.
There are not some people that can't relate to our desire to get the best products for our hard-earned dollar – and we don't have time to do crazy things like dry-cleaning our clothes (see our best Dress Shirts as a good example!).
Since starting the company, Wolf & Shepherd has done some pretty amazing things, like break the world record for running a marathon in dress shoes. Sure, it's a marketing gimmick, but you have to love a brand that isn't afraid of new things in the footwear industry.
The unique style and features of these dress shoes meet sneakers has attracted lots of buzz from Business Insider, GQ, and many more.
What we reviewed: Wolf and Shepherd Crossover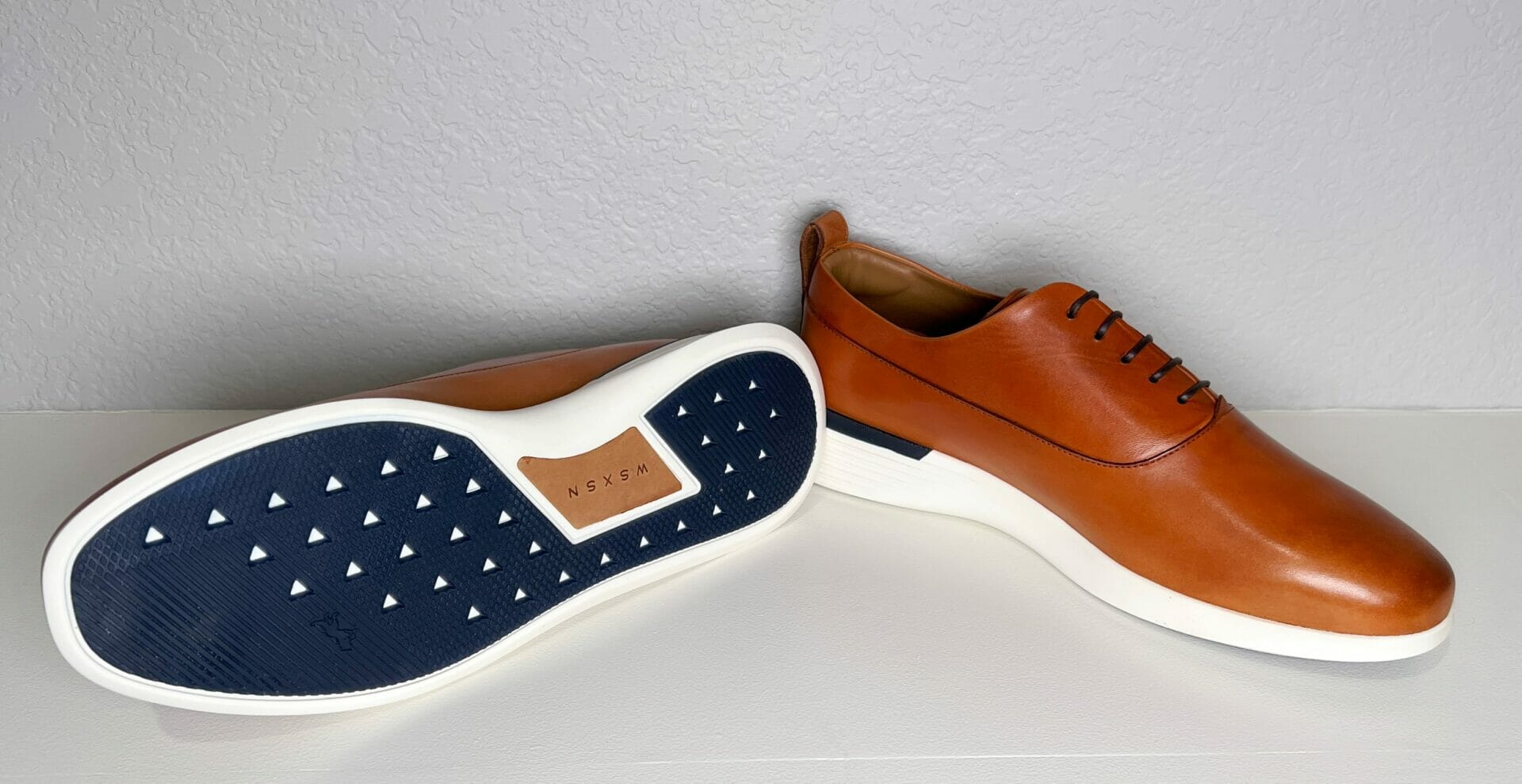 It sounds like the setup to a joke: What happens when you cross a famous NBA superstar and an upstart shoe company? The correct answer is The Wolf and Shepherd Crossover.
New footwear startups, in particular, tend to be a bit hyperbolic, especially in their descriptions.
Here's are the claims Wolf & Shepherd make.
What they say about the Crossover
The Crossover is a Steve Nash creation that comes with full-grain Italian leather and an athletic, agile sole. This hybrid dress shoe navigates both business and casual environments — especially the space in between — thanks to its cross-functional design.
Wolf & Shepherd's newest dress shoe, the Crossover is a Steve Nash creation that comes with full-grain Italian leather and an athletic sole. This hybrid footwear navigates both business environments as well as casual spaces thanks to its cross-functional design. It features lightweight construction combined with a shock-absorbing cushion for ultimate comfort.
This means it's not only equipped for your weekly 9 am meeting but also after-hours drinks on Friday evening.
What we think about The Crossover
There are a lot of great things to like about the Crossover. It's a good-looking shoe (not our favorite looking shoe… but a good-looking shoe overall.
The only thing we didn't like about the way the Crossover looked was the sole was a little thick for our preference. Once again, that's a personal opinion and nothing more!
It's also extremely comfortable. I'd put them on par with the Amberjack Original.
A magic feature: memory foam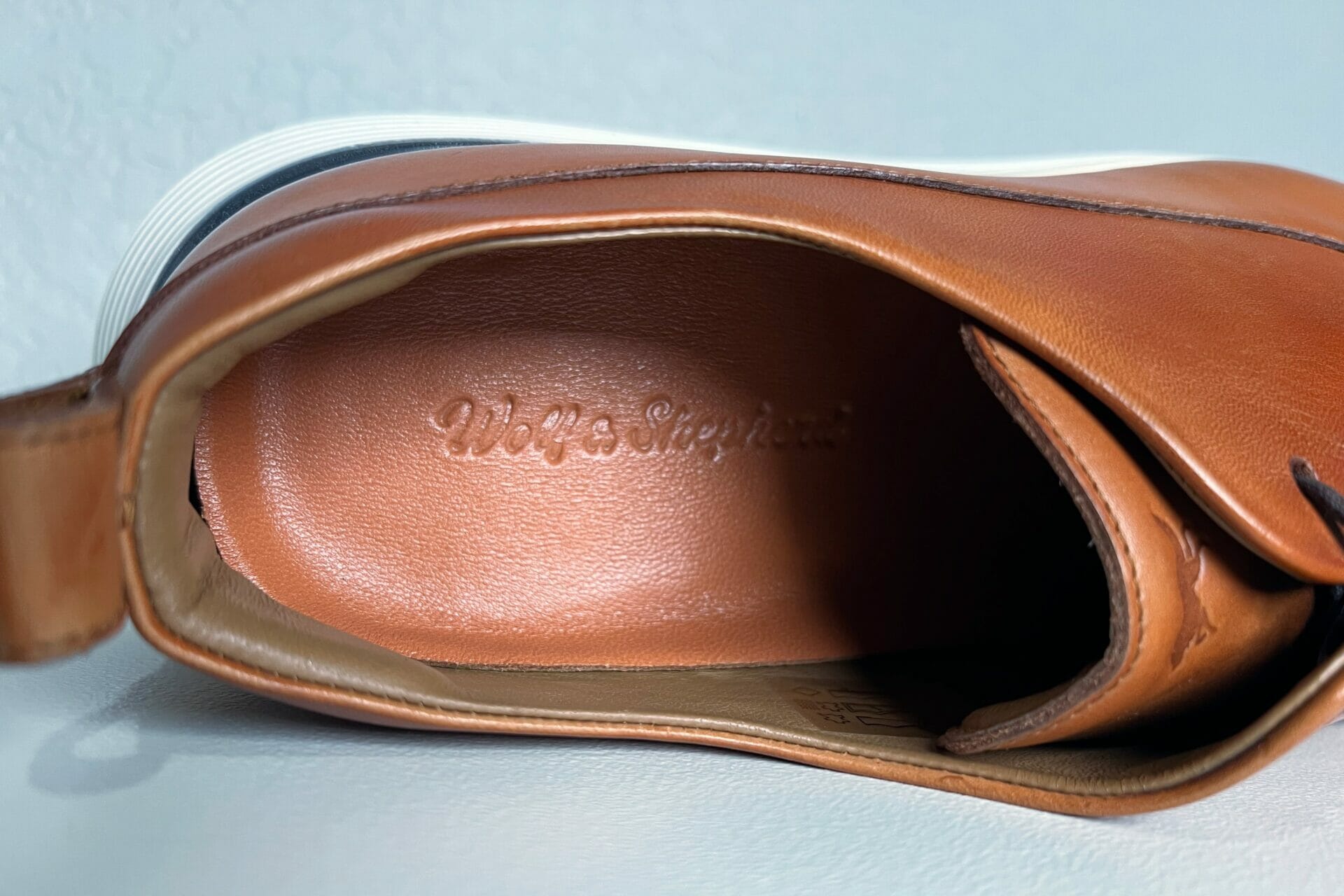 I had no idea that something that I think of as a material I sleep on (memory foam) could be perfect for my feet. But the memory foam featured in these shoes is a bit different: it doesn't magically expand after you take your feet out – it magically forms around your feet.
Memory Foam makes the shoes 100x more comfortable than shoes that don't have this feature. Over the first couple of wears, the footbed literally starts to form to your feet.
Honestly, the very first time you wear this shoe, it won't be nearly as comfortable as the 2nd or 3rd time you wear this shoe. That's because it is molding to your feet (the heat + pressure help form the perfect footbed for your unique feet).
So, the first time you wear them, they aren't customized for your feet. But after that, they fit like a glove.
If you need to adjust sizing a bit, just snag one of their Wide or Narrow footbeds. Wolf & Shepherd's proprietary footbeds can also be taken out and replaced when they wear down. That's a pretty cool feature I haven't seen anywhere else before.
Bonus: they are lined with sheepskin lining – that makes your feet happier than any other sneakers we've ever tested, at least in my personal experience.
The weight
I wish these shoes were slightly lighter weight. Clocking in 519 grams, or about 18 ounces, they are slightly heavier than some similar shoes like Amberjack Dress Shoes but much heavier than Cole Haan Zerogrand Dress Shoes.
If you are jumping right from Zerogrand to Wolf & Shepherd, you will be shocked at how heavy they seem. A couple of ounces more doesn't seem like a lot, but one thing you don't hear much about is the declining quality and durability of Cole Haan Zerogrand.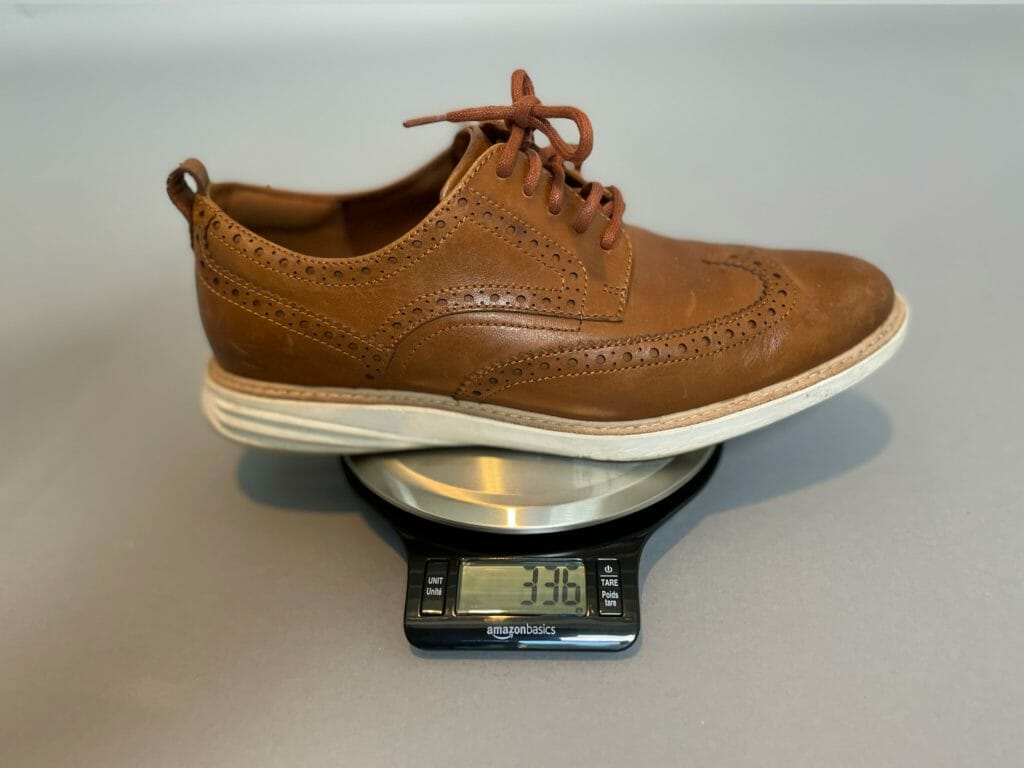 A higher-quality shoe is going to be heavier 99 out of 100 times than a lower-quality shoe. You just need to find the perfect balance between comfort, looks, and quality.
For example, Allbirds, one of our favorite casual shoes. They are much lighter than any other shoes we own, but they aren't very dressy or super attractive. However, they are the most comfortable shoes we own.
As the old adage goes, you can have cheap, fast or good. Pick two. With shoes, it's similar.
It's tough to have shoes that are dressy, comfortable, lightweight, AND made well. The only part that Wolf + Shepard misses here with their styles is being super lightweight.
They are still super comfortable, don't get me wrong. They just don't feel 100% like sneakers.
The Leather
I really liked the premium Italian leather in these shoes. These are a fancy pair of shoes, especially next to Cole Haan Zerogrands.
This pair of Crossovers has a unique color and finish variation that are natural and occur when their artisans hand-finish each product.
I think Wolf & Shepherd nailed the hybrid between traditional dress shoes and casual shoes by using full-grain leather. The best dress shoe uppers almost always use full-grain leather, if you want to dive deep into some serious conversations about the benefits of full grain leather, check out this reddit post.
The leather on Wolf & Shepherd shoes is some of the best I've seen. You can just feel the difference in quality over their competitors.
One thing to note: the color and finish variation on Wolf & Shepherd shoes are natural and occur when their artisans hand-finish each product. This makes each shoe unique, so you may see slight differences in color and finish from what is pictured on their website.
I am curious about how the leather will age over time, especially with its "hombre" like design. It's not like sneakers, where the sneakers are 1 solid color – or two solid colors.
The variation looks great, but I don't know how it will age.
Leather care for Wolf and Shepherd
I was curious about how they recommended you care for these shoes, especially with the two tones on these shoes. Here's what they have to say…
We recommend using Wolf & Shepherd shoe creams and waxes on our shoes for the best shoe care results! They are perfectly color matched and designed for our leathers to keep your shoes healthy and increase the longevity of wear. Please note: Damage from using shoe care items from other brands will void your warranty. We will not replace or repair damage from using other brands' shoe care products.
So, I went to go check out their leather-care kit. It's $125! Yikes! I was super shocked it was that expensive. I'm sure that it's incredibly high quality, but dang. That's almost another pair of shoes.
Arch Support
I really don't have any issues with Arch Support and I don't need added arch support. I found the arch support to be adequate, especially with the memory foam. As I wore the Crossover, the sole starts to form to your foot – giving you exactly the arch support you need. All that while still looking stylish and not like old folks shoes.
Other Wolf & Shepard Styles
There are some other great styles, ranging from leather boots to Swiftknit Derby (think knit meets dress shoes that you'd rock in the summer).
SwiftKnit Derby
The SwiftKnit Derby shoes are designed with a single thread of recycled polyester – that's pretty incredible. I can see myself wearing these in the summer, without socks, but I probably would wear the cross overs WITH socks, if you are wondering.
The SwiftKnit Derby line is designed to be dressed up or down. They can be worn with shorts, jeans or even chinos. I like how versatile this particular pair of shoes are.
CrossOver Hiker Boots
When you think of these books, consider aprés ski: a unique sense of relief only appreciated after a long day shredding. Their Winterized Crossover Hiker Boots were created to convey that comfort in every stride. It's a snow boot with both winter and hiking specifications that performs best on your toughest days.
Wolf & Shepherd says they go well with a tailored suit, but I wouldn't do that. I'd pair these with a nice pair of jeans and a Mizzen + Main Flannel.
CrossOver Loafers
Our Top Wolf and Shepherd Style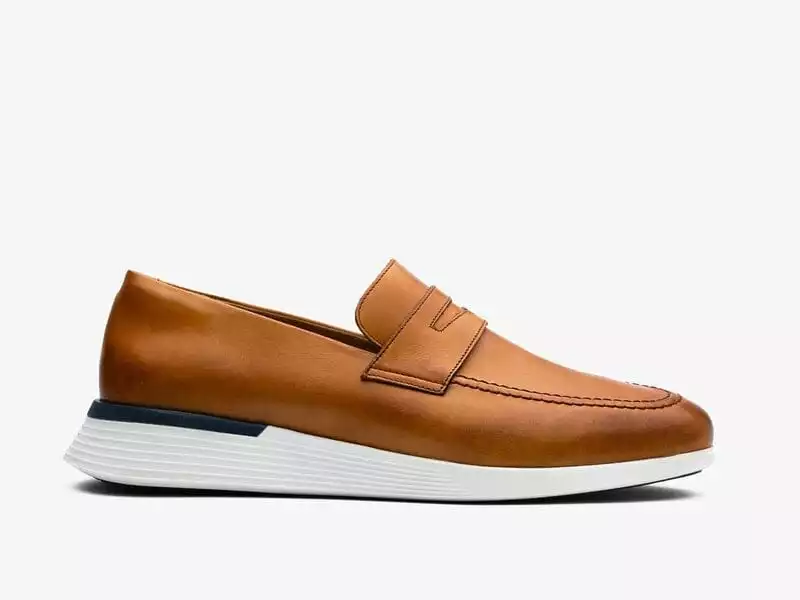 They also offer loafers (we just got them and they are AWESOME!), these shoes are basically the CrossOver Longwing in a more casual style. These look better for walking, slipping on and off, and forgetting the laces.
Is this the Gronk shoe?
You bet it is. This is the "Gronk Shoe" that he wears (off the field, obviously).
Overall, this brand has been making a pretty big splash in the footwear industry, attracting names like the Gronk (yes, that Gronk) and Steve Nash.
Wolf + Shepard's shoes have attracted big names, and for a good reason: they are the go to shoe for countless athletes. While Reddit still obsesses over brands like Allen Edmonds, I just can't get myself excited to try what appears to be a stuffy shoe brand. I'm sorry I don't like the Allen Edmonds Dress Shoes. I just don't.
I think a lot of people are tired of the casual sneakers look and want something a little fancier these days.
Wolf and Shepherd Review: Final Verdict
Great looking, high quality shoes.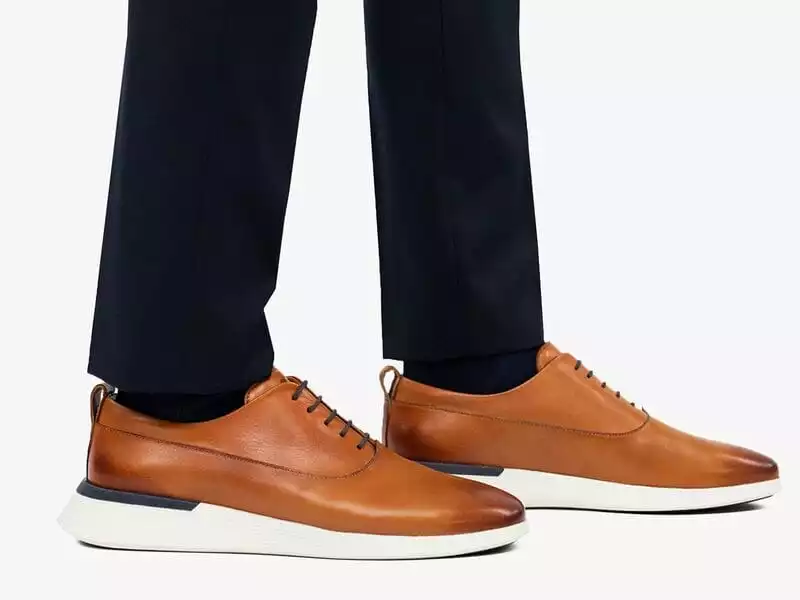 We think Wolf and Shepherd's shoes are great for people who are looking for a good-looking hybrid shoe that is also extremely comfortable.
Wolf and Shepherd Shoes are a high-quality, hybrid dress shoe that is perfect for anyone looking for an extremely comfortable shoe with a stylish look. Wolf and Shepherd shoes have been making a big splash in the footwear industry, attracting names like the Gronk and Steve Nash. While Reddit still obsesses over brands like Allen Edmonds, Wolf and Shepherd offers a unique alternative that I think many people will start to gravitate towards. Their shoes are designed with athletes in mind, so you know they are going to be comfortable no matter what!
Amberjack vs. Wolf + Shepherd
Our Top Dress Shoe Pick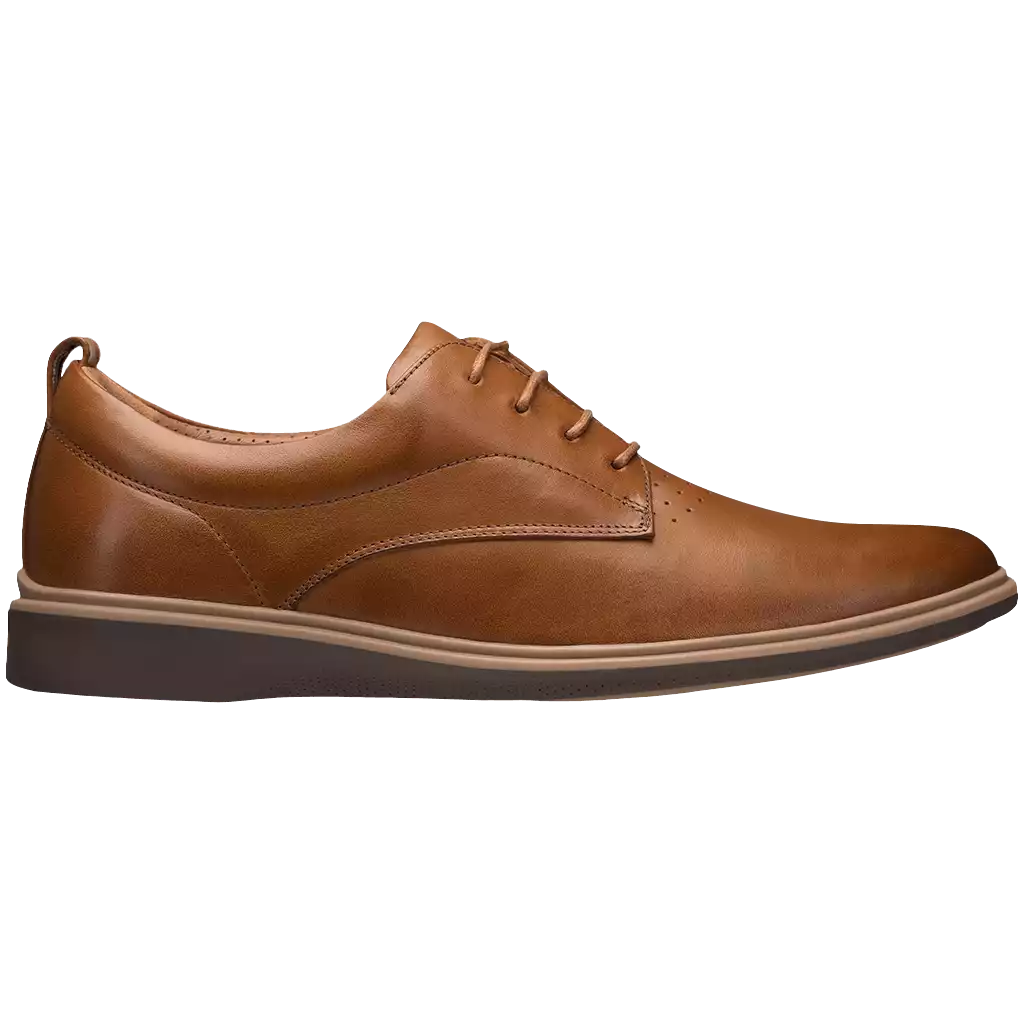 If it came between Amberjack vs. Wolf & Shepherd, I would probably pick Amberjack, but mostly because of style. The weight difference and comfort are about the same. Amberjack costs slightly less. I think Amberjack's might be easier to up-keep, just because of the single tone.
Wolf & Shepherd vs. Cole Haan Zerogrand
A Decent Pick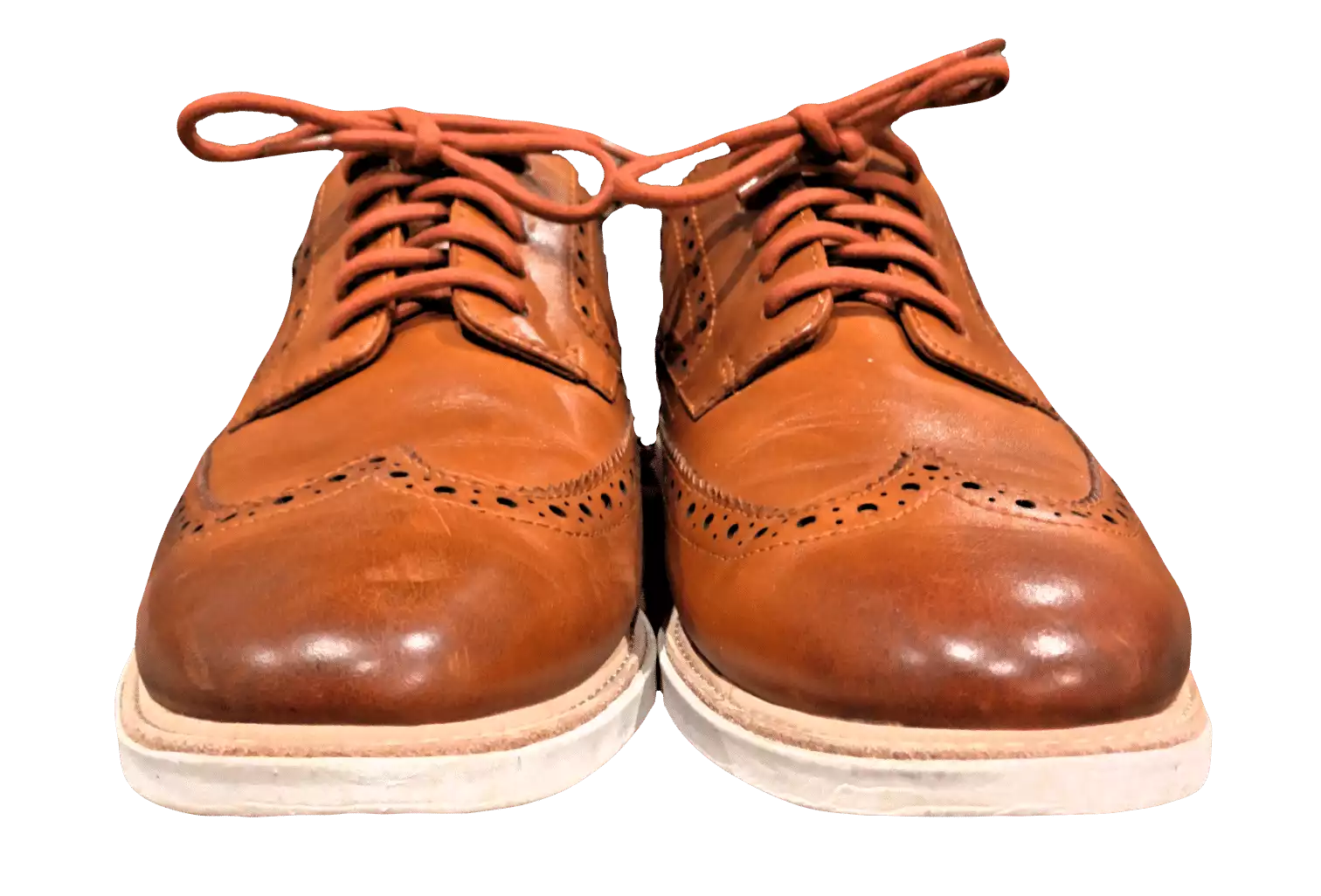 Cole Haan Zerogrand
Pros:
Incredibly lightweight

Super Comfortable

Decently Priced
Cons:
Has gone down-market

Quality not as high as it used to be

Always on sale

Better-made shoes available
Buy Now
We might earn a commission if you make a purchase, at no additional cost to you.
If it came between Wolf & Shepherd vs. Cole Haan Zerogrand, it would all come down to price. Wolf & Shepherd are obviously higher quality shoes that will last a long time. But if you are looking to spend less on shoes, you can always look at Zerogrand.