If you're looking for the perfect pair of dress shoes, look no further. The Amberjack Original is the Best Dress Shoes You'll Ever Own. Period.
Our #1 Dress Shoe Pick
Amberjack Shoes
You don't have to trade comfort for style 
Quality at a reasonable price point 
Full-grain leather and sheepskin lining make these high-quality shoes 
2-3x cheaper than similar products on the market
Incredibly well-made
Buy Now
We might earn a commission if you make a purchase, at no additional cost to you.
This isn't just any shoe though; it's made with high-quality materials and designed specifically for comfort so you can wear them all day long without having to worry about foot pain or discomfort!

Whether you're hanging out with friends on the weekend or trekking across town for work, these lightweight leather shoes are specially designed to keep up with your busy lifestyle while still maintaining their stylish appeal!
The Full Amberjack Shoe Review
Amberjack Shoe Review: Why Amberjack?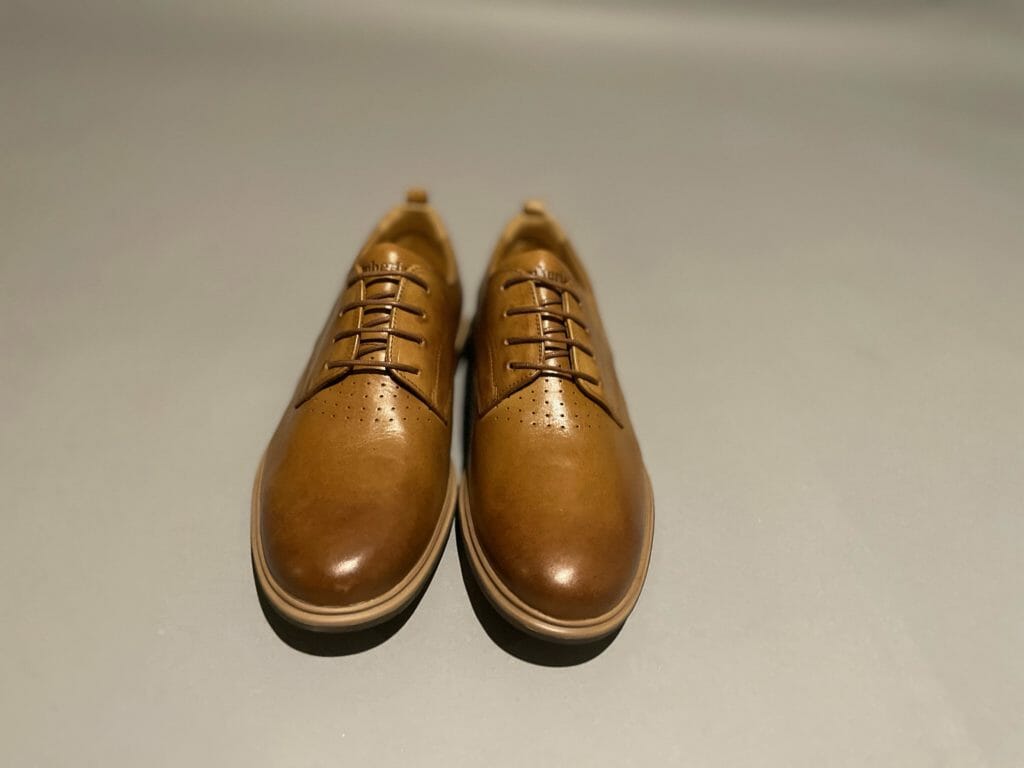 Most shoes are designed for either style or comfort, but not both.
Amberjack believes it's possible to design a shoe that is both stylish and comfortable. We think you should be able to wear your favorite pair of shoes all day without sacrificing comfort. 
The Amberjack Original was created by shoes designers from some of the top dress shoe brands: Cole Haan and Allen Edmonds. They decided to create a new kind of shoe that was comfortable enough for daily use, but also looked good with any outfit!
Meet the Amberjack Original Shoe.
In this review, we'll not only talk about the Amberjack Original, but we'll also talk about the Chelsea Boot (read our full Amberjack Chelsea Boot Review) and the new Amberjack Loafer.
Amberjack Shoes: They look like a great pair of dress shoes but feel like sneakers
Amberjack Shoe soles are made with new, proprietary materials that deliver surprisingly sweet comfort, all day long. Their A-grade full-grain leather comes from one of the best tanneries in the world, who also happen to be a business partner of Amberjack; that means you get incredible quality at a price you won't find anywhere else.
Proprietary technology is great. But what does that mean for you?
It means that this is a shoe you can wear all day without discomfort. It means that these shoes will maintain their shape and luster, for years to come.
And it also means something else: when we finally tell the world about our proprietary technology, your Amberjack originals won't just be among the best dress shoes out there, they'll be one of only two pairs in existence with this advanced material at its core!
If you're looking for an incredible pair of high-quality dress shoes, look no further – these are it. The Original's got everything you need to stand out from the crowd while keeping up on comfort levels too. You don't have to compromise style, quality, or function anymore with Amberjack Shoes!
Want a dress boot that's even better? See our full Amberjack Chelsea Boot Review.
Vertically Sourced A-Grade Full Grain Leather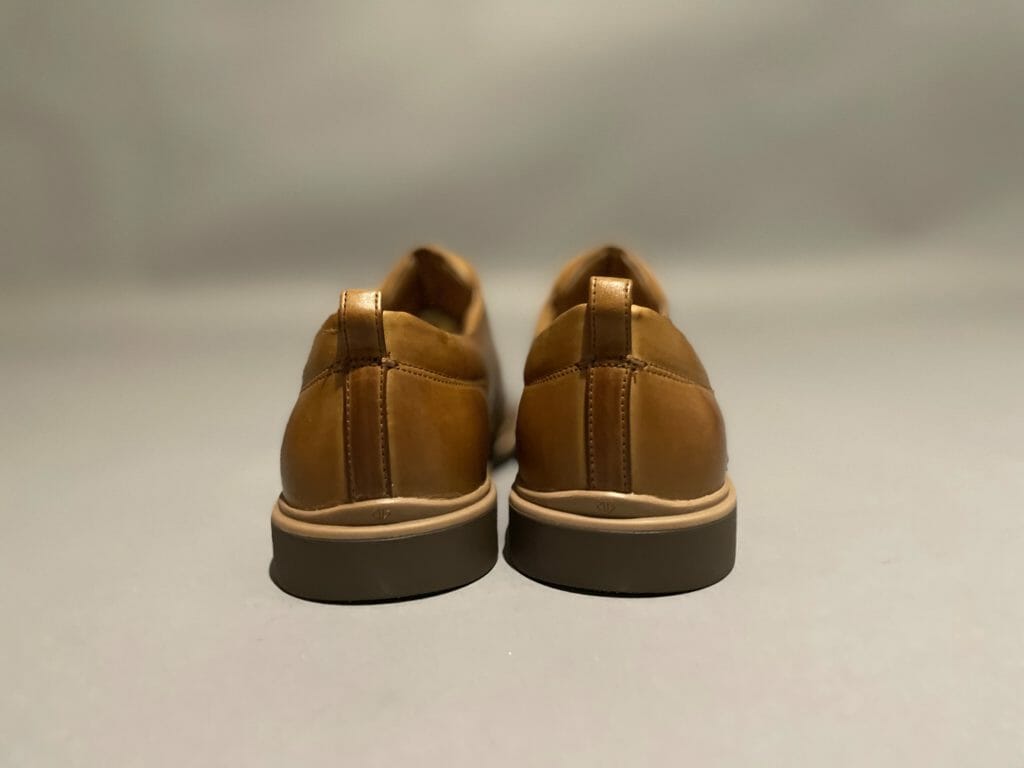 Amberjack has vertically integrated with one of the world's leading tanneries, so they use premium A-Grade hides from American steer and offer it to you at an unbeatable price.
That may sound nice, but what does vertically integrated mean? Vertically integrated means they can control the quality from beginning to end, ensuring every shoe is perfect before it leaves our factory. It also drastically cuts down on costs because of how expensive materials are these days!
In addition, Amberjack has vertically integrated with one of Portugal's top footwear factories so they're able to make high-quality shoes at an unbeatable price without sacrificing quality or comfortability. This proprietary technology and the material combo make for a unique design you won't find anywhere else out there.
Heat-activated Arch Support
Amberjack shoes use a fancy foam that uses heat to mold itself as you wear them. It's like memory foam but more durable so it'll stay supportive for much longer.
I felt this first-hand when I wore my Amberjack shoes all over the massive Gaylord Rockies. It was subtle, but I could feel the shoes molding after I wore them around the massive resort. I tend to be a little heavier footed on my left foot and I could even notice a slight difference in the two. Crazy!
Dual-Density Outsole
Amberjack's proprietary TPU outsole is a high-performance athletic technology in the front for flexibility, and strong hiking boot material in the back for support. You can wear them all day without tiring your feet.
Super-soft Buckskin Lining
Amberjack says that this allows you to not wear socks. I would actually have a hard time NOT wearing socks with these shoes. However, that doesn't have as much to do with the comfort as I would be worried about the smell.
I do have a bit… ahem… sweatier feet that I would worry would stink of the shoes a bit. So, I would wear them with no-show socks. Check out our Bombas Review for a great pair of no-show socks.
Also, check out our best wool socks review to see the socks we wear with these all winter long.
Cole Haan Zerogrand: The giant elephant in the room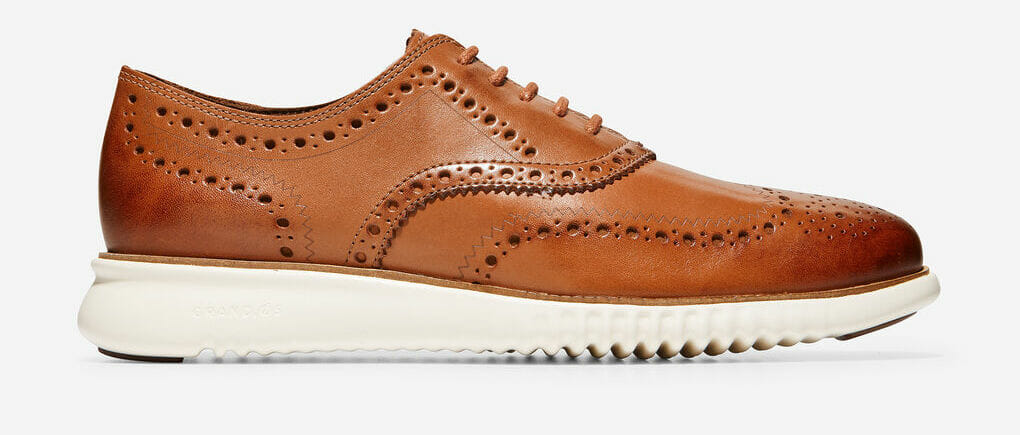 I originally got Cole Haan Zerogrand shoes (or, as they say ZER0GRAND – I hate that stupid zero in the name) because they mostly looked like nice dress shoes, but had a little something extra to them.
They had a little athletic twist on them. In fact, we gave you our honest Zerogrand Review several years ago.

However, for me, it's gone a bit too far and now way too many people have Cole Haan Zerogrand Shoes and I almost roll my eyes when I see them. But let's dive deeper into our Amberjack Shoe Review to see how they compare with Zerogrand.
What shoes are like Zerogrand, but better?
That's easy: Amberjack.
I was a bit skeptical when I heard about Amberjack shoes. But I must admit: they are super impressive shoes.
The Amberjack Original isn't your typical pair of dress shoes. Not only are they stylish, but their lightweight design makes them easy to wear and look good with any outfit you might be wearing for work or play.
That being said, these aren't casual sneakers either. They're perfect for anyone who wants to go from walking around town (or working at an office all day long) to going out to dinner without needing to change into different footwear.
Simply put: they look more like dress shoes and less like dress shoes trying to kinda-sorta be undercover dress shoes. I'm looking at you, Zerogrand.
If you didn't know they were full of technology, you wouldn't have any clue. And that's exactly the way we like things.
Amberjack vs. Zerogrand: A couple of other comparisons
As I mentioned, the Amberjack is almost an all-around better shoe. However, there are a couple of areas where the Amberjack isn't as good as the Zerogrand.
Amberjack vs. Zerogrand: The Price
Zerogrand has been a race to the bottom. They've become the Brooks Brothers of shoes. In other words, if you ever pay full price for anything at Brooks Brothers (buy 1 shirt, get 87 for free) you are an idiot.
If you ever pay full price for Zerogrand, you are also an idiot. They frequently go on sale and can even be found at Nordstrom Rack on the regular.
Similar styles for Zerogrand run about $100 if you find a good deal on them (which is like finding hay in a haystack), while Amberjack is pretty standard at $179.
I think that's a fair price for this quality shoe.
Amberjack vs. Zerogrand: The Quality
Zerogrand has good quality, but it only lasts about two years with normal wear and tear (I have worn Zerogrands to death). They're comfortable enough that people will pay the premium price because they can't afford anything better, but when your shoes are falling apart at the seams after 18 months of wear – you might want to consider something else.
Amberjack is made with full-grain leathers and sheepskin lining which means the company could get away with charging an even higher price, but I think the $179 price is very fair.
I believe but can't prove that these shoes will last longer than Zerogrand.
Amberjack vs. Zerogrand: The Weight
I got a super fancy (insert sarcasm here) scale from Amazon because I was super curious about the different weights of products we were testing.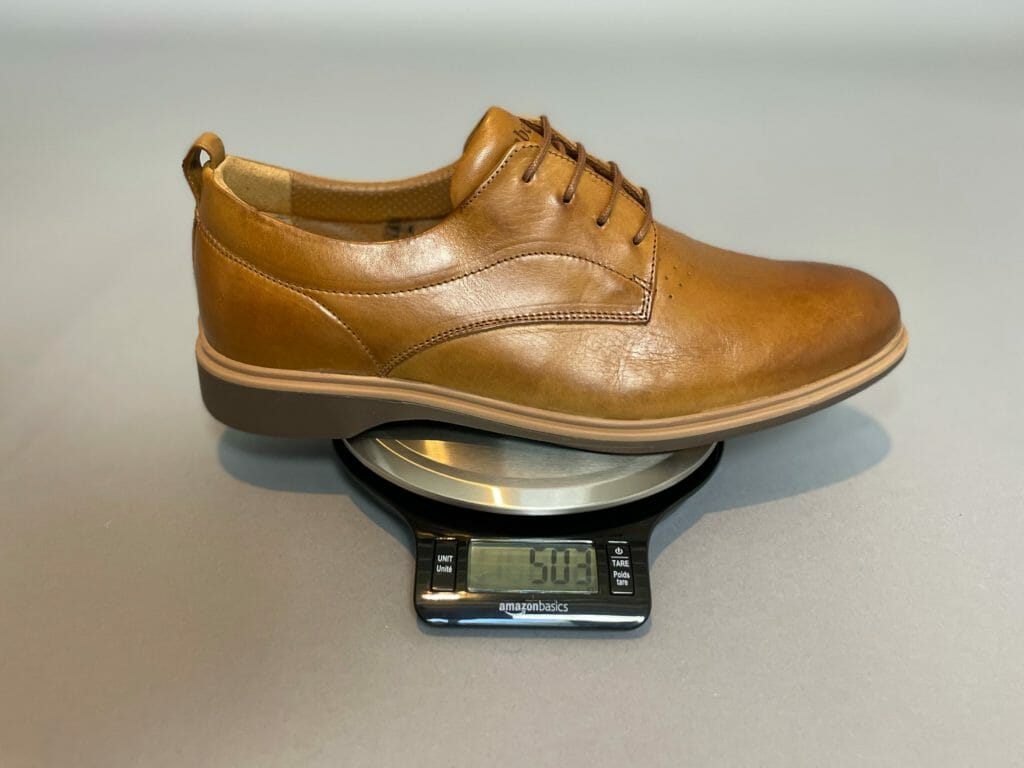 Amberjack weighs 503 grams.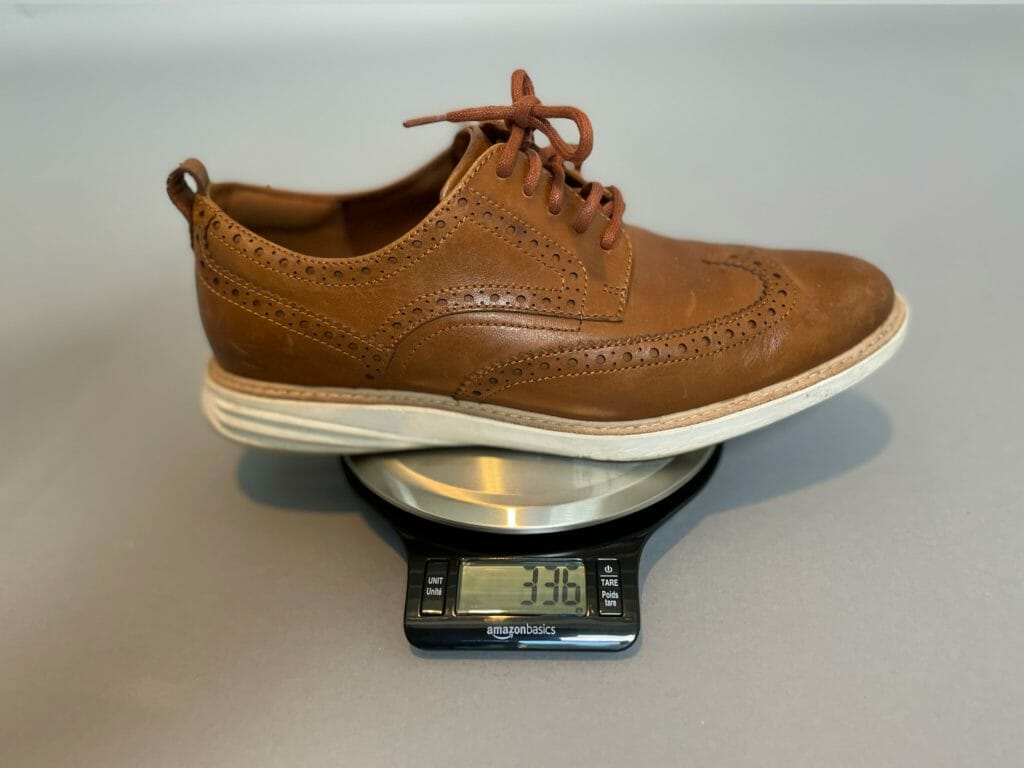 These Zerogrand Shoes weigh 336 grams.
The Amberjack Original shoe weighs in at 500 grams. While that's not like strapping two cinderblocks on your feet by any stretch of the imagination, it is heavier than the Cole Haan Zerogrand Wingtips. Those weigh about 330 grams. While not a humongous difference, it is noticeable.
That's 170 grams difference, for you non-math majors out there.
What weighs about 200 grams (rounding up)? This is why the internet was invented, my friends. According to WeightofStuff.com – yes that is a real website.
200 Grams is about the weight of a roll of nickels and a cup of granulated white sugar. 
It's not huge – and not uncomfortable by any stretch of the imagination, but it the difference is noticeable. Especially if you are used to wearing Cole Haan, these shoes will feel heavier.
Amberjack vs. Zerogrand: The Comfort
However, I think they are just as comfortable as Cole Haan Zerogrand – or at least REALLY close. If Cole Haan Zerogrand set the curve at a 10 in comfort, the Amberjack Original Shoes are a 9.75 – it's close!
How to style Amberjack Shoes
One of the great parts about Amberjack Shoes is that you are the only person that will know that you are wearing incredibly comfortable shoes. They will look like a high-quality, comfortable dress shoe to everyone else.
No one else will know that you are rocking a dual density outsole or something that has as much style and comfort as you do. They won't know you have one of the world's best shoes on, with a super soft buckskin lining. They won't know you've found a comfortable dress shoe.
These look like a great pair of dress shoes and pair great with a pair of Chinos – something like the Everlane Performance Chinos, Myles Tour Pants or Lululemon ABC Pants.
They also pair great with a pair of jeans. In the video of me exploring the Gaylord Rockies, in fact, I'm wearing them with a pair of the Perfect Jean (read our perfect Jean Review).
To complete the look, I wore them with a white Mizzen + Main Dress Shirt and the Allbirds Wool Sweater.
You can dress these shoes up and dress them down.
You could also even wear them with a pair of Chino shorts and a button-up dress shirt for a hot summer day (just be sure to not wear socks or good no-show socks).
Amberjack Shoes Review: The Final Verdict
The Amberjack Original
Don't miss this amazing shoe
Can be dressed up or down.
Full of technology
A great value
Free shipping and returns
Amberjack shoes are the better alternative to Cole Haan Zerogrand shoes in almost every way. They are about the same price, made from higher-quality materials, and last much longer than their competitor's product. The only question now is why you're waiting? Buy these shoes today, before they sell out of your size, or buy them as a gift for someone else!
We love these shoes so much, in fact, we just updated them to our guide of the Men's Very Best Stuff list. Also, check out our Wolf & Shepherd Loafer Review and Amberjack Loafer Review.
Have any questions or comments about our Amberjack Shoe Review? Let us know in the comments below!