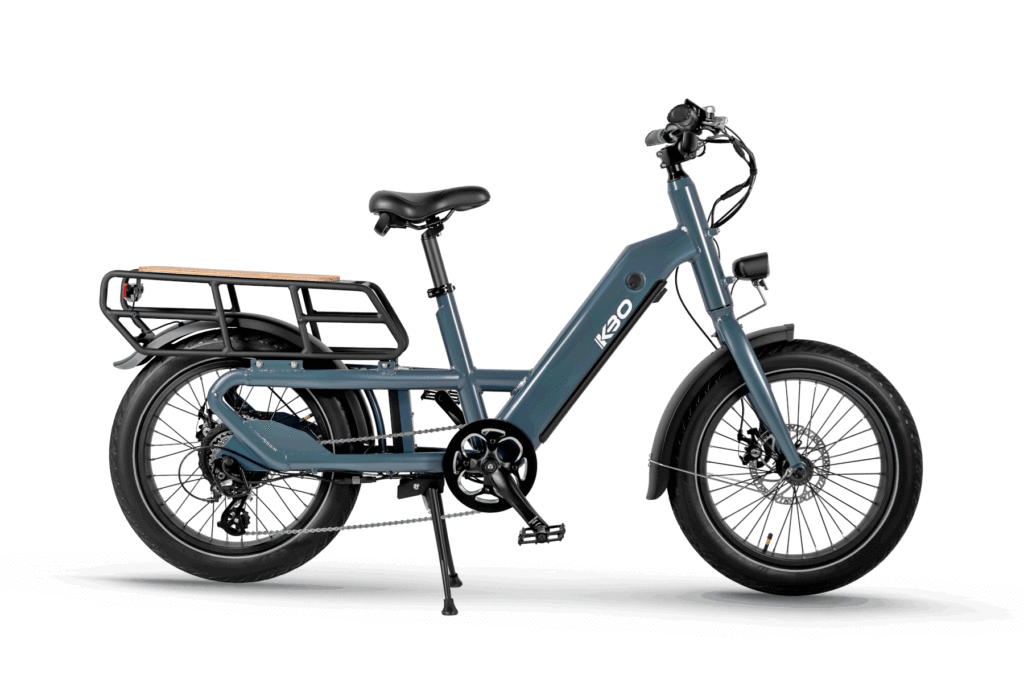 We've reviewed KBO eBikes before, but excited to share with you a sneak peek of their newest electric eBike – the Ranger Cargo Electric Bike. Read our full KBO Ranger Review for the whole story!
An awesome cargo eBike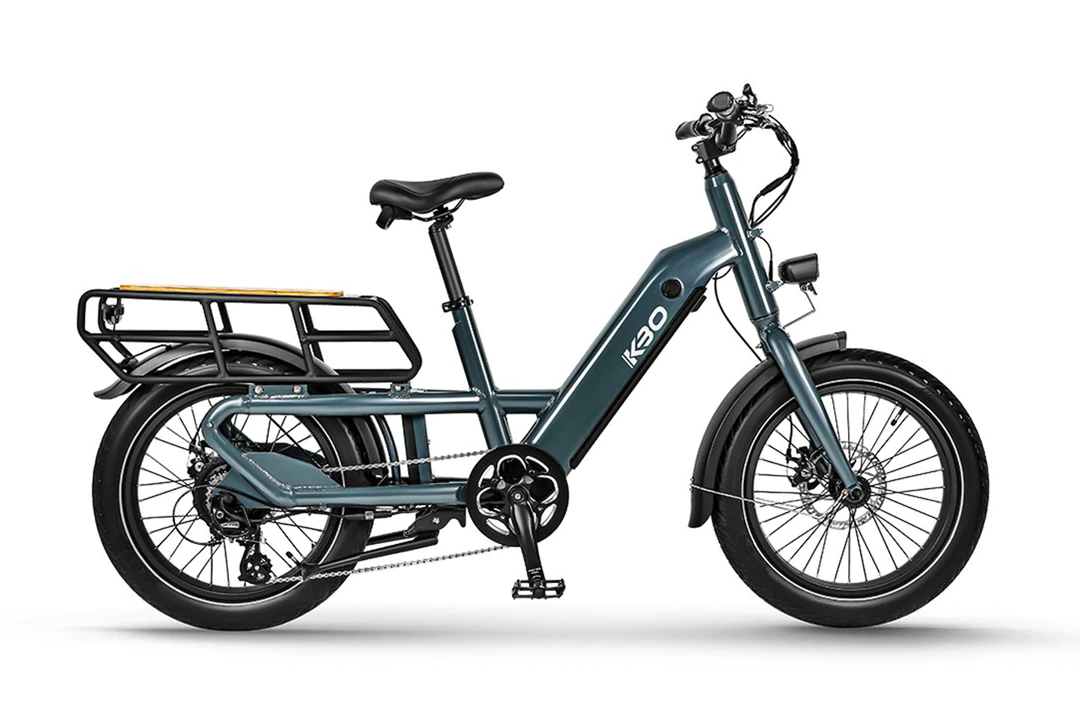 KBO Ranger eBike
This is an awesome cargo eBike that is hundreds of dollars cheaper than the competition. If you need a great cargo electric bike that doesn't feel like a cargo bike, check out the KBO Ranger. It's slightly shorter than the RadWagon, but also cheaper.
Buy Now
Our Review
We might earn a commission if you make a purchase, at no additional cost to you.
We'll share with you what we know about this new bike, what we don't, and what to expect. We'll also let you know how you can save even more with our KBO Promo Code, too.
Before we continue, make sure to check out our KBO Breeze Review and KBO Hurricane Review.
What is the KBO Ranger?
The KBO Ranger is an electric cargo bike. The closest thing we can compare it to is the Rad Power Bikes RadWagon 4 (read our Radwagon Review).
The KBO Ranger is not just a copycat of the RadWagon, it has some unique features.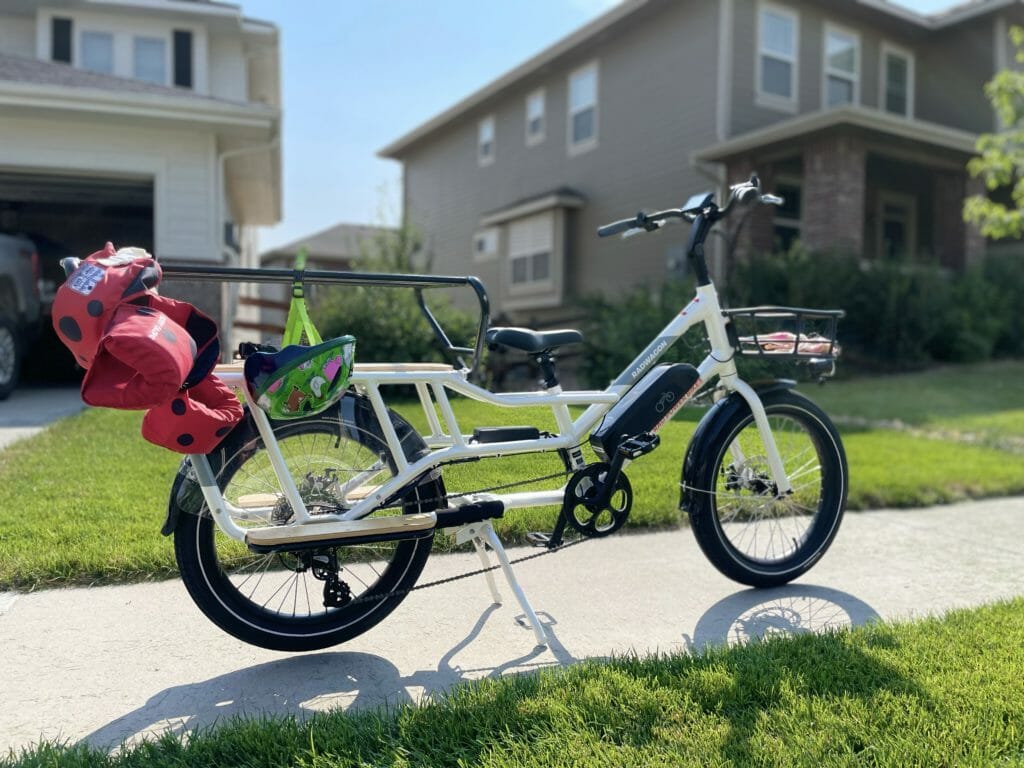 The KBO Ranger is priced at $1,599 – $300 less than the RadWagon 4.
The KBO Ranger is powered by an 840Wh LG battery and a 750W motor, giving it a maximum range of 60 miles for long commutes.
The Ranger has smaller – but wider – tires for a more stable ride over rough terrain. It's a flexible vehicle replacement that adapts to the demands of passengers, whether they're carrying heavy loads or transporting their children to school.
What can you transport?
The strong aluminum rear rack can hold weights of up to 120 pounds. You may use it to go on a trip with your family, bring your kids home from school, or transport heavy equipment.
We know people that use an electric cargo bike as their daily commuter. Especially if they live downtown, where parking can be sparse (or expensive).
Transporting people (little people, at least)
The RadWagon has a "Caboose" that can be added to the RadWagon. The KBO Ranger has the KBO Fence and matching running boards available for order.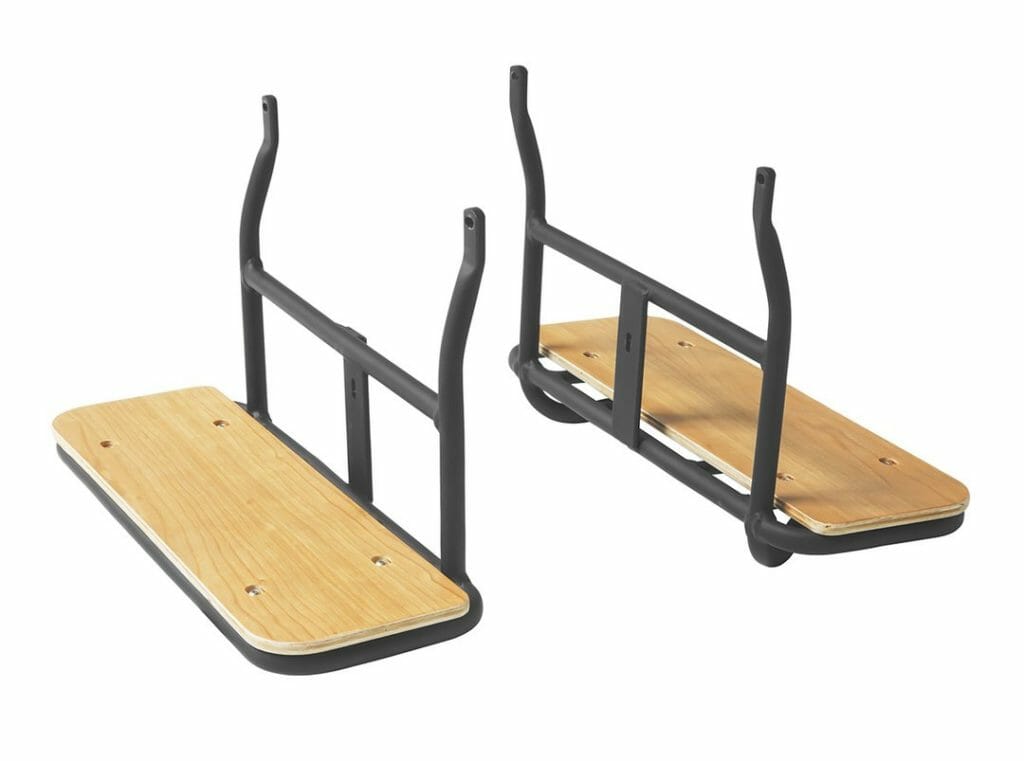 The capacity is 120 pounds, so my 2-year-old and 5 year old could comfortably ride and stay under the weight limit. Just make sure to get the running boards to make sure you have a spot for the feet to rest.
Other Great Features of the KBO Ranger Cargo eBike
The KBO Ranger just doesn't have an added rear rack, it has some great other features, too.
The Center Kick Stand
Like other Cargo eBikes, the Ranger has a center kickstand that allows you to load things on the cargo portion of the bike while keeping the bike upright. No more leaning to one side or the other.
I love this feature on cargo bikes because it makes it really easy to load cargo – either kids or other items.
Great tires
20″ 3.0″ CST Tires: Wider than typical commuter tires, it provides a more stable and smooth ride on your commute.
Full front and rear fenders
Front and rear fenders are a must-have on any eBike. You, inevitably, will come across some puddles of water in your adventures and you don't want to get wet.
Powerful motor
This KBO Cargo bike has a 750W Sustained brushless geared motor. This is technically considered a Class 2 eBike and reached a top speed of 20 MPH out of the box.
It features both throttle and pedal assist.
Lights included
The Ranger also includes both a high-powered front light and rear brake light. When you apply the brakes during a ride, the rear brake light illuminates immediately, just like a car does.
New Display
The new display for the KBO Rangers provides you with a range of information to help you keep track of your riding conditions. A charge indicator, a speedometer, an odometer, a trip odometer, a pedal assist level, and more features.
Let's talk range
The KBO Ranger has an incredible, estimated, 60+ mile range. That's incredible.
At about 77 pounds, you really don't want to run out of battery. The Ranger features a 48V 17.5Ah Lithium-ion battery with LG cells.
These cargo electric bikes are really heavy and hard to ride without battery assistance. It's not impossible, but you really want some battery power to help you.
The Ranger also has a unique battery design that is partially integrated into the frame of the eBike. This is fairly similar to the KBO Breeze Step-Through, but it looks like the batter is mounted on the back side of the front frame.
What we don't know
There are a couple of things we don't know about – but mostly how this ebike performs. How does it ride? How smooth is it? How fast does it get up and running?
It is almost 9 inches shorter than the RadWago 4, which should help with performance and not feel like you are driving a bus. We hope to get this eBike to let you know how it performs!
The KBO Ranger is scheduled to ship in November.
If you are interested in the KBO Ranger, check out our special KBO Promo Code below.
Great accessories… already!
Besides the running boards and the KBO Fence to keep any small passengers, KBO has some great accessories already available to order now.
This eBike comes with a built-in Rear Rack (which is one of our top eBike accessories every eBike needs), which is great.
You can also get a great-looking front basket. It has matching wood grain inside.
You can also get a front rack, if you need to attach larger items. We recommend a front basket.
How to save on the KBO Ranger
Interested in this eBike? I'd encourage you to order ASAP so you can be one of the first people to get the eBike when it is ready to ship.
KBO Promo Code
Use our KBO Promo Code by clicking the button below and save $60.
Also, early pre-orders will receive the KBO Rider package which includes a KBO cap, a T-shirt, and a sports backpack.
We've had a lot of fun with our KBO eBikes and we're sure this could be a great addition if you are looking for the best way to transport a lot of things… or people with your eBike. Be sure to read our full KBO Ranger Review for the full story and also check out our KBO Ranger YouTube Review! Also, check out our KBO Ranger vs. RadWagon 4 post.