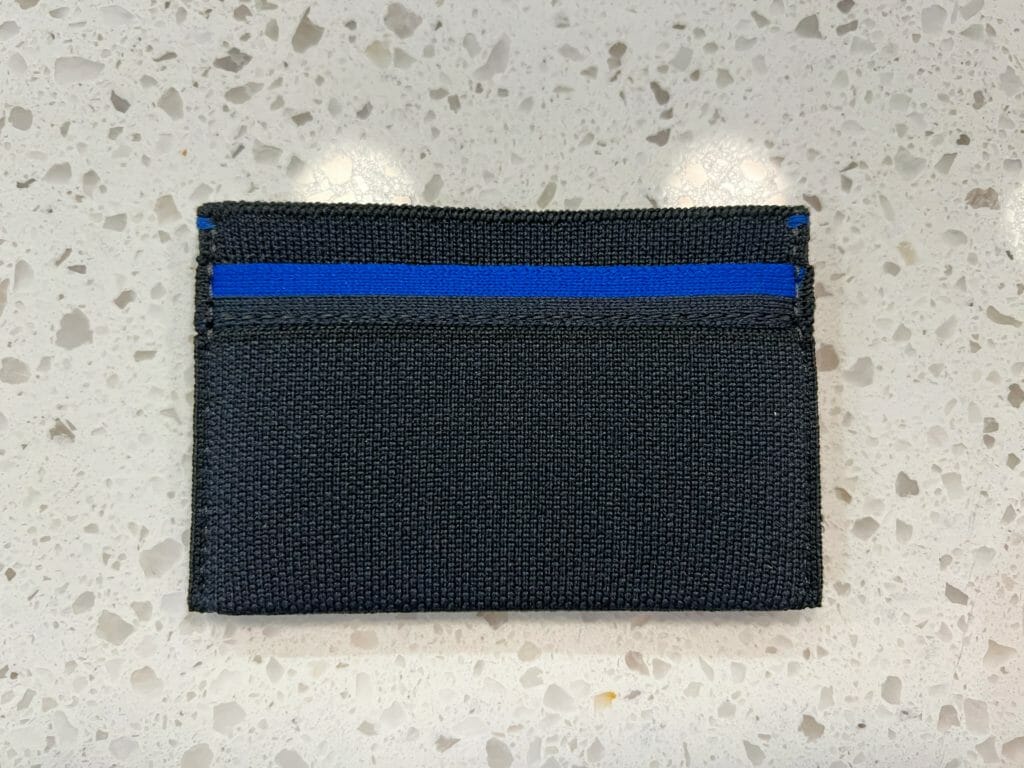 Rothy's Men's Wallet Review: Is there anything that could make this little rectangle worth $95. Check out our honest Rothy's Men's Wallet Review to find out!
Technically, this is The Slim Card Case from Rothy's.
If you've seen our reviews before, you know we love (most) of Rothy's products. Read our Women's Rothy's Review, Our Rothy's Merino Review, and our Rothy's Men's Shoe Review for a taste of our opinions.
While Rothy's is one of our favorite brands, they are a bit on the expensive side. But we'll cover that more in just a second!
Why I got the Rothy's Wallet
Now I'm going to be honest with you here for just a second. I used this wallet for the past couple of years:
There's nothing wrong with it – except that it has too many cards in it. That's because over the years (I bet I've had this wallet for 5+ years) the wallet has stretched a little. If I took out just 1 card, there would be too much give in the wallet and the cards would fall out.
That's why I had three different versions of my same insurance card – yes – three! Who needs that?!
I also had stupid things like my Son's Elitch Gardens Season Pass (it isn't even open now, but read about the Best Hybrid Shorts I wore this summer) in the wallet.
I would never spend $95 on a wallet
Wait, what? You may be asking yourself, "How do you have it if you would never spend that kind of money on a wallet then?" The answer is simple: my wife bought it for me for my birthday.
I know, I know. Someone (actually, me) did spend that $95 on a wallet, so I guess I broke my own rule. Technically, my wife did use our Rothy's Promo Code to save more – but more on that in a second.
What do I look for in a wallet?
I look for the opposite of a Costanza wallet.
What's a Costanza Wallet?
According to Urban Dictionary, it is:
Referring to the Seinfeld episode where George's wallet was so overstuffed with junk that it made him sit at a tilt with it in his back pocket; forcing him to even it out by stuffing his other back pocket with napkins. Eventually, the wallet exceeds maximum density and explodes on the street in a shower of cash and receipts.
It was a great episode.
But that's not my style at all.
I don't really need a bunch of cards. Just a couple of credit cards, my insurance card, and my driver's license (and don't forget the Costco card, too).
I use my iPhone for every other loyalty program I could imagine.
I also like to be able to carry a little cash – not a lot, just a little. Maybe 2-4 bills at the max. MAYBE a receipt (although I use Expensify for a lot of that, too).
What else does the Rothy's Wallet Do?
Another cool thing about this card wallet is it is machine washable and made from the same materials as their shoes – recycled water bottles.
Let's put this Slim Card Case to the Test
I originally got this right before a trip. I needed the following cards:
Driver's License (duh)
Costco Card (Obviously)
Southwest Card (Gotta get the points)
American Express Platinum Card (Centurion Club!)
Son's Disneyland Giftcard (got as a present)
Daughter's Disneyland Giftcard
At the time, I didn't have any cash on me, but as I mentioned – I like to carry a couple of bills with me.
Did the Slim Card Case Hold My Essentials?
Yes!
It was just the right size. It could probably even hold another 2 or so cards in addition to some cash.
And the best news yet: it's super compact. Everything you need, nothing you don't.
This would be great for someone that likes to carry the wallet in their front pocket, or just hates bulk in general.
See our full YouTube Review to see EXACTLY how it works:
Rothy's Men's Wallet Review: The Final Verdict
Rothy's wallet is the perfect solution for those who want to carry just a few cards and cash, or don't need extra room for receipts or a ton of cards.
Rothy's wallets are also made from recycled materials so they're eco-friendly too!
The only thing we don't love about the Rothy's Men's Wallet? The price!
Have no fear, you can save $$$ using our exclusive Rothy's Promo Code.