Kizik Shoes Review: TL;DR
Kizik shoes are a game-changer for the "always in a hurry" crowd. They're not just a gimmick; they're incredibly comfortable and super convenient for hands-free living. However, they're not your go-to if you're a machine-wash fanatic or a sockless rebel.
KIZIK Shoe review: are these shoes worth the hype? Read our full KIZIK Review to see if the shoes are worth the hype.
For the record,
Much more than a gimmick
Kizik Shoes
I admit, I thought these shoes were nothing more than a gimmick. It turns out these shoes are much, much more.
I found them to be incredibly comfortable and very handy - especially when entering or exiting the house with my hands full!
Buy On Amazon
Buy Direct
We might earn a commission if you make a purchase, at no additional cost to you.
For those of us who are lazy and don't like to tie our shoes, Kizik is a godsend. Slip ons have been around for a while now, but some people still prefer lace-ups. The problem with these is that they're more time-consuming to put on than slip-ons which makes them impractical for the "I'm always running late" crowd.
Kizik Shoes Pros:
Hands-Free Convenience: Slip them on and off without using your hands.
Comfort is King: Lightweight and incredibly comfortable for everyday wear.
Versatile Appeal: Great for people with mobility issues, not just the "lazy."
Aerospace-Grade Titanium: Features Foot Activated Shoe Technology (F.A.S.T.).
Style Options: Offers a variety of styles that are above average in looks.
Eco-Friendly: Some models, like the Madrid Eco-Knit, are breathable and sustainable.
Kizik Shoes Cons:
Not Machine Washable: Requires spot cleaning.
Socks Required: Designed to be worn with socks.
Limited Arch Support: Some users have complained about inadequate arch support.
Sizing Issues: Tend to run small; consider sizing up a half size.
Just OK Styles: None of the styles are particularly eye-catching.
Price Point: High-quality materials and tech could mean a higher price.
Want to save even more on Kizik Sneakers?
You can use our exclusive promo code, TRIEDIT, to save 15%. That's out best kizik discount code.
That's right, you can save an easy 15% by using promo code TRIEDIT.
Not just for lazy people – the best hand free shoes
Kizik hypes their shoes as "shoes for lazy people," but that's not giving these shoes enough credit. Kizik Shoes are not just for lazy people, they are also for people that need a little help putting on shoes – people with any medical conditions, have troubles reaching down (these would have been perfect when my wife was pregnant) – not just lazy people.
Our Top Style Pick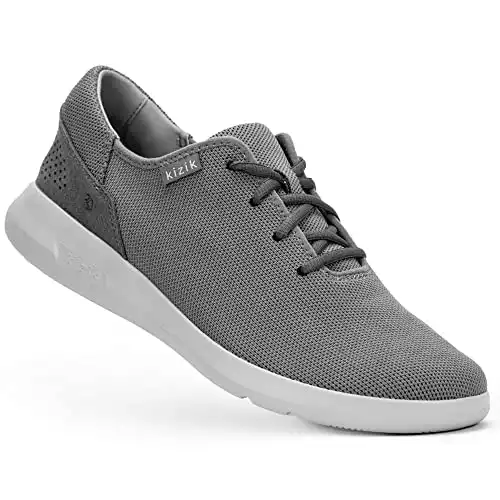 That's just how the shoes are marketed.
These are the best hands-free shoes we've tested, it doesn't matter if you just don't want to use your hands, or if you can't use your hands, these shoes simply rock.
It's no wonder then that we were all excited when Kizik Shoes came out because it meant you could get the convenience of slip-on shoes without sacrificing style or function.
Kizik Review: What the big idea with slip on shoes?
I first came across Kizik in watching one of those crazy Youtube ads that start at the beginning of all your favorite YouTube videos. The commercial was long: like 3 minutes long. But it was entertaining and got my curious: are the Kizik shoes any good?
To be 100% honest with you: many companies provide us with products to review. We don't say yes to everything (we probably only say yes to about 10% of the stuff we get pitched) but in this case: we bought the shoes on our own because we were genuinely curious.
If a company could make an advertisement about a simple feature, slip on shoes that actually work (and also have laces, so you can tie the laces, too): we were curious. Are Kizik Shoes any good? Or are they just a giant gimmick?
The Big Idea: A revolutionary heel
The Kiziks, which started life as a Kickstarter success story, work like this: You know how lazy people crush the heels of their shoes when they shove their feet in?
Looking at my wife's Nike shoes should be enough to make you never want to slip them on again. My wife has literally crushed her heel and she doesn't give two shakes about it!
KIZIK claims these are the perfect outdoor shoes for going indoors and outdoors often.
How does the Kizik Shoe work?
As your foot pushes past, the heel folds down to accommodate you — and then snaps back upright behind your foot thanks to a titanium spring inside.
In other words, Kiziks shoes allow for quick on-and-off like loafers but are snug once they're in place. Your shoes fit perfect: just like they were regular lace-up shoes. Yup. All the luxury, all the hands-free functionality you want.
Meet Foot Activated Shoe Technology: FAST
KIZIK shoes feature what the company calls F.A.S.T.—Foot Activated Shoe Technology—design.
Doing a little internet digging, it appears that F.A.S.T is actually owned by HandsFree Labs. HandsFree Labs actually owns KIZIK and has received investments from Nike.
So, I wouldn't be surprised to see this sort of technology in Nike Shoes and more very shortly.
But don't worry, your KIZIK shoe isn't made from some cheap rubber band in the back. KIZIK shoes actually get handsfree functionality thanks to aerospace-grade titanium. Pretty incredible, right?!
Simply put: Life's too short to spend them tying and untying shoes. 
Why do KIZIK shoes have laces then?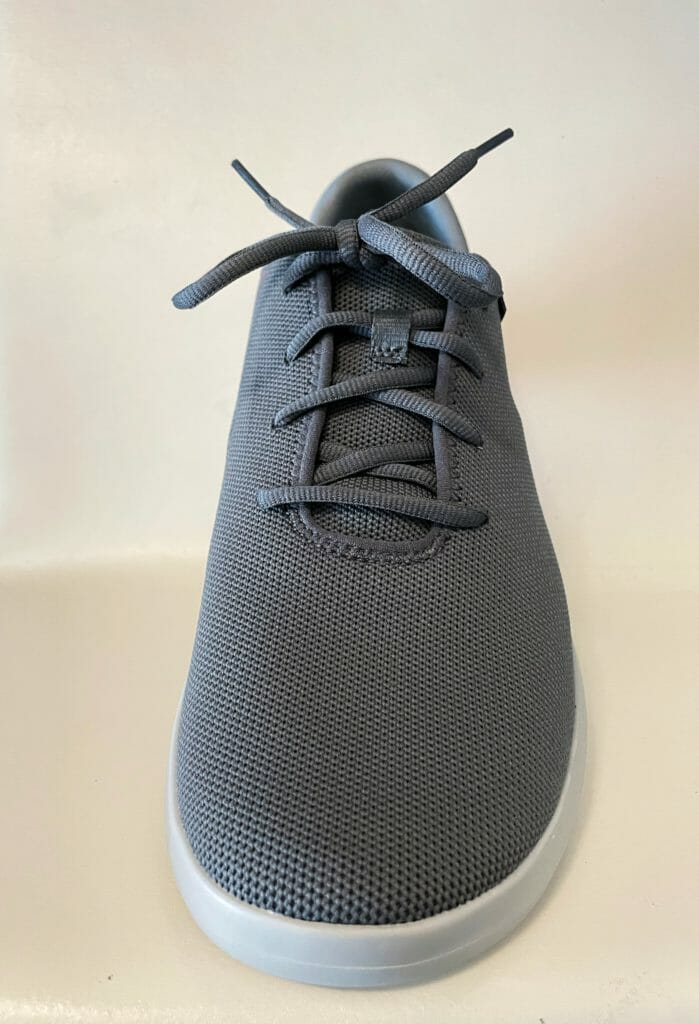 That's actually pretty easy: to make them look like normal tie shoes. While you don't need to tie the shoe to wear them, they make them look more like normal sneakers.
KIZIK Shoes Review: What did we think?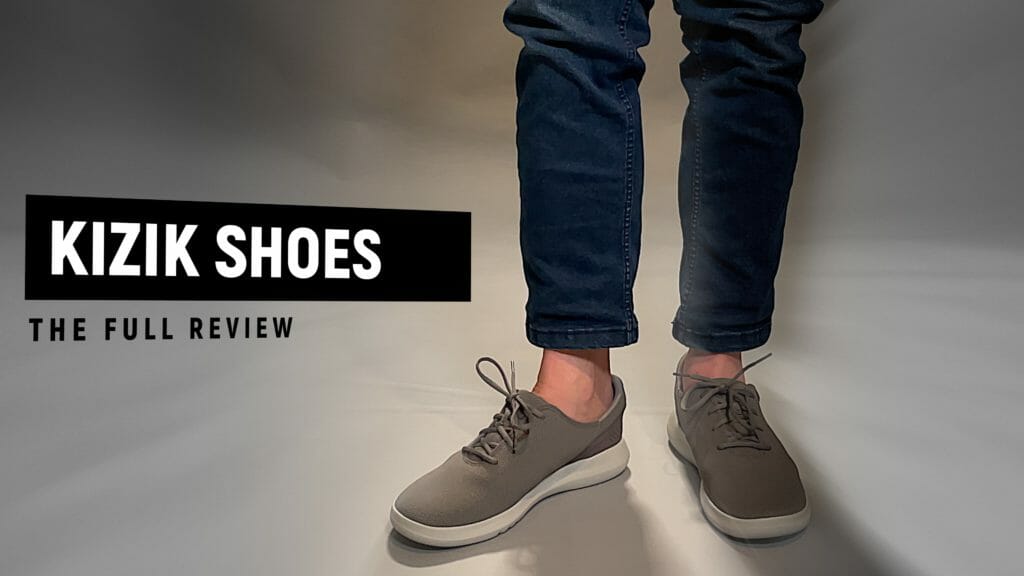 To be honest: we were super shocked the first time we put the KIZIK Shoes on. Not only were we free from tying laces, but the shoes were incredibly comfortable!
These sneakers were super lightweight and felt amazing. There's no way it felt like there was titanium inside the shoe.
I attempted to slide my first foot in and WOOP! It went right in and fit perfectly. I thought, "this might be a fluke, I need to try again." Nope, I attempted to slide my other foot in and WOOP, once again, it fits like a glove.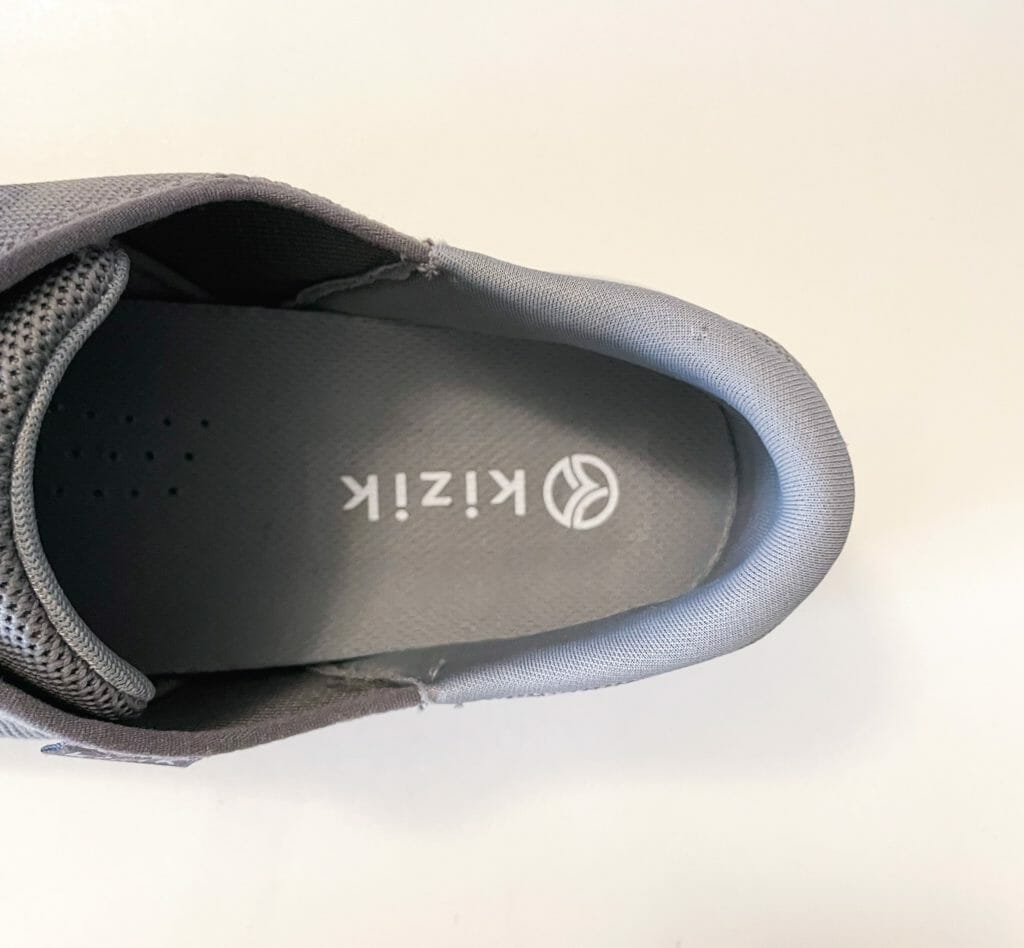 What about taking them off? Just simply slide your foot out and hold the back of your shoe with your other foot. It's that simple. Just slide your foot in and slide your foot out. It was pretty stinking remarkable, actually!
Wearing the shoes, you would have no idea that they were anything special. The shoes were just incredibly comfortable. They are only slightly heavier than Allbirds or Suavs Shoes (read our Suavs Review and Allbirds Review), which is REALLY amazing.
The Madrid Eco-Knit shoe that we tried was also super-breathable. We love that it helps with stinky feet!
The rubber soles were super lightweight and felt like they would last a long time.
KIZIK Reviews: What did we not like?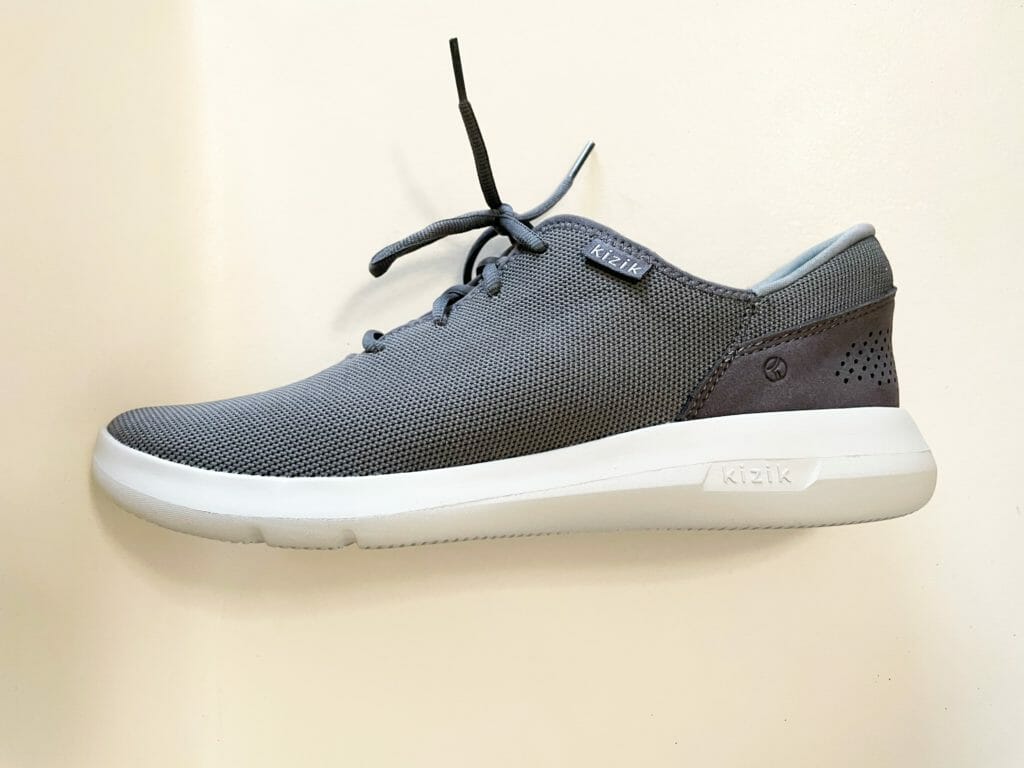 There were a couple of things we did not like about the KIZIK Shoes we tried.
KIZIK Shoes: Not machine washable
We've been spoiled with our Allbirds, Rothy's, and Suavs (read our SUAVS Shoes Review, Rothy's Review and Allbirds Review). We love to machine-wash our sneakers. It's so nice to not worry about having to spot clean them. We can simply toss them in the washer and hang dry. That's awesome.
Sadly, KIZIK shoes are not Machine Washable. It would be AMAZING if Allbirds adopted FAST!
KIZIK Shoes: Probably need to wear socks
I believe that Kizik shoes were designed to be worn wearing socks. They were not designed to be worn WITHOUT SOCKS and if you boil it down, that's probably the only issue that is keeping me from buying a ton of pairs of KIZIK!
Why do I say they are supposed to be worn without socks? I couldn't find any official documentation that says that, but every promotion video/photo that KIZIK has features someone with socks.
I also believe that it's because they are NOT machine washable and that would make them extra stinky, especially during the summer months (check out our full Best Summer Shoes for Men and everything Hari Mari).
Arch Support
Other folks online claimed these shoes lacked excellent arch support – and many said they were unable to wear them as a result. We didn't have that problem, but we also did no go for long walks with these shoes on.
Kiziks Reviews: What Others Have to Say
Every shoe tells a story but when it comes to Kizik, it's like an open book with pages filled with commendations.
The audience out there seems to echo our sentiment: these shoes are a game changer, especially for folks facing challenges in the shoe-donning department. Whether it's a medical condition, the beautiful journey of pregnancy, or just the sweet allure of convenience, Kizik appears to have kicked open the right door.
Not just for the lazy
A common thread in many Kiziks reviews is the ease with which these shoes can be slipped on or off, no hands required. For individuals with back issues, arthritis, or other medical conditions that make the traditional bend-and-tie routine a dreaded chore, Kizik shoes have emerged as the knights in shining armor. The love doesn't end there. Expecting moms, whose belly tenants make reaching down to their toes a comical challenge, have found solace in the hands-free, bend-free luxury that Kizik offers.
Even if you're just someone who cherishes the extra minutes saved (who doesn't?) or detests the halt-and-tie disruption in the morning rush, Kizik has your back.
The other Kizik reviews paint a picture of more than just a shoe; it's a blend of freedom, comfort, and practicality. It's not just about walking in these shoes; it's about the ease of getting into them that has won hearts.
So, if you've been playing shoe-lace tug of war every morning or have been on a hunt for a pair that respects your condition, the crowd has spoken: Kizik shoes are a worthy companion for your feet. And hey, who wouldn't appreciate a little less bending and a little more breezing through the morning routine?
KIZIK Shoe Styles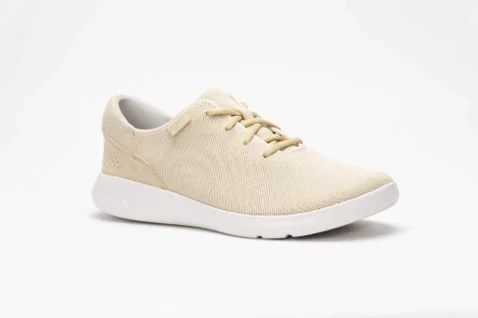 I'll give it to KIZIK, their shoes could have been much uglier. But they aren't that bad-looking. In fact, I would say they are above average. I'd give them a B.
KIZIK offers a wide variety of styles and you can find one that you might like.
Best-selling styles: Men
The Lima, Athens, and Madrid are the top men's styles in Kizik's lineup, each with its own unique features.
The Lima is all about comfort, featuring Rabbit Foam® outsoles that provide substantial rebound. The shoe's knit upper is extra breathable, making it feel airy and light on your feet. It also boasts enhanced ankle padding and a roomy toe box, making it a go-to for running errands all day.
The Athens is a versatile choice that can adapt to various settings, from trails to the office. It's equipped with a spring-back heel and Kizik's signature Cage. The extra Rabbit Foam® on the outsole gives your heel a slight lift and provides added cushioning for your entire foot.
Last but not least, the Madrid is the eco-conscious pick of the bunch. It's crafted with an environmentally friendly knit upper made from 100% recycled plastic bottles. The shoe features a four-way stretch, ensuring breathability and putting an end to sweaty feet. Dubbed "Eco-Knit," this material makes the Madrid a sustainable yet comfortable option.
Best Selling Styles: Women
What about kizik shoes for women? They also offer many unique styles for women, too.
The Athens, Lima, and Vegas are the crown jewels of Kizik's women's collection, each offering a unique blend of comfort and style. The Athens is a versatile all-rounder, featuring a spring-back heel and Kizik's signature Cage. With extra Rabbit Foam® on the outsole, this shoe provides a slight lift to your heel and cushioning for your entire foot. Whether you're lounging at home, hitting the trails, or spending a day at the office, the Athens has got you covered.
Next up is the Lima, a shoe that screams comfort from every angle. It comes with Rabbit Foam® outsoles that offer substantial rebound, making it ideal for those on-the-go days. The knit upper is extra breathable, giving the shoe an airy, lightweight feel. And let's not forget about the enhanced ankle padding and spacious toe box, which make running errands a breeze.
Last but not least, the Vegas brings a touch of classic elegance to the lineup. Made with a premium, full-grain leather upper, this shoe is comfortable right out of the box—no break-in period required. The Rabbit Foam® outsoles add an extra layer of cushioning, making it a versatile choice for any setting, be it at home, the office, or a night out on the town.
Want some nicer-looking shoes? Check out our Amberjack Review and our Wolf and Shepherd Review.
KIZIK Sizing: What to do?
I like to wear all of my shoes loose. If I was wearing a properly fitting shoe, I would probably wear a 9.5, although most of my shoes are a 10 because I like them loose.
Size up a half size larger
While KIZIK's website says that shoes run true to size, most reviews on their site mention that they run a little small. I'd advise you to size up a half size larger to get the best fit.
That will make sure you have the perfect pair, even if you have wide feet.
KIZIK Sneakers Review: Say goodbye to lace up shoes?
The final verdict for KIZIK Shoes in this case, and you might find it a little bit odd, actually.
Remember what I said about KIZIK shoes above? What didn't we like?
Not machine washable. Not designed to be worn without socks. Just OK styles.
If you are the type of person that wants to go sockless every day, that's just about 3 strikes.
I actually would put the deciding factor on if you should buy KIZIK Shoes on one small factor, seemingly stupid factor: do you wear socks. If you don't like to wear socks with your shoes, then I'd probably pass on KIZIK. If you do wear socks (or at least open to wearing some socks – check out BOMBAS and our Bombas Review), then Kiziks could be the right sneaker brand for you.
This is even more true if you want to say goodbye to shoelaces forever (well, not shoelaces, but tying shoelaces).
If you hate socks, with a passion, as we do, then you might want to pass and take a look at another shoe brand like Allbirds or Rothy's.
Much more than a gimmick
Kizik Shoes
I admit, I thought these shoes were nothing more than a gimmick. It turns out these shoes are much, much more.
I found them to be incredibly comfortable and very handy - especially when entering or exiting the house with my hands full!
Buy On Amazon
Buy Direct
We might earn a commission if you make a purchase, at no additional cost to you.
We thought KIZIK would be a one-trick pony and we were pleasantly surprised they turned out to be a lot more in the giant footwear game. I just hope this great technology goes to other footwear brands and it looks like it just might be coming to your next pair of sneakers or sandals.
That's pretty sweet.
Want another pair of great shoes? Check out our Men's Rothy's Review and our new Allbirds vs. Rothy's Guide.
Are Kizik Shoes sold in stores? Where to buy kizik shoes? Who sells kizik shoes?
If you are looking to find kizik shoes near me, you will have to order them online. Right now, Kizik Shoes are just sold online and on other eCommerce websites like Amazon and Zappos.
We could not find any local stores that sell kizik shoes in our search.
Kizik Shoes: What store? The Same Kizik Shoes Amazon?!
You might be wondering, where can I buy kizik shoes? Directly from Kizik, Zappos or even Amazon.
Are kizik shoes made in china?
Kizik shoes are designed with careful attention to detail and crafted using the best possible quality materials, so you can be sure your pair will look and feel amazing. Utilizing modern technology and expertise from factories located in China, each pair of Kizik shoes is created using the highest standards for superior comfort, durability, style and sustainability. Whether you're looking for a timeless classic design or something more modern, Kizik has got you covered—each shoe has undergone extensive material testing to meet global environmental standards. Investing in a pair of Kizik shoes means investing in quality that lasts.
How to clean kizik shoes?
To clean Kizik shoes, it's best to stick with spot cleaning using a damp cloth and mild soap. While they're not designed for machine washing, some people have washed theirs a few times without issue. However, frequent machine washing is not recommended. If you absolutely must, proceed with caution.
Are Kizik Shoes good for plantar fasciitis?
Kizik shoes are designed with features that can be beneficial for those with plantar fasciitis. They offer cushioned Rabbit Foam® outsoles and supportive footbeds that can help alleviate foot pain. The brand also emphasizes the importance of proper arch support, which is crucial for managing plantar fasciitis symptoms. While Kizik shoes are not medical treatments, their design elements, such as cushioning and arch support, make them a viable option for those looking to manage plantar fasciitis discomfort.