Did you know that Mizzen + Main now has pants? Check out our full and honest review of the new Mizzen and Main Pants: The Baron Chino, our Mizzen + Main Chino Review.
You may even be exited and think, "Finally! Mizzen and Main Pants!" Mizzen + Main pants have actually existed before, believe it or not. I actually own the previous generation Mizzen + Main Chinos (and even their previous generation Mizzen + Main Jeans).
To be honest, their previous generation felt exactly like what they were: the first generation of any product. The previous Chinos were high quality but gave me a perpetual wedgie with the off seam in the back.
But out with the old and in with the new: what do we think about the newest Mizzen and Main Chinos? Let's dive into our Baron Performance Chino Review.
Mizzen + Main Chino Review: the basics
First things first: the new Baron Chino is more dress pants with technical features than a technical pants trying to look dressy (see our ABC Pant Review for a great example of a technical pant trying to act like a Chino).
These Mizzen + Main pants look like dress pants not like workout pants. No one, not even the most discerning eye, will know these are actually comfortable.
These pants are 100% polyester – just like dress pants (save some Chinos that are cotton). The Mizzen + Main Chinos come on 4 colors (black, light grey, khaki and navy) and cost $125.
The Mizzen and Main Pants come in two fits – "Athletic Tapered Fit" and Slim. The Athletic Tapered fit was designed for dudes that have bigger thighs and larger booties. The Slim fit is a more traditional Slim fit. I don't have incredibly large thighs so I got the slim fit. The Athletic Tapered Fit looked more boxy to me, so I stuck with the slim for.
The fabric is two-way stretch (more on that in a second) but is also very breathable, moisture-wicking and wrinkle resistant.
Mizzen + Main Chino Review: the good
The best part about the Mizzen and Main Chinos are they they don't look like technical pants trying to pass as dress pants. They actually look like dress pants.
They are also SUPER lightweight. Like, really light. I love this because I always tend to get really hot in slacks for some reasons.
The previous generation (besides beind a weggie machine) was much thicker and I've only worn them a couple of times.
Mizzen + Main Pants Review: what else you should know
Honestly, I'll give the Chinos a 9/10 rating, so don't take my feedback as saying they are bad – I really like them. But a couple of things to know.
They only have 2-way stretch. When I first saw that, I was super disapointed. I do feel like they would be slightly more comfortable with 4-way stretch, but this isn't a deal breaker. They are still really confortable and allow you to move freely.
The other very small thing is that they are slightly on the shiny side. If there are some "slick" looking slack that you've seen before, these are nowhere close to being that slick, but they do have a very slight shiny sheen to them. Once again, not a deal-breaker, but I would prefer them to be less shiny.
Mizzen + Main Chinos Alternatives
There are a ton of alternatives to this Chino, but I frankly like everything that Mizzen and Main does. They have the best take on all of the technical fabrics that looks dressy, they really do.
These Chinos look like Chinos. ABC Comission Slim Pants like like they are 60% Chinos, 40% Golf Pants and you can tell. There's no weird lines on the back of the Mizzen and Main Baron Chinos that make them a dead giveaway (unlike the Lululemon pants!).
The Mizzen and Main Chinos also aren't overly-technical. They strike the best balance between functional and more dressy. Just like their dress shirts (which you need to read our Mizzen + Main Dress Shirts Review, if you haven't already), I've never had anyone ask me if it was "one of those fancy shirts you don't have to iron?" But I have got that same sort of question with things like the ABC Pants.
Most improtantly, my wife approves. She's the toughest critic on this stuff. She said that that these pass as chinos.
I'd also say these are on the more casual spectrum of Chinos. I would wear with a sports jacket, but you could still wear with a dress shirt tucked in.
Mizzen + Main Chinos Review: The final verdict
At $125, these aren't the cheapest (or most expensive) chinos we've reviewed. But I'm continually impressed by Mizzen + Main's quality and balance between style, comfort and technical components. These Chinos are no different. We're happy to give the Mizzen + Main Baron Chinos our We Tried It Seal of approval.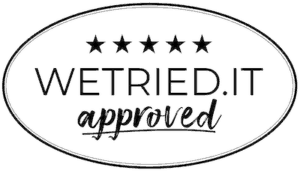 If you're looking for a lightweight, comfortable Chino (that's also wrinkle resistant!), look no further than the Mizzen + Main Baron Chinos!